The best fajitas sides and fillings, from refried beans to homemade guacamole.
Fajitas are a versatile meal that's perfect for the whole family. Although originally made with steak, you can cook any strips of meat with peppers and onions and serve them with tortillas. See our best fajita recipes for ideas.
The best thing about making fajitas for dinner is that you have so many options for side dishes. Fajitas pair well with so many ingredients. You can make several sides to accommodate different tastes or pick your favorite one.
Here are a few ideas for the next time that you're serving up fajitas.
Refried Beans
Refried beans are a staple of Tex-Mex and Mexican cuisine for a reason. They pair well with any dish, including fajitas.
You can buy refried beans at the supermarket or make your own at home. First, soak your beans overnight, then stew them the next day (most people use pinto beans because that is what's traditional). Then, mash the beans and fry them with bacon, spices, and other seasonings.
Refried beans add a creamy, rich base to your fajitas and are a traditional side dish.
Pico de Gallo
Pico de gallo is a common type of salsa that you can find in Mexican restaurants and on the table in traditional homes. It is made with roughly chopped tomato, onion, and peppers (usually serrano but can be any pepper of your choice). Finally, it is seasoned with cilantro, lime juice, and salt.
You can buy pico de gallo or make it at home. This is a great way to add more flavor to your fajitas without soaking through the tortilla wraps because pico de gallo contains less liquid than other salsas.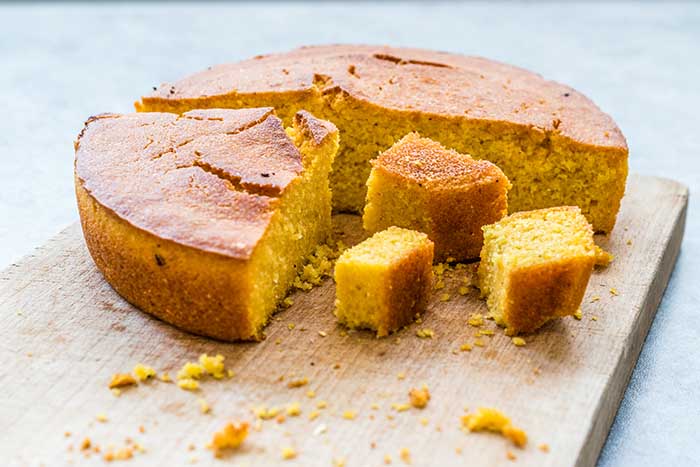 Cornbread
There's nothing more comforting than carbs served with carbs. If that's what you're craving for dinner tonight, then Mexican cornbread is the perfect side dish to serve with your fajitas.
Like traditional American cornbread, Mexican cornbread is made with creamy corn and plenty of butter. However, it packs an extra punch flavorwise with the addition of onions, bell peppers, and jalapeno peppers.
The cornbread is also excellent at soaking up the juice from your fajitas.
Mexican Rice
If you think that rice is boring, then you've never had Mexican rice before. Mexican rice is cooked with tomatoes, garlic, onions, and herbs and spices to fill it with flavor. It can be as mild or as spicy as you want it to be.
Mexican rice pairs well with the flavor profile that fajitas have without overpowering the main dish. It also adds more carbohydrates to the meal, making it even more filling. This is the perfect hearty pairing.
Mexican Corn
Mexican street corn, or elote, is grilled corn on the cob like you've never seen it before. Once you grill it, you slather the corn in a mayonnaise sauce and top it with cotija cheese, chili powder, and any toppings that you like.
Elotes are a popular snack or side dish in Mexico that you can easily replicate at home to add an extra punch of authentic flavor to your meal. The flavor also pairs well with fajitas and it is a side that stays in the spirit of eating with your hands.
Guacamole
Guacamole is a side sauce that pairs well with all Mexican dishes. The creaminess cuts through any spiciness in the dish and it complements the flavors without overpowering it.
Although you can buy guacamole at the supermarket, it is pretty easy to make your own homemade guacamole for a fresher meal. To make guacamole, just chop up ripe avocados and add lime juice, red onions, and seasonings of your choice such as coriander and chili. Then, mash everything together with a fork or food processor and you have the perfect side dish for fajitas.
Cabbage Slaw
Cabbage slaw is a tangy salad-like side that you can serve next to fajitas or use to top the wraps. You can make it by finely chopping cabbage, red cabbage, carrots, and other vegetables of your choice. Instead of tossing it in mayo, make a simple dressing out of vinegar and spices.
Cabbage slaw cuts through the richness of fajitas without being overpowering. It pairs particularly well with seafood fajitas as it is commonly used in fish tacos.
Mango Salsa
Salsas in general pair well with fajitas to add a hint of spiciness and acidity that balances the richness of the main meal. For a unique twist to the traditional salsa, make a mango version.
To make mango salsa, coarsely chop mangos, red bell pepper, red onion, and seasonings of your choice such as jalapeno peppers, lime juice, onion, and cilantro. The sweetness of the mango adds an unexpected twist to the fajitas while the other ingredients provide that hint of savory deliciousness that you want from all of your salsas.
Grilled Halloumi
Grilled halloumi is not exactly a traditional side dish with fajitas, but the pairing works perfectly anyway.
Halloumi is a creamy Cypriot cheese that has a rich, smoky flavor. It grills well, unlike many other kinds of cheese, and after a few minutes on the grill, it becomes the perfect charred, slightly melted side dish.
Halloumi pairs well with fajitas because its rich and mild flavor adds a hint of umami to the dish without adding to the carb content.
Black Beans
Black beans are a staple of Mexican food for a reason. The beans are rich and pair well with lots of seasonings, such as cilantro and chile. You can buy canned black beans or make your own at home using dried beans. Find out how to cook black beans with our easy recipe.
You can serve black beans on their own, with a rice dish, or as a black bean soup. The richness of the beans helps to absorb the flavor of the fajitas.
Sour Cream
Finally, sour cream is a simple yet perfect side dish that pairs well with fajitas. The lightly fermented dairy product adds tangy, rich flavor to the fajitas. The best part? It doesn't add any extra work for you because all you have to do is open the package and serve!
Sour cream is a particularly good topping for people who have a lower spice tolerance because it helps blunt some of the stronger flavors in your fajitas.