The best jambalaya side dishes, from cornbread to black rice. Whether you're serving up seafood or andouille sausage rice, these classic sides will complete your one-pot dinner.
As far as one-pot dinners go, few dishes come close to a good jambalaya recipe. Traditionally made with the 'holy trinity' of Cajun cooking ingredients – onion, green bell pepper, and celery – there's a lot of hearty flavor packed into each bowl.
So how do we complement these nuanced taste layers without disrupting them? Whether you're cooking Creole red jambalaya or Cajun seafood, these quick and easy jambalaya side dishes will add balance, warmth, and texture. Let's get into it.
Cornbread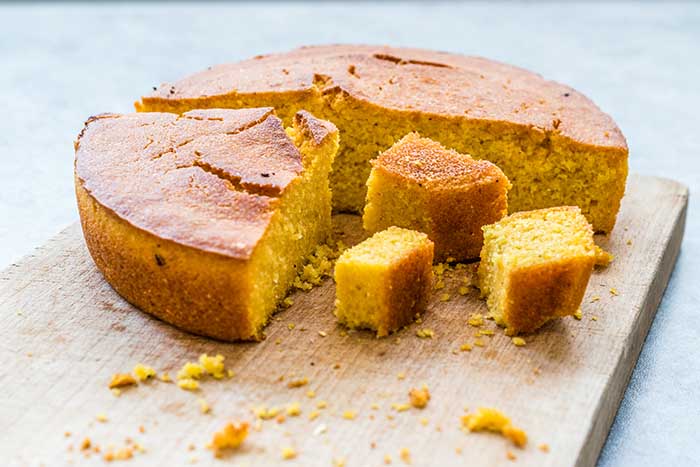 Cornbread is a staple of Southern US cuisine, including in Louisiana. The buttery, fluffy bread is made with cornmeal, creating a more robust, hearty bread than loaves made with white flour. Cornbread originates from the same region as jambalaya, so it makes sense that this pairing works. The dense, buttery bread soaks up the rich stew.
You can buy ready-made cornbread or mix from the supermarket. You can also make your own cornbread from scratch by mixing flour, cornmeal, and plenty of butter. It bakes quickly and is delicious.
Corn on the Cob
Corn on the cob is a staple of Southern cuisine. The sweet flavors go well with jambalaya and balance out the spicy heat of this popular stew.
To make corn on the cob no matter the weather, get heads of corn and boil it in milk and butter. This traditional Southern preparation infuses the corn with rich flavors and is easy to prepare.Grilling corn adds an extra charred flavor that pairs well with the smoky spice in jambalaya.
Black Beans
Black beans are small, dark beans known for their smooth texture and sweet flavor. Although you may be familiar with Mexican and Latin American cuisine, black beans are also popular in Cajun cuisine. Traditionally preparing them makes them the perfect accompaniment for jambalaya.
To prepare black beans the traditional Cajun way, fry onions, green pepper, and celery, then cook the beans in broth and tomato sauce. Add herbs to taste.
Cajun Dirty Rice
Rice is a staple of Cajun cuisine, so if you want a traditional accompaniment to jambalaya, this is the way to go. Rice will also help soak up the stew and provide an excellent base for the spicy flavors.
However, Cajun dirty rice is not neutral by any stretch of the word. This dish contains meat of your choice, although traditional ingredients include chicken gizzards and liver, ground pork, and plenty of spices. To make dirty rice, brown the meat, add vegetables and herbs, then cook the rice.
Roasted Okra
Okra is a finger-like green vegetable popular in Cajun cooking for its versatility. It can be served crunchy or soft and creamy, depending on your preferences. It is the perfect accompaniment to jambalaya because it cuts through the richness of the stew.
Baked okra is one of the most popular preparations for this vegetable in Louisiana. To make this dish, trim the okra ends and cut them into small pieces. Coat in olive oil, season with cayenne pepper and other seasonings of your choice, and bake at a high temperature.
Sautéed Swiss Chard & Onions
Swiss chard is a bitter, leafy green vegetable that is popular in Mediterranean cooking. Greens are a popular side dish in Southern cuisine, so adding Swiss chard adds a twist to tradition while still accompanying rich dishes such as jambalaya.
To add extra flavor to Swiss chard, sauté it with chopped white onions. Add Cajun seasoning or flavors of your choice to create a cohesive meal.
Smoked Shrimp
Louisiana is a coastal state, so many traditional dishes contain lots of seafood. Some versions of jambalaya even include smoked crawfish and shrimp. If you are not adding shrimp to your jambalaya, complete your Cajun feast by serving seafood on the side.
To make BBQ smoked shrimp, start with peeled, deveined jumbo shrimp. Sauté the shrimp in butter, Worcestershire sauce, and plenty of Cajun seasonings. For a hint of extra flavor, prepare the shrimp on a smoker, which pairs well with the smoky herbs in jambalaya.
Hush Puppies
Hush puppies are small balls of fried dough made of cornmeal, eggs, and other common batter ingredients. Hush puppies are a popular side dish all over the Southern US, including Cajun country. They are a popular side dish, particularly for seafood-based dishes like seafood jambalaya, because of their sweet, neutral flavor and crispy texture.
Making your own hush puppies is very easy so that you can turn your jambalaya dinner into your very own Southern home-style dinner without too much effort. First, mix the batter until it is thick. Then, shape the dough using spoons and drop it into hot oil. Once the hush puppies are golden and crispy on the outside, they are ready to serve.
Green Salad
If you want a healthy side dish for your jambalaya, you can't go wrong with a green salad. Green salad is simple enough to accompany dishes with complex flavors such as jambalaya, but you can still add your own twist to it with your choice of dressing. The crisp, healthy flavors balance out jambalaya's richness.
A green salad is any salad made with leafy vegetables such as lettuce or spinach. Put a Cajun twist on your salad by adding corn, bell pepper, or a spicy vinaigrette.
Cheddar Biscuits
Biscuits are a popular dish all over the South, including Louisiana. This buttery bread variety soaks up sauces and stews, including jambalaya. Like those served in popular chain restaurants, Cheddar biscuits add an extra layer of flavor to already-rich biscuits.
Making homemade cheddar biscuits is not very difficult. You can start with a store-bought biscuit mix, or create your own using flour, baking powder, and buttermilk. Add plenty of cheddar cheese to enhance the flavors and seasonings such as parsley, pepper, and salt. Shape into balls and bake until the biscuits are golden.