Easy homemade cornbread without the buttermilk. Discover how to make this Southern classic with our quick skillet loaf recipe.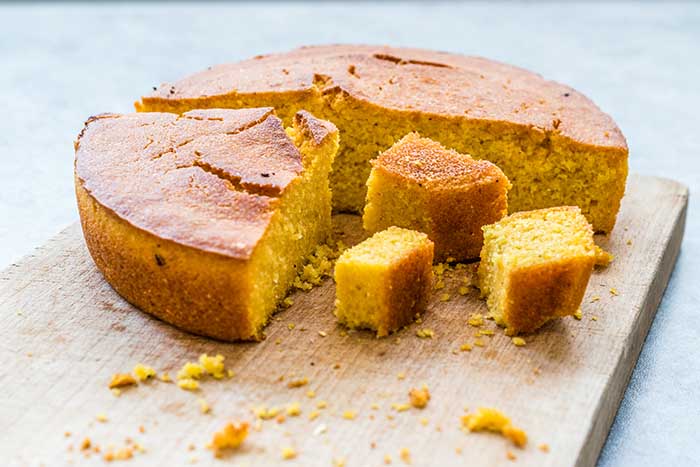 Warm, soft cornbread, a Native American dish, is a joy on any table. It is a simple loaf recipe that takes just a few minutes to prepare and requires basic ingredients such as milk, cornmeal, wheat flour, and yeast.
This recipe is a zesty cornbread dish with a delectable crumbly crust, and the good news is that you don't need buttermilk to make it. By substituting buttermilk for a mixture of baking soda, milk and sugar, we're able to recreate the lightness that we're after.
This recipe will make nine pieces of cornbread. It should take you about 10 minutes to prepare and 35 minutes to cook. You can then add an extra 30 minutes for other tasks. It will take anywhere from 1 hour and 20 minutes to 2 hours to make this cornbread from scratch.
Expert tips
How do you keep cornbread from falling apart or being too crumbly?
Cornbread is supposed to be a little crumbly – but not so much that it completely falls apart. Try these ideas if yours does fall apart:
Add more flour (or useless cornmeal)
Add an extra egg
Try a different bland of all-purpose flour
Ingredient Ideas
Beef – Crumble up about five pieces of cooked beef and add it to the batter.
Shredded cheddar cheese – Sprinkle 1/2 cup into the batter and mix. Sprinkle a small handful over the top before baking.
Jalapeno peppers: If you like your cornbread spicy, add 1/4 cup of jalapeno peppers to your mix.
Side Dish Ideas
Cornbread is highly versatile. You can eat it on its own as a comfort snack or pair it with a delectable entree such as barbecue, fried chicken, or whatever has your fancy. Here are some easy sides to take your cornbread to the next level.
Jambalaya
A Louisiana classic, Cajun jambalaya stews rice in the 'holy trinity' of celery, onion, and green bell pepper to bring balance to its spices. Its juices are then perfect for soaking your cornbread into!
Gumbo
Another Louisiana classic, gumbo strikes a beautiful pairing with homemade cornbread, and is why we often recommend cornbread as one of our favorite gumbo side dishes. The thick stew can be made with either shellfish or meat, and contains the Creole 'holy trinity' of herbs and spices to keep its flavor balanced and warming.
Tortilla Soup
Soup and bread is a classic combination, so it stands to reason that Southern cornbread makes for a delicious chicken tortilla soup side dish. The robust dough will absorb the spicy soup sauce, and enhance it with its buttery flavor.
Cheese
Top your cornbread mix with cheese and bake it to perfection. Add some extra melted cheddar for a tasty topping. Many cheeses can go well with cornbread, from goat cheese and feta to cream cheese and cotija – take your pick according to tastes.
Sausages
Sausages and cornbread go well together. You can make some corndog muffins for a savory breakfast or serve the two separately. Either way, your diners will love you even more.
Barbecue
Whether it's beef or chicken barbecue, cornbread will make them a lot better. Serve with smoky sauce and butter for a heavenly combo.
Vegetables
Vegetables go well with cornbread – whether you choose spinach, veggies, or kale. Don't forget to sauté your favorite veggies with salt and pepper to make a wholesome meal!
Ice Cream
The most beautiful meal to serve to guests in the middle of a blisteringly hot summer day is cornmeal with ice cream. A yummy combination is to serve plain old vanilla ice cream – this combo works every time.
Is cornbread batter supposed to be thick or runny?
As a rule, the cornbread batter should be loose and a little watery so you can pour it into the skillet. It should not be thick and dense, like a cake batter, or you'll end up with a brick.
What kind of pan is best?
A cast-iron skillet is the pan of choice for making cornbread. You can also use a springform pan if you're not a big fan of crusting. Stainless steel skillet is often used to make cornbread because it heats quickly and gives cornbread a delectable crunchy crust. Regardless of the pan you use, make sure it is oven-proof.
Why use fresh baking soda?
Baking soda will react with acidic ingredients in the cornbread batter and help to leaven it. It enables the bread to rise more and gives it that signature fluffy texture.
How to avoid overmixing the batter
It isn't uncommon for people to overmix the cake batter to ensure everything is properly combined, but this does more harm than good. Overmixing the cake batter will create a weak, dense cake that may collapse. Instead, you want the batter to be a bit lumpy when you are done. Monitor your battery as you mix it to ensure you're not overdoing it.
Storage
Wrap the cornbread in plastic wrap or aluminum
Place it into a resealable bag
Keep the bag in an airtight food container such as a cake carrier or bread box (this will keep the cornbread fresh for a few days)
You could also freeze the bag to keep the cornbread fresh for about six weeks. See our full guide on how to store cornbread to find out more.
Reheating
The best way to reheat leftover cornbread is by tenting it in aluminum foil and warming it in a preheated oven at 350°F (180°C) for 10-15 minutes. This will allow it to warm up without drying out or turning soggy.
Northern vs. Southern Cornbread: What's the Difference?
There has been a long-standing debate over which cornbread style is more delicious: Southern or Northern, but the reasons can be confusing and depend on who you ask.
For the most part, Northern cornbread is sweet and light with more cake-like qualities than Southern cornbread. It calls for sugar, milk, and wheat flour equal to cornmeal in the bread. Southern cornmeal requires buttermilk (instead of milk), eggs, and baking powder.
In both cases, cornbread is light and fluffy with crispy edges.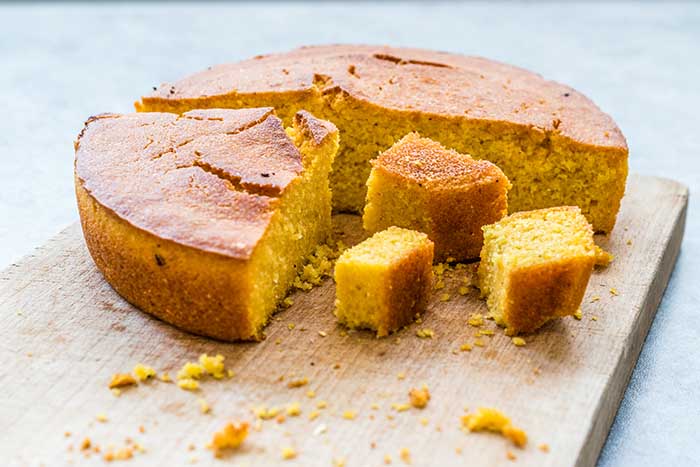 Cornbread (No Buttermilk)
Easy homemade cornbread without the buttermilk. Discover how to make this Southern classic with our quick skillet loaf recipe.
Ingredients
2

cups

all-purpose flour

1

cup

fresh cornmeal

1

cup

granulated sugar

1

tbsp

baking soda

1

tsp

kosher salt

¾

cup

unsalted butter

melted

1 ¼

cup

1% milk

3

large eggs
Instructions
Preheat oven to 350˚F (180°C)

Grease the skillet and place it in the oven to warm it up

Toss the dry ingredients in a medium-sized mixing bowl and stir well using a hand whisk

Toss the wet ingredients in a large bowl and mix well

Slowly combine the dry ingredients into the wet ingredients and mix until you get a lumpy mixture

Pour the mixture into your hot skillet and bake for about 35 minutes or until you get a lovely golden brown color

Line a baking tray with parchment paper so that it's easy to lift the cornmeal out of the pan once it's ready

Slice and serve as you desire with your preferred side. You can treat it as you would bread, using different spreads such as jam or honey.