Turkey burgers are a delicious alternative to regular barbecue burgers. Check out these best turkey burger recipes, with fillings including feta, spinach, and mushroom!
While a lot of people might turn to chicken for a white meat fix in their burgers, turkey meat is a seriously underrated burger filling. Here are 11 of the best turkey burger recipes for the ultimate summer grilling party.
Worcestershire Sauce, Garlic and Mushroom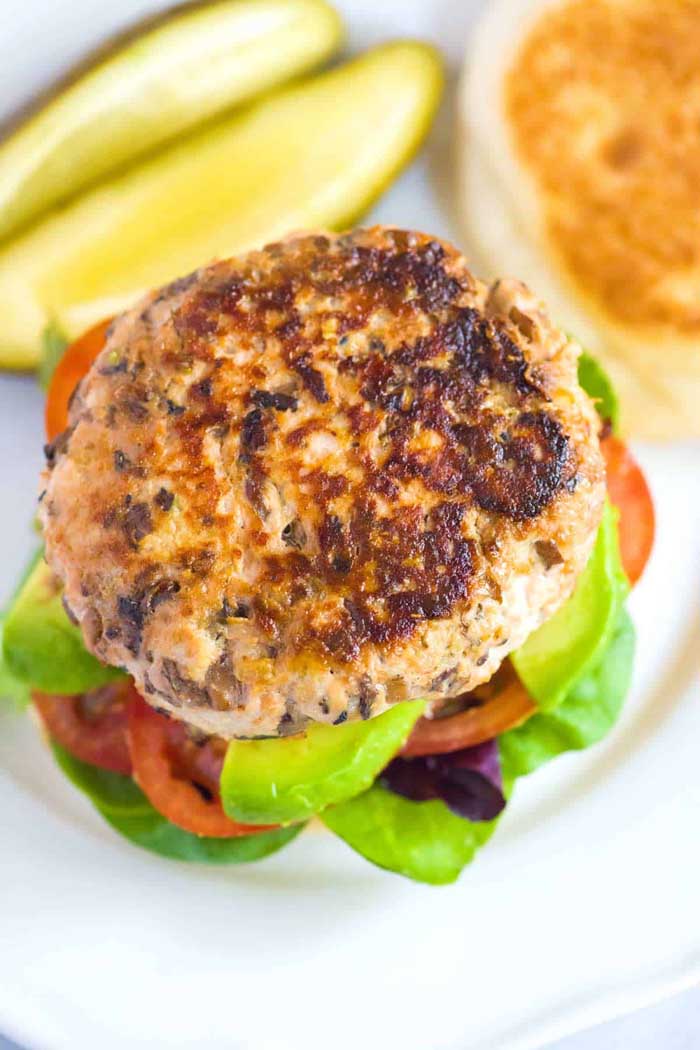 For anyone who finds ground turkey a bit bland, this recipe packs in so much flavor that you'll be hooked. With chopped mushrooms, garlic, and umami, there's plenty of taste packed into these little wonders. The mushrooms help to keep the patties moist without overwhelming the turkey meat.
Caesar Salad Filling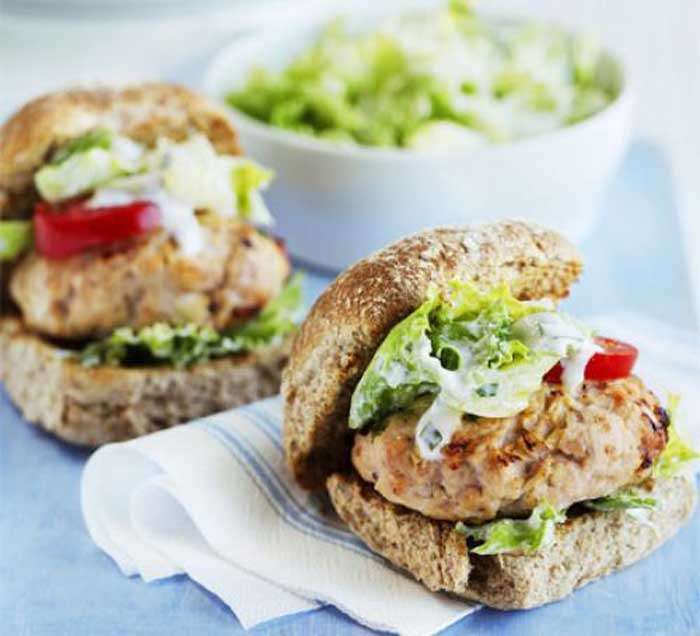 This recipe gives a perfect twist to standard turkey burgers by adding a zesty Caesar filling. With anchovy, lemon, and garlic, there is plenty of punch in these burger sandwiches. Low fat and fun to make. Beautiful for summer eating!
Spinach & Feta
It can be difficult to make turkey burgers stay moist, but this recipe does it superbly through its use of ingredients.
It contains beautifully crumbled feta, along with minced garlic and onion for a bit of a kick.
Buffalo Sauce
Celery and blue cheese dressing help tame the hot sauce on this turkey burger recipe. For an even lighter version, pass on the buns and serve with lettuce leaves, sliced onion and chopped tomato
Healthy Spinach & Basil
This recipe does away with eggs and breadcrumbs, while still managing to keep everything moist. Made with only 5 ingredients, and coming in at only 129 calories, this dish is economical in cost and calorie count.
Minced Turkey, Garlic, Red Onion and Coriander
Delicious, quick and healthy recipe for fresh turkey burgers, using minced turkey, garlic, red onion and coriander.
Turkey might not always conjure up mouthwatering images, but these turkey burgers are juicy, pack some real flavour and are so far from what you'd expect.
These beauties are made with garlic, coriander and chilli, but can be swapped around with curry powder for more of an earthy kick. Topped with fresh chopped mango and red onion, there are a lot of fresh, delicious ingredients at play.
Clean Eating Baked Patties
These delicious burgers are lower in fat because they're baked instead of grilled or fried. Delicious straight out of the oven, they'll go down as an instant hit. Bets enjoyed with sweet potato fries for a flavor kick that isn't a total guilt trip.
Greek-Style Scallion, Zucchini & Feta Topping
I love Greek salad, so I'm instantly on board with a turkey burger filling topped with feta and tomato.
Asian Patties with Homemade Cole Slaw
There's nothing like a big juicy burger fresh off the grill. These Asian style turkey burgers are lower in fat but high on flavor. A nice alternative if you're looking for a healthier option.
Despite the high ingredient count, these are easy and simple to make, and the rich flavors make it all worth while
Thai-Style with Peanut Sauce
This homemade Thai turkey burger puts an original twist on the original classic. Topped with an amazing grilled corn salad, avocado cucumber quinoa salad, delicious grilled potatoes, and classic Boston baked beans. It can be paired with fresh, crisp veggies or sweet potato fries, as well as other classic BBQ side dishes.
Sage and Cranberry Sauce
Sage creates a beautiful accompaniment to the cranberry sauce and turkey filling in this burger. Add in some Swiss cheese if you want to take the flavor to even greater heights.