The best vegan breakfast recipes to kickstart your morning. Easy plant-based breakfast and brunch ideas, including easy tofu burritos, chia overnight oats, vegan smoothie bowls.
Breakfast is undoubtedly one of the most important meals of the day. What you eat in the morning largely determines how the rest of your waking hours will go. Finding the right recipe first thing in the morning isn't easy, but this list of our favorite plant-based morning meals will hit the spot. Whether you're vegan or just want to try out a few new recipes, we've got you covered.
From protein-packed breakfast burritos to make-ahead smoothie bowls, these ideas will have you feeling energized and ready for the day. So what are we waiting for? Let's get into it.
Almond Milk Berry Smoothie
We love almond milk berry smoothies because they're easy to make and best when served chilled. You'll need almond milk, berries, frozen banana, sunflower seeds, chia seeds, vanilla extract, and chlorella powder for this smoothie recipe.
I enjoy smoothies for breakfast. Smoothies are easy on your digestive system in the morning and an effective way to incorporate some fruit into your diet.
Peanut Butter & Banana Overnight Oats
For a beautiful combination of sweet and savory, these peanut butter and banana overnight oats will hit the spot. These are best made the night before, so all you have to do in the morning is grab a spoon or two, add plant-based milk if necessary, and enjoy!
That couldn't be more convenient to make, since it can take just minutes the night before. It includes a chia seed and oat mix plus peanut butter, pecans, and banana for an addictive yet healthy bowl of greatness.
Turmeric & Ginger Health Shot
We love these turmeric and ginger health shots for breakfast because they're quick, easy, and delicious. Turmeric is good for inflammation and overall immune system health, while ginger is best known for its anti-inflammatory properties.
These drinks are perfect for batch-making. They're loaded with zesty lemon and punchy ginger root, so they're delicious – as well as healthy!
Canned Peaches
Proof that the simplest dishes can be the most delicious. We like this easy canned peaches recipebecause it's easier than many other breakfast recipes that we love.
This recipe gives you a lot of freedom to be as creative as you want with flavors. I should say that these are great just on their own with the sugar-water syrup in the recipe below, but feel free to be imaginative with ingredients like cinnamon, nutmeg, and honey.
Flaxseed Blueberry Oatmeal
Healthy and filling, this flaxseed oatmeal is a great way to kickstart your day. When you make your oatmeal with flaxseed meal, it adds a nice nutty flavor to your oats. Mixed with blueberries, this breakfast is best eaten warm out of the oven when the oats are still moist from cooking. To make this recipe vegan-friendly, use non-dairy milk instead of regular milk.
Flaxseed is good for you because it contains Omega 3 and 6 along with fiber. Flaxseed is also a good source of lignans which may reduce the risk of breast cancer in women, prostate cancer in men, and colon cancer.
Peanut Butter Chia Overnight Oats
This makes for a filling breakfast in the morning that takes no time to make at all. As with all overnight oats recipes, you prepare and refrigerate it overnight, and you have your breakfast ready and waiting in the morning.
The core ingredients for this particular recipe are rolled oats, low-fat peanut butter, a pinch of salt, and chia seeds. Add some water almond milk (remember, this is vegan) and some sliced bananas. Put this into a mason jar and tighten the lid. Let the oats soak in all the goodness as it refrigerates overnight. You can even take this with you if you're late to work or college.
Coffee Protein Smoothie
This quick and easy breakfast is perfect when you're short on time. This coffee protein smoothie is the perfect backup for busy mornings with caffeine, fiber, and a deliciously sweet flavor.
We love coffee protein smoothies for breakfast because they're an easy way to get a good amount of protein into your day if you have a busy morning and need something quick. They taste great, too!
This is best made with non-dairy coffee creamer (make sure it's not full of sugar) and almond milk. Using frozen bananas works best for this recipe because they add the best consistency and flavor to your smoothie.
This healthy coffee protein smoothie makes the perfect breakfast for people who are short on time and need their caffeine fix. Full of plant-based proteins and sweetened with frozen bananas – you won't have to feel bad about having chocolate for breakfast.
30-Minute Scrambled Tofu Breakfast Burrito
Who doesn't love a good burrito to kickstart your day? The only downside to traditional burritos is the difficulty in cooking the rice and beans and slaw. In this vegan version, you avoid all of that.
These simple-to-make burritos would need red peppers, potatoes, along tofu cooked with cumin, garlic, and chili powder. Add a bit of yeast and hummus, and your burrito filling is done. Wrap as much as you can in a corn tortilla, and voila! This will be the perfect burst of flavors to begin your day.
Easy Hummus Toast
Keeping in line with traditional toast for breakfast, here is a perfect topping to fit your vegan diet. Top your toasted bread with hummus, sunflower seeds, and hemp seeds. That's all there is to it. This will ensure you get enough protein into your system.
Oh, and this is best eaten right after toasting your bread.
Chocolate Peanut Butter Banana Smoothie Bowl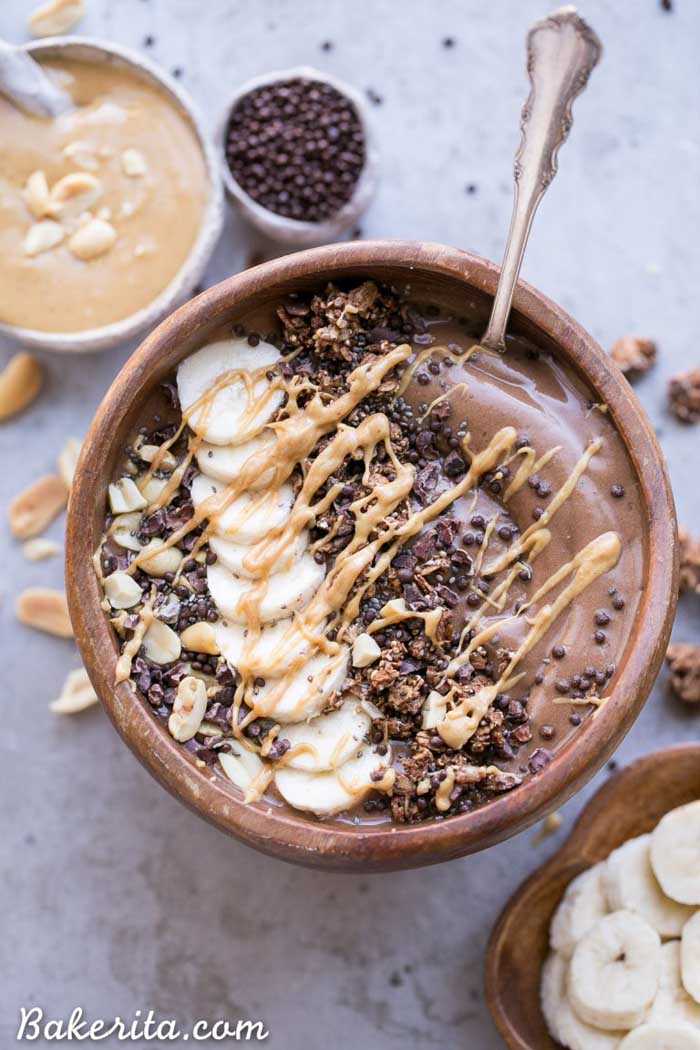 Yes, you hear it right, chocolate in the morning. Like we mentioned, veganism isn't all that hard. This smoothie bowl contains any vegan milk, frozen bananas, cacao powder, and peanut butter. Additionally, you could even add some chia or flax seeds for that extra nutrition.
There you go. A yummy bowl filled with chocolate and peanut butter fitting all your dietary needs. While it might sound too good to be true, it is real.
Greek Chickpeas on Toast
This Greek breakfast is sure to make for Instagram-worthy photos while also doing a whole lot of good for your body. Though this requires a bit of cooking, the process is fairly simple.
This breakfast recipe involves stirring shallots, garlic with spices like smoked paprika, sweet paprika, cumin, salt, sugar, and pepper. Add two large tomatoes to it after a minute or two of stirring and mix in the cooked chickpeas. This is best served on some nicely toasted bread.
Chickpea Avocado Toast
Another toast recipe for the vegan breakfast win. Keep your spice mix of cumin, smoked paprika, chili powder, and salt ready. Roast your chickpeas and add to a pan with some olive oil, and stir. Add some of the spice mixes into this and continue roasting it. Add a few slices of avocado to your toast and sprinkle a few drops of lime.
Lastly, add your spiced chickpeas and radish sprouts, and you have yourself a delightful vegan breakfast within 30 minutes.
Almond Milk & Chai Quinoa Bowl
This could not be any simpler and is one of our best ways to enjoy quinoa. This recipe includes quinoa, almond milk, a chai tea bag, and some coconut sugar if required. Add everything except the sugar to a bowl and bring it to a boil. Remove the tea bag and add sugar if needed. Leave it for a while so that the milk can soak in properly.
Serve in a bowl and top with pecans, coconut, and cinnamon.
Spicy Scrambled Tofu Tacos
ThesThese tacos will surely get everyone in the house up and sniffing their way into the kitchen. The main ingredients for this are pepper, red onions, Roma tomatoes, roasted red bell pepper, chili powder, paprika, salt, and of course, tofu. Add the spices and the red pepper to the sautéed poblano pepper and red onions and sauté again for a bit until all the aroma starts flowing out. Blend the tomatoes and add them to the mix along with the crumbled tofu. Serve this into warm corn tortillas along with some avocado if needed. Filling, tasty and fragrant.
4-Ingredient Fluffy Protein Pancakes
You cannot have breakfast without pancakes. This makes use of just flour, vegan protein powder, baking powder, and sweetener. Add all of your ingredients into a bowl along with a pinch of salt and water, if needed. Make your pancakes with this batter as you would normally do. This is all there is to it, simple and elegant.
Tofu & Hummus Eggless Omelet
Nothing screams breakfast more than an omelet, and this eggless take on the classic delivers. Instead of eggs, this uses silken tofu and hummus, garlic, yeast, paprika, salt, and pepper to taste. You can make use of your usual veggies for this omelet's filling. Make the batter using garlic, tofu, cornstarch, and some water. Sauté the vegetables and season to your preference. Add the veggies and the batter into a skillet, cook over medium heat for a few minutes, and then bake it for about 10 minutes. That's your vegan omelet.
Peanut Butter Banana Chocolate Chip Bars
Another sweet breakfast for those with a sweet tooth. These plant-based chocolate chip bars have both wet and dry ingredients. Wet includes mashed bananas, peanut butter, maple syrup, coconut oil (you can use almond oil as a coconut oil alternative if you prefer), water, and vanilla extract. The dry includes rolled oats, walnuts, shredded coconut, sunflower seeds, mini chocolate chips, cinnamon, baking soda, and salt. Mix both the ingredients separately and pour the wet into the dry. Mix thoroughly and spread the mixture evenly into a baking pan. Bake for 30 min and serve it only after cooling completely.
This can be kept frozen for a few days making it a wonderful option for food prepping.
---
FAQ
What can vegans eat for breakfast?
Breakfast foods are best when they're high in fiber and protein, such as oats with berries. Plant-based diets allow for a variety of high protein foods, like tofu or chickpeas, as well as rolled oats, nuts, and seeds. There are plenty of dairy-free milk options too, like almond, coconut, and soy milk.
What can vegans swap for eggs?
Eggs are a common breakfast staple. Luckily, there are plenty of options for vegans to replace eggs in their cooking. Mushrooms and flaxseeds can be whisked together and cooked until fluffy, or you can use a vegan egg replacer like Ener-G.