The best keto meal prep ideas to get you through the week. Low-carb bulk lunches and dinners to ensure you can keep on your keto diet at all times.
While there are many diet plans to choose from when wanting to lose weight, the keto diet proves itself worthy of selecting. At first glance, it can seem that there are not many tasty keto-friendly recipes. However, nothing could be further from the truth.
There are plenty of recipes out there for those on the keto diet, but the eleven delicious recipes below provide a start for those that crave flavorful, versatile, and simple recipes. They are low-carb bulk lunches and dinners to ensure you always keep on your keto diet.
Instant Pot Beef and Broccoli
This recipe can be made with fewer than 10 ingredients! Add them all from the recipe to a pressure cooker, and you have an easy meal. Devour this delicious appetizer or main course 30 minutes later. Riced cauliflower or a refreshing cucumber salad pairs well with this dish.
Sesame Chicken Egg Roll
Losing weight has never been so tasty with this creative recipe. If you love eating eggrolls, but without the carbs and the mess, this one-pot dish is a terrific option.
Prepared with broccoli slaw instead of coleslaw, this recipe is packed with flavor and nets only 3.3 grams of carbs. This eggroll in a bowl would be a nice addition to any tapas menu.
Sheet Pan Shrimp Fajitas
If you had a long day at the office, it could be hard to feel motivated to cook. However, the colors, simplicity, and flavor in this recipe can provide some motivation. It also only takes 20 minutes to cook. Use up those extra veggies in your fridge for this recipe and combine it with your favorite protein: Shrimp, chicken, or steak. This recipe aims to please and can be a fantastic part of your Mexican fiesta!
Greek Chicken Bowls
Do you love Greek food so much you can eat it for every meal? Are you a party of one, or do you have more than just yourself to cook for? This recipe is a great idea for someone who loves leftovers or needs to have enough food to share with others. It takes a total time of 40 minutes from prep to table. Combining the classic flavors of feta cheese and cucumbers, this recipe can be served as an appetizer. Drizzle with balsamic vinegar and enjoy!
Tuna Salad Cucumber Boats
With just 4 grams of carbs, it's hard to say not to this delicious take on tuna salad! If you love tuna salad but don't need the carbs in the bread, substitute it for cucumbers.
This recipe is easy to make – just cut cucumbers lengthwise and fill them with tuna salad! Great in school lunch or as an afternoon snack at the office.
Baked Turkey Meatballs
This meatball recipe boasts versatility. Feel free to substitute the turkey with lamb or beef also. Uncooked or cooked meatballs can be a great staple to any freezer to add to future meals.
Once prepared, they can be served on top of veggie noodles and topped with sauce, added to chili, or used as an ingredient in an energy bowl. 1 meatball equals 1 gram of carbs!
Taco Salad
At first thought, tacos may not seem keto-friendly. However, this recipe proves taco lovers wrong! With just 3 grams of carbs per serving, the recipe includes a taco sauce and lists several ingredients that are keto-friendly.
Use all the keto toppings suggested or just a few. The taste you get is up to you and your creativity! Leftovers can be used for lunch the next day.
Steak Cobb Salad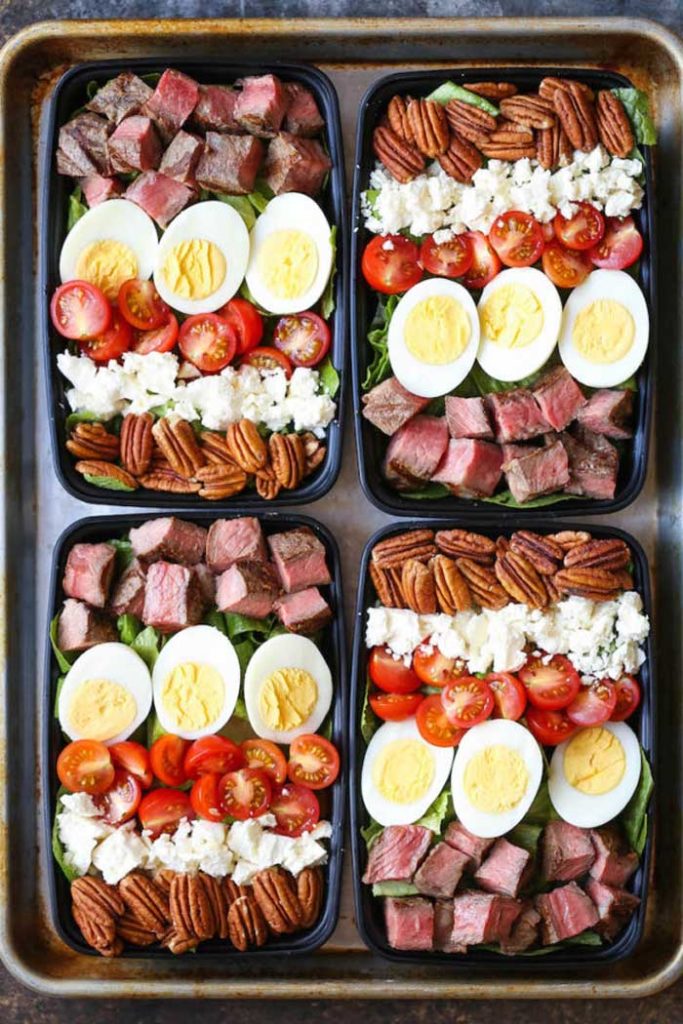 Steak and salad lovers unite! This recipe is packed with protein, color, and flavor. It is perfect for lunch with friends or a low-carb dinner with the family. Prepared in under an hour, this meal can also be an elegant appetizer for any celebration or holiday menu.
Crunchy Healthy Turkey Salad
Do you want something that is dairy-free and keto-friendly? Try this recipe! Using a tahini-based dressing, this turkey salad is a great substitute for ranch dressing.
If you have extra turkey meat on hand, put it in a bowl and add the rest of the ingredients. Serve with raw veggies or your favorite low-carb soup. This meal is not only easy to prepare but is also great as a leftover for lunch with the girls the next day!
Santa Fe Low-Carb Chicken
Did you start the keto diet to help with diabetes? This recipe is not only keto-friendly but is perfect for those watching their sugars. Prepare the chicken and riced cauliflower and add cheese for a scrumptious Mexican-themed meal for lunch or dinner. Prepare extra chicken and add to your next meal for another day. Enjoy your Santa Fe chicken out on the deck at your next get-together.
Air Fryer Fried Chicken
This meal will take some planning time, but it is well worth the time and labor. Fried chicken is one of our favorite best air fryer recipes, and this version is a great example of why.
It has 11 spices blended with almond milk and pork rinds. This spin on fried chicken will add flavor to any Southern-themed table. Enjoy your favorite keto-friendly side dishes for a fabulous Sunday brunch!