Check out these best quinoa recipes and cooking ideas. Here are 14 ways to make quinoa not boring, including quinoa bowls, quinoa salads, and instant pot quinoa.
Despite all the health nuts who praise the nutritional value and benefits of the stuff, there is no escaping the fact that quinoa the grain by itself is… just dull.
Yes, much like with rice and pasta, it doesn't make much of a dish alone. However there are a whole range of ways we can make quinoa, well, not boring.
Here are some reminders as to why quinoa is heralded as a miracle food…
Quinoa contains an abundance of proteins as well as all nine essential amino acids that are required by the body. In combination these act as building blocks for muscles, and help develop new body tissues. In fact, its protein content also makes it a heaven-sent superfood to people undergoing weight loss programs.
Quinoa also boasts (get ready for this): Magnesium, manganese, phosphorous, lysine, potassium, and iron. This particular combination of nutrients and antioxidant materials helps to prevent both cell damage and cardiovascular disease.
Furthermore, it's rich in fiber. This helps lower cholesterol levels, maintaining a healthy heart, and also a low glycemic index, which helps to keep blood-sugar levels low.
Ok, so I've told you why you should be having it, but what about taste?
Despite its fairly bland natural form, there are plenty of brilliant recipes out there that make use of quinoa. Here are 14 ways to make quinoa not… boring.
Avocado Spinach Power Salad
This gluten-free, vegan salad made with quinoa, avocado, spinach, cherry tomatoes is a delicious way to work your daily fruits and veggies into your day. You can change up the recipe by switching out or adding other vegetables, or using a different dressing. With this Power Salad, the choice is up to you.
by Kaitlin @ The Garden Grazer
Pizza Bites
If you're looking for an easy way to make gluten-free pizza at home, or you just want to enjoy fun, bite-sized pizza, you should try making these quinoa pizza bites. You will need an egg, some Italian seasonings, and marinara sauce for dipping. This recipe can easily be made in a muffin tin.
by Jessica @ Jessica in the Kitchen
Enchilada Casserole
This recipe is a spin on enchiladas that adds the health benefits of quinoa, like protein and fiber. It's as simple as mixing all of your usual enchilada ingredients in a bowl, plus the cooked quinoa, and topping it with cheese before baking. The recipe serves 6, so it's perfect for a family dinner, or to eat throughout the week.
by Chungah @ Damn Delicious
Chocolate Chip Trail Mix Balls
The easiest way to get healthy, great-tasting trail mix is to make it yourself. These trail mix balls combine shredded coconut, oats, chocolate chips, dried fruit, and quinoa to make a tasty treat you can carry with you wherever you go. Just make sure you keep them somewhere safe so they don't melt in your pocket.
by Jenna @ Eat, Live, Run
Granola Bars
These snack bars are nutritious and full of protein, plus they are crazy easy to make. Made with coconut oil, maple syrup, and vanilla extract, there's a lot of flavor packed into each bite. These bars are best eaten right out of the oven. They store very well in an air-tight container for up to a week, but they will lose their crunchy texture over time.
Thai Veggie Bowls
Garlic, ginger, green onion, and sesame seeds give this quinoa bowl the great taste and flavor you experience from Thai food. Who knew you could spin quinoa into a Thai dish? The recipe is also gluten free and vegan, and uses plenty of crunchy veggies for a perfect mix of textures.
by Vicky @ Avocado Pesto
Shrimp and Parsley Salad Bowls
I love these salad bowls because they are so easy to put together. You just cook the quinoa, heat the shrimp, and then assemble everything in a bowl. It's best with kale or spinach but any salad greens will work, too!
Black Bean Veggie Burgers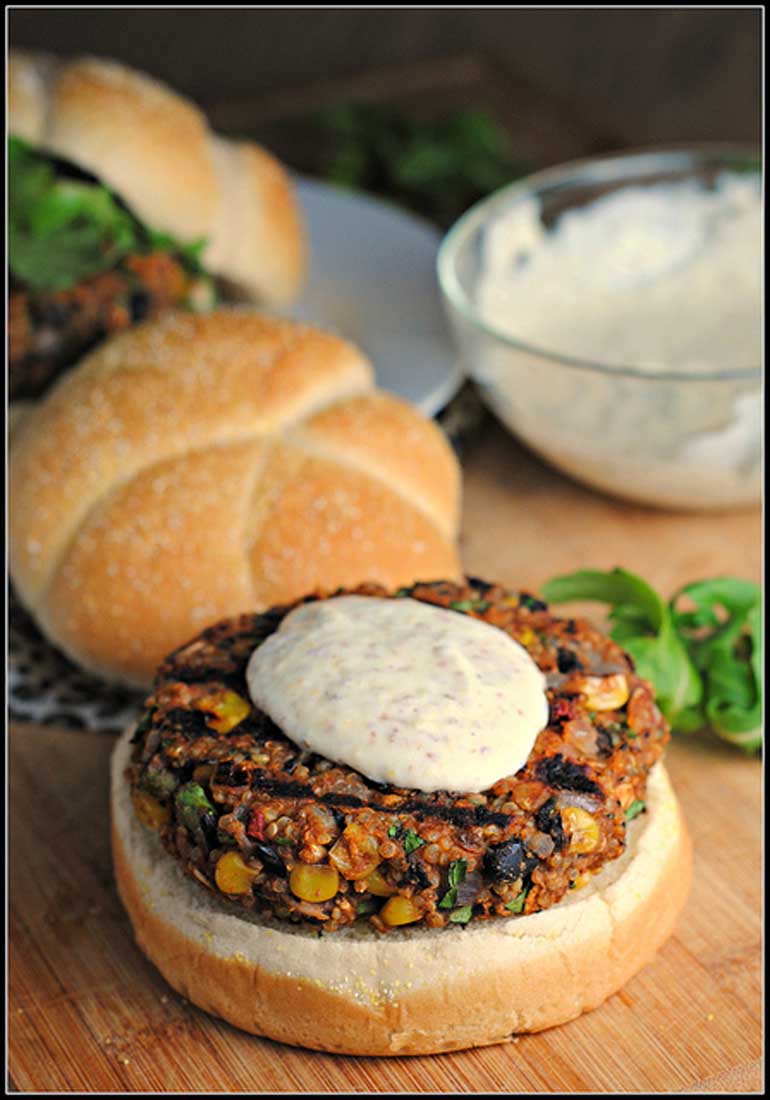 Have you ever had a veggie burger made with egg, corn, black beans, oats, and quinoa? Don't knock it before you try it – these burgers might surprise you. This is a great alternative to expensive meat substitutes, and they can even be made in large batches and frozen for later.
by Nicole @ Prevention RD
Vegetarian Chili
Chili doesn't always have to be made with meat. Replace the meat with quinoa for this vegetarian quinoa chili. It can also be made vegan and dairy-free if you choose not to add the optional shredded cheese or sour cream toppings. This recipe is perfect if you're looking to make some healthy comfort food.
by Jaclyn @ Cooking Classy
Sesame Spring Rolls
I love these spring rolls because they are so easy to make and easy to make vegan-friendly! They're packed with flavor from ginger, soy sauce, and sesame oil. They're best eaten fresh out of the pan when cooked on medium heat for about two minutes per side.
Buffalo Bites
These quinoa bites are a spin on the classic buffalo wings with blue cheese dip. Making these bites involves no meat – just beans, bread crumbs, an egg, and buffalo sauce. You can fry them in a pan or toss them into an air fryer. You also have the option to stick with the classic blue cheese dip or fill the quinoa balls with blue cheese chunks.
by Betsy @ Betsylife
Blueberry Banana Muffins
If you were looking for a way to incorporate quinoa into your breakfast routine, you have to give these quinoa muffins a try. This recipe uses raspberries, but you can mix it up by using different berries or eating them with extra fruit or yogurt on the side. They're also easy to take on the go and as part of an easy vegan breakfast.
Puffed Peanut Butter Protein Balls
These vegan peanut butter treats can be prepared in just 15 minutes, making for a super easy snack to prepare when you are in a rush. Agave nectar and vanilla add flavor and sweetness to this protein ball recipe. Rather than consuming these as a mid-day treat, why not substitute them for dessert? The recipe yields 12 servings.
by Angela @ Vegangela
Banana Bread
The secret in this recipe lies in cooking and cooling the quinoa. If you don't want to use wheat flour, use a gluten-free flour mix. This recipe can be enjoyed for up to two days after it is made. It just takes one hour for baking and results in one moist loaf. Providing a tasty alternative for breakfast, this recipe can also be a superb option as a mid-day snack.
by Felicia @ Dish by Dish
---
How to add flavor to quinoa
The best way to add flavor to quinoa is to cook it with ingredients that pack a lot of punch. For example, if you're making quinoa with lime and cilantro, add the lime juice and fresh chopped cilantro to the water when cooking the quinoa.
You can also try roasting vegetables in a pan before adding them to your cooked quinoa or combining spices like curry powder or turmeric for an added punch of flavor!