Despite all the health nuts who praise the nutritional value and benefits of the stuff, there is no escaping the fact that quinoa the grain by itself is… just dull.
Yes, much like with rice and pasta, it doesn't make much of a dish alone. However there are a whole range of ways we can make quinoa, well, not boring.
Here are some reminders as to why quinoa is heralded as a miracle food…
Quinoa contains an abundance of proteins as well as all nine essential amino acids that are required by the body. In combination these act as building blocks for muscles, and help develop new body tissues. In fact, its protein content also makes it a heaven-sent super food to people undergoing weight loss programs.
Quinoa also boasts (get ready for this): Magnesium, manganese, phosphorous, lysine, potassium, and iron. This particular combination of nutrients and antioxidant materials helps to prevent both cell damage and cardiovascular disease.
Furthermore, it's rich in fiber. This helps lower cholesterol levels, maintaining a healthy heart, and also a low glycemic index, which helps to keep blood-sugar levels low.
Ok, so I've told you why you should be having it, but what about taste?
Despite its fairly bland natural form, there are plenty of brilliant recipes out there that make use of quinoa. Here are 14 ways to make quinoa not… boring.
Quinoa Avocado Spinach Power Salad
by Kaitlin @ The Garden Grazer
Quinoa Pizza Bites
by Jessica @ Jessica in the Kitchen
Quinoa Enchilada Casserole
by Chungah @ Damn Delicious
Chocolate Chip Quinoa Trail Mix Balls
by Jenna @ Eat, Live, Run
Quinoa Granola Bars
by Sarah @ Feasts for All Seasons
Thai Veggie Quinoa Bowls
by Vicky @ Avocado Pesto
Zesty Sriracha Shrimp and Quinoa
by Julie @ Julie's Eats and Treats
Black Bean & Quinoa Veggie Burgers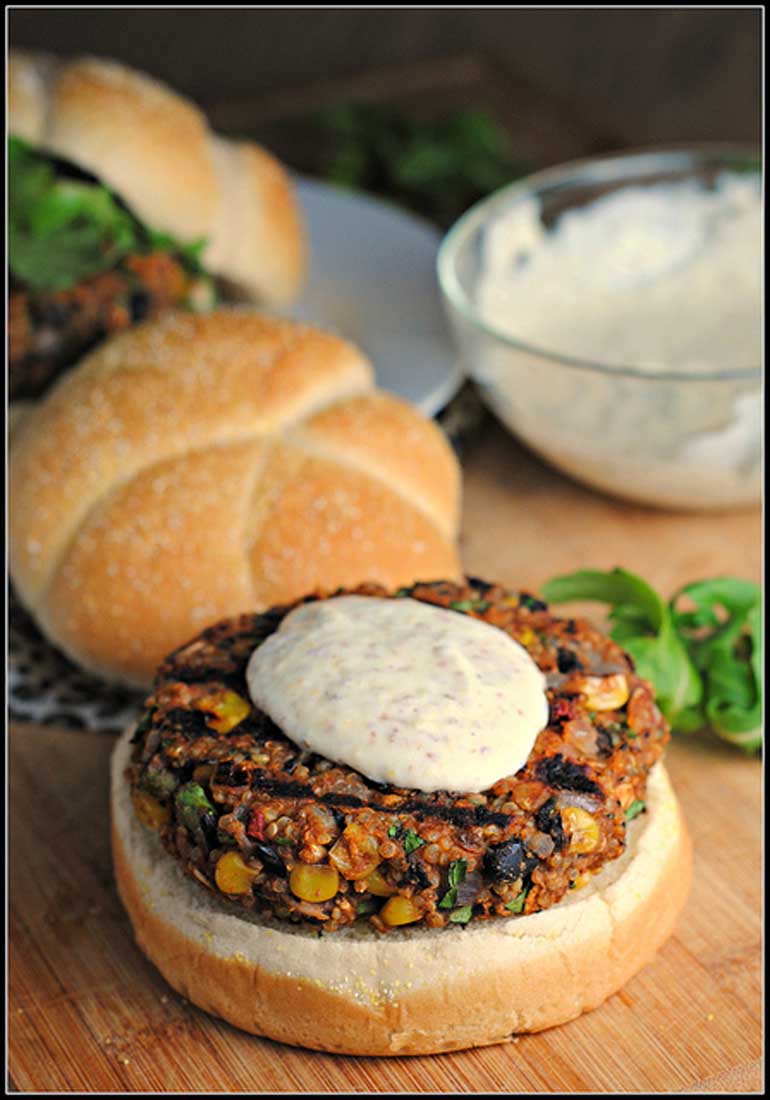 by Nicole @ Prevention RD
Vegetarian Quinoa Chili
by Jaclyn @ Cooking Classy
Sesame Quinoa Spring Rolls
Buffalo Quinoa Bites
by Betsy @ Betsylife
Blueberry Banana Quinoa Muffins
by Christine @ Food Addict and Fitness Fantatic
Puffed Quinoa Peanut Butter Balls
by Angela @ Vegangela
Quinoa Banana Bread
by Felicia @ Dish by Dish
What's your best quinoa recipe? Leave it in the comments below!