Classic ground beef meatloaf without breadcrumbs. An easy gluten-free take on the iconic American dish. Grab your loaf pan and get the recipe today.
Meatloaf is a classic dish that has been around for centuries. It's moist, hearty and delicious. But did you know you can make it without breadcrumbs? This easy gluten-free recipe will show you how to make meatloaf with ground beef, eggs, ketchup and Worcestershire sauce.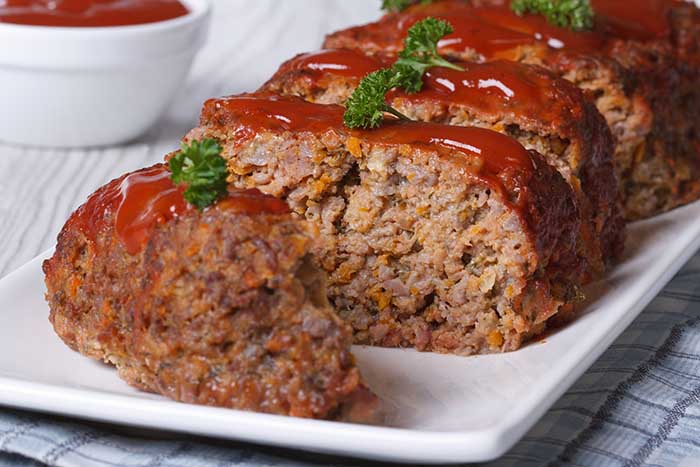 What is meatloaf?
Meatloaf is a hearty and meaty dish made of ground meat and molded into a loaf. It is just as you would expect from hearing the name. You can either use beef, pork, veal, seafood, or poultry, although beef is the most common. Besides the fact that it is readily available in many places, many people also tolerate it.
Beef is ground and then molded into a loaf. Ground meat is often used in conjunction with other ingredients. The unique mix will give it its taste and what separates one meatloaf from the next. You may have heard people say so, and so meatloaf is better. This is because of the combination of ingredients they choose to use.
The loaf is then baked or smoked. The method of cooking also heavily influences the taste of the end product. Once the loaf is cooked, you can then cut it into individual slices in the same way that you slice bread.
What is the purpose of breadcrumbs in meatloaf?
Breadcrumbs will give meatloaf a particular crunch and texture and browning as well. Breadcrumbs also stretch the meat and give you more meat to go around, meaning the loaf will feed more people. It is also used as a binding agent, holding the egg and ingredients together.
What can I use instead of breadcrumbs in meatloaf?
You may not have breadcrumbs on hand but still want to make the meatloaf. You have a couple of options that you could go with. You can crush crackers and use those instead. Make sure they have no flavor that could throw off your meatloaf. You can also use pulsed pretzels to get the same crunchy texture and crispy coating.
If you want to avoid anything flour-related altogether, you could crush nuts or rolled oats. You can also use potato chips in place of breadcrumbs in meatloaf. Again, make sure they don't have their flavor. You can also use crushed cornflakes or almond flour. Cooked rice also works well.
Why is it essential to use binding agents in meatloaf?
Meatloaf is made of ground beef, and as such, it needs to be held together by something. This is why it is essential to have ingredients that can keep everything together, such as eggs.
Can I make meatloaf ahead?
Yes, you can make meatloaf ahead of time and freeze it. This will be a tremendous time-saving hack. To do this, you will need to shape it and then place it in the freezer in an airtight container.
Can I use ground chicken or turkey?
Poultry can be used to make meatloaf. You will need to make sure that you get it ground. You can either do this yourself or buy it already ground. This meat works well as meatloaf, as it also easily blends with other ingredients that you may want in your meatloaf. Also, it is often already lean. Lean meat is best for meatloaf.
Storage
You can store it in the fridge to extend its shelf life. Just make sure that it is in an airtight container. When you store it right, it will remain fresh for about 3 or 4 days. You can also use aluminum foil and heavy-duty plastic bags to seal freshness and keep moisture out.
When meatloaf is stored in the freezer, it can last for about 3 or 4 months. However, storing it in the freezer means that you also need to know how to thaw it out properly. After being thawed, meatloaf will be good for about 3 to 4 days in the fridge before you need to cook it. The temperature must be kept at a constant 0˚F.
Reheating
Meat dishes can be difficult to reheat without letting them turn dry or bland. To reheat meatloaf, place it on an aluminum foil-lined baking tray and place in an oven preheated to 250°F. Warm for thirty minutes.
Side dishes ideas
Some of our favorite meatloaf sides are dinner rolls, garlic bread, cornbread, mashed potatoes, mashed cauliflower. You could also serve it with creamed spinach, or carrots, or broccoli. If you're looking for something heartier, then mac and cheese should do the trick.
Easy Meatloaf (No Breadcrumbs)
Classic ground beef meatloaf without breadcrumbs. An easy gluten-free take on the iconic American dish. Grab your loaf pan and get the recipe today.
Equipment
mixing bowl

non-stick loaf pan

parchment paper
Ingredients
1

lb

ground beef

1

large

egg

1

cup

parmesan cheese

grated

½

cup

yellow onion

diced

1

cup

tomato ketchup

½

tsp

kosher salt

½

tsp

ground black pepper
Instructions
Preheat oven to 350°F (180°C)

In a large mixing bowl, combine the ground beef, egg, parmesan cheese, onion, ketchup, salt, and ground pepper Combine ingredients thoroughly.

Line a loaf pan with parchment paper and cooking spray. Add beef mixture to pan.

Place meatloaf in preheated oven. Cook for one hour.

Remove from oven and allow to rest for five minutes. Slice to serve.