Easy skillet dinner recipes for fuss-free one-pan meals you can make in an instant. Delicious weeknight dinner ideas for all food lovers.
Skillet meals offer a quick and easy way to rustle up dinner when you're short on time and low on energy. Whether you're cooking for a crowd or need a quick recipe for one, these single pan dishes are an easy go-to for all occasions.
The good news is that it's not all casseroles, stir-fries, or rice. We've brought together the best skillet dinner recipes that prove one pan doesn't have limits. There's something for everyone, from budget-friendly diced chicken or homemade lasagna, to ground beef pasta and mushroom bakes. Find your new favorite recipe today.
Mac & Cheese
Normally, making mac & cheese is a production that requires boiling the pasta, making a roux, baking the dish, and several other steps. This easy skillet recipe makes mac & cheese (and not the box kind) an accessible weeknight meal.
You will need pasta, butter, flour, cheese, and cream. Cook the pasta and make the cheese sauce in a skillet, then stir together. The recipe is also customizable, and you can add toppings such as arugula or tomatoes if you want.
Texas Roadhouse Rice
This copycat version of the popular Texas Roadhouse seasoned rice is a flavorful pilaf that can be served with shrimp or diced chicken, or it can be enjoyed as a simple side dish. A classic rice recipe cooked with butter and spices, this dish is bursting with flavor.
To make this easy Texas Roadhouse rice, simply saute long-grain rice and butter until toasted before adding cayenne pepper, paprika and soy sauce. Simmer for ten minutes and enjoy immediately.
Buffalo Chicken Bites
If you like hot and spicy, this one's for you. This buffalo chicken bites recipe is a unique spin on classic bar finger food, with this homemade version providing a quick and light dinner when you only have 15 minutes to spare. There's no batter and it's light on the oil, so it's low in calories and kinder on your heart.
Shredded pieces of boneless chicken breast are coated in spicy buffalo sauce before fried over high heat in the skillet. Throw in some rice or egg noodles and to pad it out, and you have a spicy chicken stir-fry.
Creamy Tuscan Chicken
Inspired by the central region of Italy, is this beautiful Tuscan chicken dinner dish. It features boneless chicken breasts coated in egg and flour, which are then pan fried and coated in a rich, creamy parmesan cheese sauce. Added to the mix is wilted spinach and sundried tomatoes for your vegetables, and you have a well-rounded single pan dish that takes under 30 minutes to cook. Perfect.
Kerala Beef Fry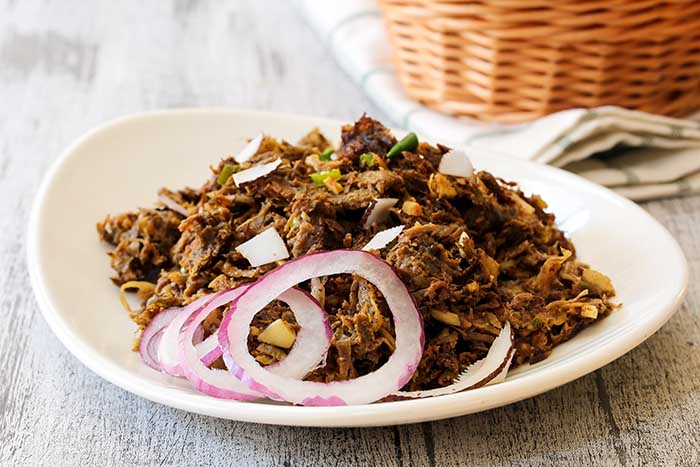 Kerala beef fry, also known as ullarthiyathu, is a rich and intense Indian beef dish that takes slow cooked beef pan fries it to remove excess moisture and enrichen the flavor. The final result is a spicy meat dish with an intense beef flavor.
While many people use a pressure cooker to save time, the entire thing can be done in a large skillet. The first part will need you to stew the beef in spices for at least an hour before draining it and frying it at high heat. This Kerala beef fry recipe is well worth the effort though.
Ground Beef Pasta Shells
Stuffed pasta shells are another delicious dish that can feed a crowd, but usually requires several steps and dirtying plenty of dishes. These easy stovetop beef shells allow you to get the comforting flavors of a stuffed pasta dish in minutes on the stovetop.
For the recipe, you will need medium pasta shells, lean ground beef, onion, and tomatoes. After cooking the pasta, you will make the beef sauce in the skillet, then stir in the pasta to coat.
Skillet Chicken Parmesan
If you're a lover of chicken parmigiana recipes, this is the one for you.The cheesy, savory flavors of chicken parmesan are a great comfort meal for when you need something warm and familiar to get through the day.
This dinner is versatile and can be served with or without pasta. The best part is that it only takes 20 minutes to make!
This skillet chicken parmesan recipe is a take on traditional chicken parmesan without the high fat and caloric content. That's because it's baked after being light pan-fried in the preheated cast-iron skillet. This makes it juicy and tender while giving it a touch of crispness.
The main ingredients are chicken cutlets, tomato sauce, and plenty of cheese. Start by breading the chicken cutlets, then baking them. Once the cutlets are baked, add the sauce and cheese.
20-Minute Sausage Pasta
We love this recipe because it's so simple but still has a lot of flavors. The best part is that you can take the sausage and pasta skillet for dinner or breakfast.
This sausage pasta recipe only takes about 20 minutes to rustle up, making it perfect if you're looking for a quick dinner. Plus, it's got sausage and green peppers for some extra flavor.
Greek Shrimp, Pearl Barley and Kale with Feta
One of the benefits of making a skillet dinner is that you don't have to make side dishes separately. Instead, meals like this shrimp, barley, and kale Greek-inspired dish, combine protein and vegetables into one dish.
To make this dish, you will need deveined shrimp, tomato, pearl barley, kale, and feta. Cook the ingredients on the stovetop, then crumble feta over the top and finish in the oven.
Mushroom Zucchini Lasagna Rolls
Lasagna is delicious, but it is a project to make and so rich that you feel sluggish for the whole day afterward. This roll-ups recipe comes together just in a skillet, and using zucchini instead of noodles lowers the carb count.
Besides zucchini, you will need marinara sauce, ricotta, sausage, and shredded cheese. Slice the zucchini into thin strips and cover with the ricotta mixture, rolling into balls. Place the filled zucchini in a skillet, cover with marinara, and bake.
Poached Salmon in Coconut Lime Sauce
This poached salmon in coconut sauce draws on the flavors of traditional Thai curries but makes it accessible in the form of a one-skillet meal. The salmon is poached but gets extra flavor thanks to the extra step of searing it first.
You will need garlic, ginger, lemongrass, chili garlic paste, coconut milk, and lemon zest to make the sauce. Start by searing the salmon, then caramelize the aromatics to make the sauce and finish the salmon by poaching it in the sauce.
Apple Pork Chops
Cook the meat and vegetables for these apple pork chops in the same skillet to save time on prep and washing up afterward. Besides the practical aspect, the one-skillet meal also allows all of the ingredients to absorb the fall flavors in this dish.
You will need pork chops, cubed butternut squash, aromatics, apple slices, apple cider, and herbs such as rosemary. Start by cooking the pork chops and squash separately, then add the apples and sauce and cook together.
Herb Potato & Tomato Baked Egg
Who says eggs are just for breakfast? Baking eggs in a skillet along with hearty potatoes makes for a filling dinner that will please a crowd.
This simple recipe comes together with potatoes, herbs, marinara sauce, sliced green peppers, and eggs. Roast the potatoes to speed up the process, then combine the ingredients in the skillet and bake until egg yolks are set.
French Onion Chicken
This comforting recipe takes the warming flavors of French onion soup, a favorite for cold weather meals, and pours it over chicken for a filling, protein-packed meal. The caramelized onion sauce and melted cheese make for a chicken dinner that is anything but dry.
To make this recipe, you will need chicken breasts, sweet onions, sliced cheese, and plenty of herbs. Start the recipe by caramelizing the onions, then cook the chicken in the same skillet. Finish it all in the oven to melt the cheese.
Pan-Seared Shrimp
These seared shrimps are packed with flavor thanks to the aromatic sauce that comes together in the skillet. Shrimp only need to cook for a few minutes before they are done, making this a meal that you can get on the table in no time.
To make this recipe, you will need shrimp, tomatoes, garlic, feta, and herbs for the sauce. Sear the shrimp, then make the sauce and serve all together.
Cheesy Rotisserie Chicken Enchilada
Enchiladas are delicious, but on weeknights you may not have time to roll tortillas and bake them. Enter this recipe, which combines enchilada flavors in an easy casserole made even quicker by using rotisserie chicken.
Besides chicken, you will need jarred enchilada sauce, tortillas, black beans, and shredded cheese. Combine the ingredients in a skillet, cook on the stovetop, then finish in the oven to melt the cheese.
Thai Chicken Peanut Rice
One of the best ways to please a crowd for dinner is to replicate a takeout favorite. This Thai chicken peanut rice dish combines the best of Thai takeout flavors into one pan and will be on your table in 30 minutes.
The main ingredients are chicken, rice, and vegetables. For the sauce, combine soy sauce, peanut butter, and honey with spices and stir through the meal.
Skillet Balsamic Peach Pork Chops
Pork chops are a great skillet meal because cooking them in the skillet allows the flavors to develop. This recipe uses peaches, balsamic vinegar, and feta cheese for a sauce that is sweet, acidic, and savory. Start by searing the seasoned pork chops in the skillet, then build the sauce.