These chickpea taquitos make the perfect summer meal or snack. They're crispy, delicious, and spicy, while also vegan and gluten-free.
It's always great to have a vegan take on a classic meat-based dish in your repertoire.
This plant-based recipe does away with the traditional chicken, and instead creates a beautiful chickpea filling that is more than a match for the meat filling.
These also work as gluten-free if you can get a hold of a suitable tortilla for them.
I found this recipe via Michaela over at elavegan.com, so all credit to her for creating such an incredible-tasting recipe! Also, special shoutout to her pet chicken Erna!
If you've ever created taquitos before then you'll know how simple they are to put together. Not only that, but they are super addictive. They can make a filling main meal, or just as a snack.
I've actually made a chickpea filling before for my cauliflower chickpea tacos, so it's great to see chickpea step up to the plate once again as a perfect meat substitute.
Also, if you've read any of my other recipes you'll know how lazy I am and how much I love simple, quick recipes. This recipe fits my criteria perfectly. From start to finish, these taquitos take probably about 30 minutes to put together.
What's more is that you should have the majority of the ingredients readily available at home. A major bugbear of mine is when recipes labelled as 'easy' are simple in practice, but require really specialist ingredients to put together.
Sometimes taquito or quesadilla recipes call for being pan-fried, but not the case with this take on them. They can be baked and still turn out crispy and delicious. As Michaela suggests, just brush them with a little bit of oil and that should do the trick to turn them golden brown and crispy.
I'm a big spice fan (I even add sriracha to tuna mayo pasta… I know, I know), so I've tweaked Michaela's recipe a bit to add a bit more kick to it, but if you like it less spicy (or even more) then you can easily tweak and scale down or up the spices in it. I find that spice relies on personal preference so much that it can be difficult to know what to recommend, but hopefully you'll get a good sense of what to add as you put them together. In fact, if you're particularly adverse to spice then you can easily drop them altogether.
Expert Tips
When transferring the filled tortillas to the tray, in the recipe I say to have the seam facing downwards. This is simply so that they don't spring open while cooking. Normally I would use something like mayonnaise or butter to try and seal them together, but I want to keep this recipe as vegan-friendly as possible. If you are not strictly vegan and are open to using these ingredients in this way then it's definitely worth giving it a go.
I have mentioned in this post that you can quite liberal with applying spice. While this is true, I know how easy it is to go overboard with it, especially because I think I'm addicted to spice more than most other people! So it's probably best to start as baseline and then add more to taste. I have marked in the recipe when to do this.
Be careful with oven timing. You want to remove them as they turn crispy. Watching oven timings is a given for almost every recipe, but I feel it's especially true with these. Baked tortillas turn into a burned mess really quickly.
On with the recipe!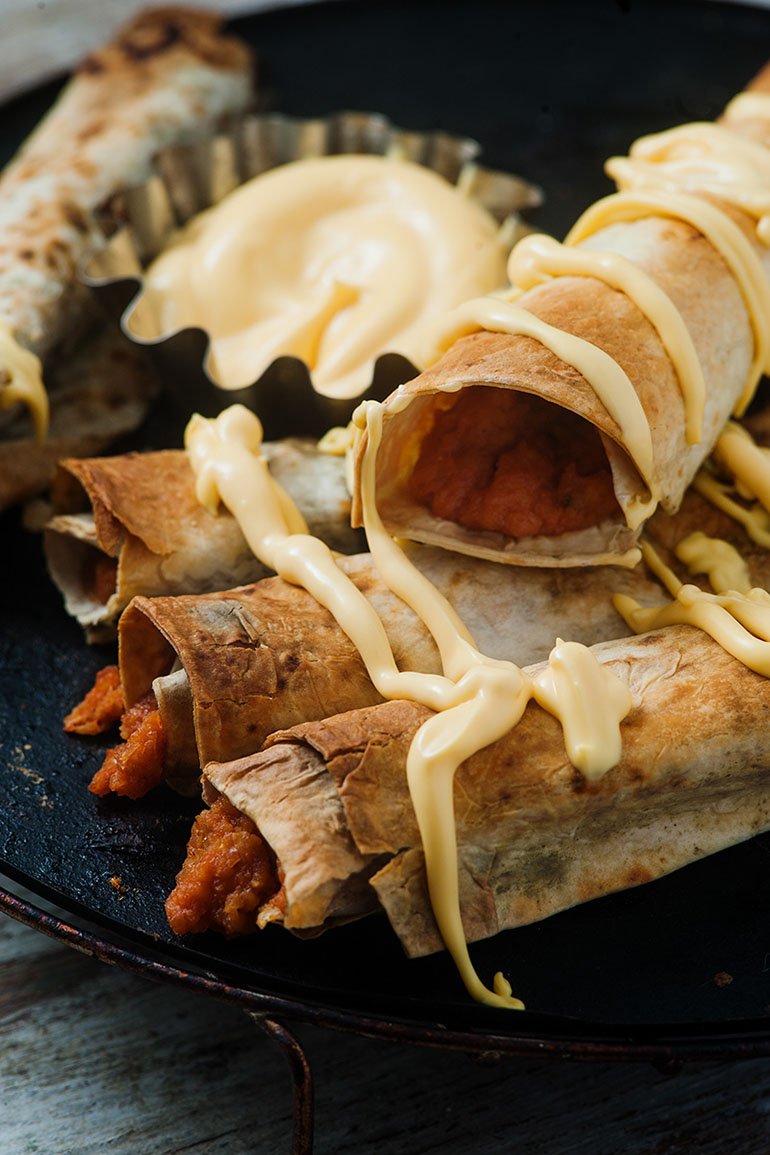 Baked Buffalo Chickpea Taquitos
These chickpea taquitos are the perfect summer meal or snack. They're crispy, delicious, and spicy, while also vegan and gluten-free.
Ingredients
Buffalo chickpea sauce
1 ½

cups

cooked chickpeas

drained and rinsed

1

green onion

chopped

1

bell pepper

chopped

1

tbsp

vegetable oil

2

cloves

garlic

minced

½

cup

tomato sauce

3

tbsp

hot sauce

2

tbsp

coconut milk

1

tbsp

balsamic vinegar
Spice mix
½

tsp

smoked paprika

¾

tsp

brown sugar

½

tsp

ground cumin

½

tsp

garlic powder

1

tsp

onion powder

sea salt

to taste

chili powder

to taste
Tortillas
10

small tortillas

gluten-free

sriracha

optional

vegan cheese sauce

optional
Instructions
We'll start with the filling. Add the chickpeas to a medium sized bowl and use a form to mash them.

In a small bowl, add all the ingredients for the spice mix and mix thoroughly.

Preheat oven to 410°F (210°C).

While the oven warms up, heat up a pan or skillet over a medium heat. Add cooking oil. Once the pan has heated up, add the chopped onion and bell pepper. Cook for 3 minutes, or until onion starts to brown. Add spice mix and garlic. Allow to sauté for 1 minute.

Add the chickpeas, hot sauce, tomato sauce, milk, and balsamic vinegar. Stir together and bring the mix to the boil. Allow to simmer for 2-4 minutes, stirring occasionally.

Remove pan from heat. Use a small spoon to taste the mix. Add more chili powder if you want more spice.

Line a baking tray with parchment/baking paper. Add about 2 tablespoons of filling to each tortilla, forming a line inside each one. Roll up tightly. Transfer each filled tortilla one by one to the sheet, with the seam side of the tortilla facing downwards. Brush them with vegetable oil.

Bake for 15-20 minutes, or until crispy and golden brown.

Drizzle with your choice of sauce (e.g. sriracha, vegan cheese sauce) and enjoy with dip.