Simple meatball sub side recipes and ideas, from creamy coleslaw to potato wedges, and homemade focaccia to mozzarella cheese. Discover what to serve with meatball sub sandwiches today.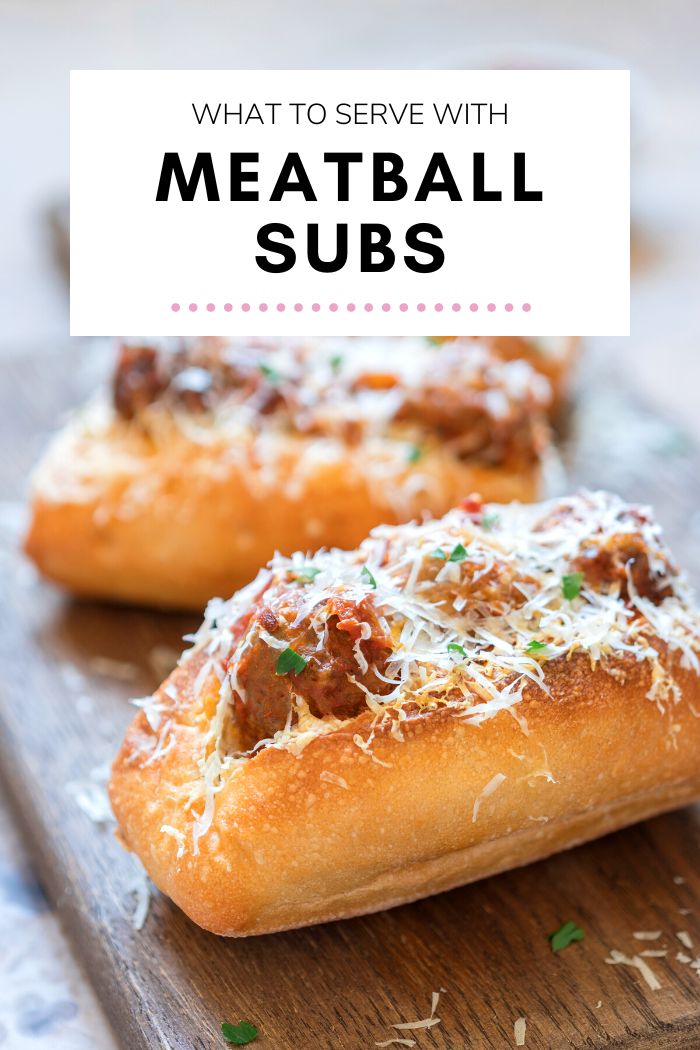 Meatball sub sandwiches is an Italian-American classic made with just cheese, marinara sauce, Italian bread, and – of course – meatballs. Everyone has their go-to hoagie filling ingredients, whether it's provolone, green peppers, or garlic butter.
These easy serving ideas will complete your sandwich, including zucchini fries, salsa dip, and Caprese salad. Discover your new favorite meatball sub side dish today.
Italian Pasta Salad
Like a meatball sub, the Italian pasta salad is a great example of the fusion of American classics and Italian flavors that characterize Italian-American cuisine. The classic combination of salad and a sandwich for lunch gets an Italian-flavored update with this combo.
Italian pasta salad is similar to traditional pasta salad in that it uses cooked pasta as a base, but it punches up the Mediterranean flavors. Using Italian salami, mozzarella, Italian dressing, and Mediterranean vegetables such as olives, bell peppers, and parsley give this barbecue staple a punch of flavor.
Baked Jalapeno Poppers
Meatball subs are a game day classic, so serve them with another game day staple, jalapeño poppers. The cheesy filling of the poppers screams comfort food but the spicy peppers cut through some of the richness.
Our jalapeno poppers with cream cheese and bacon add in cheddar cheese to the filling. We then slice the peppers in half, fill with the cheese, and top with breadcrumbs. Bake until toasty and golden.
Classic Caesar Salad
Meatball subs are delicious, but they can be heavy on the meat and sauce. Balance the sandwich out with a light yet filling salad such as a Caesar salad. The classic Caesar salad is another staple of Italian American cuisine if you want to stick with a themed menu.
Basic Caesar salad ingredients are romaine lettuce, grated Parmesan cheese, and croutons. You can buy Caesar salad dressing at the store or make your own by combining olive oil, anchovy paste, garlic, salt, mustard, lemon, and an egg yolk until it forms a smooth dressing.
Caprese Salad
Light, seasonal caprese salad is a favorite Italian starter because it opens the palate without filling you up too much before the main meal. Although a meatball sub isn't a traditional Italian meal, honor the dish's roots by serving the sandwich with a very Italian sandwich.
A traditional Caprese salad consists of only tomato, mozzarella, and basil. Slice the tomato and mozzarella, then fan them out in a slice with the basil. Season with olive oil and salt. In this simple salad, using fresh ingredients is key.
Creamy Coleslaw
Meatball subs are great, and you shouldn't mess with a classic sandwich combination, but sometimes you want to add some toppings to cut through the richness of the sandwich and add some more flavor. Enter coleslaw. The tangy, slightly acidic flavor of coleslaw can balance out the meatball sub's heavy, slightly sweet flavors. Put some coleslaw on your sandwich or serve it on the side.
You can buy ready-made coleslaw in the store, but why do that when you can easily make your own? You will need coleslaw mix (or shred your own cabbage, carrots, and red onion), mayonnaise, lemon juice, salt, pepper, and vinegar. Just mix all the ingredients together and serve.
Baked Potato Wedges
There's nothing like a good starch to soak up the juices from a saucy sandwich like a meatball sub and round out your lunchtime meal. Baked potato wedges are healthier than oily fries but still packed with flavor.
To make this side dish, just cut potatoes into wedges, season them with olive oil, salt, pepper, and your choice of seasonings, then bake until crispy, flipping halfway through. The great thing about potato wedges is you can customize the flavors with your choice of spice blend.
Focaccia
Take your meatball subs to the next level by serving them on homemade focaccia, instead of often-flavorless, floppy rolls that you get from the supermarket. Or you can use the bread to mop up any leftover sauce.
Good Italian focaccia bread is crusty and has a nice rise to it, making it great for sandwiches. To make it, you will need active dry yeast, warm water, and sugar to activate the yeast. To make the dough, you will need more water, salt, oil, and bread flour. Knead the dough together, let it rise, then shape into long rolls and bake.
Chips and Salsa
Chips are a classic thing to serve with any sandwich because their salty flavor and crispy texture is the perfect accompaniment to any rich sandwich filling (including saucy meatballs). Instead of serving plain chips, take your meal to the next level by adding salsa as well. The acidity and heat of salsa pairs well with meatballs.
You could always serve store-bought chips and salsa, but where's the fun in that? Make your own salsa by combining fresh tomatoes, canned tomatoes, chopped red onion, cilantro, garlic, jalapeno peppers, lime juice, and seasonings in a food processor and pulsing until smooth. Let it chill for a few hours, then serve with chips.
Hawaiian Macaroni Salad
If you like to serve pasta salad with your sandwiches but are sick of traditional ones (or even more common variations such as Italian pasta salad), try making Hawaiian macaroni salad, a lunch staple on the tropical island. This salad is simple, but its tangy, creamy flavors perfectly balance out meatball subs.
You need macaroni, carrots, mayonnaise, and apple cider vinegar. Cook the macaroni and shred the carrots. Toss all the ingredients together until smooth and serve.
Mozzarella Cheese
A classic meatball sub just consists of meatballs and tomato sauce on bread. Take your sandwich to the next level by putting mozzarella cheese on it. The mild cheese will melt all over the sandwich, enhancing but not overwhelming the flavor.
You can easily get mozzarella cheese at the store, or you can make your own if you want to try your hand at cheesemaking. Heat milk with citric acid and rennet, separate the curds and knead into cheese balls.
Zucchini Fries
If you like the crunch of fries with your sandwich but are avoiding potato fries for health reasons, zucchini fries are a healthy alternative that don't compromise on flavor.
To make your own zucchini fries, cut zucchini into matchsticks, season them, and coat them in breadcrumbs and Parmesan cheese. Bake until crispy.