These gluten-free bao buns prove that anyone can enjoy steamed Chinese baozi. Made with your choice of ground pork or mushroom filling, these delicious steamed buns are sweet and soft, and the perfect comfort food.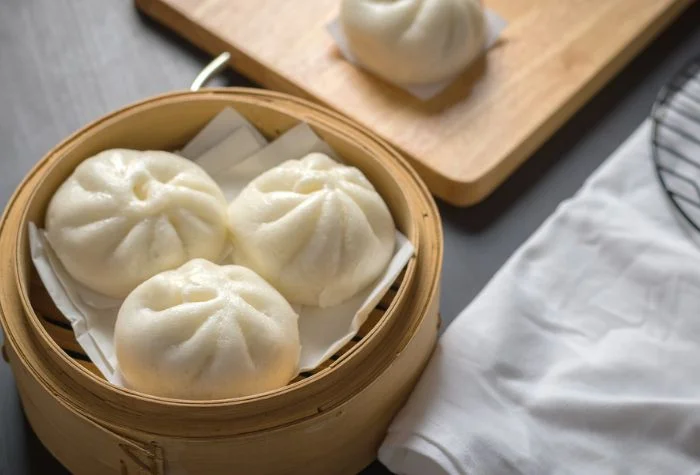 If you're searching for the perfect gluten-free bao bun that's every bit as fluffy and chewy as the real deal, then look no further than our take on the Chinese street food classic.
Sticking to a gluten-free diet doesn't mean you have to say goodbye to fluffy, bouncy, perfectly sweet-and-savory bao buns. In fact, it's all the more reason to make them from scratch!
From forming the fluffy dough to the perfect savory filling, discover how to make gluten-free bao buns to emulate delicious Chinese baozi. Let's get cooking!
Bao Buns Explained
Bao buns, or baozi, are yeast-leavened buns that are steamed in bamboo steamers, then filled with either meat or vegetarian fillings. While Chinese in origin, most Asian countries have adopted their own variation of these fluffy buns. In China, baozi is typically served as a starter or sold as street food to be enjoyed as a grab-and-go snack. 
All traditional baozi recipes feature a dough made by combining flour, yeast, and water, before leaving it to leaven. Once your dough has risen, it is then rolled out into thin discs, stuffed with your filling, sealed shut, then finally steamed and enjoyed warm.
Nowadays, it is not unusual to find bao buns in Western-based Asian markets or even in the frozen aisle of mainstream grocery stores. Still, nothing compares to biting into a freshly made, warm bao bun.
Dough Flour
Often, the trickiest part of making gluten-free dough comes down to the flour blend. While there is no single answer as to which flour blend you should use, many brands now offer premade blends of gluten-free flours that make for easy baking. 
For this recipe, we will be using a store-bought gluten-free flour blend (like this one on Amazon), which will give us the perfect consistency for producing chewy, yet soft buns.
Baozi Fillings
The opportunities are endless when it comes to filling your bao buns. Traditional Chinese baozi fillings will usually incorporate savory meats such as pork or chicken, but you can certainly experiment with vegetarian fillings such as pulled jackfruit or sautéd mushrooms.
Oh, and who could forget about dessert? Sweet bean paste is a filling often used in all sorts of Chinese sweet treats. Most Asian markets sell bean paste either by the can or jar, making it an easy option for sweet buns.
For our baozi filling, we'll be using pork. Like with so many ground pork recipes, the meat pairs perfectly with the sweet-but-spicy flavors so commonly found in Chinese cuisine, while the meat's moisture soaks up all those flavors into one mouthful.
Serving Ideas
As mentioned before, bao buns are usually served warmly, as an appetizer, or as street food. That being said, there's no harm in offering your dinner guests a dipping sauce to accompany their gluten-free bao buns.
To make a savory-sweet hoisin sauce, combine equal portions of gluten-free hoisin sauce with gluten-free soy sauce and a splash of rice vinegar. A little red chili sauce never hurt either!
Leftovers
As for storing leftover buns, you'll want to keep them in an airtight container and consume them within 3-4 days. To reheat your bao buns, simply pop them in the microwave for 10-15 seconds, or you can re-steam them.
Quick Tips
Just like traditional dough, be careful not to overmix your bao bun dough, as this will make the dough crumbly and not cohesive
Try to make your buns as uniformly sized as possible, that way they all cook at the same time
Save yourself time the day of by making your dough and fillings the night before, but remember to let the dough rest on the counter for an hour before rolling it out
Line the inside of the steamer with parchment paper or a thin layer of oil to prevent the buns from sticking to the inside of the basket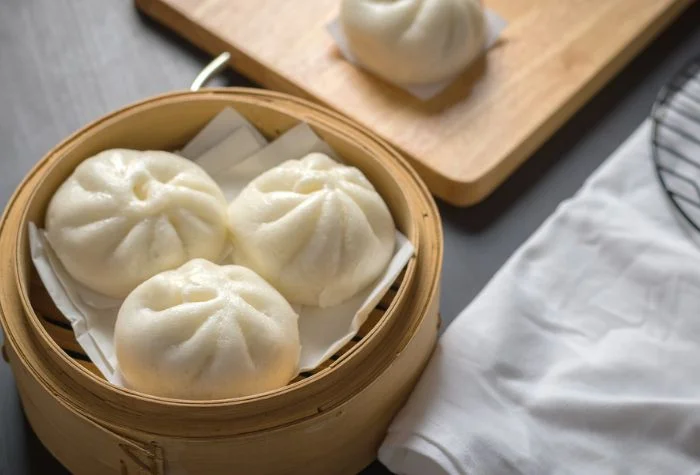 Gluten-Free Bao Buns
These gluten-free bao buns prove that anyone can enjoy steamed Chinese baozi. Made with your choice of ground pork or mushroom filling, these delicious steamed buns are sweet and soft, and the perfect comfort food.
Ingredients
Dough
2 ¼

cups

gluten-free flour

plus more for dusting

1 ½

tsp

active dry yeast

1 ½

tsp

granulated sugar

1

cup

warm water

¼

tsp

baking soda

1

tsp

salt
Meat Filling
1

cup

ground pork

(or mushroom for meat-free filling; see notes below)

¼

cup

diced napa cabbage

¼

cup

thinly sliced carrot

2

cloves

garlic

minced

1

tbsp

ginger

minced

2

tbsp

gluten-free soy sauce

1

tbsp

rice vinegar

1

tbsp

sesame oil

2

tbsp

sesame seeds

optional, for garnish
Instructions
Making the Bao Dough (First Proof)
Combine warm water with yeast and sugar in a large bowl. Mix with a fork until well combined. Set this aside to allow the yeast to activate, for about 10-15 minutes.

Once the yeast-water mixture is bubbling, slowly add in your flour. Once all of your flour has been added, mix with a spatula or wooden spoon until the flour is fully mixed in.

Lightly flour a flat surface and roll your bao bun dough out. Using your hands, knead the dough until it is smooth and elastic.

Once your dough is elastic, roll it into a large sphere, place it back in your bowl, and cover with a clean kitchen towel for at least 1 hour, or keep it in the refrigerator overnight.
Making the Filling
While the dough is resting, make your filling. Begin by setting a large skillet to medium heat and adding your sesame oil, followed by the cabbage, carrot, garlic, and ginger. Cook for 3-4 minutes.

Next, add your pork (or mushrooms) and cook for about 10 minutes, or until the meat has fully cooked.

Add your gluten-free soy sauce and rice vinegar. Taste and adjust seasonings as necessary. Refrigerate until it's time to stuff the buns.
Shaping & Stuffing the Buns
Once the dough has doubled in size (typically takes at least 1 hour or more, depending on the temperature), roll it into a log shape and divide your dough into 12-14 equal-sized pieces.

Next, fill a small bowl with water (to aid in the process) and roll out each individual dough into a round disc, about ⅛ inches in thickness. If the dough is dry, dab your fingers with water to help soften the dough.

To fill your bao buns, place a round dough disc in one hand and add a spoonful of your meat mixture into the center of the dough. Then, using your other hand, carefully pinch the dough around the mixture, making pleats as you rotate around the dough. This will take practice, so be careful and don't overstuff the dough.
Steaming
Using either a bamboo steamer or steamer basket, set a pot of water to boil with at least 2 inches of water covering the bottom of the pot.

Set your buns in the basket and steam with the lid on for about 8 minutes. After 8 minutes, turn the heat off and leave the buns in the steamer with the lid on for an additional 1-2 minutes.

Serve warm with optional sesame seeds for garnish and enjoy!
Notes
For a meat-free filling, swap out the ground pork for 1 cup of chopped shiitake mushrooms (oyster mushrooms also work well)
Line the inside of the steamer with parchment paper or a thin layer of oil to prevent the buns from sticking to the inside of the basket