This easy spider roll sushi combines buttery soft-shell crab tempura with avocado and crunchy cucumber for the perfect blend of flavors and textures. From making the perfect sushi rice to rolling nori seaweed sheets, discover how to make spider roll sushi at home today!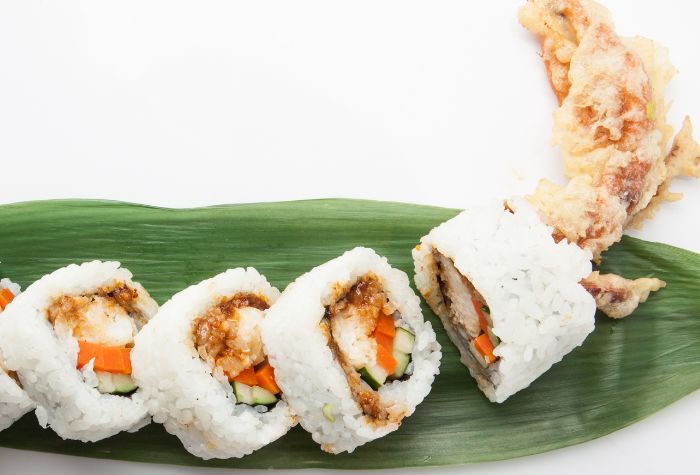 This spider roll sushi will convince you to ditch the takeout and get into making your own homemade sushi rolls. Unmistakable from its fried crab tempura filling, this incredible sushi recipe boasts the ideal combination of crispy and creamy.
The good news is that this sushi recipe is easier to make than you might think. Enjoy this step-by-step guide on how to make spider roll sushi, from cooking up the perfect rice to getting that tempura batter just right. Let's get cooking!
What is Spider Roll Sushi?
Spider roll sushi is a type of rolled sushi (also known as Makizushi) named after the crab legs that sometimes stick out of the end pieces. But this popular spin on Japanese cuisine is much more than just its iconic appearance.
The soft-shell crab is the star of the show, bringing tangy and buttery flavors, while the avocado and cucumber bring some delicate fresh creaminess and crunch to proceedings.
Ingredients
Here's everything you need to know about the main ingredients in our spider roll sushi recipe:
Soft Shell Crab
Where better to start than with this recipe's central player? Best bought fresh, soft-shell crab has a soft exterior and a buttery, slightly sweet taste that's perfectly complemented by the light and crispy tempura batter.
If you need a crab substitute, you can simply use store-bought imitation crab. Try to buy kani or kanikama, which is made from minced white fish that's made to replicate the flavor of crab meat. Simply shred it and mix with kewpie mayo before rolling in your sushi rice.
Sushi Rice
An essential part of any sushi roll, sushi rice has the exact texture and vinegary taste we need for homemade sushi. It has a higher starch content than other varieties, which gives it the sticky texture we're after. Thankfully, short-grain sushi rice is easy to buy at any Asian supermarket or online.
Nori Seaweed Sheets
Nori sheets are made from dried edible seaweed and form the outer wrapper of our homemade sushi rolls. Not only that, but good nori provides an unmistakable umami flavor with a touch of subtly sweet and briny flavor. Make sure you get high-quality nori sheets to ensure your sushi holds together.
Rice Vinegar
Rice vinegar is ideal for sushi because it acts as a binding agent but has a subtle flavor profile that doesn't overwhelm the rice. If you don't have any, white wine vinegar is a good rice vinegar substitute due to its delicate taste and soft bitterness.
Making the Sushi Rice
With the right type of rice, preparing sushi rice is easy to do but just as easy to get wrong. Here's how to make sushi rice properly:
Rinse the sushi rice under cold water until the water runs clear. This will help remove excess starch, preventing it from turning overly mushy.
In your rice cooker, add the rinsed rice and water in a 1:1 ratio. Once the rice cooker is done, leave the rice on 'warm' to allow it to fully absorb the water.
Make the sushi vinegar mix by combining rice vinegar, sugar, and salt in a small saucepan. Heat over medium heat and stir until the sugar and salt have dissolved.
Transfer the cooked sushi rice to a large glass mixing bowl and carefully fold in the vinegar mix (avoid using a metal bowl – it can react with the vinegar and ruin the flavor)
Cover the rice with a damp cloth until you're ready to use it. Sushi rice is best used when at room temperature
Quick Tips
Don't forget to rinse the sushi rice before cooking it. This will help remove excess starch and help get it to the fluffy consistency we need for rolling in nori sheets.
If using a traditional bamboo roller to roll your sushi, wrap it in plastic wrap before using it, as this will make it easier to clean.
Making your sushi rice the night before will give it time to cool, and make it a faster process to assemble your sushi
When making your tempura batter, be careful not to overmix it. Overworking it can make the batter tough and less likely to take to the crab.
Serving & Side Dish Ideas
Not sure what to serve with your homemade sushi rolls? Here are some of our favorite sushi side dishes and sauces:
Ginger, wasabi, and soy sauce are classic side offerings for all types of sushi rolls. The soy sauce maximizes the roll's original flavors, the wasabi adds pungent spiciness, and the ginger helps cleanse your palate between bites.
Miso soup is a classic Japanese broth that traditionally features tofu, seaweed, and green onions in a soybean paste broth. It goes well with sushi because it adds a light and savory element to your meal.
Cucumber salad is a refreshing side that contrasts well with the richness of the spider roll sushi. The salad should be light and vinegary, ensuring it doesn't overpower the delicate flavors of the sushi.
FAQ
What's the Difference Between Sushi and Sashimi?
While both sushi and sashimi typically feature fish, they are in fact two different types of Japanese delicacy. Sushi is distinguishable by its use of vinegared sushi rice, which the seafood component of the dish is then presented on top of or rolled in.
Sashimi, on the other hand, consists of just fresh raw fish, sliced thinly and then enjoyed with soy sauce or wasabi. Unlike sushi, it doesn't feature a rice component.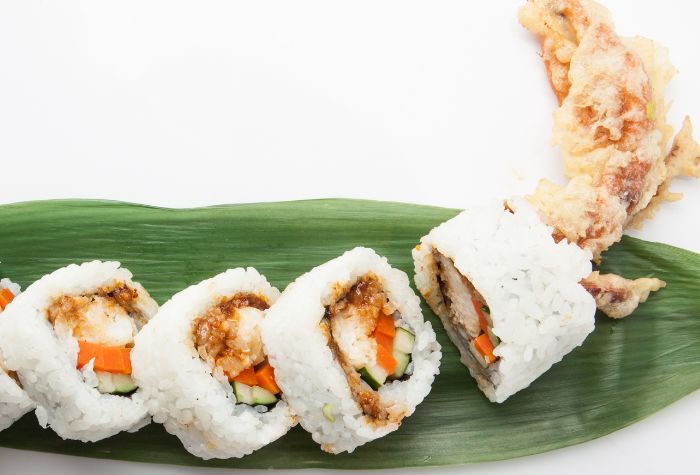 Spider Roll Sushi
This easy spider roll sushi combines buttery soft-shell crab tempura with avocado and crunchy cucumber for the perfect blend of flavors and textures
Ingredients
Sushi Rice
2

cups

sushi rice

rinsed

2

cups

water

½

cup

rice vinegar

2

tbsp

sugar

1

tsp

salt
Crab Tempura
2

soft-shell crabs

cleaned

1

cup

all-purpose flour

1

egg

1

cup

ice-cold water

vegetable oil

for deep frying

kosher salt

black pepper
Spider Roll
6

sheets

nori seaweed

1

avocado

thinly sliced

1

cucumber

thinly sliced

¼

cup

fish roe

¼

cup

soy sauce

1

tbsp

wasabi paste

¼

cup

pickled ginger
Instructions
Sushi Rice
Add the rinsed rice and water to a saucepan or rice cooker. Cook until the water has been absorbed and the rice is tender, about 20 minutes.

Combine the rice vinegar, sugar, and salt in a small saucepan over medium-low heat. Stir until the sugar and salt have dissolved.

Once the rice has cooked, pour the vinegar mixture over, and gently fold in. The rice should be sticky, not wet.
Crab Tempura
In a mixing bowl, whisk the egg until it's well beaten

Slowly add the ice-cold water to the beaten egg, continuing to whisk until it's fully incorporated. Add the flour, stirring lightly to combine.

Heat the vegetable oil in a deep pan or fryer to around 350°F (175°C)

Dip the soft-shell crabs in the tempura batter, coating lightly on all sides

Carefully place the coated crabs into the hot oil. Cook for 3-5 minutes until golden and crispy. Remove from oil and rest on paper towels to cool and drain excess oil.
Rolls
Lay a sheet of nori seaweed on a bamboo sushi mat. Spread ½ cup of sushi rice over the nori, leaving a 1-inch border.

Arrange the fried crab, avocado, cucumber, and fish roe in the center of the rice.

To roll the sushi, lift the edge of the mat closest to you and start rolling away from your body, using your fingers to compact the ingredients as you go. Once you reach the end of the nori, wet the 1-inch border with water and finish rolling.

Cut the sushi rolls into 6-8 pieces, wiping your knife between each use to ensure effective slicing

Serve with soy sauce, wasabi paste, and pickled ginger.