Easy falafel side dish recipes and ideas, from toasted pita bread to homemade hummus, and lemon rice to baba ghanoush. Discover what to serve with falafel today.
Falafel is one of the best components in any Middle Eastern or Mediterranean meze platter. Made from deep-fried chickpeas or fava beans, it adds a crunchy texture and a herby flavor to anything it's paired with.
Whether you're planning a huge meze spread or a quick lunch wrap, here's what to serve with falafel. From tahini sauce to tzatziki, find your new favorite side dish or serving idea today.
Hummus
No meze platter is complete without hummus, the popular chickpea spread that has taken the Mediterranean, and now the wider world, by storm.
Instead of buying store-bought hummus, make your own with cooked chickpeas, tahini, garlic, olive oil, and herbs. To make easy hummus, just pulse the ingredients together in a food processor until you get a smooth dip.
Middle Eastern Vegetable Salad
For a completely vegetarian meal, serve falafel with a side of this vegetable salad. Fresh vegetables like tomatoes and cucumber balance out the rich falafel, while the addition of popular Mediterranean basil, mint, and parsley pair nicely with the herbs in falafel. Just chop the vegetables and toss in the dressing.
Pita Bread
Serve pita with your falafel, and everyone can build their falafel wraps for dinner! Homemade pita is fluffier and tastier than store-bought bread. You need flour, water, yeast, salt, and sugar.
Tzatziki
Tzatziki is a popular Greek sauce that you can dip your falafel in or spread on pita to make a wrap.
To make the best homemade tzatziki, you need yogurt, cucumber, fresh dill, olive oil, lemon juice, and salt. Grate the cucumber, drain off excess liquid, and add flavorings.
Lemon Rice
To turn falafel into a full meal, you need a dose of filling carbs. This lemon rice dish is filling enough to make any meal fuel you for the rest of the day, and it pairs well with falafel thanks to the bright lemon, so common in Mediterranean dishes.
For this simple lemon rice you'll need parsley, butter, and salt. Cook the rice in boiling water and the lemon for fluffy, flavorful grains.
Baba Ghanoush
If you want to serve up a meal that sticks to Eastern Mediterranean and Middle Eastern traditions, then baba ghanoush has to be on the menu. This traditional dip pairs well with hummus and falafel to make a conventional meze.
To make baba ghanoush, you need eggplant, tahini, lemon juice, olive oil, and salt. After cooking the eggplant, blend it with the other ingredients to create a smooth dip.
Dolmas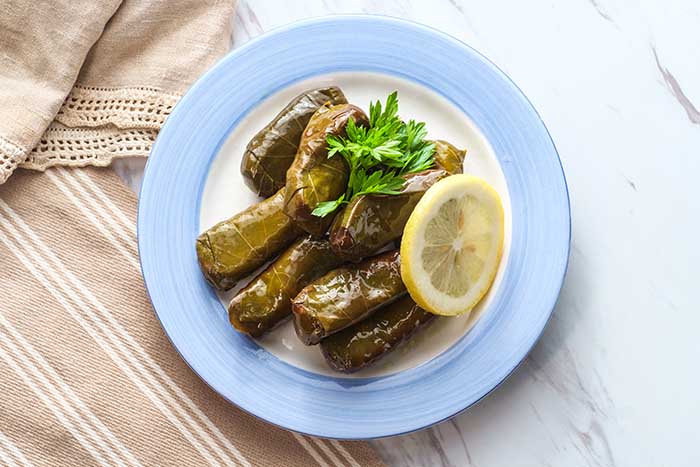 Dolmades are another traditional meal popular in the Middle East and the Mediterranean. These stuffed grape leaves are a staple of meze platters anywhere that used to be part of the Ottoman Empire and falafel.
For homemade dolmas, you'll need rice, currants, herbs, and olive oil for the filling. Once you make the filling, roll the dolmas tightly.
Roasted Chickpeas
For a legume-rich meal, pair falafel with roasted chickpeas. Drain canned chickpeas, toss olive oil, and roast in the oven. Finish with Mediterranean herbs and spices for a cohesive flavor profile.
Tabouleh
Tabouleh is another traditional component of meze platters, falafel, pita, and dips such as hummus and baba ghanoush. This Middle Eastern salad has a bracing freshness that cuts through the richness of falafel.
The main ingredients in tabouleh are tomatoes, plenty of fresh parsley, scallions, olive oil, and bulgur wheat. Cook the wheat, then combine with the chopped vegetables. Finish with drizzles of olive oil and lemon juice.
Olive Salad
Another salad option that pairs well with falafel is olive salad. It may not be traditional, but the briny flavors of the olives and Mediterranean herbs pair well with falafel just the same.
The main ingredients for this salad are black and green olives, roasted red peppers, and giardiniera (an Italian relish made of pickled vegetables). The salad gets additional flavor from garlic, red onion, a dressing made of olive oil, red wine vinegar, and plenty of herbs. Make the salad a day ahead and let the flavors soak together for the best results.
Pickled Onions
Pickled onions are a great serving idea for falafel, whether you are making a falafel wrap or serving up a meze platter. Their fresh, pungent flavor pairs well with the richness of falafel.
To pickle your onions, finely chop red onion and soak in a mixture of simmered vinegar, sugar, salt, and water.