Best Chinese baozi steamed bao bun recipes. Find easy and delicious filling ideas, including vegetarian, chicken, pork belly, as well as gluten-free options.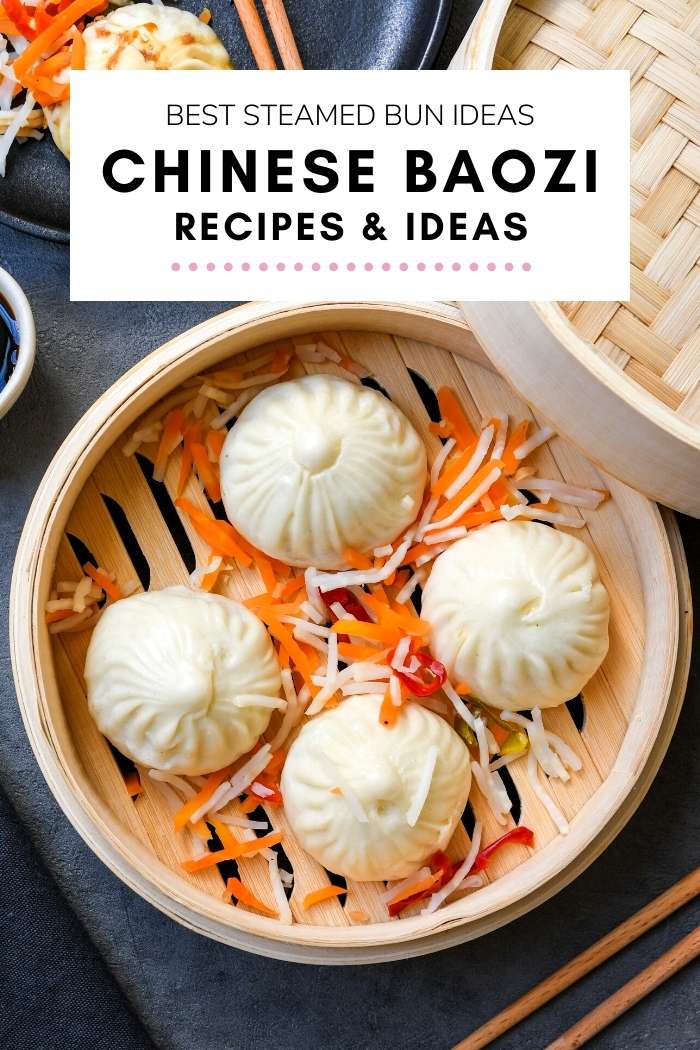 It's been a few years since I lived in China, but still to this day I crave the food I had on my doorstep while living in Nanjing. And no food filled me with as much joy as baozi.
Baozi are meat or vegetable fillings, wrapped in dough and steamed to perfection. There's something brilliantly satisfying about them, and although they might seem like an appetizer, they are filling enough to make for a good breakfast or lunch meal on the go.
Here are nine of the best ways to enjoy the steamed, savory bun. I'm off to reminisce about Chinese street food.
Pork & Napa Cabbage
Ground pork is often the go-to meat filling for Chinese bao buns, and it's easy to see why. The meat pairs perfectly with the sweet and heat flavors so prevalent in Chinese cooking, while the fat and moisture in ground pork help soak up all those flavors into one bite.
Our pork and napa cabbage gluten-free bao buns demonstrate this beautifully. Made with an easy store-bought flour blend, the dough matches the bouncy texture we want in baozi. But it's all about the filling, which features the perfect combination of sweet and savory.
Carrot, Ginger and Pork
Practice really does make perfect for the making of baozi, particularly when it comes to making the dough. But oh boy is it worth it. In this recipe, the carrot's flavor, when mixed with pork and ginger, is simply divine. This gives your baozi a thick, buttery taste that isn't exactly typical but isn't completely off-track either.
Barbecue Minced Pork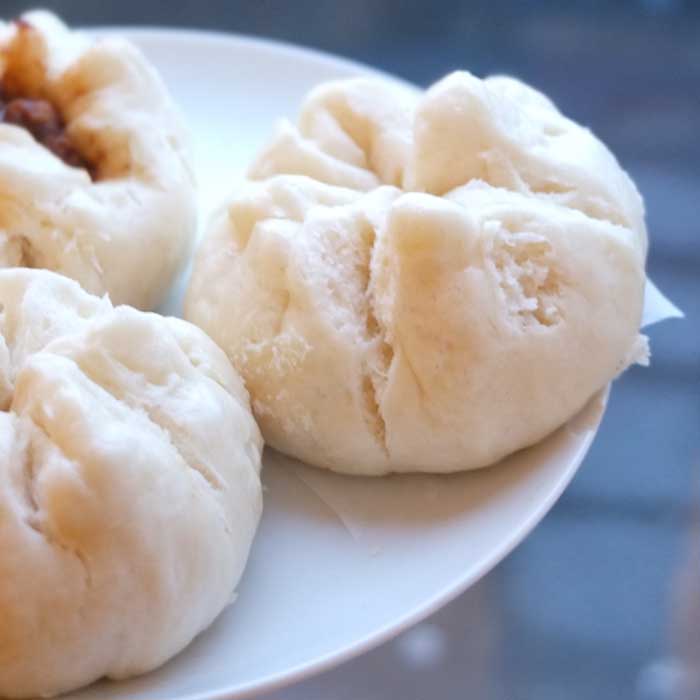 These buns are made with a char siu filling (bbq pork) and are quick and easy to make. Make sure that you knead the dough until it becomes elastic and smooth. Also, get a nice fine light low-gluten flour if you want white buns.
Chicken, Napa Cabbage & Shiitake Mushrooms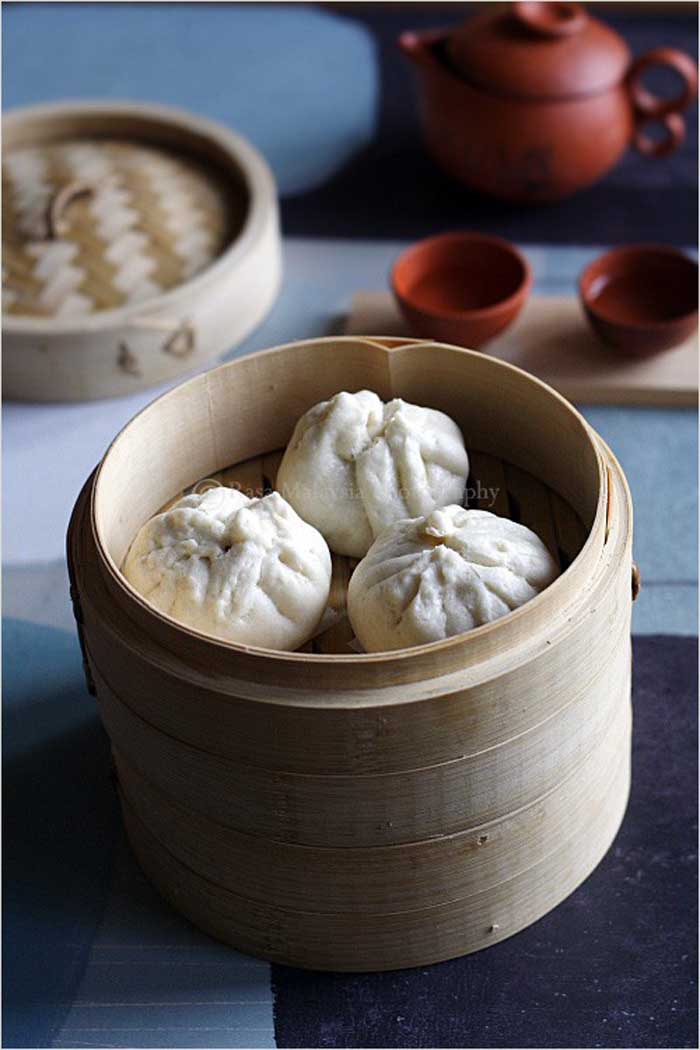 Dim sum restaurants often offer steamed buns made with chicken and vegetable filling, which is what this recipe emulates perfectly. Tender chicken pieces are wrapped and steamed the dough for a soft and fluffy bao bun. Also filled with napa cabbage and shiitake mushrooms, there's a lot of savory flavors in each mouthful.
Shiitake Mushroom and Cabbage
A vegetarian baozi recipe, this is a great meat-free alternative for bao fans. The filling of shiitake mushrooms and cabbage offers plenty of fiber to keep you feeling full.
Take the time to practice folding and pleating your baozi, it's the most difficult part of making them. It might take a while for you to refine your technique, but the results are worth the effort.
Nutella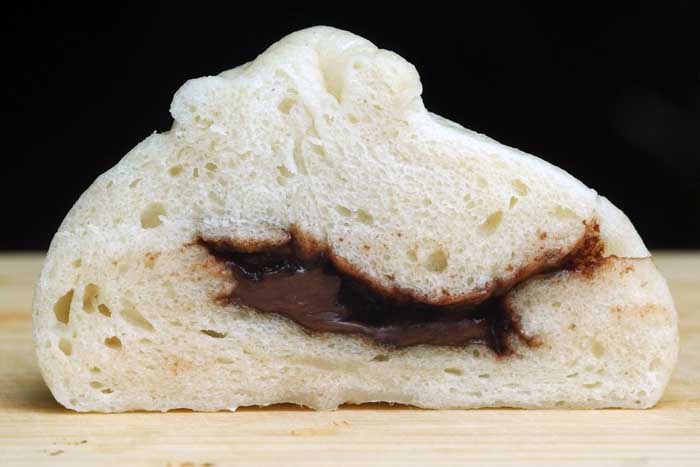 A twist on the traditional savory steamed bun, this recipe has a yummy filling of Nutella. To add a bit more heft to the filling you can also add banana or peanut butter.
If you don't have access to store-bought wrappers though, it's easy to make your own with some dough rounds cut into circles about five inches in diameter as well as some pleating pastry sheets that can be found at most Asian supermarkets.
A good tip to make baozi as chewy and fluffy as possible is proper kneading, developing that gluten fully. I use my stand mixer for that. Don't be shy! I tend to knead it for 15-20 minutes if not longer sometimes.
Also, allowing the dough to properly rest as it ferments away will give gluten enough time to relax. Those long gluten strands create the chewy fluffy texture everybody loves. Ensure the steamer is fully going before placing the raw buns in it. That would give them the proper spring to fluff up.
Gluten-Free Beef Steamed Buns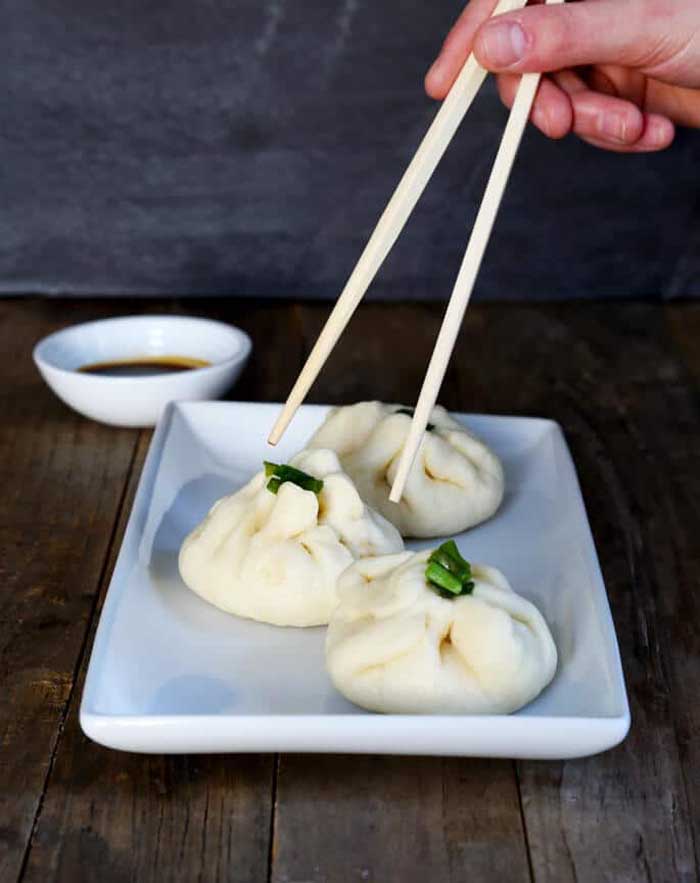 Soft and fluffy steamed buns packed with a delightfully gingery, salty beef blend. This recipe takes a delicious savory beef filling and wraps it in gluten-free steamed dough. It works much better than you might think.
Braised Oxtail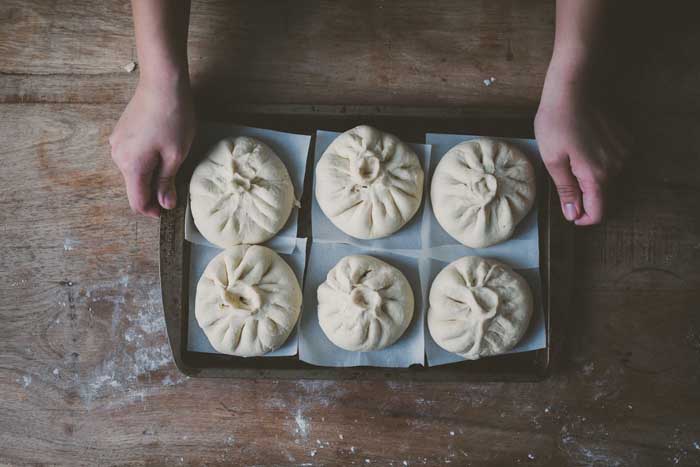 These oxtail bao buns have a deep and rich flavor that'll have you coming back for more. You'll need to simmer the oxtails in a mixture of soy sauce, rice wine, and ginger for four hours until they're tender. The filling will have a deep flavor from the braising liquid as well as some scallions added with the final steps. To make this baozi a little more traditional, add some chopped cilantro before steaming them for optimal flavor.
Vegan Mushroom and Tofu
Making versions of classic Asian dishes isn't always easy, but this recipe does it perfectly. Instead of traditional pork belly or shredded chicken, these steamed buns use mushroom, tofu, and a good deal of seasoning. It works beautifully.