The best zucchini and courgette recipes and ideas to make the most of this underrated vegetable. From simple side dishes to healthy dinners and mains, discover what to make with zucchini today.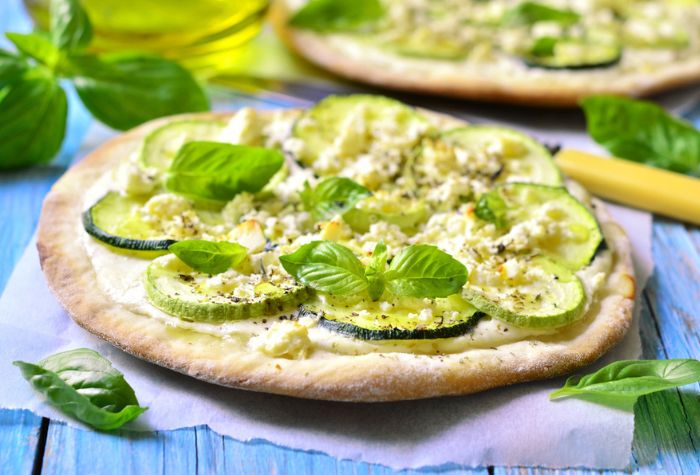 Are there many vegetables more versatile than zucchini? Sure, it can a touch of freshness to almost any dish, but zucchini (or courgette) strikes the perfect balance of earthy-but-sweet and crunchy-but-tender to make it a great addition to a whole range of dishes.
So if you're trying to use up the zucchini in your refrigerator, or are just trying to get more of this summer squash in your diet, we've got you covered.
From Italian parmigiana to grilled zucchini summer squash, and baked casseroles to zucchini brownies (yep – brownies!), these best zucchini recipes show everything the vegetable has to offer. Let's get cooking!
Zucchini Bread
Homemade zucchini bread works as an easy-to-make dessert or snack, and a great alternative to traditional bread. Made by combining grated zucchini with a mixture of flour, sugar, and spices. The end result? A tender texture with rich flavor, that shows off zucchini in a truly unique way.
Try This Recipe: Our zucchini bread carries a hint of spice and vanilla, offering the perfect balance of sweetness and spice in each mouthful. Simply combine flour, spices, and sugars with almond milk, before folding in the grated zucchini. Bake in a greased loaf pan for just 45 minutes and enjoy immediately!
Shrimp Zoodles
Shrimp zoodles offer the perfect low-carb alternative to regular pasta or spaghetti, combining spiralized zucchini noodles with tender shrimp and a mouthwatering sauce. It's fresh and light, and much easier to prepare than you might think.
Try This Recipe: Create tasty shrimp zucchini noodles by sautéing shallot and garlic in butter, before adding shrimp, seasoning, chicken broth, and lemon zest. Toss the spiralized zucchini strands in the sauce, before serving with grated parmesan cheese and extra parsley for a fresh, flavorful dish.
Fritters
Zucchini fritters are scrumptious, golden-brown veggie delights made from grated zucchini, flour, eggs, and a medley of seasonings, delivering a satisfying crunch on the outside with a tender, flavorful center. These versatile and mouthwatering bites are perfect if you're looking to level up your appetizer or side dish game with an exciting twist.
Try This Recipe: Whip up these delicious zucchini fritters in no time by pan-frying the mixture in oil until golden brown. Serve up with dairy-free sour cream and chopped spring onions for the perfect finish
Casserole
Get ready for a super yummy oven-baked dish with layers of soft zucchini, melty cheese, and tasty breadcrumbs. Perfect for all comfort food lovers.
Try This Recipe: Make this zucchini casserole by boiling diced zucchini before combining it with mayonnaise, cheddar cheese, and Panko breadcrumbs. Bake until the zucchini is soft, for a warm and super tasty dish.
Lasagna
Discover a super fun, low-carb twist on traditional lasagna that swaps out pasta for thin zucchini slices, giving you an amazing mix of flavors and textures you'll keep coming back to.
Try This Recipe: Make a yummy zucchini lasagna by baking salted zucchini slices and then layering them in a baking dish with sauce, ricotta, mozzarella, and parmesan. Bake until the cheese is melted and bubbly.
Grilled Zucchini Salad
Savor the taste of summer with this delicious salad of smoky, grilled zucchini, crispy greens, and zesty dressing. Trust us, this will make your taste buds dance.
Try This Recipe: Whip up a grilled zucchini salad by grilling zucchini slices with a touch of olive oil, and charring tomatoes and corn. Toss the grilled veggies and greens in a homemade lemon-garlic dressing, sprinkle with crumbled cheese, and enjoy this delightful, smoky, and flavor-filled salad.
Zucchini & Chickpea Stew
Warm up with this satisfying stew, overflowing with zucchini, protein-rich chickpeas, and an irresistible mix of spices that make every bite amazing.
Try This Recipe: Make this comforting zucchini and chickpea stew by sautéing onion and garlic in olive oil, adding zucchini, and cooking until softened. Stir in tomatoes, chickpeas, and smoked paprika, then season with salt and pepper. Add a touch of parsley and serve over quinoa.
Stuffed Peppers
Feast your eyes and taste buds on these vibrant bell peppers, filled with a zesty zucchini and quinoa medley that brings excitement to any meal.
Try This Recipe: Make zucchini and quinoa stuffed peppers by broiling whole peppers until softened. Mix quinoa, grated zucchini, tomato sauce, and cheese, then stuff the pepper halves with the mixture. Bake until peppers are tender and cheese is melted, creating a tasty, nutrient-rich meal with a scrumptious cheesy crust.
Zucchini & Cauliflower Soup
Cozy up to this velvety, smooth soup, highlighting the beautiful flavors of zucchini and cauliflower, for a protein-rich and simple soup that's full of fiber and veggies.
Try This Recipe: This soothing zucchini and cauliflower soup boasts chopped zucchini, cauliflower, garlic, and onion, which are all roasted and then blended. The end result is a creamy and smooth soup that's the epitome of comfort food in a bowl.
Italian Zucchini Parmigiana
Zucchini parmigiana is a mouthwatering, cheesy fusion of zucchini and classic Italian flavors, delivering a tempting, melt-in-your-mouth dish.
Try This Recipe: This spin on Italian parmigiana layers pan-fried zucchini slices in a baking dish before coating them with tomato sauce and cheese. It's then baked until the cheese is melted and bubbly for an outrageously satisfying finish to this comfort food classic.
Tacos
For a zesty take on tacos, try this zucchini and corn medley as the center of your taco dish. The filling is charred in a hot skillet for a delicately smoky flavor, before being combined with jalapeños and onions and arranged in flour tortillas. If you need a meat-free taco filling that still packs in plenty of spice – this is the way to go.
Try This Recipe: These blackened zucchini tacos balance charr with zest in perfect harmony. Made with zucchini slices, cumin, and cayenne, there's a beautiful earthy-but-spicy flavor that never goes too far into the heat zone.
Pizza Boats
A fun and healthy twist on pizza, zucchini pizza boats still retain the marinara sauce and gooey cheese that we love while ditching the heavy base. Instead, fresh zucchini halves serve as the boat for the rest of our toppings to be poured over, while still giving you more than enough room to be creative with your toppings.
Try This Recipe: These tangy zucchini pizza boats are filled with bubbly melted mozzarella cheese, herby marinara sauce, and the perfect amount of Italian seasoning.
Lasagna Rolls
This bite-sized low-carb spin on lasagna boasts lightly grilled or roasted zucchini slices, which are then rolled around a meat or veg filling. They're then baked in a slather of marinara sauce and bubbly cheese filling to create a comfort food like no other.
Try This Recipe: Stuffed with a ricotta and cottage cheese filling, these hearty zucchini lasagna rolls are quick, easy, and delicious.
Brownies
Yep, you read that right: Brownies. Zucchini and brownies may not sound like a natural combination, but stick with us on this one. This simple dessert manages to work grated zucchini into the mix to still create these rich and fudgy brownies that are a remarkable alternative to traditional brownie recipes.
Try This Recipe: These zucchini brownies are gooey and chocolatey in equal measure, and healthier than your average treat. They're free of eggs and butter, making them a vegan-friendly version of the chocolate classic.