The best vegan casserole recipes from around the web. From green beans to creamy pasta bakes, find simple and mouthwatering plant-based roasted casseroles for weeknight dinners and holiday feasts.
It's hard to find a better meal than a casserole if you want something easy and filling. No matter what occasion you need them for, they're versatile, great for all diets, and give you plenty of room for creativity. Easily made the night before, they feed a lot of people at once, and are quick to prepare.
These vegan casserole ideas fit the bill perfectly. They're all super easy, making them perfect for busy weeknights and crowd-pleasing feasts during the holiday season. Whether it's simple pasta bakes or more complicated dishes like buffalo cauliflower casserole, there's something here for everyone.
Mexican Tortilla Bake
This Mexican tortilla bake is a hearty and filling option for the crowd and can be made in a single large skillet. It takes under 30 minutes to cook, and only needs eight ingredients.
If you don't wish to use tofu or beans, you can also make your own meat substitute. The key to the dairy-free cheese sauce is that it does not contain nutritional yeast, and instead contains unsalted cashews and dairy-free soy yogurt.
Broccoli, Kale & Rice Medley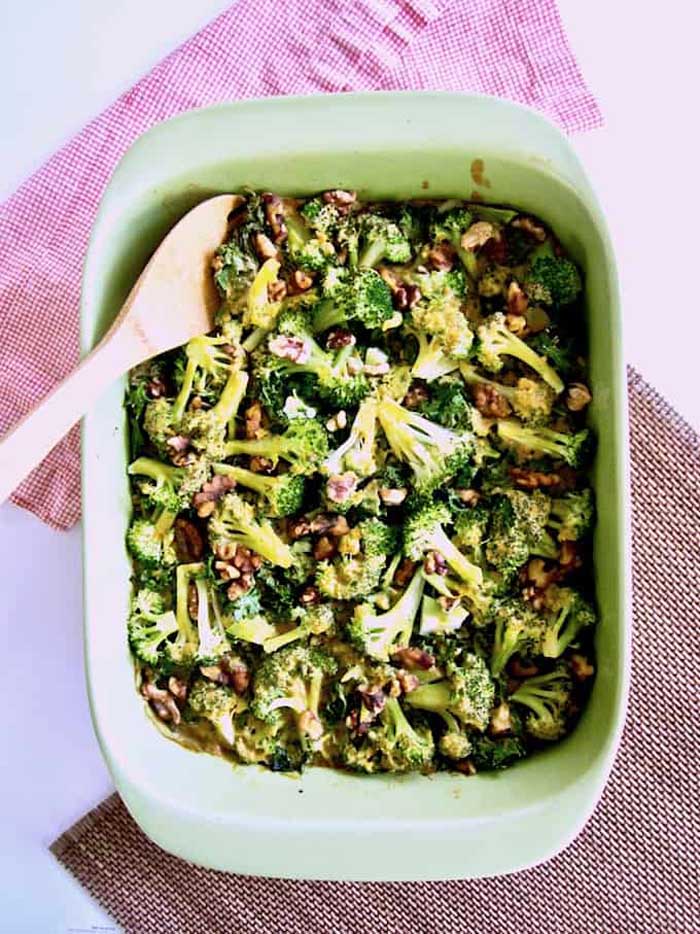 This broccoli kale casserole medley has all the hearty and comforting qualities of a classic casserole without any meat or junk ingredients. Walnuts, broccoli, and tamari provide plant protein along with a well-balanced meal. Add a kick of flavor with the tamari, turmeric, and hummus sauce.
Butternut Squash & Quinoa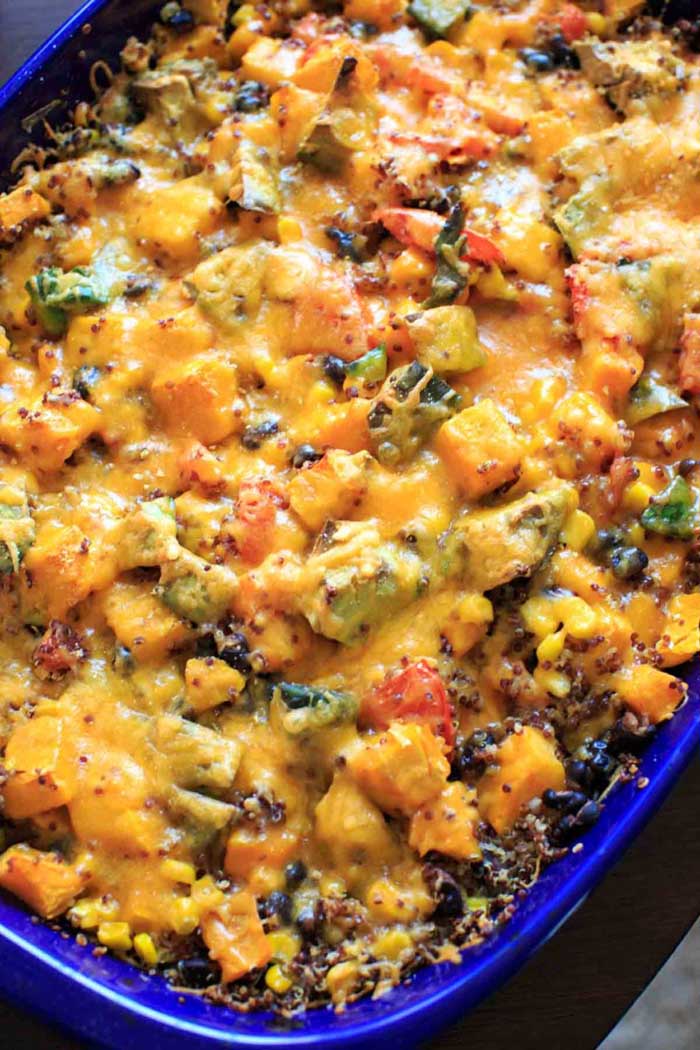 For the people that love them some quinoa and squash, this Butternut Squash & Quinoa Casserole is something you should definitely try. They have a vegan and a vegetarian option for those that want a bit of real cheese in their life and takes less than an hour to make from beginning to end.
Potato & Green Bean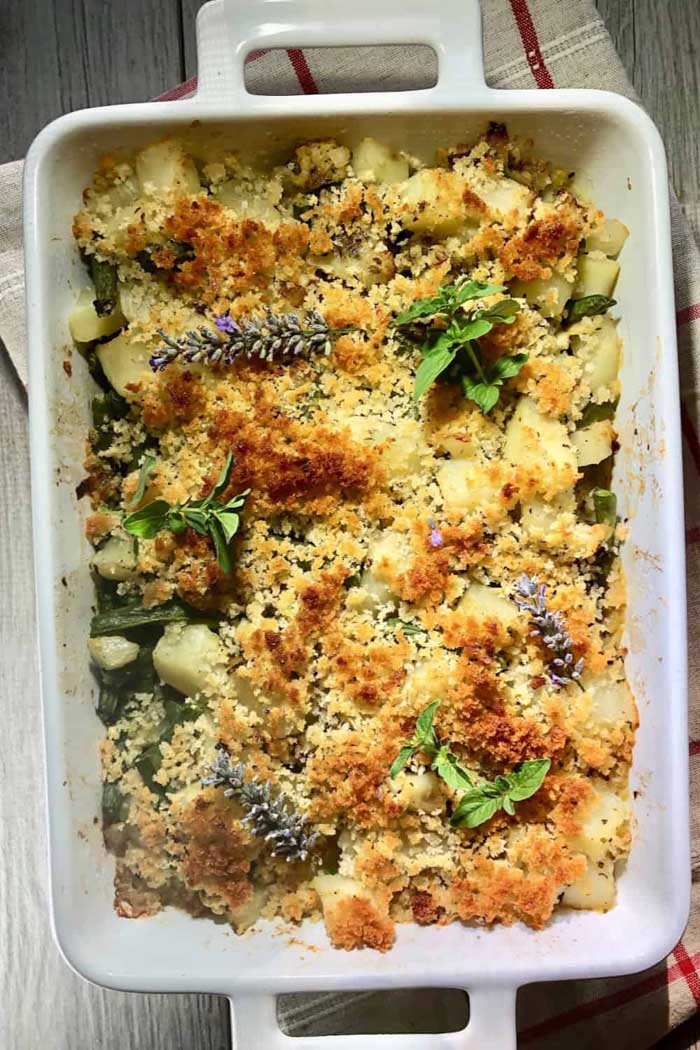 Crisp green beans, russet potatoes, light coconut milk. These are just a few of the ingredients on the list of this delicious and tasty looking dish. If you are in the mood for a creamy texture to your casserole dish, this Vegan Creamy Green Beans & Potato casserole will do just the trick.
Buffalo Cauliflower
For all my buffalo (faux) chicken fans out there, you knew we'd get to you sooner or later. This Buffalo Cauliflower Casserole looks amazing and definitely scratches that buffalo itch.
This thing looks like it's bad for you, it tastes like it should be bad for you, and it's SUPER GOOD FOR YOU. Yeah, get your buddies to try this. The joke about cauliflower being super plain is going to go away real fast.
Zucchini & Tomato
Doesn't matter how vegan or anti-vegan you might be, this Tomato and Zucchini Casserole dish is gonna have you asking for seconds!
Without using any meats or creams this is a tart and spicy dish that screams deliciousness.
Potato & Vegetable Bake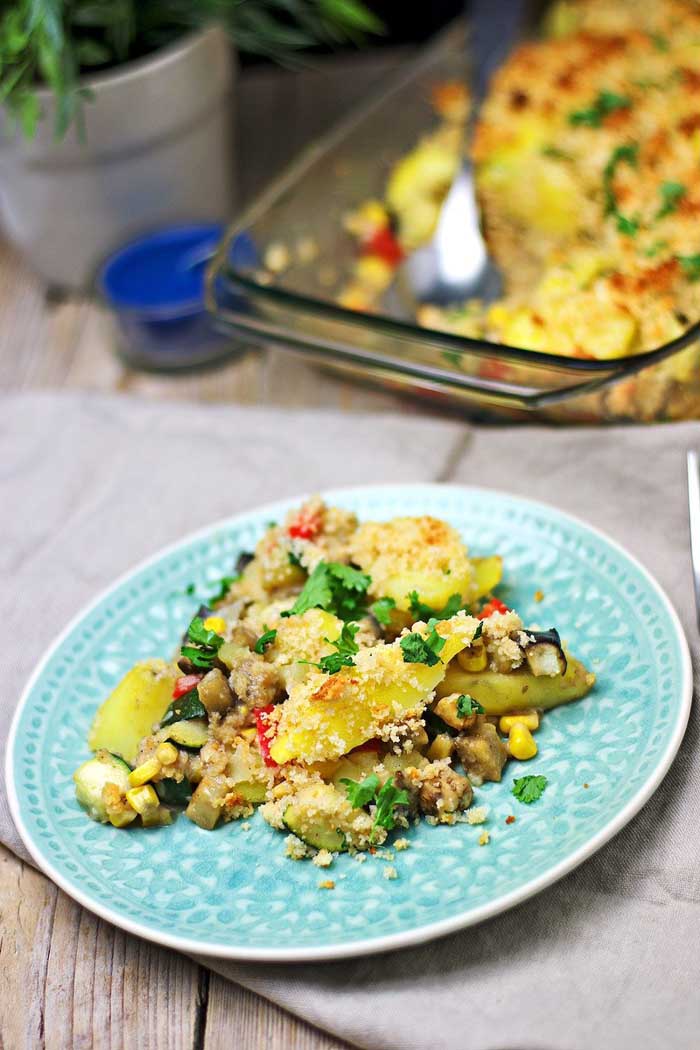 Made with macadamia nuts and gluten-free breadcrumbs, this vegan potato casserole has a vegan cheese sauce that tastes just as good as the real thing.
Meat-Free Sausage & Cornbread Stuffing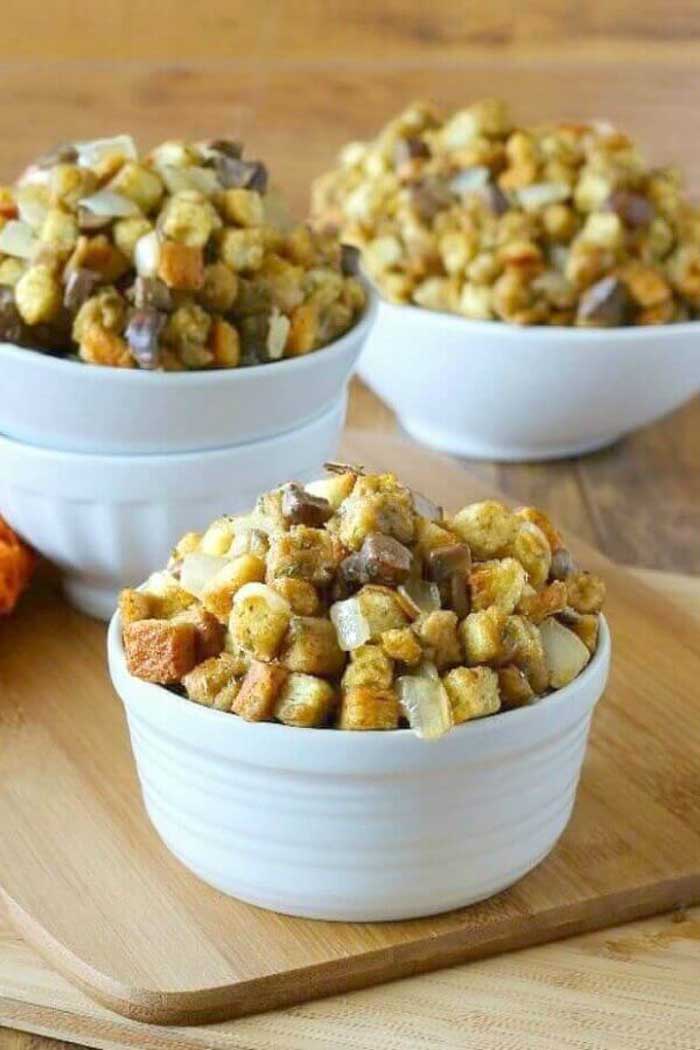 Probably one of the most amazing stuffings you'll ever have. If you bring this to the next family Thanksgiving or Christmas, prepare to convert everyone to the vegan-side.
This Vegan Sausage Stuffing Casserole is both moist as well as spicy!
Tater Tot & Cashew Gravy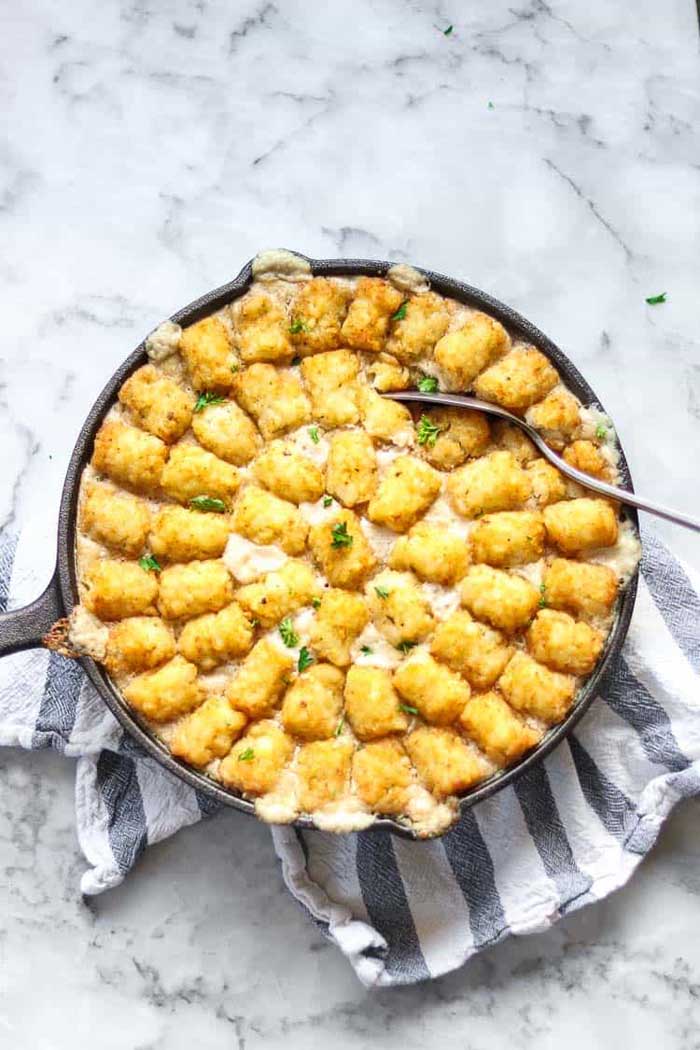 If you're in the mood for a more chicken pot pie vibe, this vegan Tater Tot Casserole really is something to consider trying.
Filled with mixed vegetables and vegan chicken chunks, you'll really feel like a kid again as you're eating it.
Dairy-Free Béchamel Sauce, Potato & Broccoli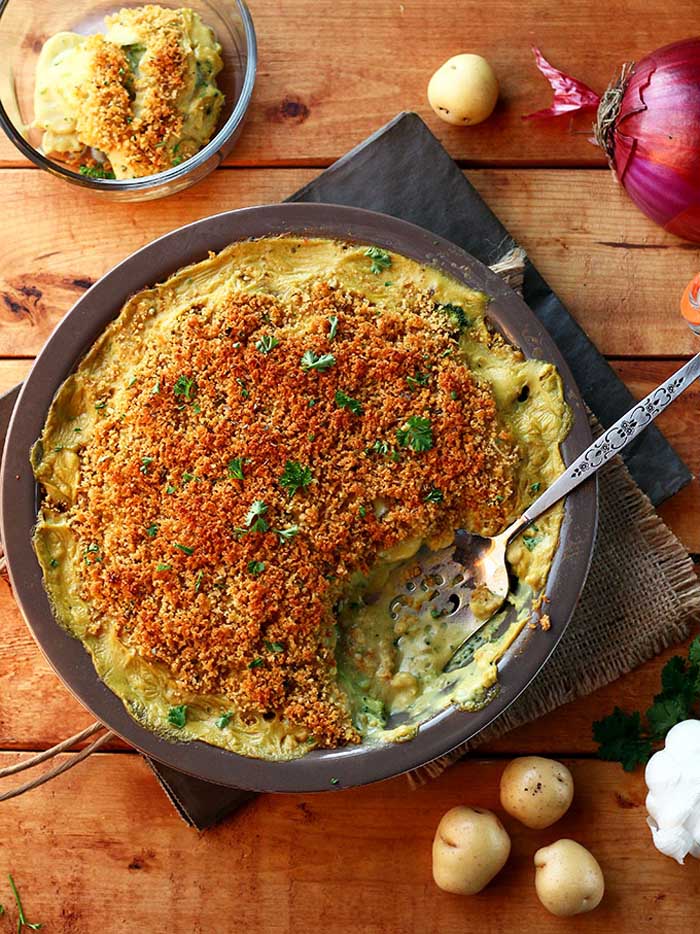 Definitely one of the most "casserole" looking dishes on this list, this Cheesy Potato & Broccoli Casserole has me drooling just thinking about it!
If you're a fan of cheese and potatoes, this is a great dish that is perfect for those winter nights at home.
Kale & Crunchy Quinoa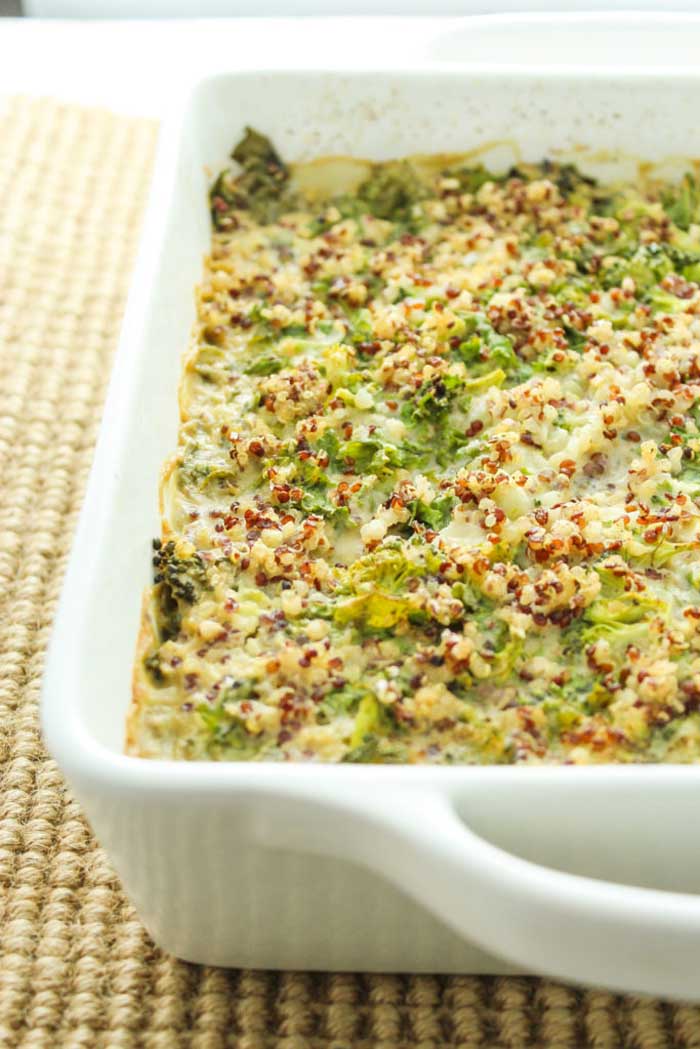 If you're looking for some guilt-free comfort food that tastes great and is also dairy and gluten-free, check out this vegan Broccoli and Quinoa Casserole.
This thing is loaded with healthy ingredients like red quinoa, kale, and broccoli, all while smothered in a coconut milk sauce. Really, really delicious.