Check out these best vegan sandwich recipe ideas from around the web. Great ideas for plant-based vegan sandwich fillings, including jackfruit, chickpea, vegan cheese, and more!
Sometimes the best meals to eat are the simplest ones to make.
When you want something quick and full of nutrients to pack in a lunchbox for work or the kids' school lunch, a sandwich is always a great option.
Many people have a hard time imagining what a vegan would even put on a sandwich besides raw vegetables between two slices of bread. How boring and unappetizing does that sound?!
But longtime vegans know better.
There's plenty of room for creativity in your preparation within the sandwich's humble framework without the meat and dairy. You can even create vegan versions of the sandwiches carnivores and omnivores have as staples of their diets. Want to know how? Read on to find out!
This list of the 11 best vegan sandwich recipes from around the web will have you ready to pack the ultimate healthy picnic that fits your lifestyle!
Vegan Fried Green Tomato Sandwich
This vegan twist on the Southern classic has all the flavor and fried goodness you want without being battered with an egg mixture.
Simply replace the eggs with flour, water, and turmeric powder, slice and coat the green tomatoes, and fry them. Serve on toasted bread with some vegan mayonnaise.
Garden Veggie Vegan Sloppy Joes and Cole Slaw
Everyone's favorite messy, meaty sandwich has met its vegan match!
Substitute meat for savory, seasoned textured vegetable protein. Cook it in a skillet for an easy meal. Warm some buns and add the mixture. Top with a bit of vegan coleslaw. Don't like TVP? Try lentils or mashed chickpeas instead!
Smashed Chickpea Salad Sandwich
Do you miss the chicken salad grandma used to make now that you're vegan?
Try this tangy chickpea salad recipe instead. Smash the chickpeas, add pickles, onions, and a little veganaise. The vinegar, mustard, and fresh dill tie the flavors together. Add your favorite fixings. Serve on multigrain bread.
The Ultimate Vegan Grilled Cheese Sandwich
Who doesn't love a grilled cheese with tomato soup on a chilly day?
Now vegans can indulge in the cheesy goodness! Daiya pepper jack and Tofutti cheddar cheeses are recommended, but feel free to pick your favorite brand. Add tomato and spinach. Serve it all up on some sourdough bread.
Vegan Grilled Cheese Sandwich
Want to get creative with the vegan grilled cheese? This recipe is perfect.
It offers three variations.
Inspired by jalapeno poppers, the first has jalapenos and vegan cream cheese.
The second includes spinach, vegan pesto, and Swiss Daiya.
The third is perfect for Thanksgiving – cranberry sauces, pecans, and Daiya Provolone.
Vegan Balsamic Sweet Potato Grilled Cheese Sandwich
Do you like to combine your savory vegan foods with something a little bit sweet?
Added sweet potato slices, coconut oil, greens, onions, and balsamic reduction make for a perfect flavor combination in this vegan grilled cheese recipe. Use your choice of vegan cheddar and veganaise on your favorite bread.
Vegan Buffalo Chickpea Salad Sandwich
Want to kick your typical lunch fare up a notch?
Try vegan "chicken" salad, but make it spicy! This quick and healthy recipe will have even the pickiest people eating their veggies. Besides the chickpeas, there's carrot, celery, green onion, and peppers. Add buffalo sauce. Serve on sprouted grain bread.
Vegan "BLT" Sandwich
This vegan version of the classic bacon, lettuce, and tomato sandwich replaces the crispy pork bacon with your choice of grilled eggplant or coconut slices. There are only 6 ingredients, and it takes 10 minutes to make!
Add vegan mayo or hummus, onion, and serve on your favorite bread.
Vegan Egg Salad Sandwich
If you miss the flavor of egg salad but want to skip the eggs, you definitely need this recipe in your life.
Instead of eggs, mix mashed firm tofu with yogurt, lemon juice, nutritional yeast, celery, green onions, parsley, and seasonings. Serve on whole-wheat bread with your choice of toppings.
Gluten-Free Strawberry Avocado Chickpea Salad Sandwich
This recipe mixes sweet, savory, and creamy ingredients for the perfect summer sandwich that's vegan and gluten-free!
Make the brad with chia seeds, tapioca starch, and Simple Mills bread mix. For the salad, mash the chickpeas, add celery, bell pepper, and carrot. Let the avocado and strawberries steal the show!
Smashed White Bean, Basil, & Avocado Sandwich
This healthy sandwich is creamy and light. It also happens to be vegan, gluten-free, and ready to serve in 5 minutes!
White beans, basil, and avocado are the key ingredients, but it also includes Dijon mustard and some lemon juice to round out the flavors. Top with greens and tomato.
Vegan Jackfruit Pulled Pork Sandwiches
Easy Cheesy Vegan Spinach Pesto Grilled Cheese
Homemade TTLA Sandwich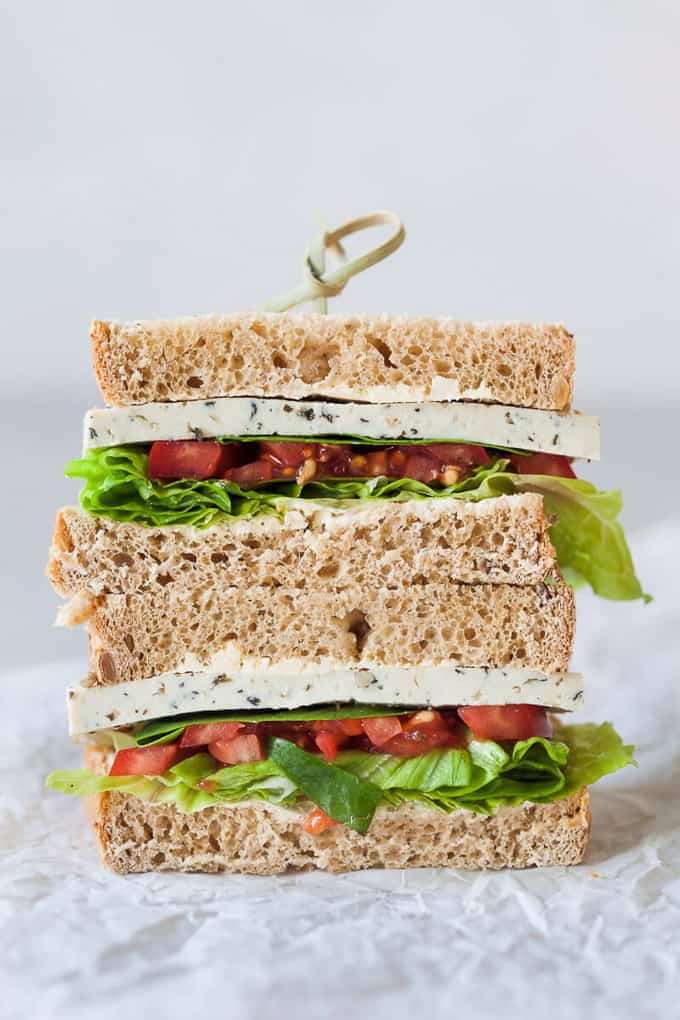 Vegan Tuna & Chickpea Sandwiches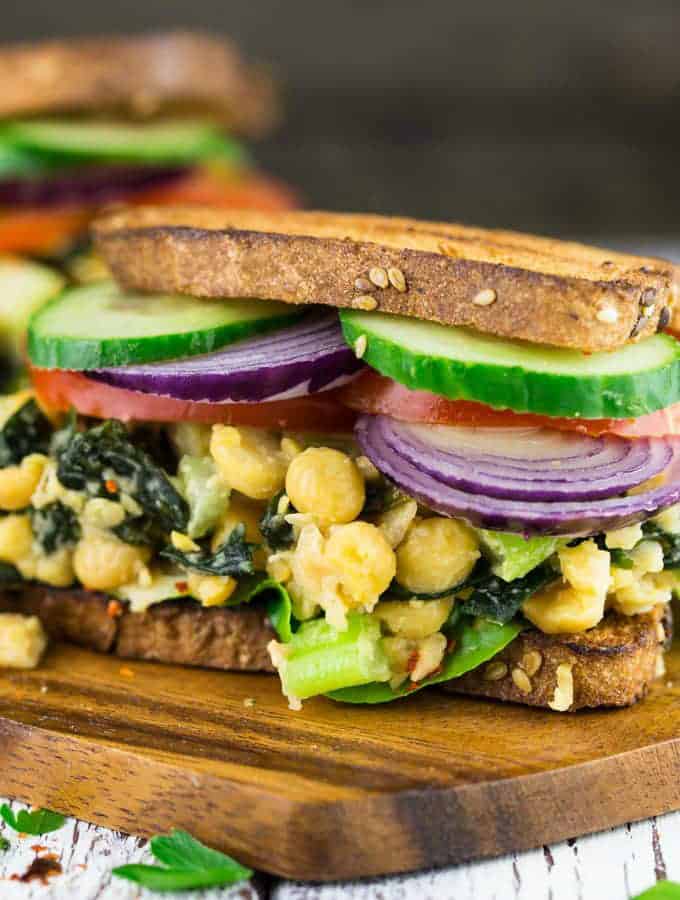 Vegan Philly Cheesesteak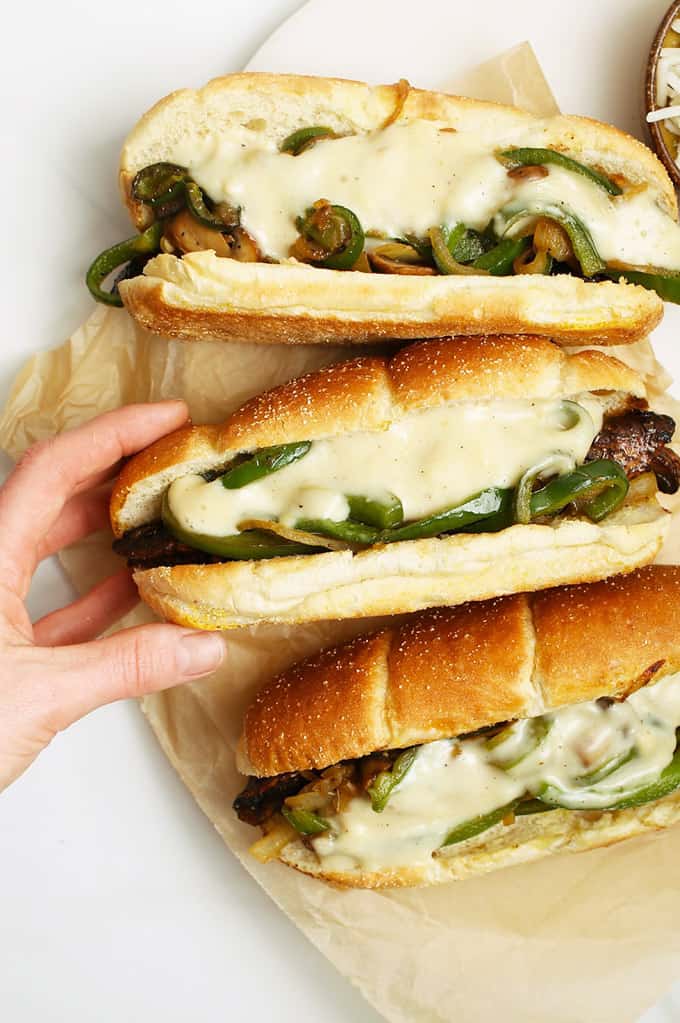 Thai Peanut Vegan Sandwiches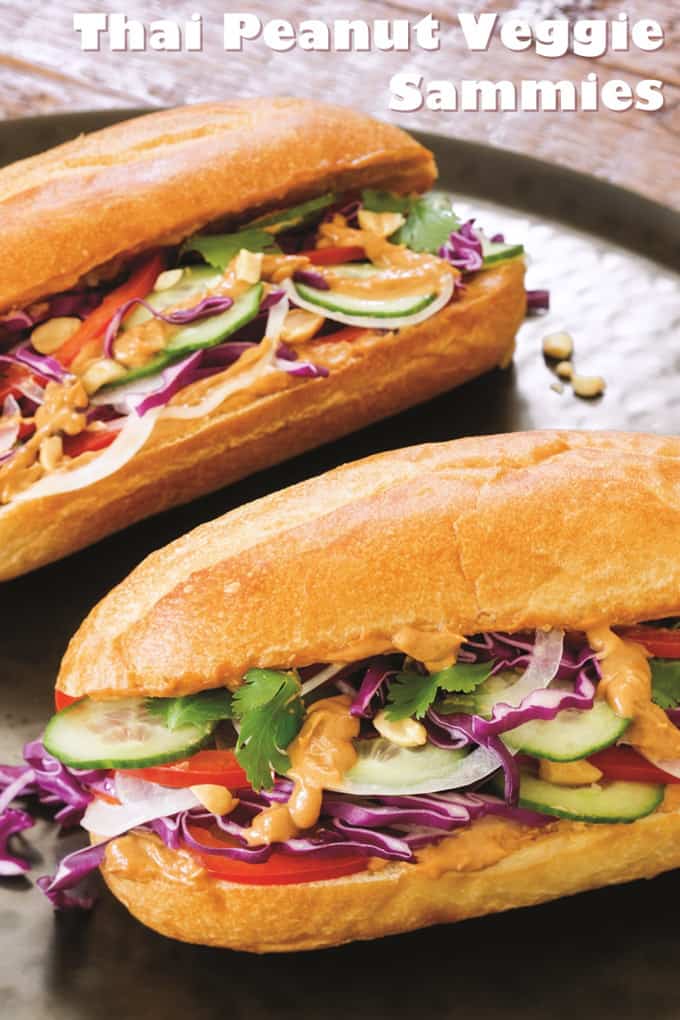 Tofu & Kale Pesto Sandwich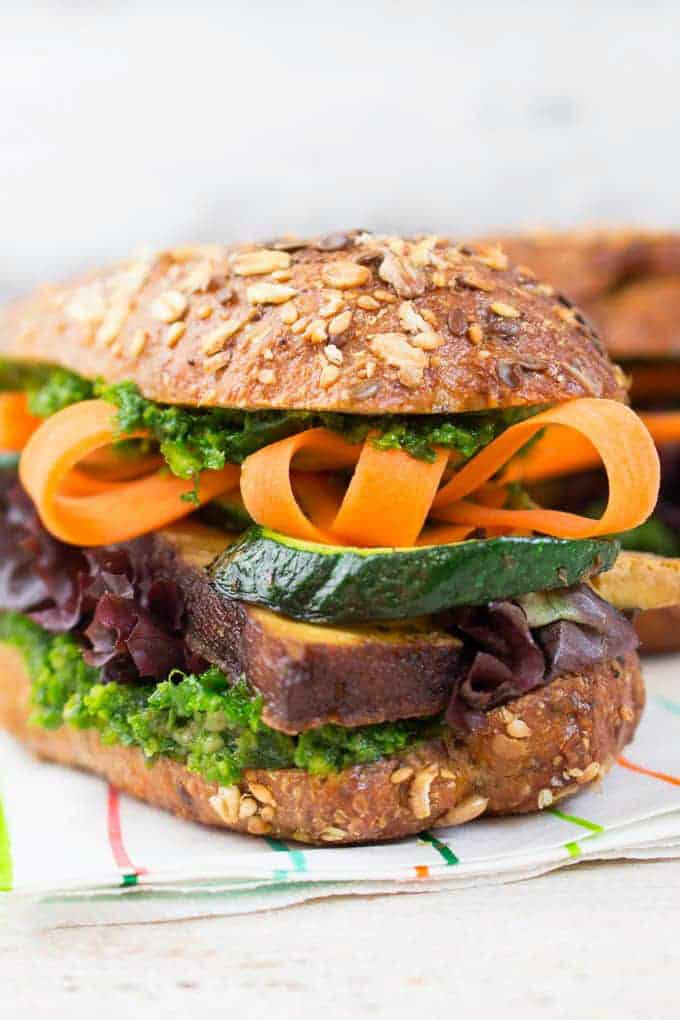 Easy Vegan Maine Lobster Rolls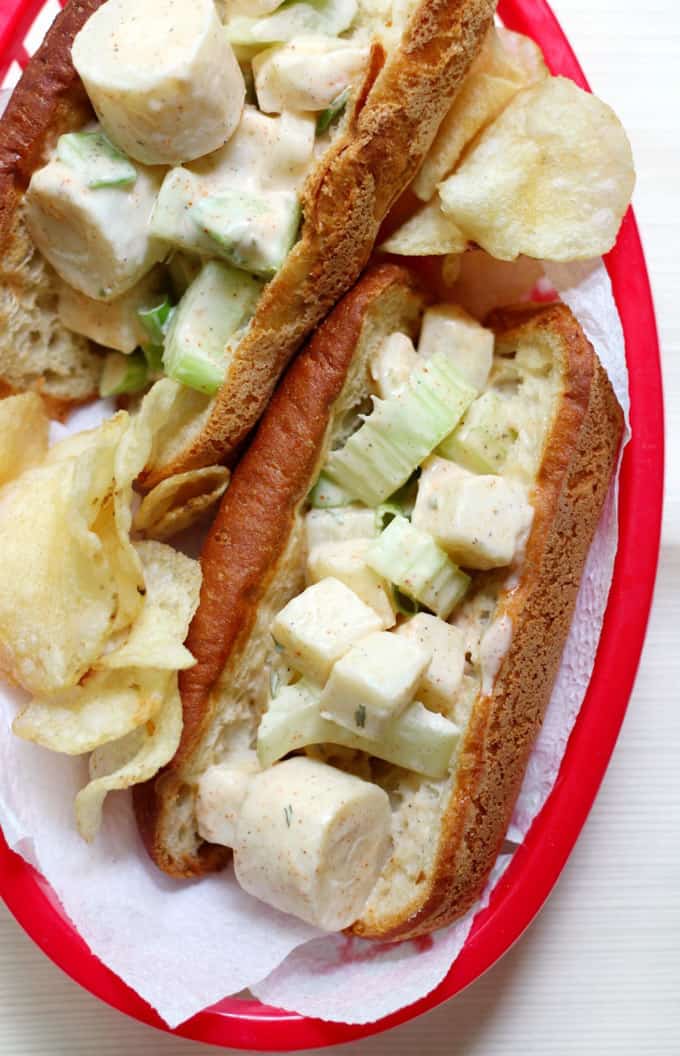 Chickpea Sloppy Joes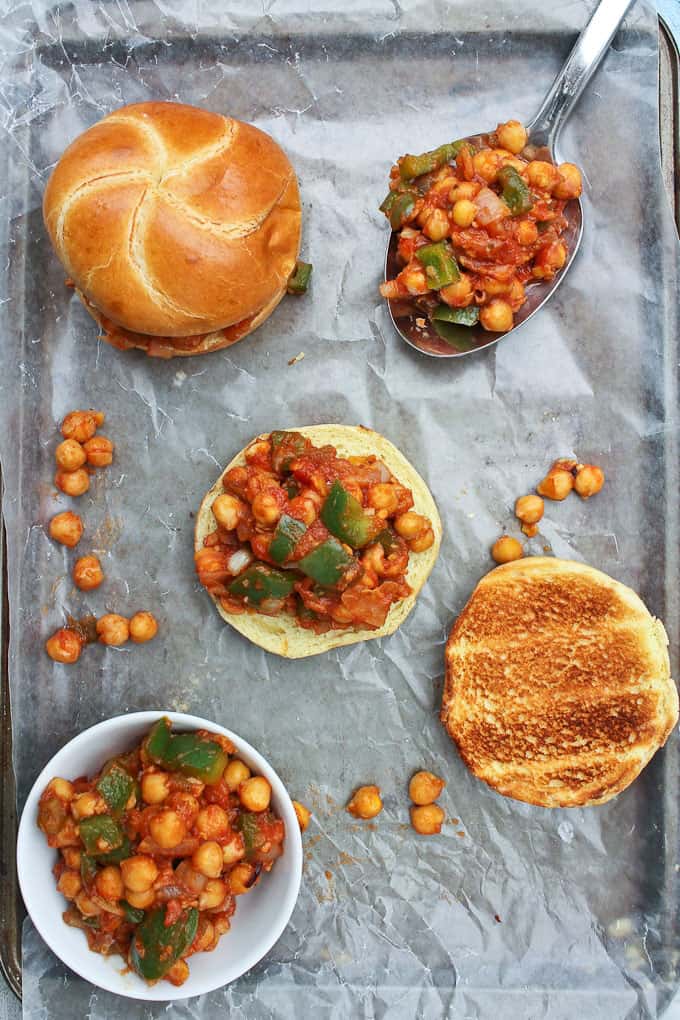 Tofu Egg Salad Sandwich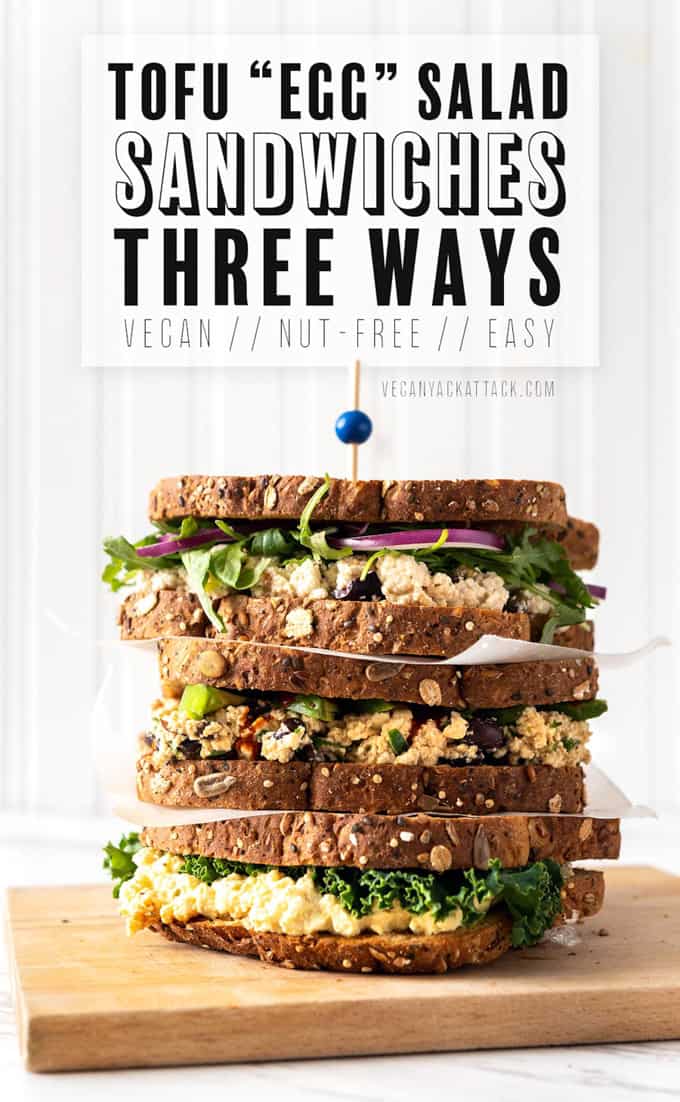 Vegan Mozzarella & Fig Jam Grilled Cheese Sandwiches
BBQ Tofu Sandwiches with Pineapple Relish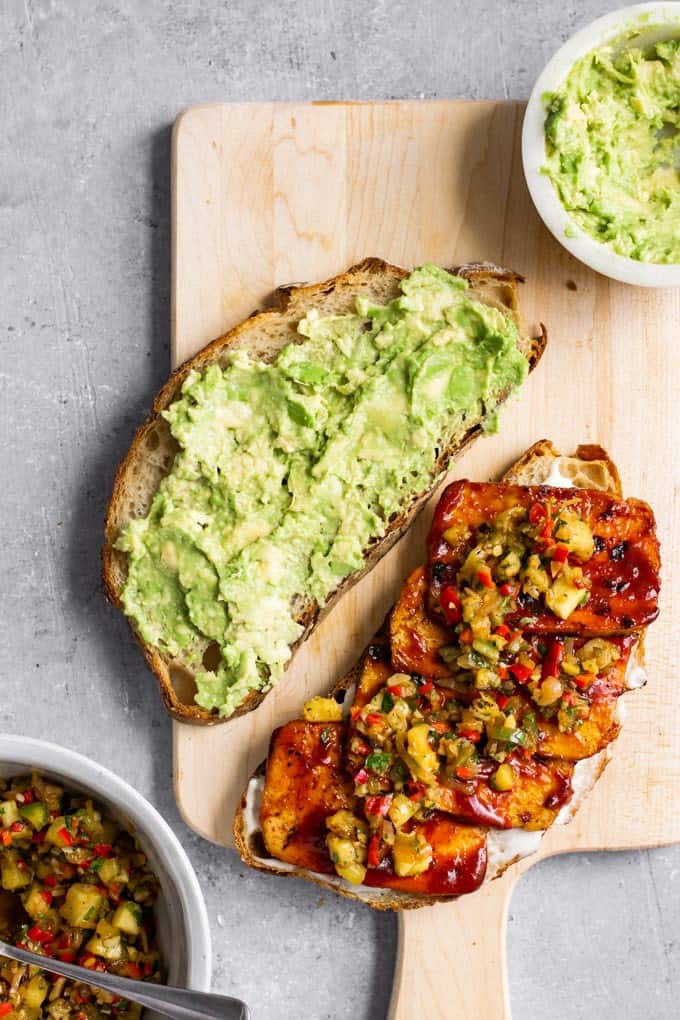 Vegan Coconut Bacon with Sliced Peaches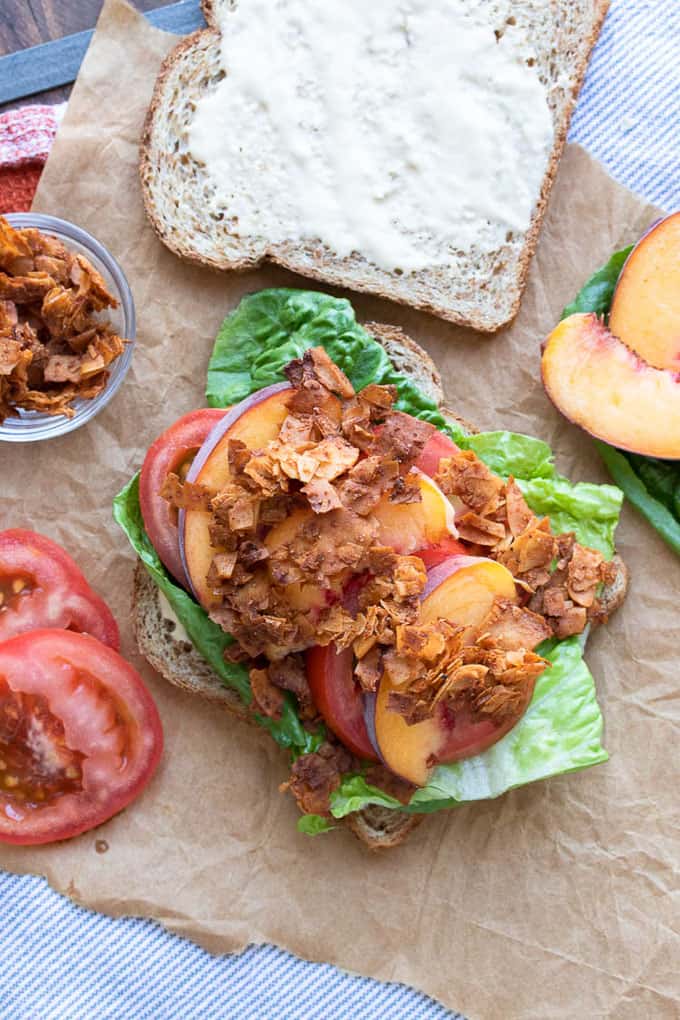 Smoky Tofu lettuce Tomato Sandwiches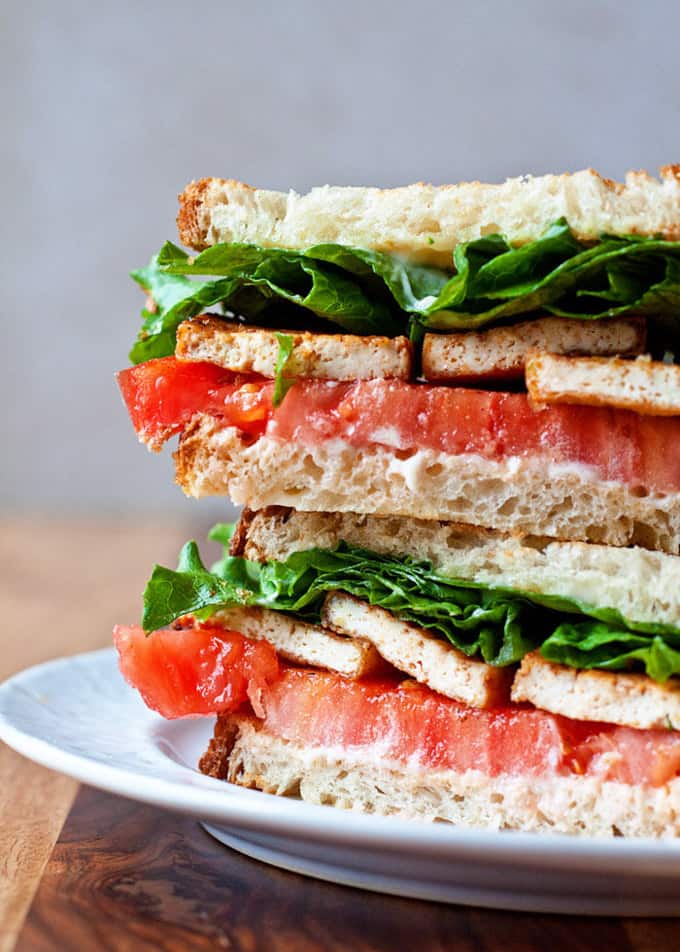 Vegan Caesar Smashed Chickpea Sandwich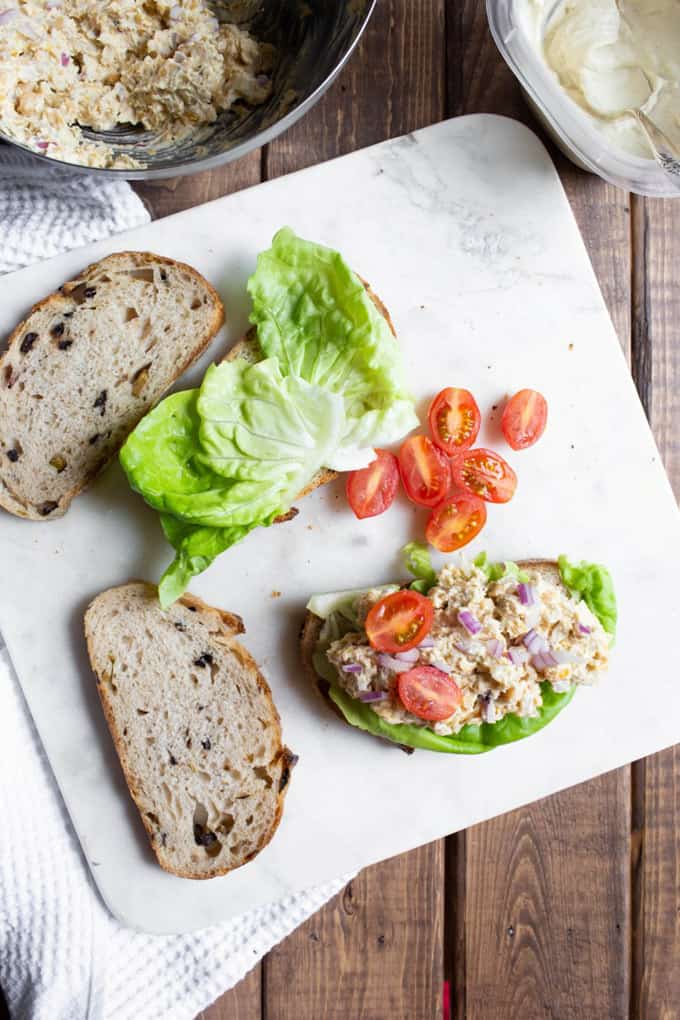 Homemade TTLA Sandwich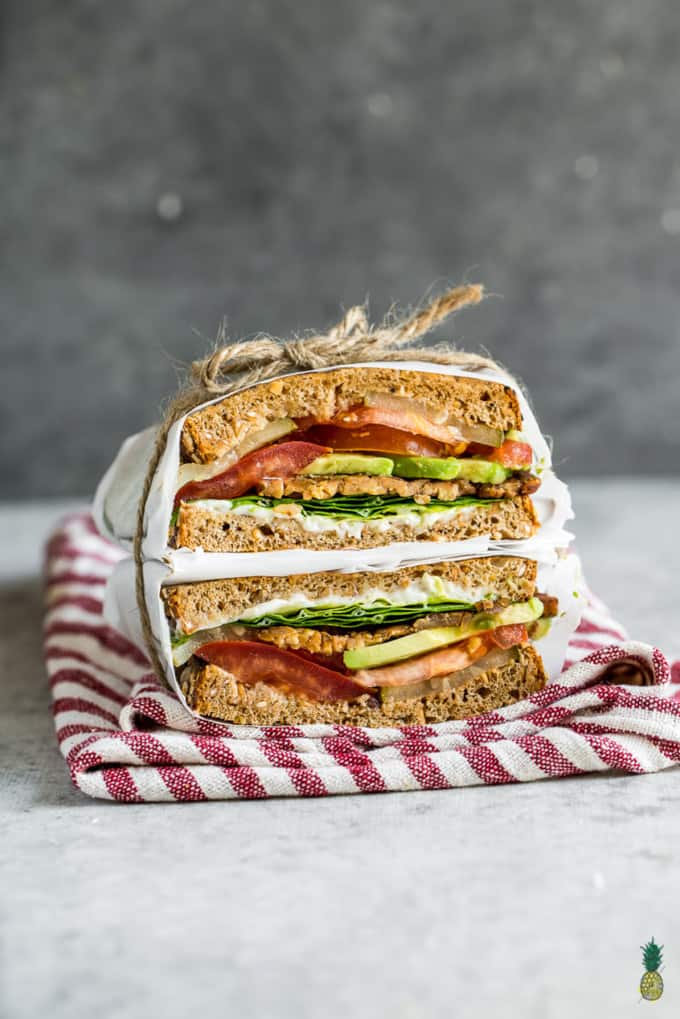 Fried Chicken Benedict Sandwiches (with Vegan Hollandaise)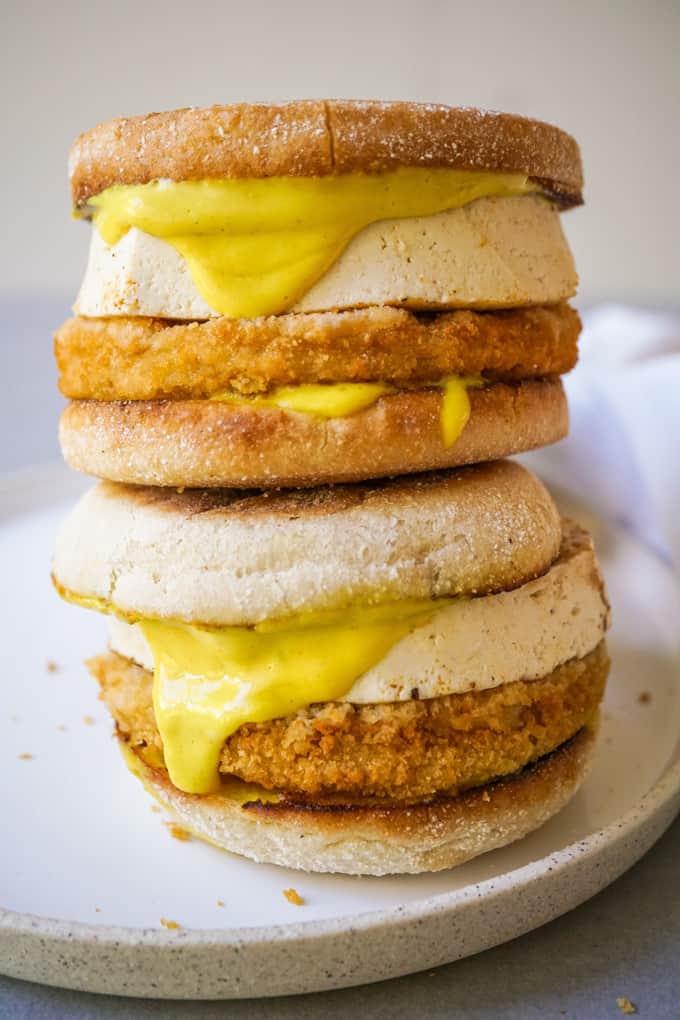 Garlic Butter Chickpea Sandwich