Best vegan instant pot recipes for the ultimate comfort food. Healthy and easy plant-based dinner ideas including soup, chili, curry, and more.
Finding new recipes can be a real burden. For vegans, it can be particularly challenging due to the limitations of a vegan diet. Most of the recipes available online can call for unique ingredients and lots of time for preparation and cleanup.
This is why we have compiled 11 delicious vegan one-pot recipes for our readers. Making these recipes is as easy as preparing the ingredients, throwing them in a pot, and letting them cook while you take care of anything else you have to do!
Curried Lentil Cauliflower Soup
The soup base is a vegetable broth made with carrots, yukon potatoes, and cauliflower. Lentils are added for protein, while coconut milk, curry powder, and maple syrup add extra flavors to the broth to complement the vegetables.
With lots of flavor and vegetables, this recipe makes for a perfect hearty meal. It is a perfect comfort food on a chilly day!
Lentil Curry
A modern take on an authentic Indian recipe, this curry is packed with protein and exotic Indian flavors.
The spices and sauces blend perfectly in the instant pot to form a creamy and flavorful curry, which can be paired with boiled rice for a delicious and nutritious meal.
Creamy Tuscan Pumpkin Soup
This recipe is a perfect dish for chilly, fall evenings. Combined with complementary flavors of sweet potato, tomato sauce, vegetable stock, and coconut milk, the recipe makes for a wholesome and comforting meal with a creamy pumpkin flavor.
Quinoa Chili
Full of protein and packed with flavor, the best vegan chili recipes are perfect for the instant pot. The simmering and slow cooking of vegetables in spices and sauce brings out the very best of your ingredients.
This quinoa chili recipe elevates the classic chili sin carne flavor with black and kidney beans, chili powder, peppers, cumin, and garlic. It also adds sweet potatoes and quinoa to turn it into a complete meal that is guaranteed to satisfy your appetite.
Persian Chickpea Stew
Chickpeas are one of the most versatile vegetarian ingredients. Paired with carrots and potatoes in this recipe, they create a spicy and filling instant dinner.
The addition of harissa in the recipe gives it a real kick for those who like heat but can be omitted for those who prefer a less spicy stew.
Lentil Soup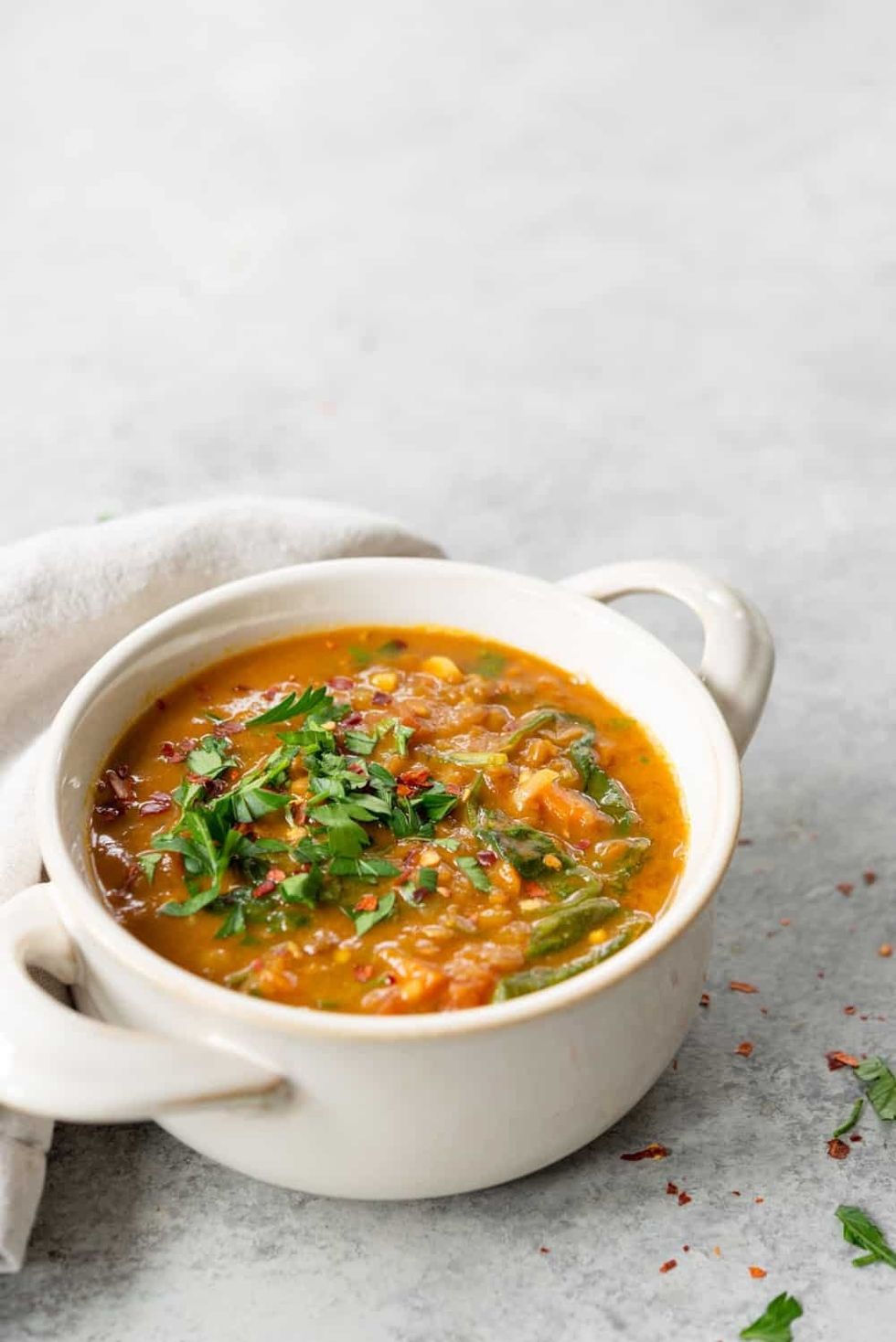 This soup is perfect for those who like spice and are a fan of lentils.
When simmered with celery, carrots, onion, spinach, and diced tomatoes, the lentils form a creamy base. A generous sprinkle of paprika, curry powder, and red pepper flakes on the lentil base turn it into a possible favorite for anyone who likes extra heat in their food.
Pad Thai Stir Fry
This recipe is a must try for Pad Thai lovers. The sauce in this recipe is a perfect balance of sweet and savory flavors with peanut butter, soy sauce, maple syrup, lime juice, and sriracha. Stir fried vegetables including cabbage, carrot, bell pepper, and snow peas bring extra flavors to make a delicious Pad Thai.
Butternut Squash Soup
This butternut squash soup is another perfect fall recipe that is incredibly easy to make.
Green apples and cinnamon provide a tantalizing twist that will make this one of your favorite recipes. The apples and squash need to be braised so the recipe might take some more time than others, but the butternut squash, apple, and cinnamon combination screams fall and is totally worth the effort!
Lentil Gumbo
Gumbo fans are sure to love this recipe. For anyone who hasn't tried Gumbo before, this vegan version makes for a great introduction.
The recipe is full of vegan protein sources, with pepper flakes, jalapeños, and cilantro to enhance flavor and add spice.
Rutabaga Gratin
This unique recipe is a delicious alternative for those who are tired of potato side dishes.
The recipe replaces potatoes with rutabaga. Combined with cashew cream and lots of onion powder, it creates a consistency similar to potato gratin but with a unique taste.
Pot Sweet Potato Peanut Stew
This sweet potato peanut stew is an incredibly nutritious meal disguised as a cheat meal. The sweet potato, peanut butter, and peanuts bring a sweetness to the dish, while the jalapeños and curry powder provide a kick and balance out the flavors.
This quick and hearty recipe is guaranteed to be your new favorite.