Best vegan instant pot recipes for the ultimate comfort food. Healthy and easy plant-based dinner ideas including soup, chili, curry, and more.
Finding new recipes can be a real burden. For vegans, it can be particularly challenging due to the limitations of a vegan diet. Most of the recipes available online can call for unique ingredients and lots of time for preparation and cleanup.
This is why we have compiled the best delicious vegan one-pot recipes. Making these recipes is as easy as preparing the ingredients, throwing them in a pot, and letting them cook while you take care of anything else you have to do!
Curried Lentil Cauliflower Soup
This filling cauliflower soup is packed with protein, fiber, and other important nutrients thanks to the presence of lentils, cauliflower, and other vegetables such as potatoes and carrots. Plus, the easy preparation makes it the perfect choice for a busy winter night.
Start by sautéing onions and garlic in your Instant Pot, then adding the chopped vegetables. Season with salt, paprika, and cumin, add vegetable broth and coconut milk, then cook on manual, HI for six minutes.
Lentil Curry
A flavorful curry is one of the best ways to whip up a meal for a crowd that is filling, delicious, and only uses plant-based ingredients. Start by sauteing shallots, ginger, and garlic, the base for any curry. Add the spices, then add rinsed lentils, coconut milk, and water or broth.
Cook on high in your Instant Pot. Serve the lentil curry with warm rice or naan to complete the meal.
Creamy Tuscan Pumpkin Soup
Your Instant Pot is the perfect tool to help you turn vegetables into nourishing, healthy soups within minutes. This Tuscan soup breaks down pumpkin (use canned pumpkin to save time on prep) into a cozy Italian-inspired broth.
Besides canned pumpkin, you will need cubed sweet potato, onion, tomato sauce, stock, garlic powder, cinnamon, and salt. Cook on high for eight minutes, then add coconut milk and blend.
Quinoa Chili
Making chili usually requires hours of stirring and carefully layering flavor, but this Instant Pot recipe will help you get chili on the table in minutes. Even though it's vegan, this quinoa chili recipe is packed with protein thanks to quinoa, canned black beans, and kidney beans. Plenty of Tex-Mex spices gives it warming flavors.
To make vegetarian chili, just sauté the onions, then the remaining vegetables. Add the liquids and cook on high for eight minutes, then add the beans and continue cooking.
Persian Chickpea Stew
Add a bit of variety to your regular dinner rotation with this chickpea stew, which takes inspiration from Persian cuisine. Besides chickpeas, potatoes and carrots combine to make this stew filling and warming, perfect for winter. Warm Middle Eastern spices such as cumin, fennel, chili powder, and coriander flavor this dish.
The method is easy. Start by sauteing onion and the spices, then add your vegetables, tomato, and liquids. Cook on high for 10 minutes.
Lentil Soup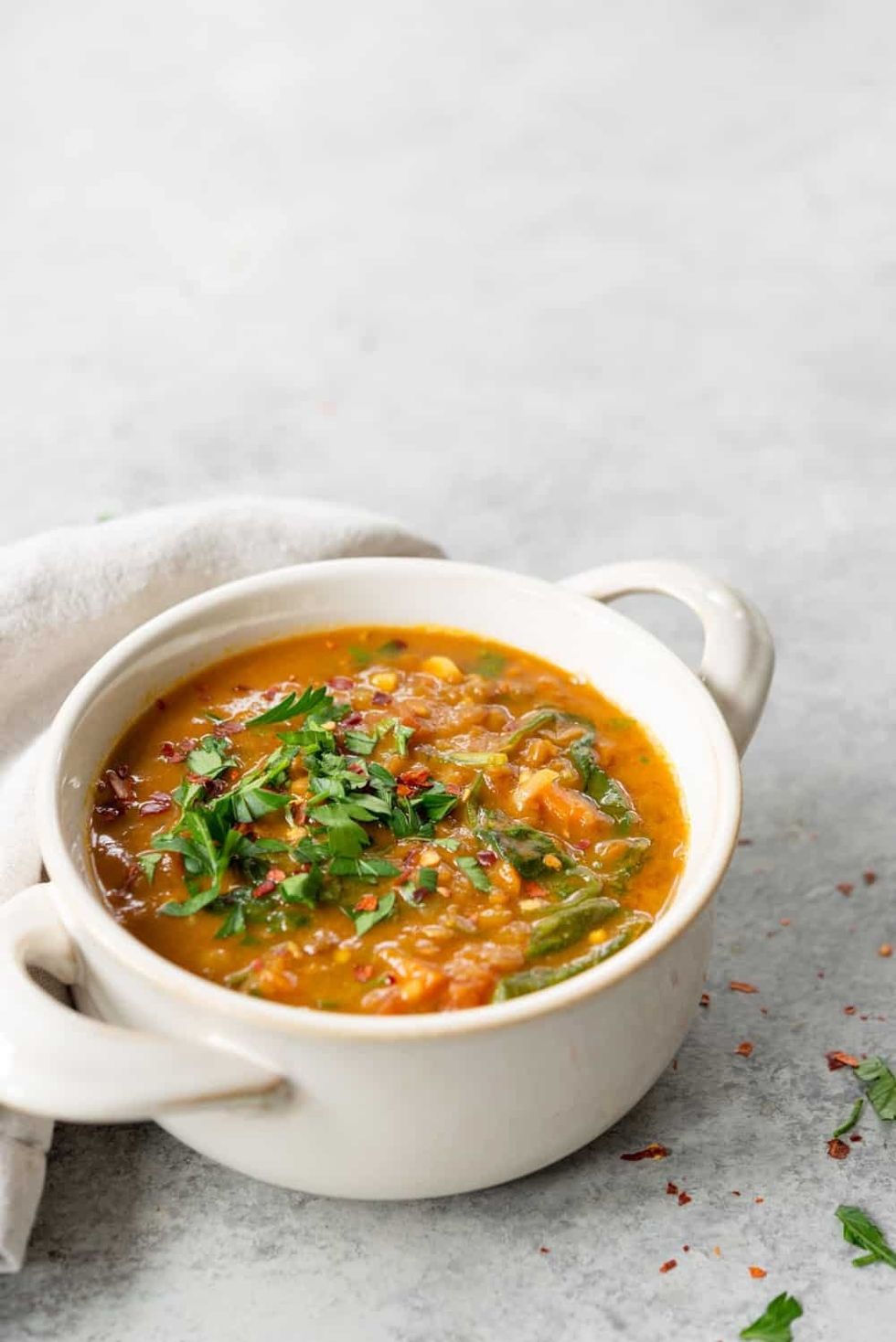 Lentil soup is a great hearty recipe for sticking to a plant-based diet throughout winter. This lentil soup recipe adds extra health benefits thanks to the addition of spinach.
The preparation is simple. Just sauté onions, carrots, and celery, then add lentils, tomato, and broth. Once the soup is cooked, blend it, and add the chopped spinach, letting the spinach cook through until it wilts.
Pad Thai Stir Fry
Most home cooks know that they can use their Instant Pot to make soups, but these pressure cookers are more versatile than that—you can use them to make your favorite takeout meals, such as pad thai stir fry.
To make pad thai in an Instant Pot, start by cooking the noodles. Then, sauté chopped vegetables in a peanut sauce made of peanut butter, soy sauce, Sriracha, and other ingredients.
Butternut Squash Soup
This soup is a great way to use up seasonal produce in the fall. Besides butternut squash, you will need a green apple, onion, carrot, celery, and garlic, as well as broth and herbs.
Every component of this butternut squash soup can be done in your Instant Pot. Start by sautéing the vegetables using the sauté function. Once you add the liquids and herbs, switch to high and cook for ten minutes. Blend the soup until smooth and then it's ready to serve! See our guide to what to serve with butternut squash soup for quick side and serving ideas.
Lentil Gumbo
Bring a taste of New Orleans to your table with this gumbo! The traditional recipe is made vegan by replacing meat and fish with plenty of vegetables, and the rice with lentils for additional protein. Start by sauteing the vegetables and spices. Finally, add your other ingredients and cook on high.
If your gumbo looks thin, you can make a roux or slurry with water and flour to thicken it and add after cooking.
Rutabaga Gratin
A great vegan main or even side dish for the holidays. Inspired by a traditional Finnish dish, Lanttulaatikko, this gratin recipe combines rutabagas, cashew cream, and breadcrumbs for an earthy vegan side.
You can use an Instant Pot to speed up the process of cooking the diced rutabagas. Once the vegetables are fork-tender, mash them, coat in cashew cream, molasses, and herbs, then bake in a breadcrumb-topped baking tin.
Sweet Potato Peanut Stew
Sweet potato stew is the perfect filling, warming meal for a cold day, and the Instant Pot allows you to skip waiting for the sweet potatoes to tenderize.
To make this sweet potato peanut stew, toss cubed sweet potatoes, chopped onion, minced garlic, jalapeños, fire roasted tomatoes, coconut milk, and seasonings into an Instant Pot and cook on high. You can even freeze the mixture ahead of time to make meal prep even easier.
Red Lentil Curry
Red lentils are a staple of South Asian cuisine, but you can make mealtime even easier with the untraditional twist of using an Instant Pot.
To make this red lentil curry, add onions, garlic, coconut milk, canned tomatoes, red lentils, soy curls, and plenty of seasonings to an Instant Pot and cook on high for five minutes. Serve with rice or naan.