Check out this list of the best stuffed peppers recipes from around the web. Including vegan, keto, meat stuffing, and more!
Stuffed peppers are the perfect recipe for customizing in line with your own personal ingredient preferences and diet choices. From ground beef to fried tofu, they go with everything. And while they are great for a sharing platter with stuffed pepper sides, they are also perfect for a quick weeknight dinner.
The more traditional take on the meal might include ground beef, but there are so many options with beans, starches, sauces, and plenty of meat-free choices too. If you ever find yourself with leftovers then serving them up in peppers is a great starting point.
Here are the best stuffed pepper recipes to help curb your comfort food craving.
Buffalo Chicken
Buffalo sauce combines the heat of cayenne hot sauce with a touch of butter and ranch dressing for a deliciously balanced filling. It's enjoyed with chicken wings, pizza, grilled cheese sandwiches, and even tacos. These buffalo chicken stuffed peppers combine the delicious sauce with rotisserie chicken and gouda cheese for the ultimate mouthful of flavor.
Classic Rice & Ground Beef
There are good reasons why the classics never go out of style.
This simple take on the classic crams in lean ground beef, chopped tomatoes, and cooked rice to give you comfort bite after comfort bite.
Mexican Cheese & Beef
Stuffed with rice, ground beef, and cheese, these are essentially a taco in pepper form.
So what better way to get a taste of Mexico with this take on the stuffed pepper dish?
And if you're feeling a little bit decadent (as I always am) then you can top it all off with salsa, guacamole, and/or hot sauce.
Diced Tomato & Ground Beef
One of the best things I love about stuffed peppers is the variety of color they offer on your plate.
And this assortment of reds, greens and yellows is also indicative of just how varied the ingredients are.
These stuffed peppers are topped up with mozzarella cheese to help take them to a whole other level, and can even be made with ground turkey for a (slightly) healthier take on the classic.
5-Ingredient Mexican Quinoa
If rice isn't quite your vibe, then quinoa is a great alternative that can be a lighter and easier to use.
Fortunately, it's nowhere as dull as some people think. It's incredibly easy to add flavor to, and doesn't impose on the real star of the show: The cheese.
The quinoa's cooked in broth to help infuse it with added rich flavors, and is mixed in with melted cheese, and salsa verde.
Spicy Jalapeño Vegetarian
Check out this meat-free take on the dinner dish.
With strong ingredients like jalapeños, cayenne, and cumin, there's more than here enough here to satisfy any palette.
If you've ever been on the fence about how well or not vegetarian versions of traditional meat-filled meals can be, then this should settle the debate.
Beef & Parmesan
Sure, traditional fillings like beef and rice are what continue to make stuffed peppers so popular.
But why stop there when you can melt parmesan on top of them?
Greek-Style Mediterranean Beef, Chickpea & Parsley
For something different, this Greek take on the dish is a great alternative.
It has chickpeas and herbs thrown into the mix and is a great dairy and grain-free adaptation to try out!
Beef Sirloin Cheesesteak
Look at it. How could I not include this?
This takes the beloved cheesesteak sandwich recipe and reinvents it completely in the form of stuffed peppers.
It would obviously be somewhat of a stretch to even think about calling this healthy, but the lack of bread does mean you can eat more of the real star of the show: That beef and cheese filling.
Low-Carb Beef, Sausage & Cabbage
This low-carb take on the dish replaces the rice with chopped cabbage. It acts as far more than just filler, as the flavors of the cabbage work with the beef perfectly to elevate it all to another level.
Lined with added onions and spices, there's plenty here to love!
Italian Beef, Rice & Parmesan
I'm originally from Florence, so the title of this recipe had my attention pretty much immediately.
And I'm certainly not disappointed!
It's easy, it has parmesan, and is delicious. In short, it's Italian.
Cream Cheese
I love that this adaptation goes all-in on the cheese. Forget your sprinkles of parmesan – these bad boys are filled with cream cheese.
With added green onion, walnuts, and sriracha, it has enough going on to make it really interesting. The perfect appetizer.
Greek Yogurt Chicken Salad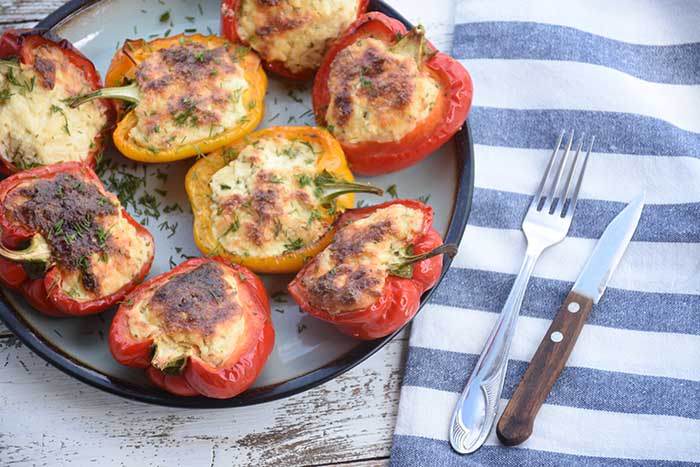 This stuffed peppers recipe will liven up your usual lunch and dinner repertoire with some vibrant Mediterranean flavors. The choice of white meat chicken instead of greasier beef, plus the addition of veggies in the salad, makes this a much lighter and healthier choice than traditional stuffed peppers. For extra health benefits, the chicken salad uses Greek yogurt instead of fatty mayonnaise.
To make this recipe, first prepare the Greek yogurt chicken salad. Start by cooking the chicken or cutting up a rotisserie chicken into cubes. Then, add the chicken to the other salad ingredients. Use Mediterranean vegetables such as tomatoes and cucumbers. For extra flavor, add celery and fresh herbs such as parsley.
Finally, toss the chicken salad in a dressing made out of Greek yogurt, mustard, and your choice of seasoning. Serve in bell pepper halves. You do not have to cook or roast the peppers, so they act as a crunchy exterior for the salad.
Salsa Verde Chicken
Salsa verde chicken is the perfect flavorful topping for stuffed peppers that still lightens up this dish. You can stuff regular bell peppers, or use poblano peppers for additional flavor and to take the Mexican inspirations of this dish to the next level.
Start this recipe off by baking chicken breasts or your choice of chicken meat. Then, shred the chicken and combine with rice, cheese, cilantro, and salsa verde. Salsa verde is a type of sauce made of chopped herbs. You can buy it in the supermarket or make your own at home with the herbs of your choice.
Once you've mixed up your chicken with the seasonings, fill the peppers. For extra flavor, top the peppers with more salsa and shredded cheese. Finish the recipe by baking the peppers in the oven.