Jalapeno poppers are the perfect party appetizer. These peppers are stuffed with incredible ingredients, from melted cheese to bacon, and shrimp to pork sausage. Find your new favorite jalapeno bite recipe today.
Jalapeno poppers in their truest form are hollowed out jalapenos, stuffed with cheese, and wrapped in bacon. For such a small snack, there is an incredible number of variations of the snack. From dips to bread, to meat stuffings, there's enough to keep it interesting.
I don't think that anything I say could do much justice to my love for jalapeno poppers, but this mouth-watering list of my favorite recipes should help.
Cheddar & Cream Cheese
Want some cheese on top of that cheese? This delicious cream cheese jalapeño poppers recipe creams in cheese, bacon, garlic and cream cheese into each pepper. The result? A crispy, gooey bite of decadence that always hits the spot.
Bacon & Cream Cheese
These baked jalapeno poppers are a delicious way to use bacon, as well as and cream cheese. Need I say anymore? I don't think there's anything I love more in this world than melted cheese over meat… perhaps melted cheese over meat with some spice thrown in. Luckily, all of this is present in this great recipe.
Dip Mix & Cheesy Garlic Bread
So while we're on the subject of melted cheese, we have this amazing shared dish. The beauty of Anna's dish is in its simplicity – it only takes 20 minutes to make – and only requires a handful of ingredients. Try not to drool before it's ready.
Cream Cheese & Pepper Stuffed Chicken Breast
The best recipes make the most of simple ingredients, and this glorious recipe is no different. With some cheese, jalapenos, and chicken, this is a beautifully simple dish that still manages to be enticing.
Cream Cheese & Sour Cream Pepper Dip
A great one for sharing (particularly on game day!), this jalapeño popper dip recipe is generous in size and delicious to the extreme.
Jalapeno poppers as a dip? Fabulous! This recipe can be prepared in under 30 minutes. All you have to do is combine the sour cream and cream cheese base with the other ingredients. The hardest part is stop yourself from eating it. Use tortilla chips, Ritz crackers, veggies are all great options to use for dipping. Include this dip with others for a dipping party. Leftovers can be eaten the next day, if you have any.
Cheese & Bacon Crescent Rolls
Featuring bacon and cream cheese, these triangular little rolls are packed full of flavor.
There is no need to spend time dicing the jalapeno peppers, just slice them and stuff them with the dip mixture. This easy-to-follow tasty recipe can be prepared in a matter of minutes. Slice the jalapenos lengthwise, fill, and wrap in store-bought crescent dough. Unlike the deep-fried popper version, this recipe contains less grease. This is a perfect edible surprise to give as a gift to the foodie in your life.
Bacon & BBQ Sauce Poppers
This recipe combines the flavor of bacon, jalapeno, and BBQ sauce to a create a delicious treat. Pre-cooking the bacon and preparing the creamy jalapeno filling can save time if you want to plan ahead. BBQ sauce is used for dipping or drizzling. However, ranch dressing can be another option.
Paleo Bacon-Wrapped Peppers
On a Paleo diet? No problem! This recipe uses cashews as an alternative base to the customary cream cheese mixture in other similar recipes. Be sure to soak the cashews for 4 hours. Afterward, just blend with other ingredients, stuff the pepper, and wrap in bacon. It is best to serve these immediately when they are done cooking. Enjoy with friends, or prepare them to make an impression on a new love in your life!
Spicy Fried Cream Cheese Peppers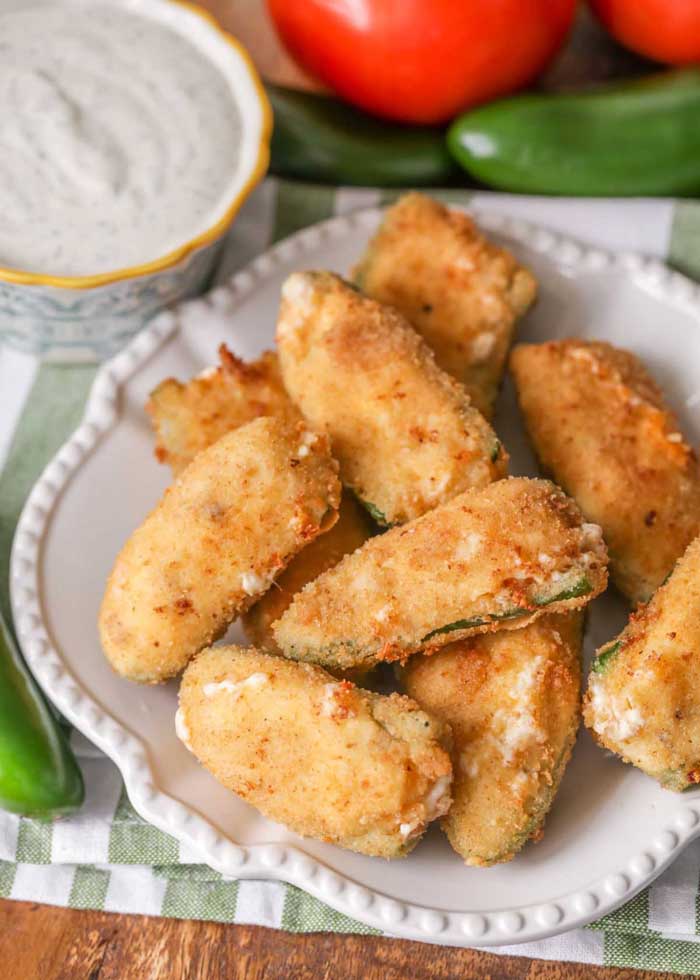 This classic recipe calls for frying the poppers and offers suggestions for alternative fillings such as stuffing them with crabmeat. While pan frying can be used, an air fryer can work as well to prepare this enticing finger food. In the rare event you might have leftovers, no worries! Just store the poppers and reheat in the oven the next day.
Cheddar & Chive
Here is another classic cream cheese based recipe for jalapeno poppers. Feel free to add sausage, ground beef, or shredded chicken to this otherwise vegetarian dish. Don't forge to use the gloves when slicing the jalapenos!
Baked Feta, Cilantro & Onion
Looking for a less greasy version of jalapeno poppers? This recipe offers a baked option. Rather than panko crumbs, the recipe creator suggests running BBQ flavored chips through the food processor for some added crunch. If you want added spice, leave in a few jalapeno seeds. Enjoy as is or dip in any dressing of your choice. Great for your next tapas meal.
3-Ingredient Bacon Strips & Cream Cheese
Save time and money at the grocery store with this recipe. This simple recipe serves up another baked option for jalapeno peppers and uses just three ingredients! They are flavored cream cheese, jalapenos, and bacon. Using flavored cream cheese, such as jalapeno or chive, the jalapenos are stuffed and wrapped in bacon. Pop them in the oven on 400 degrees and they are ready to devour!
Pepper Jack, Paprika & Chive
Savor these poppers grilled or baked! The recipe calls for the traditional ingredients like cream cheese, sour cream, and panko. However, in this recipe, the panko is toasted for added crunch. This dish is perfect for any birthday, family gathering, or special occasion.
Crunchy Bacon & Cheese Peppers
Why not add these to your Thanksgiving menu? Classic jalapeno poppers can add color and flavor to the menu. The filling can be mixed and stuffed into the pepper a day in advance to store before cooking. Just be sure to use an air tight container. Cook in the oven when ready. Enjoy the smell of bacon, cheddar, and jalapenos– what's not to love?
Buttery Panko Breadcrumb-Coated Peppers
Choose your own pepper for this recipe according to how spicy you want it. The recipe suggests slicing your own cheese rather than buying it all ready shredded and adding it to the cream cheese based mixture. While these tasty poppers can be expensive to buy out in a restaurant, save money and make your own for your next office party or family gathering. Serve on a platter for easy grabbing!
Goat Cheese
Cheese works well with jalapeno poppers because the smooth, creamy taste helps to balance out the spiciness of the peppers. Goat cheese makes the poppers feel fancy without too much effort on your part. The creamy texture also serves as a vehicle for other fillings of your choice, such as crispy bacon.
To make goat cheese filling for jalapeno poppers, mix goat cheese with chives, garlic, and a shredded cheese of your choice. Fill pre-roasted jalapeno peppers, top with bread crumbs, and bake until the cheese melts and the bread crumbs are toasted.
Buffalo Chicken
When you want your jalapeno poppers to be as bold and packed with flavor as possible, stuffing them with buffalo chicken is a great idea! The intense flavor of buffalo sauce enhances the spiciness of the jalapeno peppers. Plus, the chunks of chicken are filling and make this a protein-packed snack, not just a flavorful one.
You will need chunks of pre-cooked chicken to make this filling (rotisserie chicken works well). Toss the peppers with cream cheese, shredded cheese, and buffalo wing sauce (you can always make your own by mixing hot sauce, garlic, and white vinegar). Fill the roasted jalapeno peppers and bake until golden and the cheese melts.
Chipotle
If you want to enhance the natural flavor of the jalapeno peppers, adding chipotle to your filling takes the spiciness to the next level. It also adds a hint of Mexican flavor to this very American appetizer and game snack, as chipotle powder is a common ingredient in many Mexican dishes.
You can use your favorite jalapeno popper filling and just add chipotle powder to it for this spicy twist. Or, go with the classic and use cream cheese as a base. You can even buy cream cheese that already has chipotle mixed in at some grocery stores.
Italian Sausage
Italian sausage and jalapeno peppers may seem like a strange combination, but the sweet, herbal flavors of the sausage balance out the spiciness of the peppers. Plus, the sausage adds protein to the dish and makes for a filling snack to fuel you through the whole game and beyond.
Besides Italian sausage, this filling calls for cream cheese, shredded cheese, and plenty of seasonings. Start the filling by browning the sausage. Then, combine the cooked sausage with the cheese and season well with pepper and onion powder. Stuff the jalapenos and bake.
Mushroom
If you want to add a substantial filling to your jalapeno poppers but keep them vegetarian-friendly, then mushrooms are the way to go. Mushrooms and cheese are a classic combination, plus the earthy flavors of the mushrooms balance out the spiciness of the jalapeno peppers.
You can use whichever mushrooms you have on hand for this dish, although button mushrooms are one of the best choices thanks to their compact size and robust flavor. Finely mince the mushrooms and combine with cream cheese, shredded cheese, and garlic powder. Fill the peppers and bake until the cheese melts. Try the recipe here.