The best burrata recipe and ideas, including prosciutto arugula pizza, carbonara, tartines and more.
Burrata is a soft, Italian cheese, made to be eaten fresh. While it might look like mozzarella, it's a delicious cheese in its own right. Yes, it uses mozzarella but goes way beyond just that.
Burrata is beautifully textured, with a smoothly finished center inside its soft shell. It's the perfect ingredient to match against a whole array of different dishes.
Burrata has an outer shell, or rind, made of mozzarella, somewhat like a pouch, filled with a creamy, buttery-type combination of curds and fresh cream. While mozzarella forms part of burrata, the two types of cheese are not the same.
If you're not sure where to start with this creamy Italian cheese, these recipes are the perfect showcase of why it's such an underrated ingredient. From hearty Mediterranean salads to pizzas, and even burrata for breakfast, these best burrata recipe ideas are here to get you your dairy fix.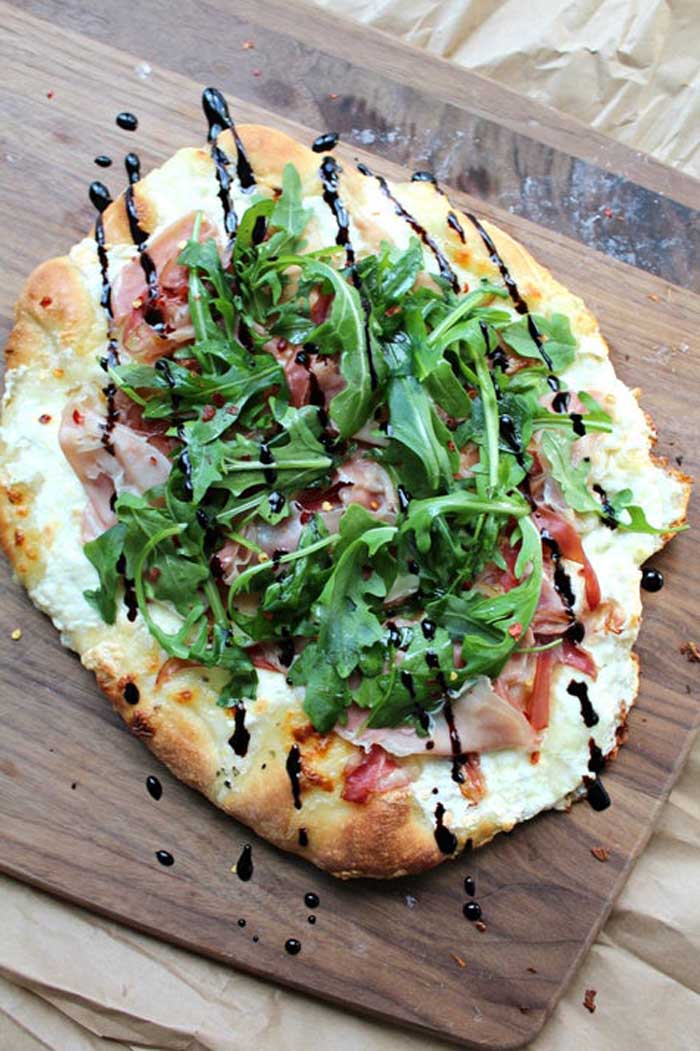 Prosciutto Arugula Burrata Pizza
This homemade pizza features some great textures and amazing flavor combinations that you will love. Start with the freshly made pizza dough, add some olive oil, and then pile on the flavor! You will find the saltiness of the prosciutto, the creaminess of the burrata and mozzarella, a bit of spice from the arugula, and a hint of heat from some red pepper flakes. All drizzled with a balsamic glaze. What's not to like?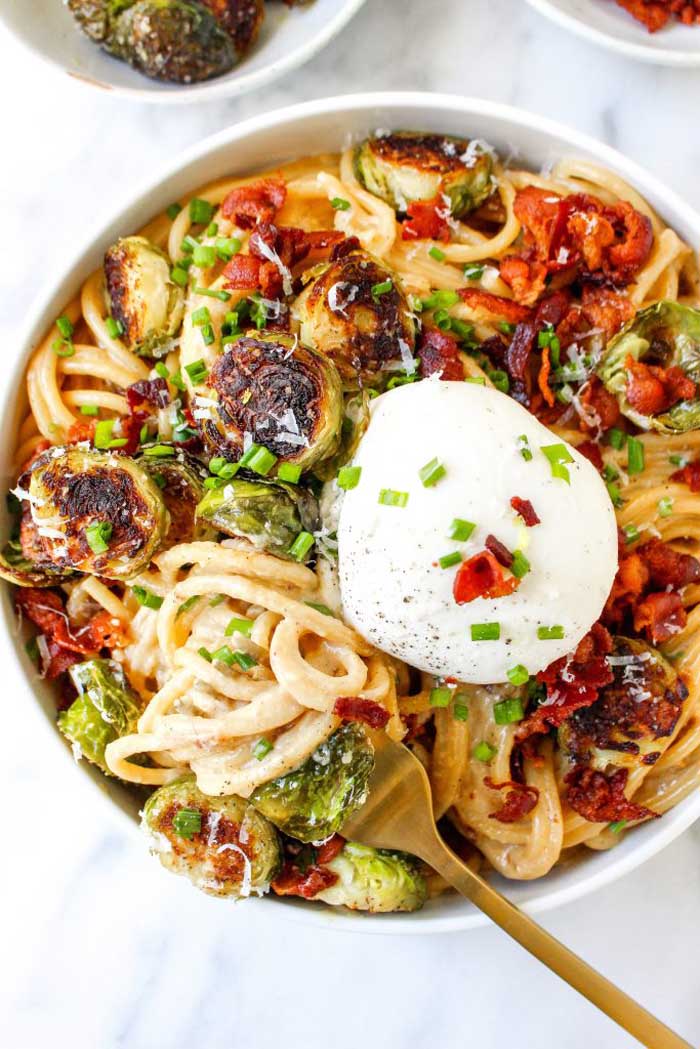 Caramelized Onion Carbonara
Ahh, roasted Brussels sprouts! We could stop there. Roasted Brussels sprouts are so good. But no, this recipe adds to that initial goodness with some bacon, pasta, caramelized onions, and cheese. Creamy cheese, and not just one kind. Try three different types of creamy cheese in this one recipe: parmesan, gruyere, and, of course, burrata. Combine all those cheeses with a fresh carbonara sauce, some fresh chives, the pasta, bacon, and Brussels sprouts, and you have yourself a winning recipe.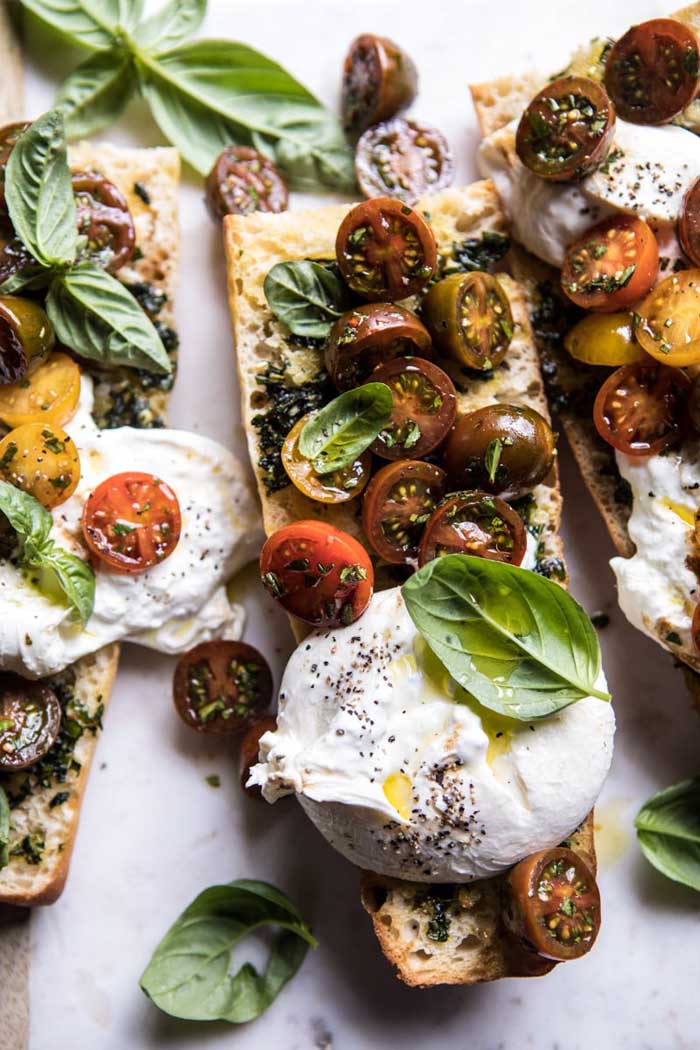 Caprese Burrata Garlic Bread
Think of a fresh summer Caprese salad – on bread. And not just any bread – a light ciabatta or sourdough bread is used in this recipe. Add some pesto, some tasty cherry tomatoes, fresh garlic and oregano, and of course, the cheese. The creamy burrata cheese. All melted and gooey on top of the bread. This recipe is sure to become one of your summer staples! Perfect for easy summer entertaining.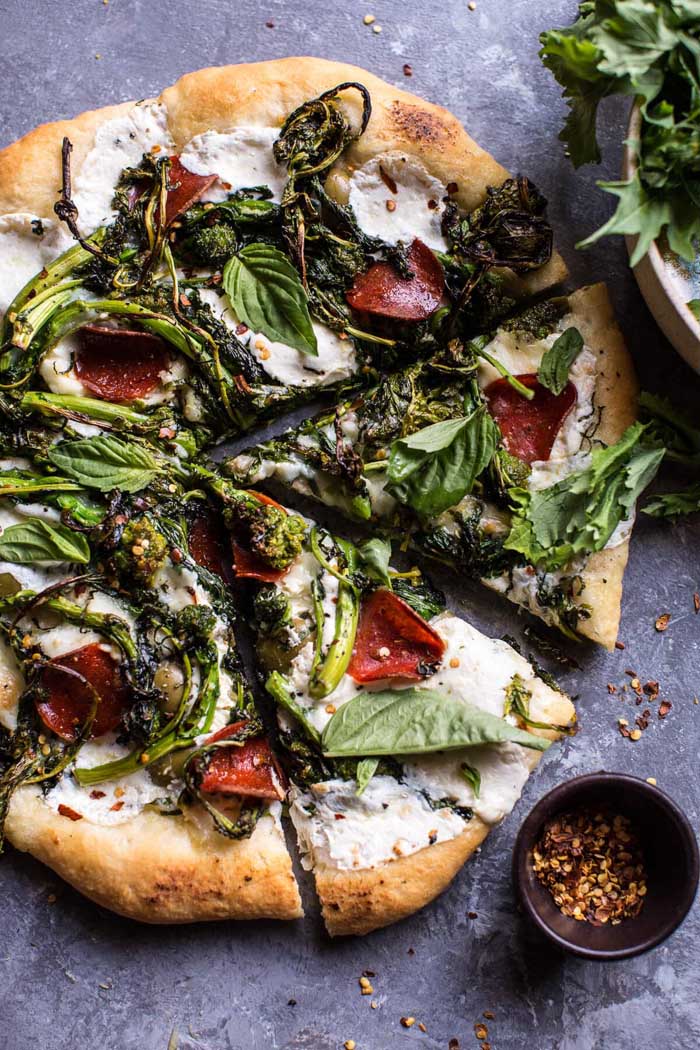 Broccoli Rabe Burrata Pizza
Are you a basic pizza person? You know, cheese, pepperoni, sausage? Time to up your game with this specialty pizza. Broccoli rabe sauteed with olive oil forms the "sauce" for this pizza. Add in some kalamata olives, garlic, basil, pepperoni, and parmesan cheese, and you get a fabulous upgrade to your standard pizza. But wait! There's more. Burrata cheese melted over everything lifts this pizza over the top! This pizza may be your new favorite.
If you're looking for a protein-packed meal that is incredibly easy and fast, look no further! This recipe feeds two people in about 20 minutes making it perfect for any weeknight dinner or lunch.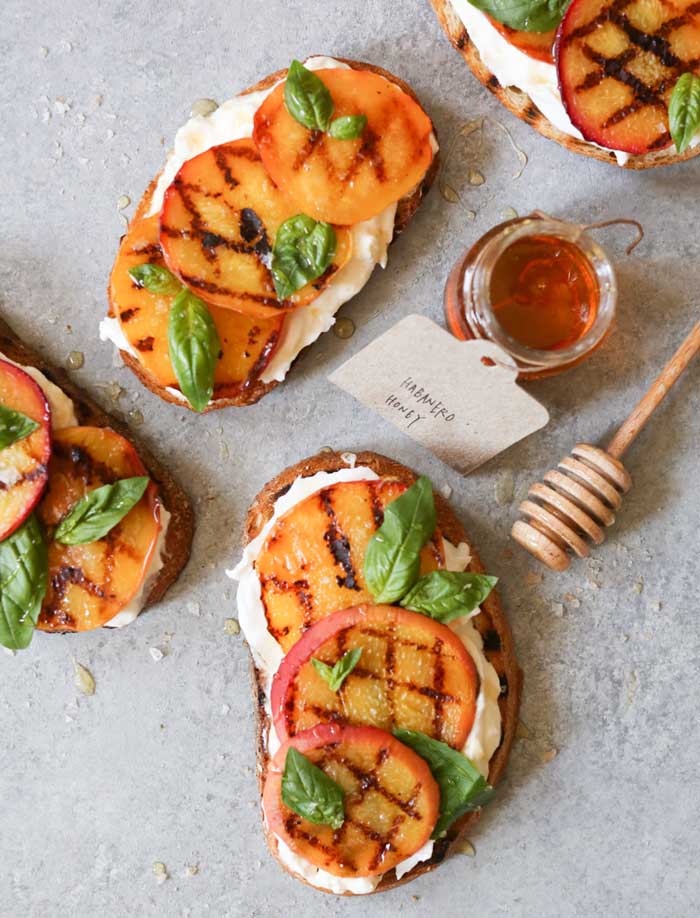 Grilled Peach Tartines
Have you ever heard of a tartine? Basically, it is a fancy term for an open-faced sandwich. This tartine recipe focuses on the flavors of grilled peaches and burrata cheese. The burrata is spread on toasted slices of quality bread and topped with grilled peaches. The tartine also uses a bit of fresh basil and some honey to top everything off. Sounds divine, doesn't it?
Flatbread with Fava Beans
Are you looking for a simple, nutritious recipe for grilling this summer? This recipe is just what you need. Grill your dough, then spread with the toppings, and you have a delicious summer dish. And what toppings go on this dough? Fava beans, cucumbers, and of course, burrata! What could be easier? You can prepare your fava beans up to three days in advance. And by grilling the dough for the bread, your kitchen will stay nice and cool.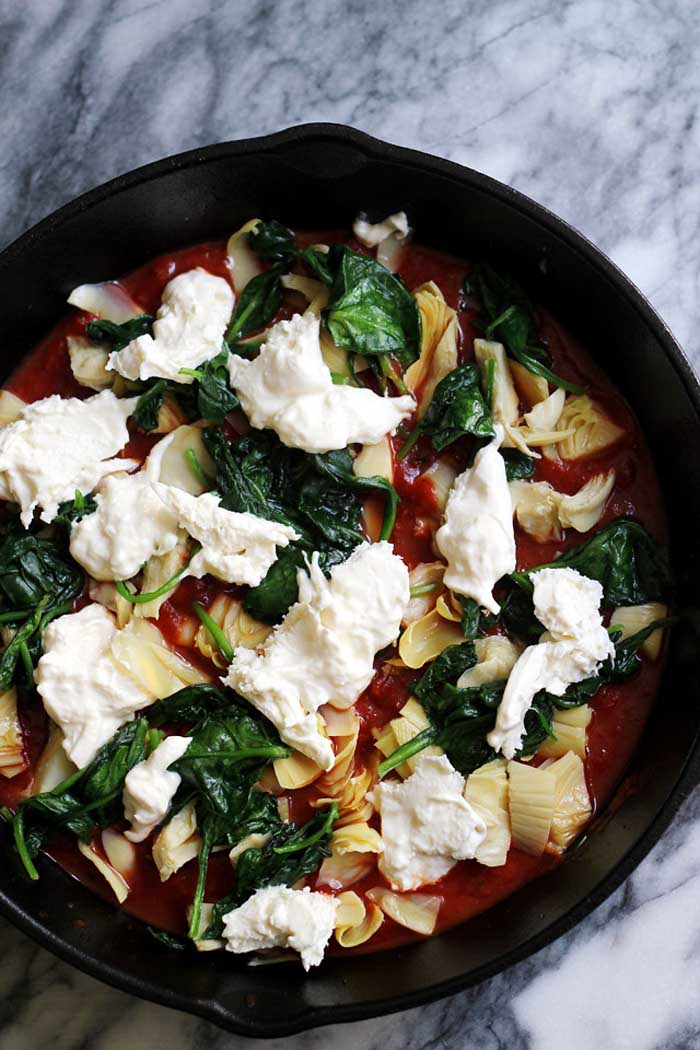 Sicilian Baked Eggs
This recipe takes the concept of a skillet dinner and ramps it up several notches! Layer the spicy tomato sauce with spinach, artichokes, and burrata, top with eggs, and then bake in a cast-iron skillet for less than half an hour. Served with toast, this is a unique take on a dip combined with a skillet meal. What's not to love?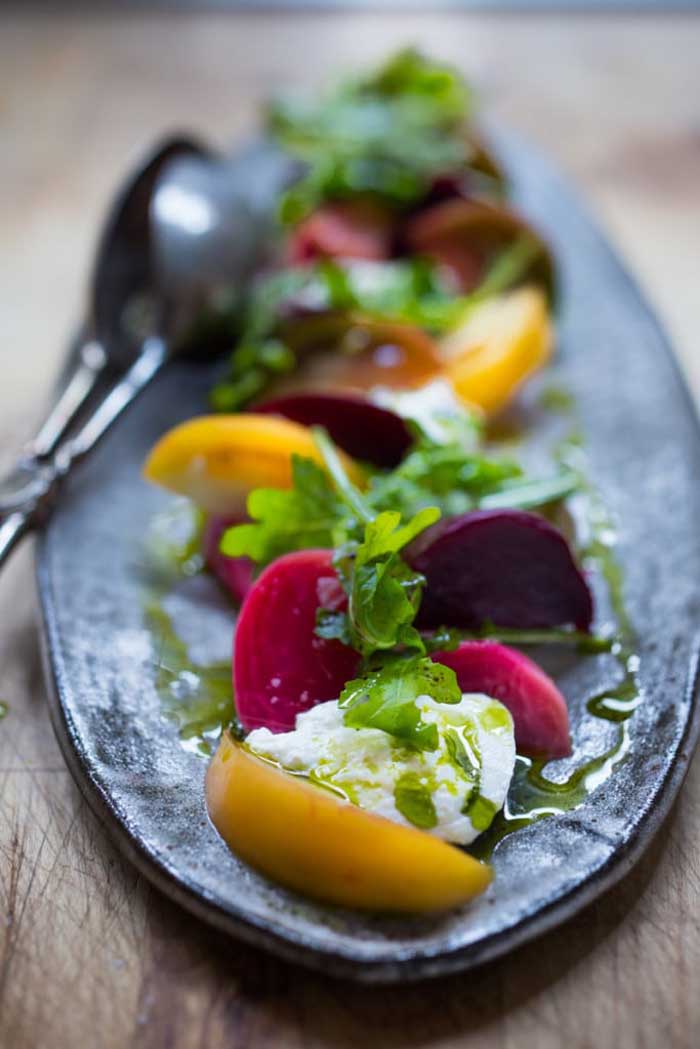 Heirloom Tomato, Beet And Burrata Salad
This salad is not just a feast for your tastebuds; it is a feast for your eyes as well. The bright and contrasting colors of the tomatoes, beets, burrata, and basil are sure to delight. And what a great combination of flavors! Fresh tomatoes and beets, creamy burrata, basil, and balsamic vinegar all combined into this tasty and colorful salad!
Burrata Breakfast Pizza
Pizza for breakfast? Why not? But this is not your ordinary breakfast pizza. You will find that this pizza includes a typical tomato-based sauce, but uses burrata instead of mozzarella or provolone. This recipe also includes sausage, bacon, and eggs. Everything you want for breakfast and then some! Make it in your oven or out on the grill.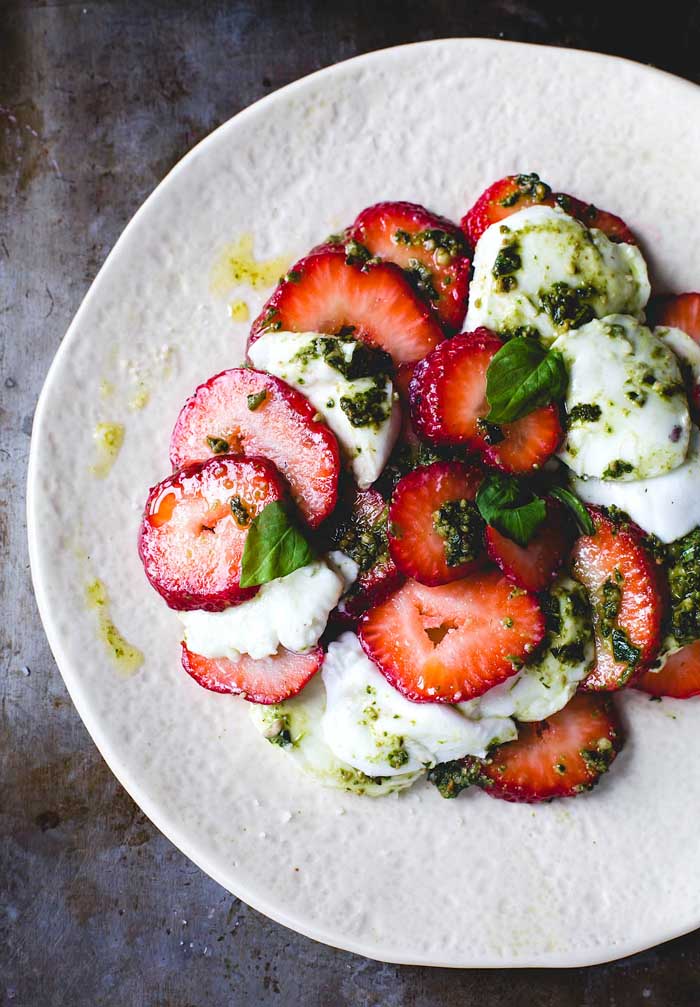 Strawberry Pesto Caprese Salad
Your typical Caprese salad consists of tomatoes, pesto, and mozzarella. This recipe puts a slightly different spin on the Caprese salad – fresh strawberries replace the tomatoes. That's right – this salad uses strawberries, pesto, and burrata (or mozzarella or bocconcini). Very simple to make, very easy to put together.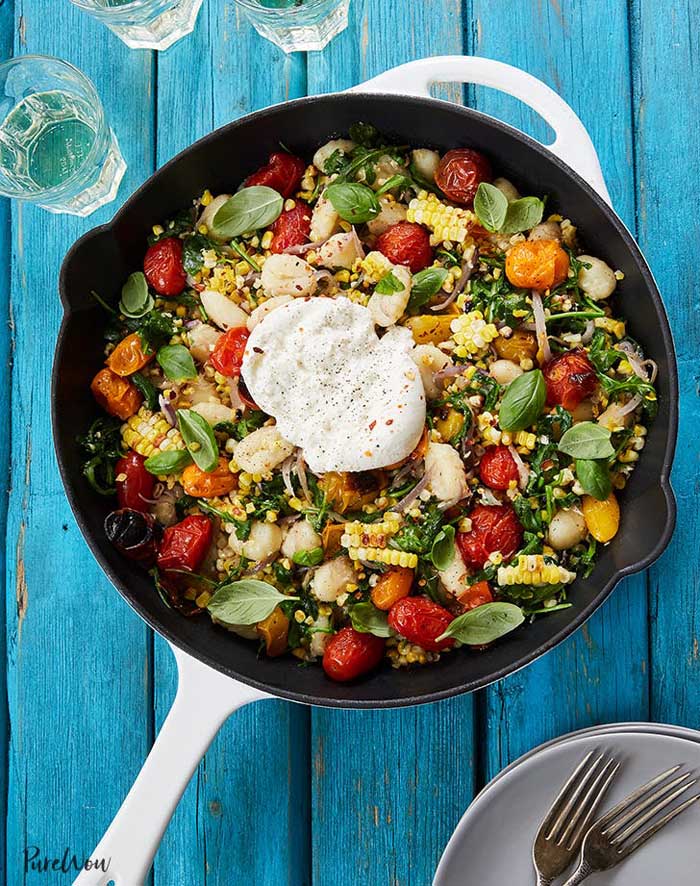 Summer Skillet Gnocchi
Grilling seems to bring out the flavor of so many foods, including corn. This recipe takes grilled corn and combines it with sauteed onions and tomatoes, gnocchi, garlic, arugula, parmesan, and burrata. You can make this inside on your stove or outside on your grill. A perfect summer meal – fresh, colorful, and tasty!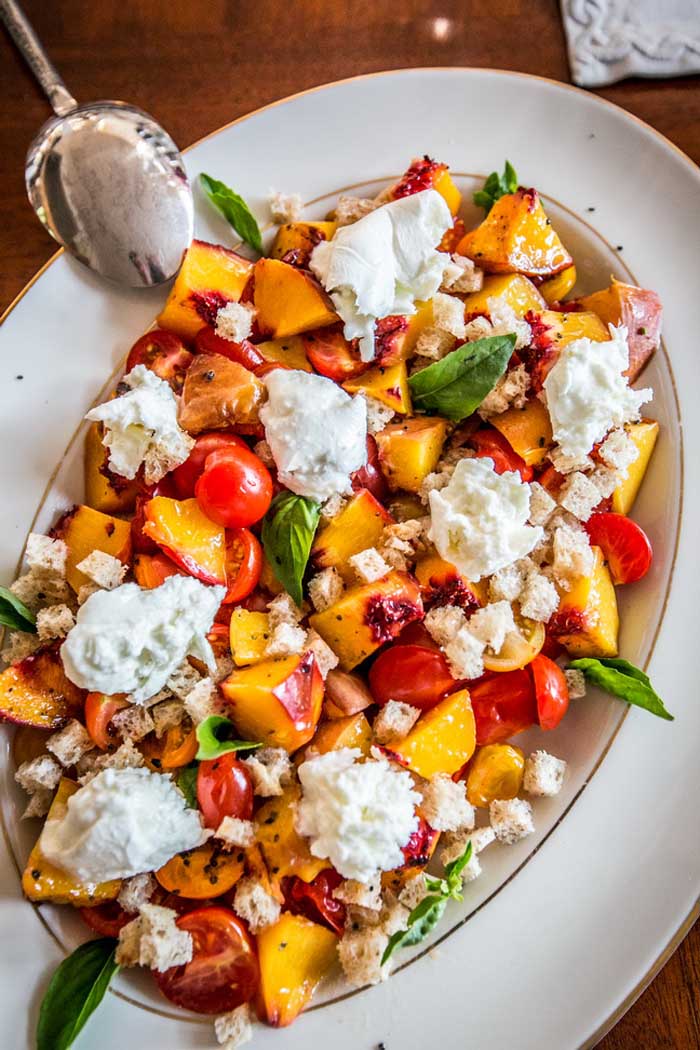 Peach, Cherry Tomato Panzanella
This recipe is delicious because it is a perfect balance of sweet and savory. The burrata adds just the right amount of creaminess that you want in this dish to make it feel light but filling at the same time.
Add some fresh mozzarella for an extra bite, and serve with crusty bread so you can sop up all that delicious juice!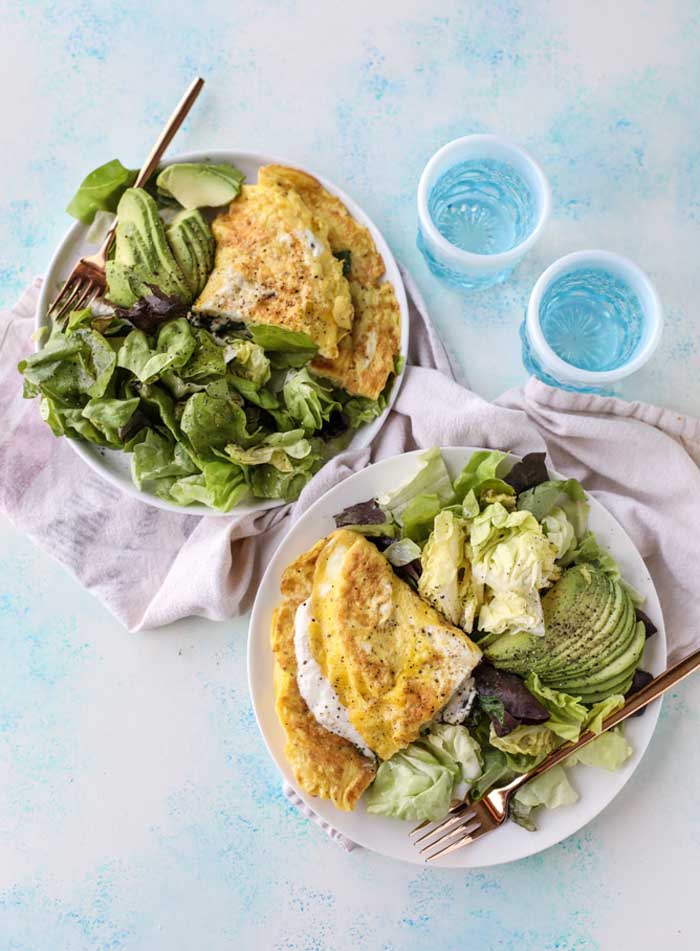 15-Minute Spinach Burrata Omelette
This recipe is delicious because the omelet is filling, but still light. The burrata adds a nice creaminess to the eggs and spinach that will satisfy even your most ravenous appetites!
Use any leftover tomatoes from last night's pasta dish if you have them available. You can also add feta or goat cheese for an extra sharp flavor since the batter with be pretty mild tasting on its own.
Spring Orecchiette Pasta
This recipe is delicious because the burrata adds a nice creaminess to the eggs and spinach that will satisfy even your most ravenous appetites!
Use any leftover tomatoes from last night's pasta dish if you have them available. You can also add feta or goat cheese for an extra sharp flavor since the batter with be pretty mild tasting on its own.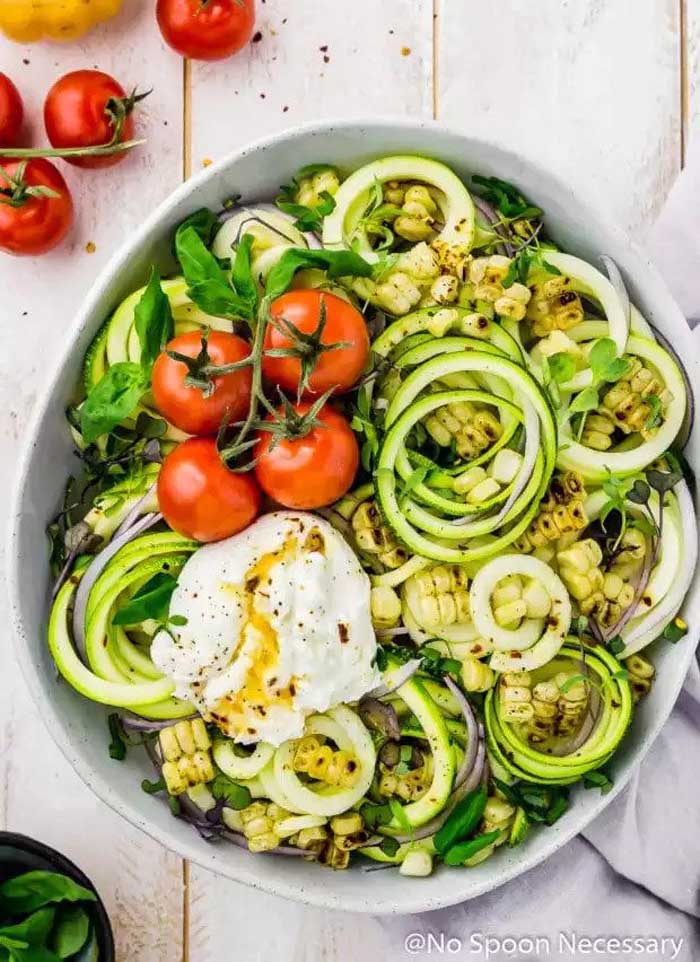 Summer Italian Zucchini Noodle Salad
You can prepare this recipe in just 15 minutes. You need to chop up tomatoes, zucchini and basil with a knife before you cook them with the pasta on low heat so that they don't get too mushy.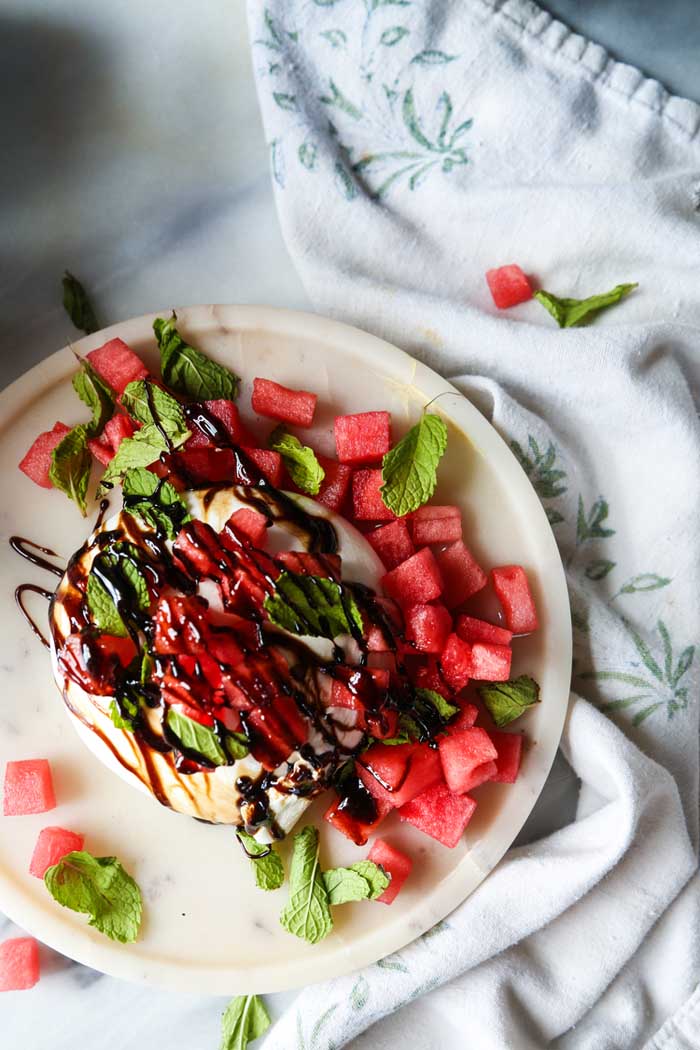 Watermelon & Burrata Salad
This dish is a perfect summer salad because it has watermelon and burrata. You can serve this as an appetizer or add some grilled shrimp to make the recipe bigger! This recipe is delicious because the burrata adds a nice creaminess to the watermelon. This is an easy dish to make for a light lunch or dinner!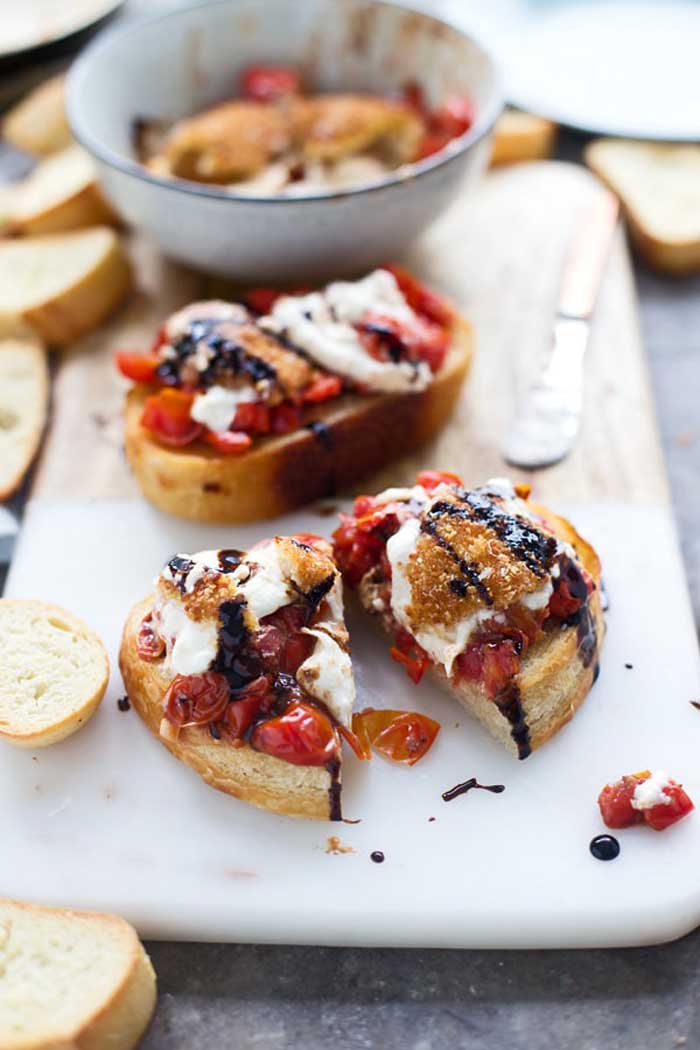 Fried Burrata with Cherry Tomato Sauce
This dish is a delicious way to enjoy burrata cheese. The recipe is simple and can be made in less than 30 minutes! You will need garlic, tomatoes or cherry tomato sauce, basil leaves and olive oil for this dish. If you don't have the time or ingredients on hand to make fried Burrata, it also tastes great with just the sauce!