The best burrata recipe and ideas, including prosciutto arugula pizza, carbonara, tartines and more.
Burrata is a soft, Italian cheese, made to be eaten fresh. While it might look like mozzarella, it's a delicious cheese in its own right. Yes, it uses mozzarella but goes way beyond just that.
Burrata is beautifully textured, with a smoothly finished center inside its soft shell. It's the perfect ingredient to match against a whole array of different dishes.
Burrata has an outer shell, or rind, made of mozzarella, somewhat like a pouch, filled with a creamy, buttery-type combination of curds and fresh cream. While mozzarella forms part of burrata, the two types of cheese are not the same.
If you're not sure where to start with this creamy Italian cheese, these recipes are the perfect showcase of why it's such an underrated ingredient. From hearty Mediterranean salads to pizzas, and even burrata for breakfast, these best burrata recipe ideas are here to get you your dairy fix.
Prosciutto Arugula Pizza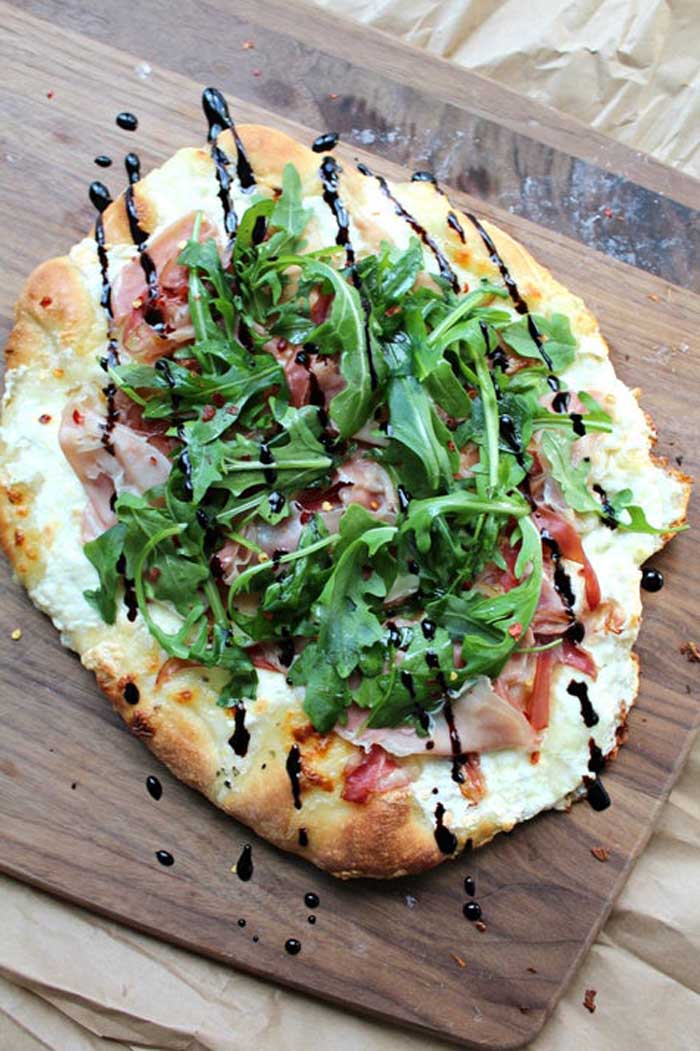 This burrata pizza is among the best burrata recipes simply due to how quick is to make and how your tastebuds will thank you after devouring it. The main ingredients include pizza dough balsamic glaze, mozzarella cheese, prosciutto, arugula, and you can't forget about burrata cheese.
After baking your crust in the oven for seven minutes, you will add your cheeses, then place it back into the oven for a few extra minutes. Once the cheese is bubbling up, add sliced prosciutto and after another stint in the oven add your remaining ingredients.
Caramelized Onion Carbonara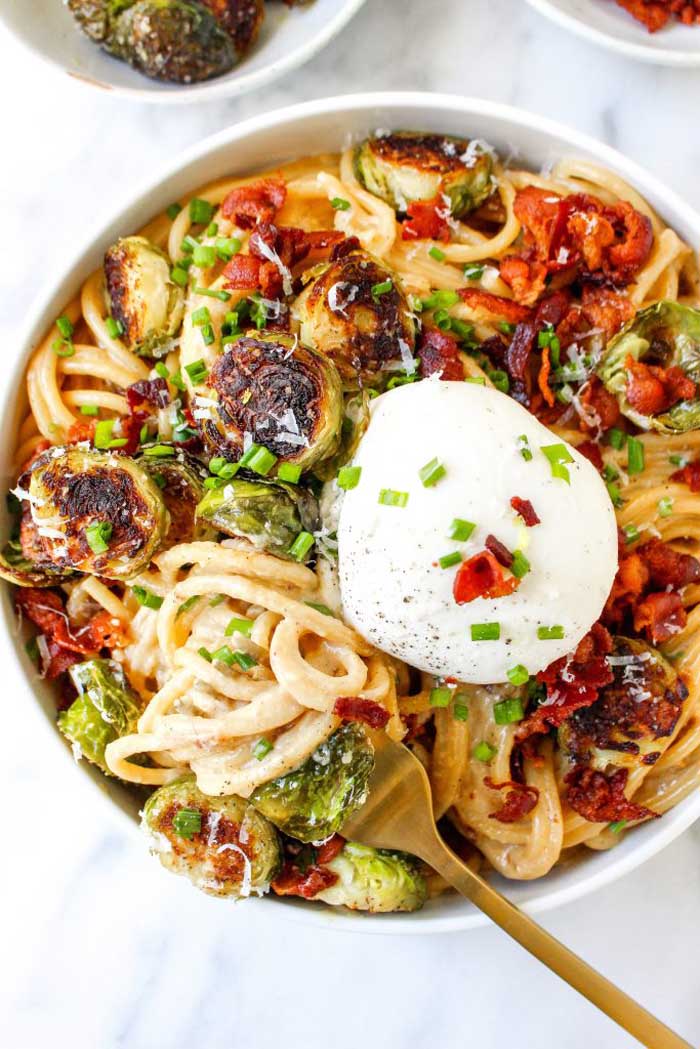 The name of this dish is a mouthful and you will surely have a mouthful of it when it's ready to eat. This carbonara recipe consists of brussels sprouts, caramelized onions, bacon, burrata cheese, and al dente bucatini pasta.
Roast your brussels sprouts, briefly cook your bacon and onions, then cook your pasta. This leaves the sauce which will be made by whisking your cream, eggs, lemon zest, and cheeses, then mixed with everything else.
Caprese Garlic Bread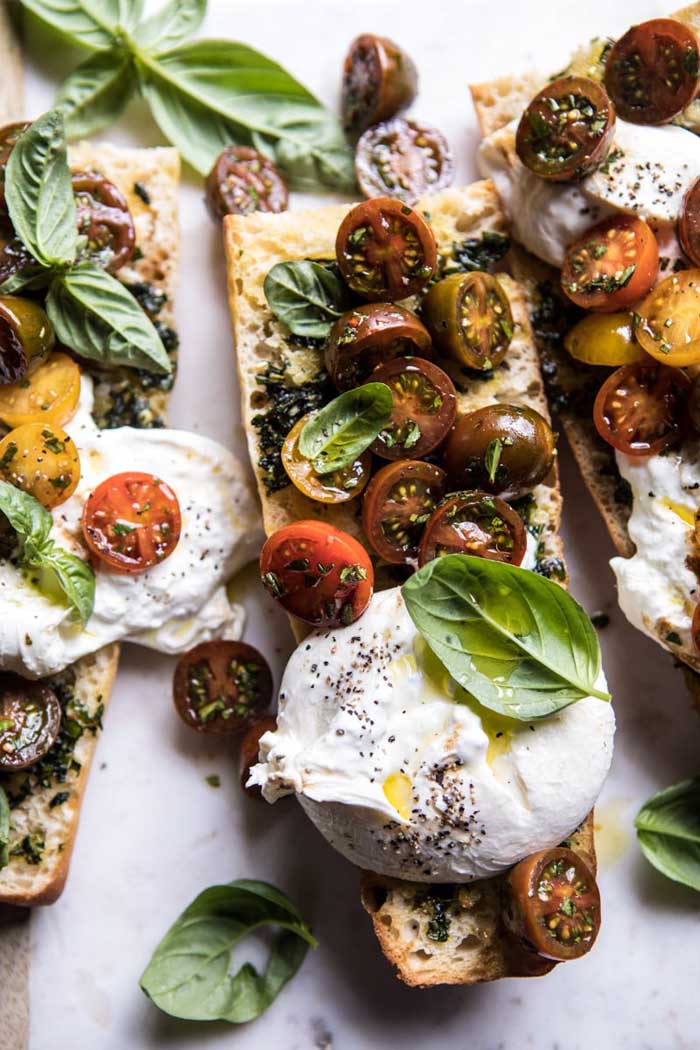 Garlic bread is always a pleasure to have, and this Caprese burrata garlic bread goes above and beyond the standard. The main ingredients for this dish include ciabatta bread, basil pesto, cherry tomatoes, olive oil, balsamic vinegar, oregano, and burrata cheese.
This is fairly easy to make, all you have to do is spread pesto on the bread and place it in the oven for ten or so minutes. Then, you will toss the tomatoes in a bowl with the remaining ingredients and when the bread is ready, top it with burrata cheese, tomatoes, and fresh basil.
Broccoli Rabe Pizza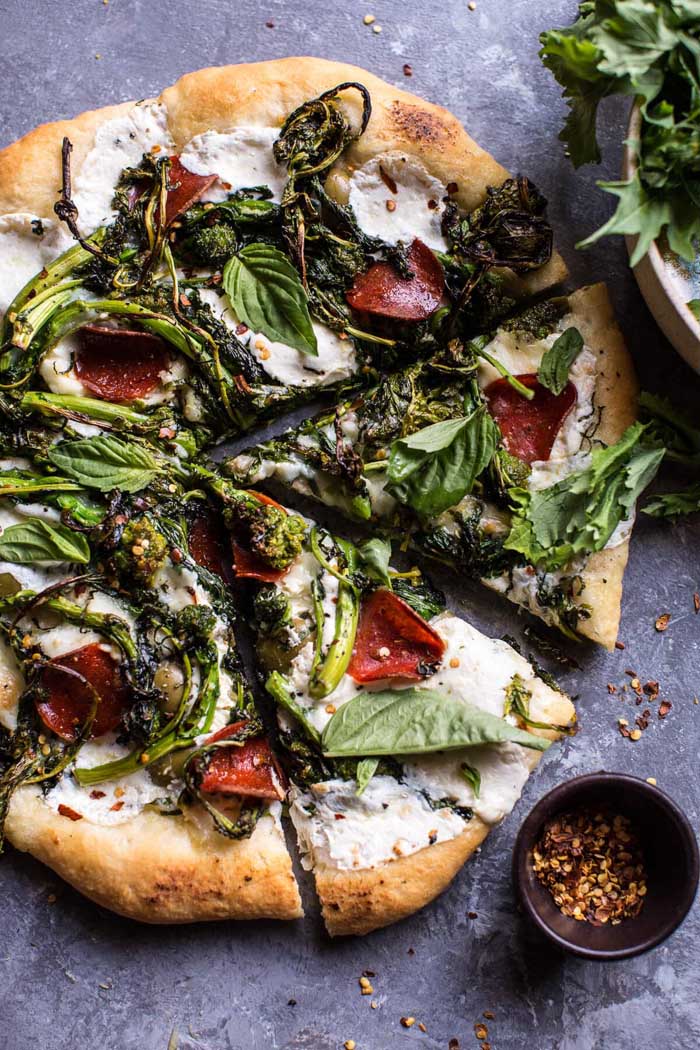 Another exceptional pizza recipe you should follow is the broccoli rabe burrata dish. This recipe includes pizza dough, olive oil, broccoli rabe, kalamata olives, pepperoni, mozzarella cheese, and burrata cheese.
After cooking the broccoli rabe and readying/flattening the pizza dough, all you have to do is place your remaining ingredients onto the dough and bake for eight to ten minutes. You can add your burrata after that time passes and wait an extra five minutes while the pizza is in the oven.
Grilled Peach Tartines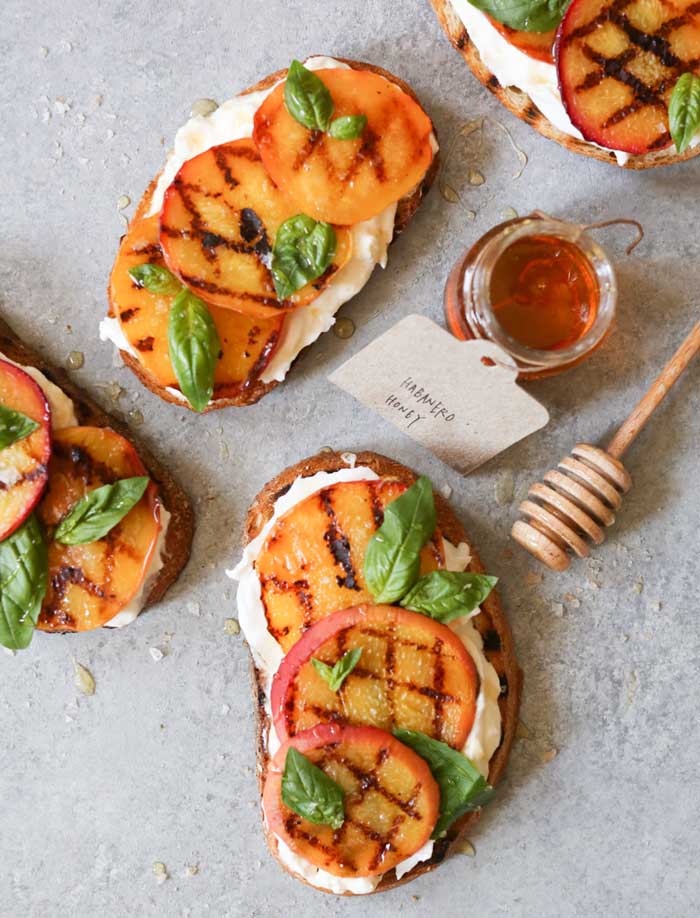 Grilled peaches and burrata cheese sounds like an interesting combination, right? This grilled peach tartine is a unique addition to this recipe list that you will love. This sweet and savory meal will do wonders for your appetite and include bread, peaches, basil leaves, and honey.
Grill your peaches for a couple of minutes per side and toast your bread. Place your burrata cheese, peaches, and basil leaves on top, then finally drizzle it with honey.
Flatbread with Fava Beans
This is an exceptional dish for all the vegetarians out there. To make these flatbreads, you will need fava beans, lemon juice, Persian cucumbers, olive oil, Garlic-Herb Naan, basil leaves, rice vinegar, and burrata cheese.
Begin the cooking process by cooking your fava beans and then mixing them with lemon juice, salt, and pepper. Grill your flatbread until it is lightly charred to top with the fava beans mixture and burrata cheese. Before you know it, you'll be preparing this meal every other day.
Sicilian Baked Eggs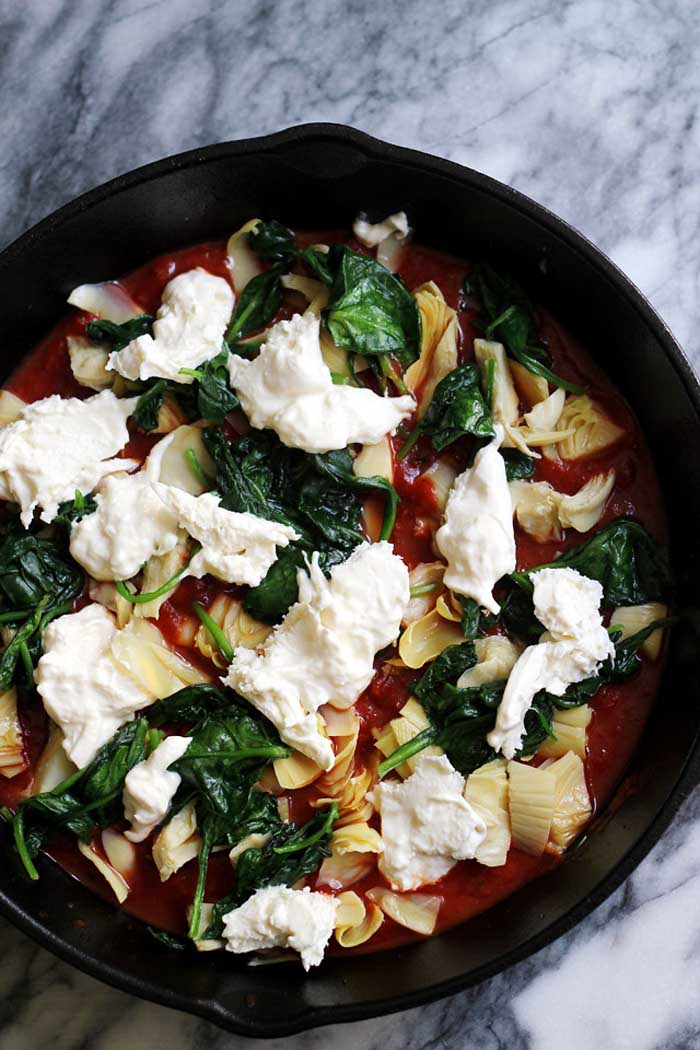 As the name states, the main ingredients for this dish include Sicilian baked eggs, artichokes, burrata cheese, spinach, and tomato sauce. This is a simple, yet incredibly flavorous Italian meal that will leave you both satisfied and ready for more.
To create this scrumptious meal, you will need to heat olive oil in a pan, then add garlic and spinach. After completing that, spread the tomato sauce into the pan and top it with spinach, artichokes, burrata, and four eggs. After 20-25 minutes of baking, you'll be ready to chow down.
Heirloom Tomato & Beet Salad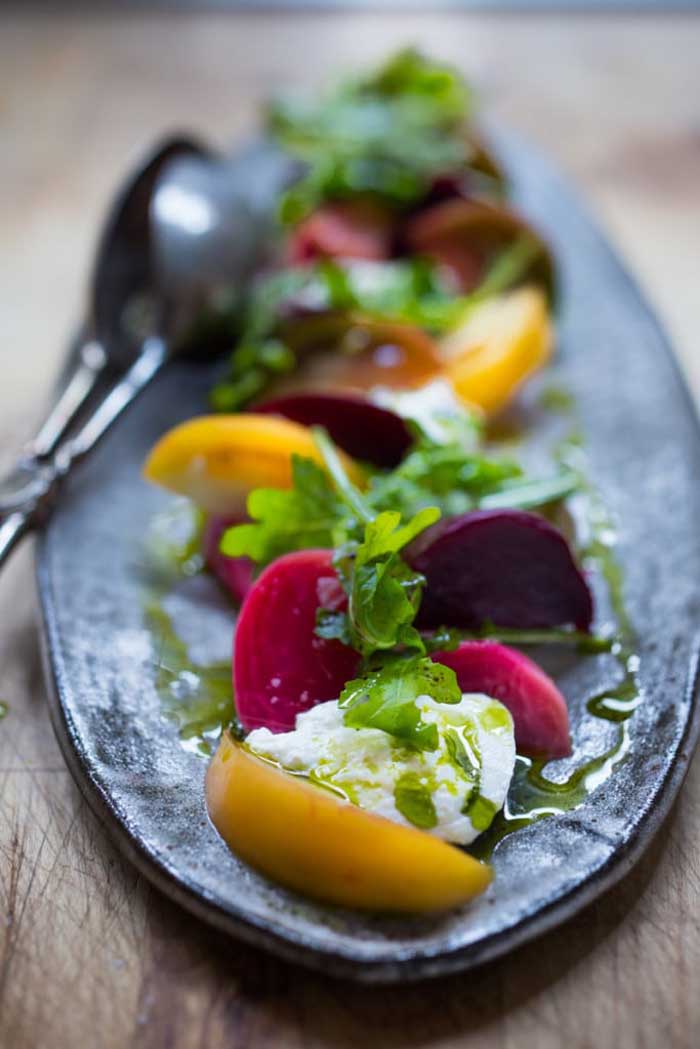 It's always great to discover new salad recipes and with burrata cheese, every ingredient for this meal will stand out. Speaking of ingredients, this dish includes heirloom tomatoes, beets, arugula, olive oil, balsamic vinegar, and burrata cheese.
This salad is fairly simple to make, all you need to do is slice your burrata cheese, beets, and tomatoes on a platter, then drizzle them with basil oil. Add your salt and pepper then serve with a baguette. The flavorful burst of ingredients in your mouth will leave you ready for seconds.
Breakfast Pizza
Who doesn't love pizza? So, why not add another burrata pizza recipe, but this time for breakfast? The toppings for this dish include Italian sausage, bacon, scallions, eggs, cilantro, parsley, chives, and burrata cheese.
Cook the burrata breakfast pizza by readying your pizza dough, then add olive oil, marinara sauce, garlic cloves, and red pepper. Add sausage, bacon, scallions, and eggs on top to bake the pizza for twenty to twenty-five minutes.
Strawberry Pesto Caprese Salad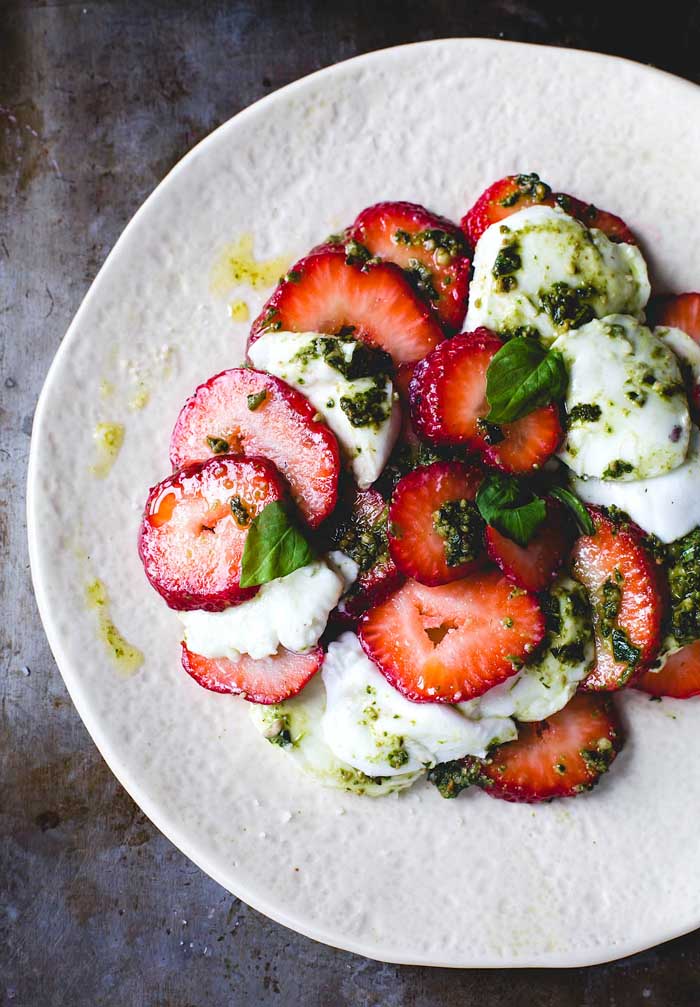 This pesto strawberry Caprese salad may seem a little off-putting at first, but this is a piquant meal for those with an eclectic palette. The main ingredients for this dish include strawberries, mozzarella, pesto, salt, black pepper, olive oil, fresh lemon juice, and burrata cheese.
As for directions on how to make it, all that you will need is to place your strawberries, mozzarella, lemon juice, and pesto in a bowl. Then you will stir and pour it onto your platter, so it will be ready to serve.
Summer Skillet Gnocchi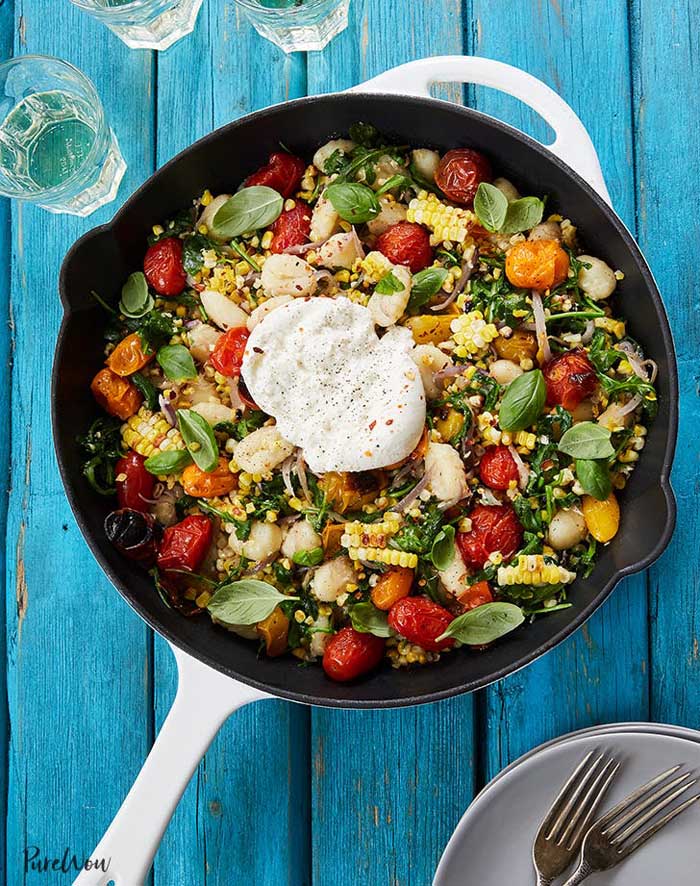 As the name implies, the summer skillet gnocchi is a great summertime meal for you and the family. This is a fulfilling meal that includes corn, cherry tomatoes, gnocchi, arugula, and burrata cheese.
After cutting the kernels off the cob, toss your tomatoes into a skillet with the olive oil as you boil gnocchi for four minutes. Then add all the ingredients into the skillet for a few minutes, and you will be ready to add your toppings. Soon enough, this will be your go-to summertime meal.
Peach, Cherry Tomato Panzanella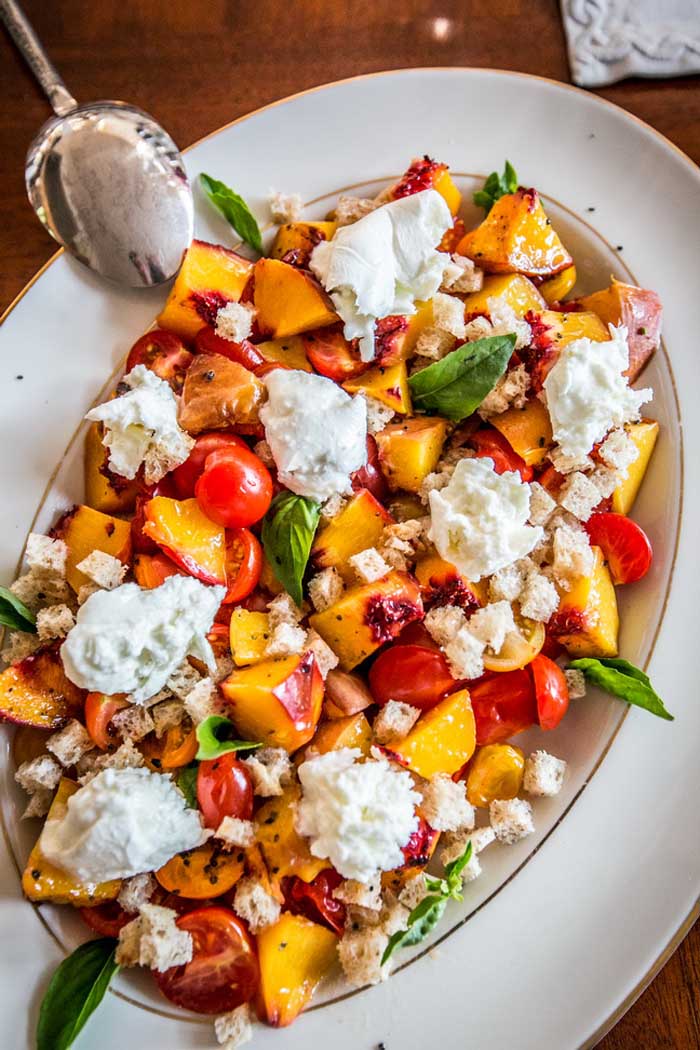 This dish requires many ingredients to reach the exceptional savory meal called Panzanella. You will need peaches, cherry tomatoes, mint leaves, basil leaves, purple onion, rustic bread, balsamic vinegar, extra-virgin olive oil, and burrata cheese.
To make this Panzanella recipe, grill peaches, roast tomatoes, make croutons, and with a few extra toppings you will finally have your dish. Not only is this meal a great addition to this list of phenomenal recipes, but it will also be a great addition to your cooking collection.
15-Minute Spinach Omelette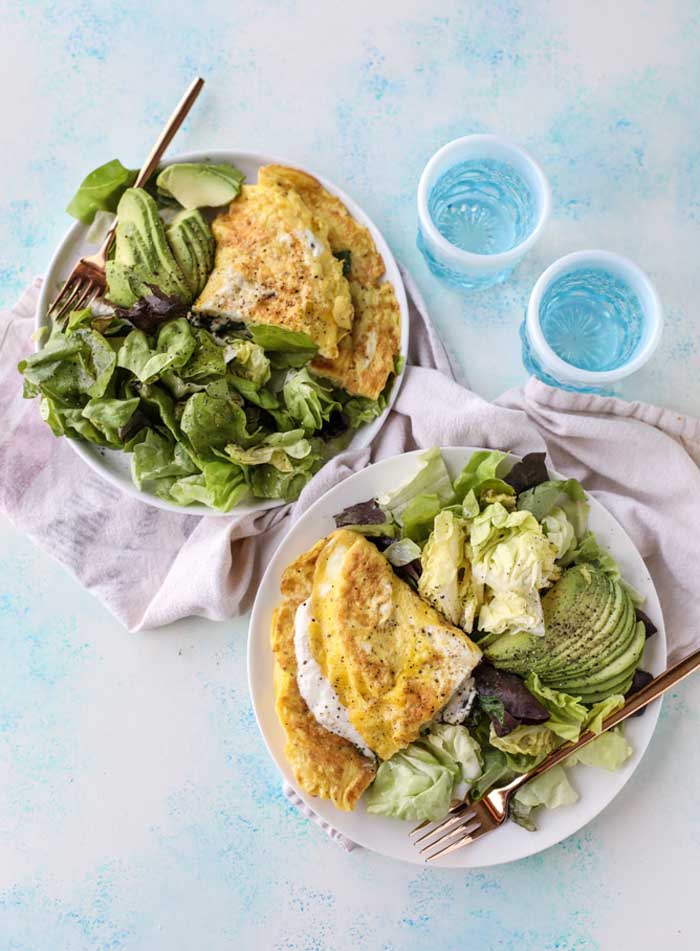 If you're looking for a quick meal to satisfy your hunger, this spinach burrata omelet is an exceptional meal to do the job. The ingredients for this dish include eggs, coconut oil, baby spinach, and burrata cheese. To prepare this omelet, ready your skillet by adding coconut oil.
Let your eggs cook on the skillet and when they are almost set, place a handful of spinach snd burrata on top.
Spring Orecchiette Pasta
Another vegetarian meal for you to try out is this spring orecchiette pasta. To make this, you will need orecchiette pasta, English peas, snow peas, asparagus tips, olive oil, garlic cloves, mushrooms sliced, wilting greens, eggs, parmesan, and burrata cheese.
After cooking your pasta, saute your mushrooms, whisk and temper your eggs, then pour the eggs and remaining ingredients into the pasta. You can add more hot pasta water as needed to loosen the pasta.
Summer Italian Zucchini Noodle Salad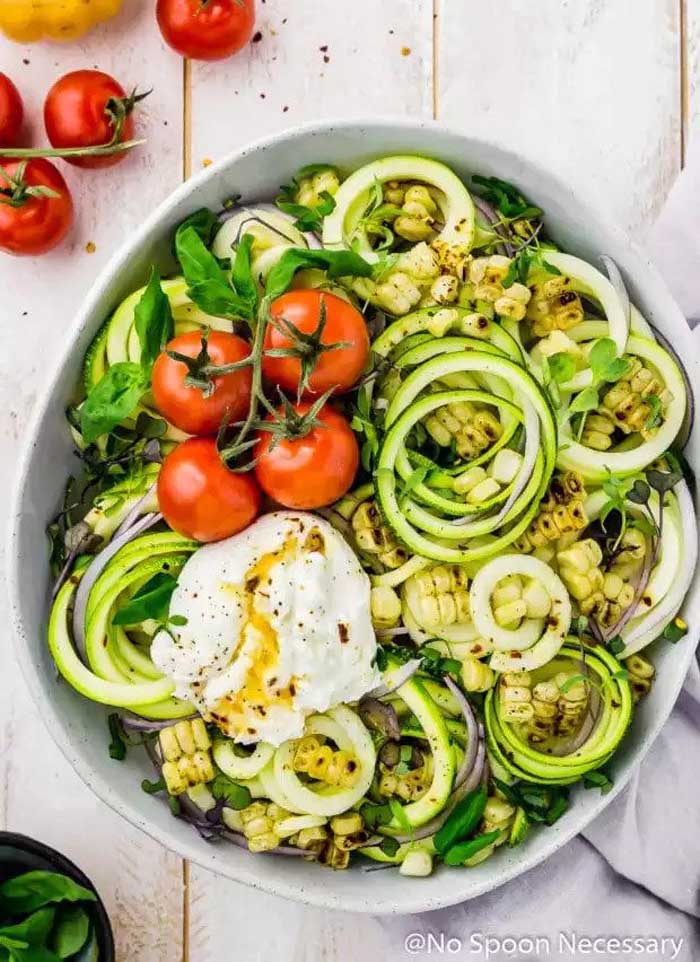 This raw zucchini salad recipe is what you need to start the summer off correctly. This recipe includes prosciutto, zucchini, corn ears, red onions, mozzarella pearls, cherry tomatoes, basil, Italian dressing, and burrata.
For crisp prosciutto, bake for about ten minutes before continuing. Afterward, you will assemble the salad, add dressing, then garnish to your desire. Serve this meal to your family, and they will be ecstatic from its deliciousness.
Watermelon & Burrata Salad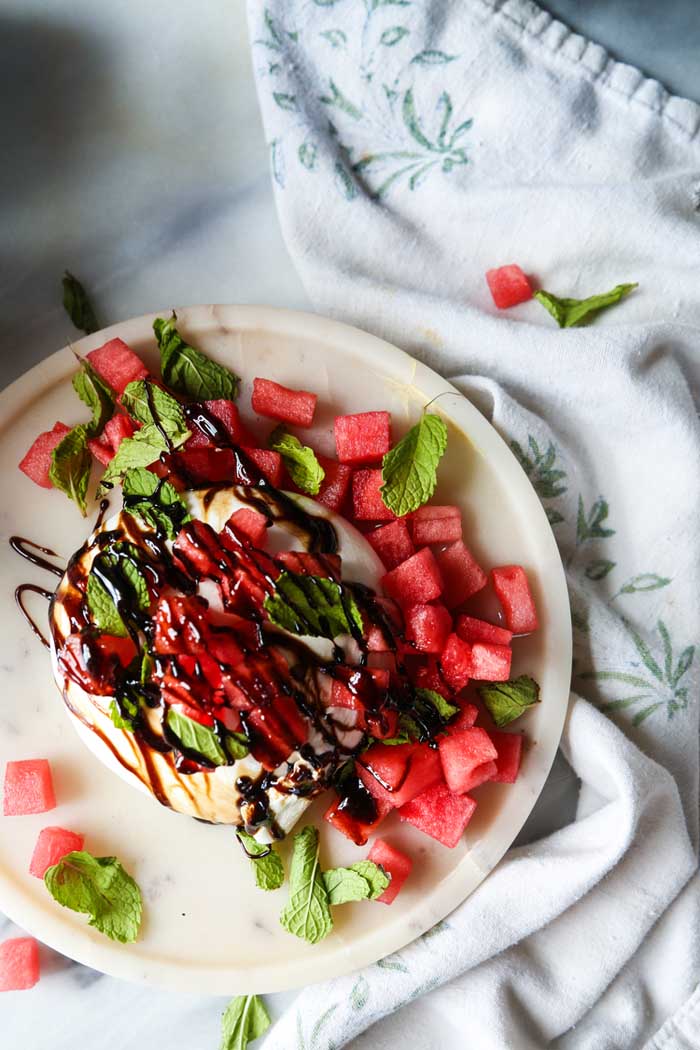 Watermelon and burrata salad is a quick and tasty meal you can make to snack on. This meal doesn't require many ingredients; you only need mint leaves, cubed watermelon, olive oil, and burrata cheese.
For four servings, this meal's prep time is speedy. Simply place the burrata in the center of your platter and top with the cubed watermelon and mint leaves. Drizzle with balsamic vinegar, olive oil, and sea salt.
Fried Burrata with Cherry Tomato Sauce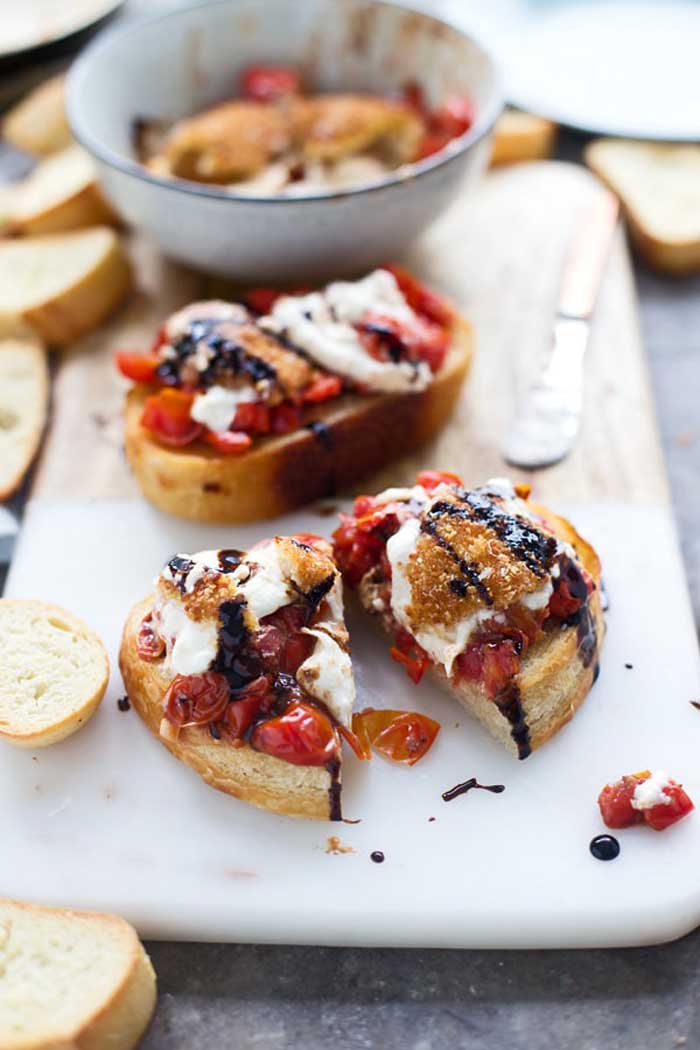 Completing our list is this incredible fried burrata. This may require a lot of ingredients, but it will all be worth it. You will need olive oil, ciabatta bread, cherry tomatoes, garlic cloves, white wine, Canola oil, panko bread crumbs, plain bread crumbs, garlic powder, AP flour, an egg, balsamic glaze, parmesan cheese, and burrata cheese.
First, you need to prepare your ciabatta until golden brown and heat oil in a medium pan. Once the oil is hot, add tomatoes, garlic, white wine, water, salt, and sugar. Finally, transfer the sauce to a shallow bowl, with the fried burrata on top.