The best burrata recipe ideas, including prosciutto arugula pizza, carbonara, tartines and more.
Burrata is a soft, Italian cheese, made to be eaten fresh. While it might look like mozzarella, it's a delicious cheese in its own right. Yes, it uses mozzarella but goes way beyond just that.
Beautifully textured, burrata has a smooth center inside its soft shell and is the perfect ingredient to match against a whole array of different dishes.
Burrata has an outer shell, or rind, made of mozzarella, somewhat like a pouch, filled with a creamy, buttery-type combination of curds and fresh cream. While mozzarella forms part of burrata, the two types of cheese are not the same.
If you're not sure where to start with this creamy Italian cheese, these recipes are the perfect showcase of why it's such an underrated ingredient.
From hearty Mediterranean salads to pizzas, and even burrata for breakfast, these best burrata recipes are here to get you your dairy fix.
Prosciutto Arugula Pizza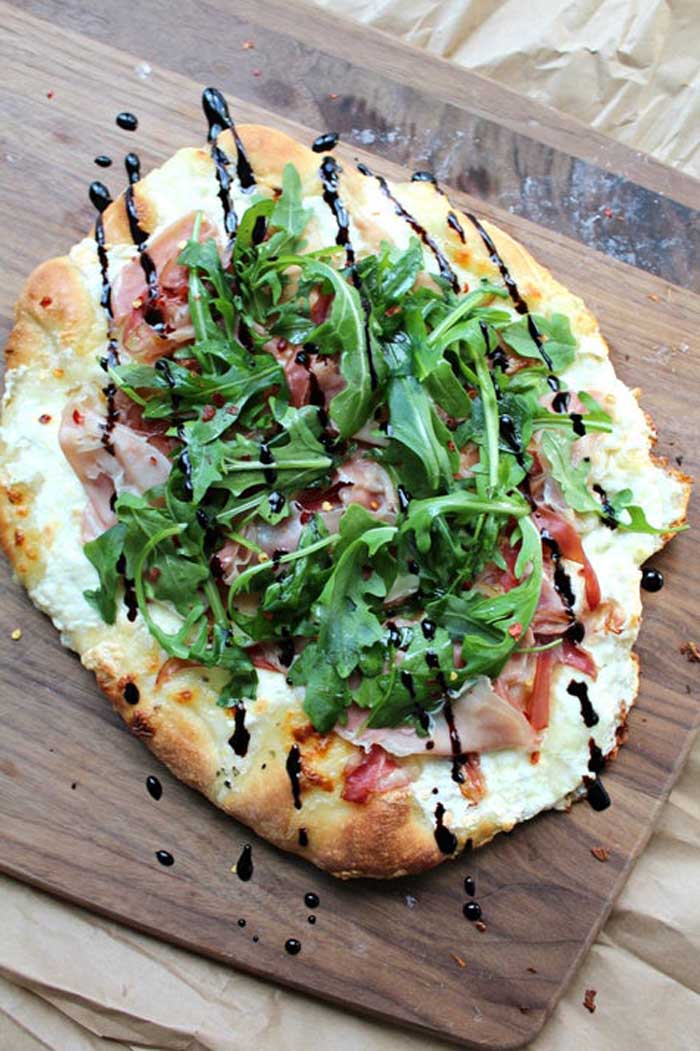 With arugula, burrata, prosciutto, and some fresh mozzarella, this burrata pizza is as simple to make as it is delicious. Not only does the salty prosciutto pair well with the creamy burrata in this recipe but it's also balanced out by its sweet and tangy balsamic glaze topping.
With prep and cooking time, this pizza takes a little over two hours to make, and most of that is just letting your homemade pizza dough rise. Once your dough is ready, top it with mozzarella and crumbled burrata before popping it in the oven.
After the cheese is hot and bubbly, add some prosciutto slices and let it cook until the crust is golden brown. Your final step is to season the arugula, toss it on top, and finish off your pizza with a heavy drizzle of that balsamic glaze.
Caramelized Onion Carbonara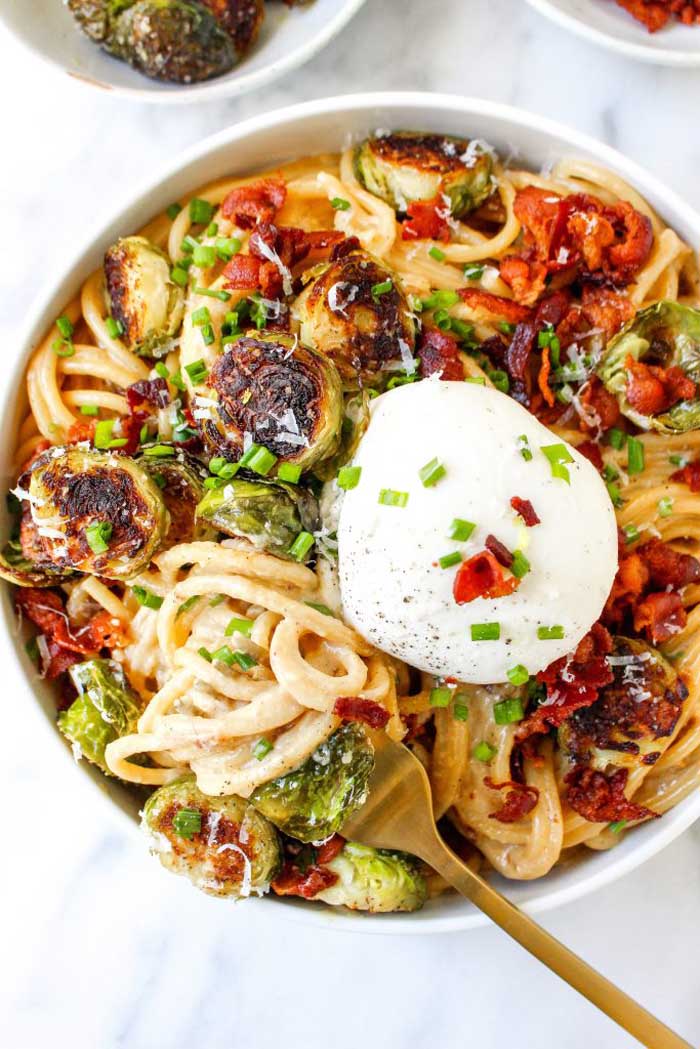 While carbonara is already great on its own, adding burrata elevates this dish to the next level. This recipe is what you get when you mix sweet, caramelized onions with creamy burrata, crunchy bacon bits, and perfectly roasted Brussels sprouts.
To make this caramelized onion carbonara roast the Brussels sprouts in the oven for thirty minutes, and combine cream, eggs, lemon zest, parmesan cheese, and burrata for the sauce.
Caprese Garlic Bread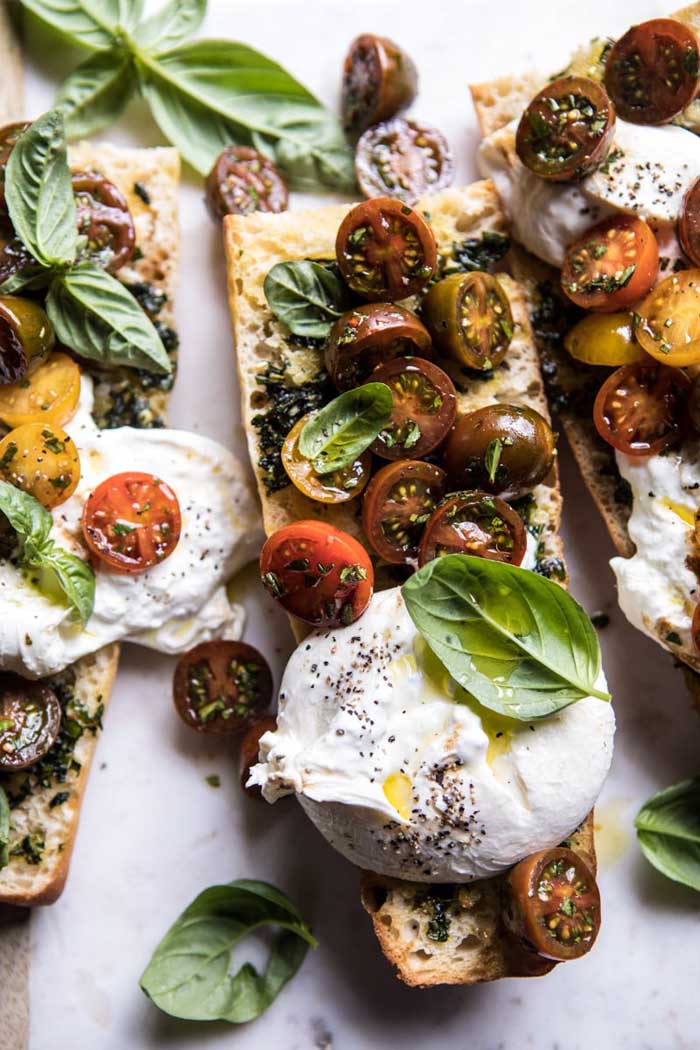 Although this Caprese garlic bread may be classified as an appetizer, it's filling (and delicious) enough to be a meal all on its own. It only takes a few ingredients  – ciabatta bread, basil pesto, fresh burrata, and cherry tomatoes  – and the total prep time is just twenty minutes.
Spread the pesto on the bread and toss your tomatoes in olive oil, balsamic glaze, oregano, and garlic. The bread gets toasted with the pesto, and once it's cooked, the final step is adding fresh burrata and your seasoned cherry tomatoes.
Broccoli Rabe Pizza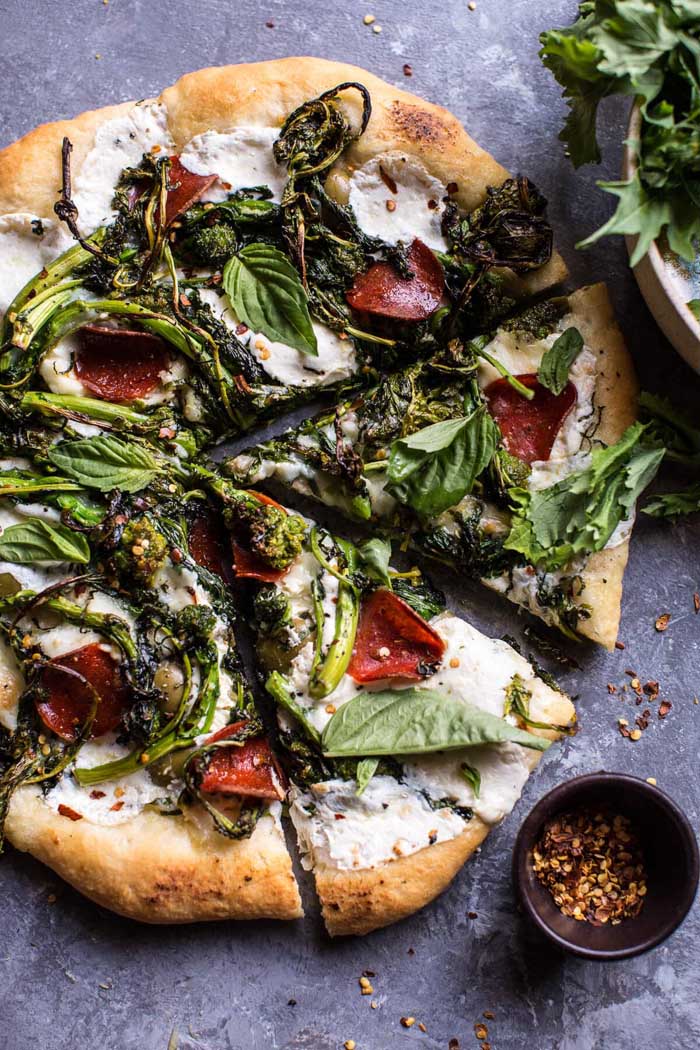 Another pizza recipe that's more than earned its spot on this list, this broccoli rabe burrata pizza will add plenty of green to your diet. The recipe calls for sauteed broccoli rabe, but if you can't find it at the grocery store, you can always substitute broccolini.
You'll sautee the broccoli rabe or broccolini until it's wilted in your skillet, and you can use the oily sauce from the pan as your pizza sauce.
Once it's cooked for eight to ten minutes in the oven, add your burrata on top and let it bake for a couple more minutes before serving.
Grilled Peach Tartines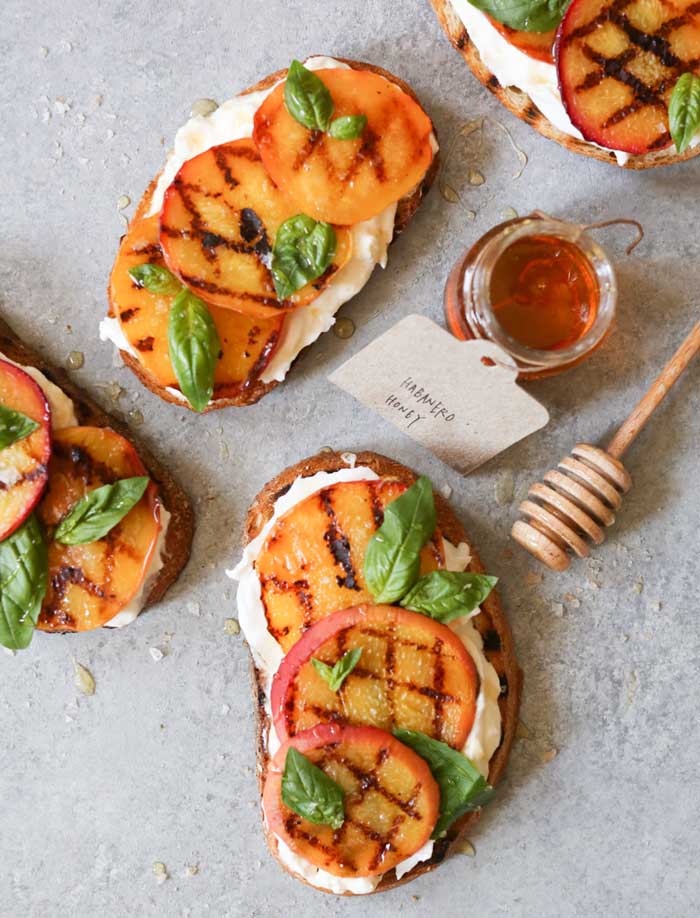 If you're looking to add a little fresh fruit into your diet, there's no better pick than these grilled peach tartines with burrata and basil. The tangy sweetness of the grilled peaches complements the rich, creamy flavor of burrata perfectly.
The peaches only take about two to three minutes to grill, and once you've toasted the bread of your choice, you can spread on burrata and top it with your peach slices.
Flatbread with Fava Beans
Looking for something that's a little more vegetarian-friendly? If so, this flatbread with fava beans, cucumbers, and fresh burrata might be right up your alley. This recipe may require a trip to your local farmer's market for fava beans, but you should be able to find most of the other ingredients  – like burrata, pizza dough, and cucumbers  – at your regular grocery store.
The fava beans cook in less than five minutes in boiling water, but you can easily prepare them ahead of time if you're short on time.
Sicilian Baked Eggs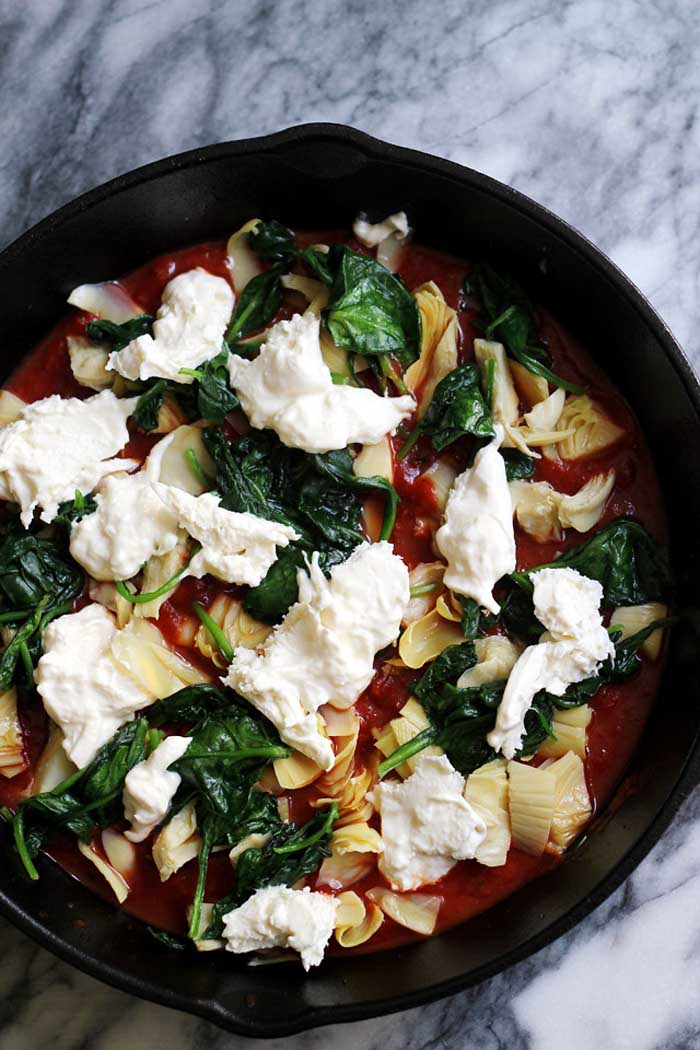 If there's one thing that'll spice up your weekend brunch, it's these Silician baked eggs with artichokes, spicy tomato sauce, spinach, and of course, burrata cheese. While it definitely tastes decadent, the recipe is quick and easy to make. 
You'll start off by sauteing your spinach with salt and pepper, and then you'll add tomato sauce, burrata, artichokes, and four eggs to your skillet. This cooks for twenty to twenty-five minutes in the oven, and you'll want to ensure your egg whites are completely cooked.
Heirloom Tomato & Beet Salad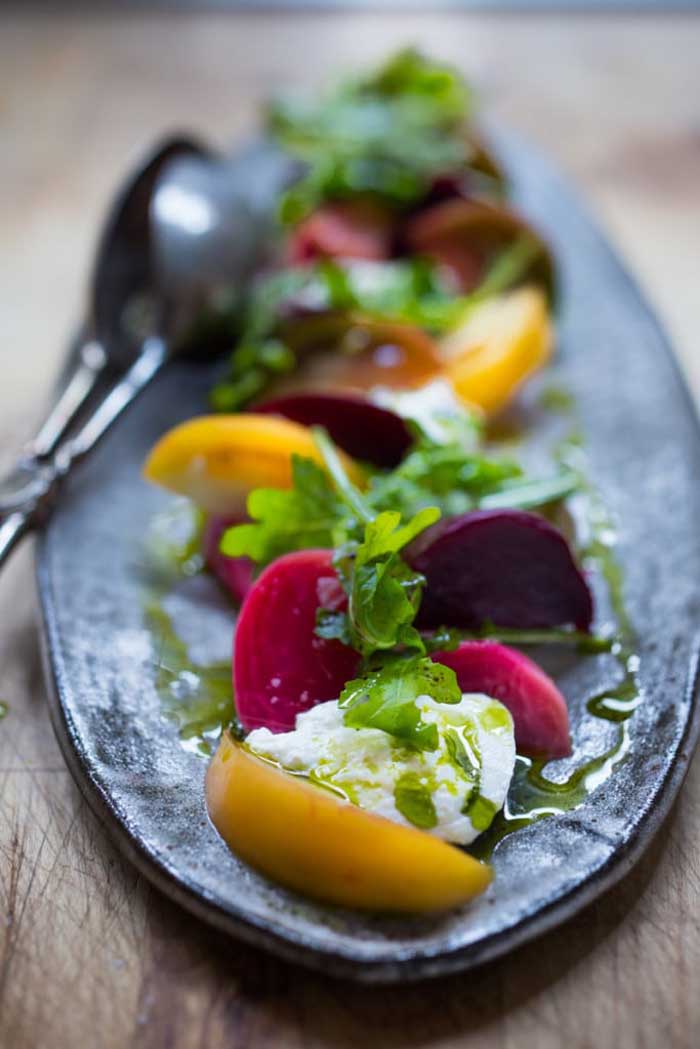 When fresh tomatoes are in season, why not pair them with burrata cheese, beets, and a little basil oil in this light salad? For this recipe, you'll need two pounds of heirloom or summer tomatoes, arugula or mizuna, basil ribbons, and over a pound of skinned and cooked beets. 
Remember that the prep time does take a little planning for this salad – the basil oil needs to sit for at least six hours in the fridge, but if you don't have that kind of time, you can always substitute basil ribbons and balsamic syrup.
Breakfast Pizza
Burrata doesn't only work in dinner dishes, and this burrata breakfast pizza is proof of that. Combining burrata with saucy eggs, crunchy bacon, sausage, and a healthy serving of chives and seasoning can ensure your day gets off to a good start. 
After pouring on marinara sauce, you can disperse your burrata, crack your eggs, and top with bacon and sausage. The pizza cooks for up to twenty-five minutes, depending on how you like your eggs, but you may need to reduce your cooking time by a few minutes if you're using a pizza stone.
Strawberry Pesto Caprese Salad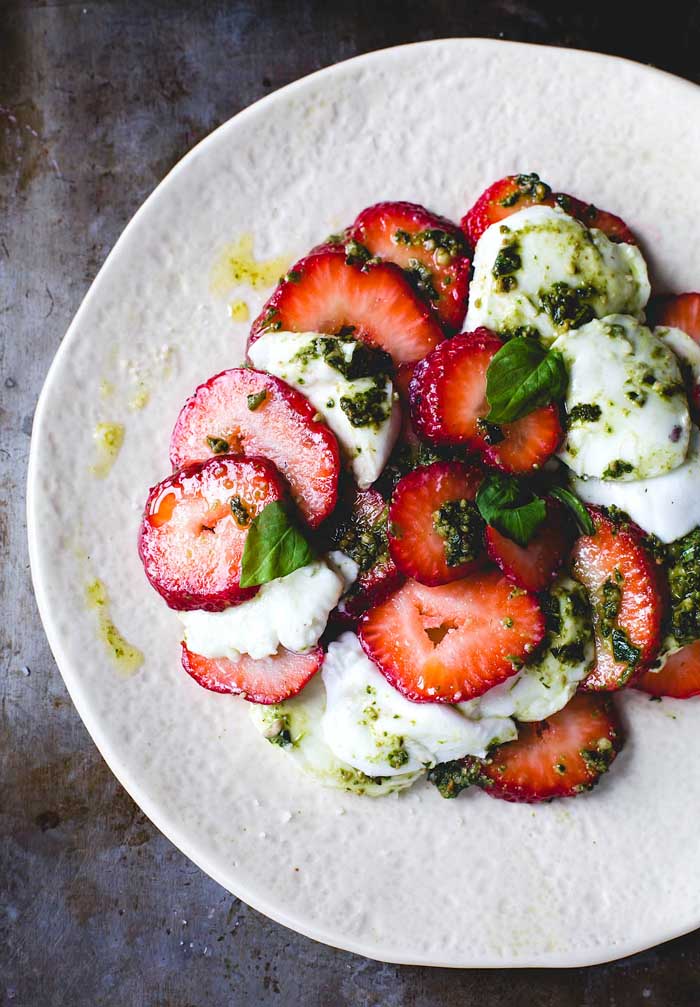 For anyone with a little bit of a sweet tooth, this pesto strawberry Caprese salad is a creamy dish with no shortage of sweetness. You'll need strawberries, pesto, olive oil, burrata cheese, and a squeeze of fresh lemon juice to make it. 
Since it doesn't have a long prep time, this is a convenient salad for when you're on the go – just toss your strawberries, pesto, lemon juice, and cheese in a salad bowl, and it's ready to serve.
Summer Skillet Gnocchi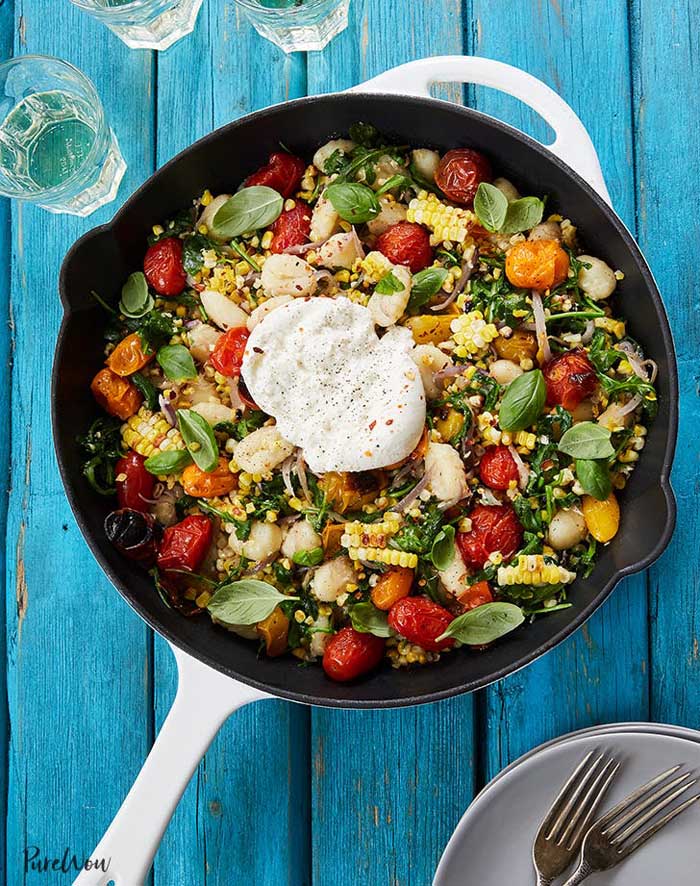 As the name implies, the summer skillet gnocchi is a great summertime meal for when the days get longer and hotter. With four ears of shucked corn, three cups of cherry tomatoes, a pound of gnocchi, and crushed burrata, you can have this one-skillet meal on the table sooner than you might think. 
Once you've grilled the corn for four to five minutes, boil the gnocchi and sautee your onions with garlic and arugula. The last step is adding that crumbled burrata with parmesan cheese and red paper flakes on top.
Peach, Cherry Tomato Panzanella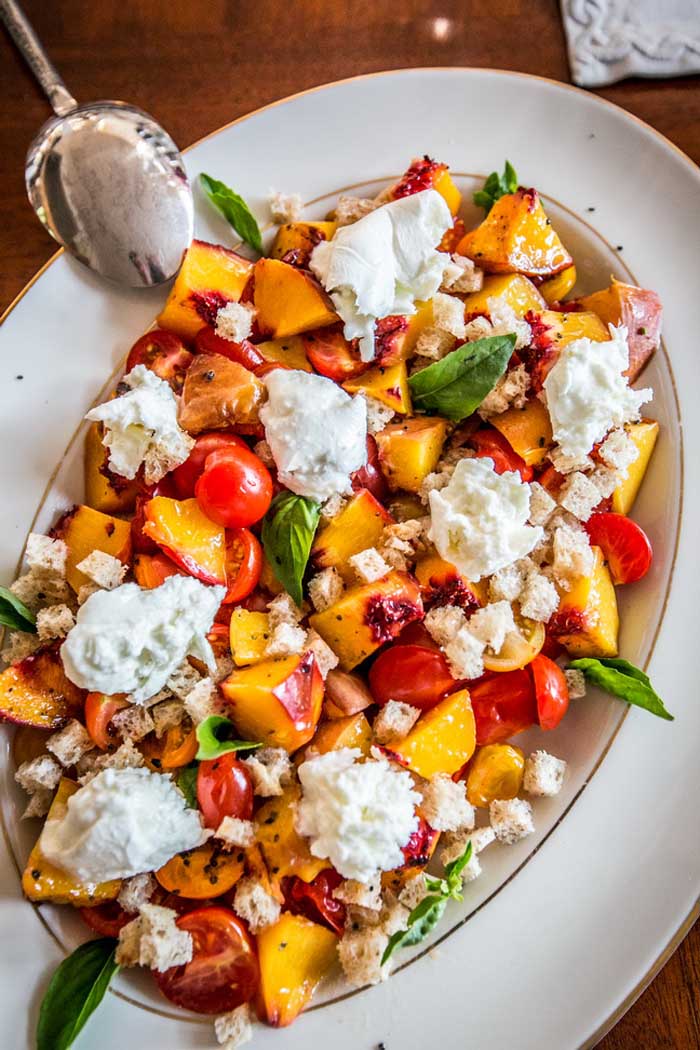 Also called panzanella, this Tuscan dish is especially popular during the spring and summer seasons. To make it, you'll need peaches, cherry tomatoes, basil, mint, rustic bread, and burrata cheese. 
Grill the peaches before baking your bread into croutons, then roast the cherry tomatoes. Finally, top with chopped basil, mint leaves, and crumbled burrata.
15-Minute Spinach Omelette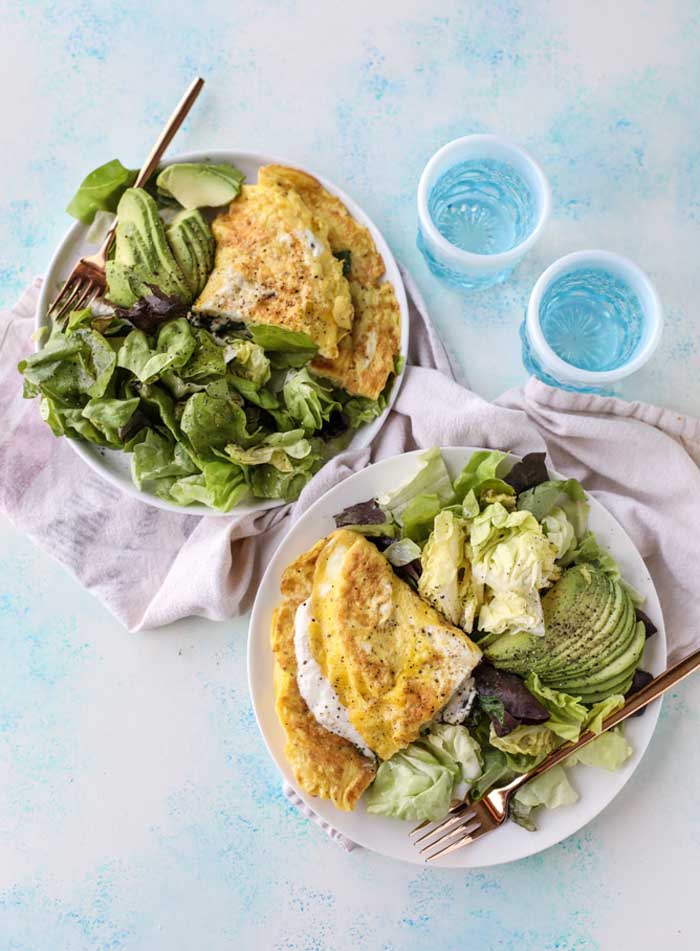 You may not always have time for a big, fancy breakfast, but fortunately, this spinach burrata omelet and avocado salad is ready to serve in just fifteen minutes. In addition to butter lettuce, burrata, white balsamic vinegar, and eggs, you'll need a tiny bit of coconut oil for this recipe. 
While your eggs cook and set in the pan, add as much spinach as you want and four ounces of burrata cheese. The avocado salad is done last, and it's a simple combo: combine sliced avocado with butter lettuce and toss it in olive oil and salt and pepper.
Spring Orecchiette Pasta
Another vegetarian dish, this spring orecchiette pasta with asparagus, mushroom, and peas, might sound fancy. Still, it has a shorter ingredient list than you might think: sugar peas, orecchiette pasta, whisked eggs, asparagus tips, mushrooms, burrata cheese, and wilting greens. 
You'll only need about thirty minutes to make this recipe, but the most difficult part is probably tempering the eggs – you'll need to slowly whisk your eggs into hot pasta water to ensure they don't curdle.
Summer Italian Zucchini Noodle Salad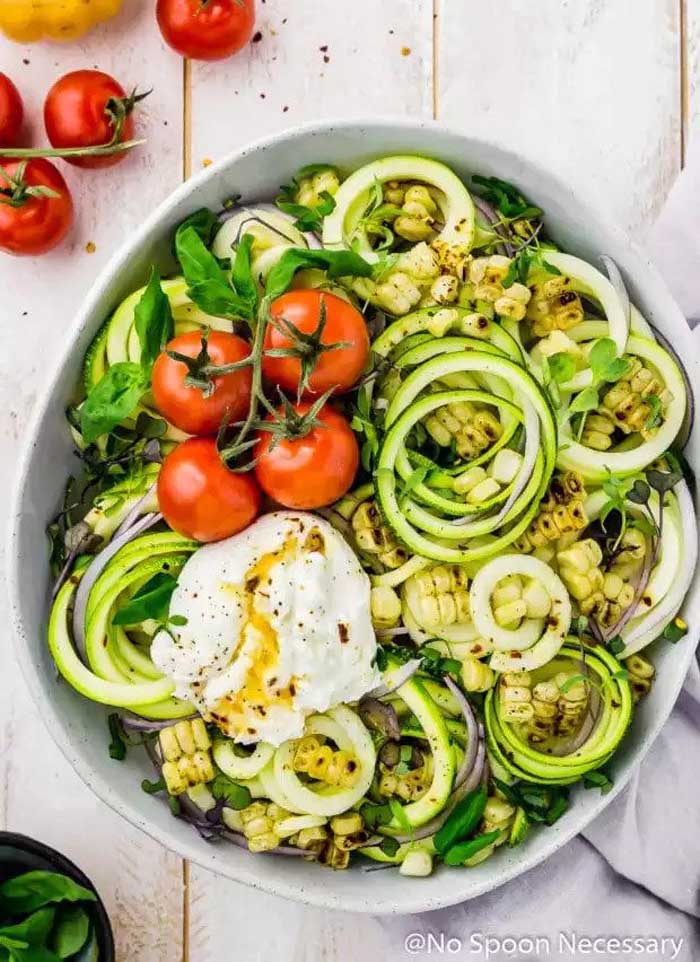 This zucchini salad is refreshing and crisp after a long day, and it only requires zucchini, corn, cherry tomatoes, mozzarella, burrata, Italian dressing, and prosciutto. 
If you decide to include the prosciutto, you'll need to let it bake and get crispy in the oven for about ten minutes, chop it up, and then crumble it over the salad when you assemble it.
Watermelon & Burrata Salad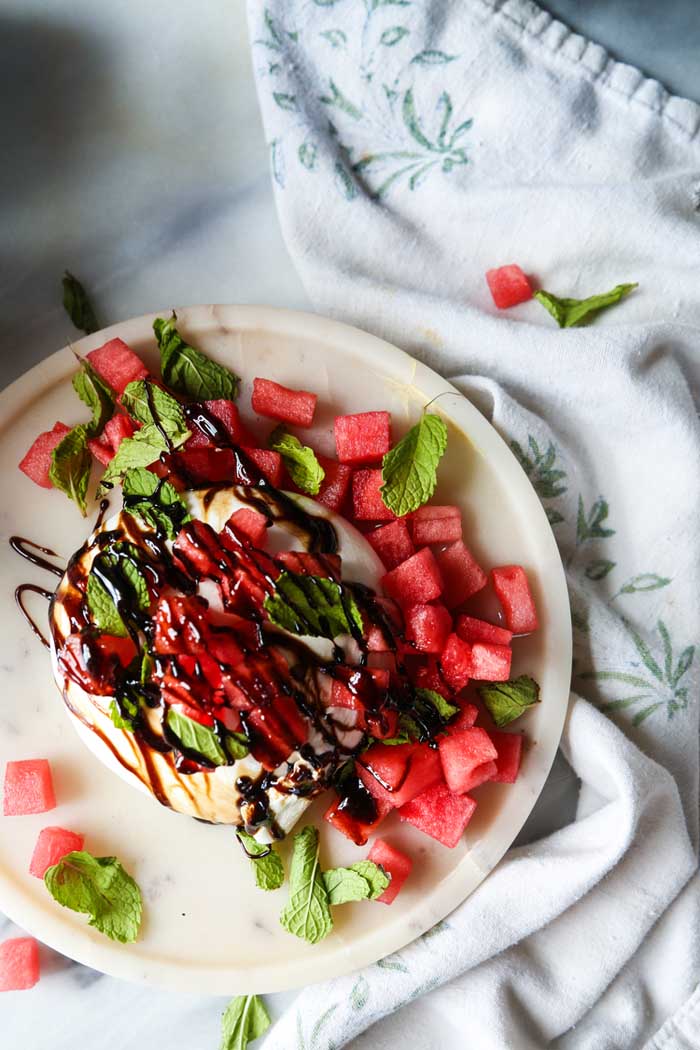 Watermelon and burrata may seem like one of the odder combinations on this list, but the burrata's mild creaminess takes on the watermelon's flavor in this simple salad recipe. And with only watermelon, burrata cheese, balsamic reduction, and mint leaves, it's one of the easiest salads you'll ever make. 
The burrata goes into the serving dish first, and once you've added cubed watermelon and mint leaves on top, you can drizzle that balsamic reduction and olive oil.
Fried Burrata with Cherry Tomato Sauce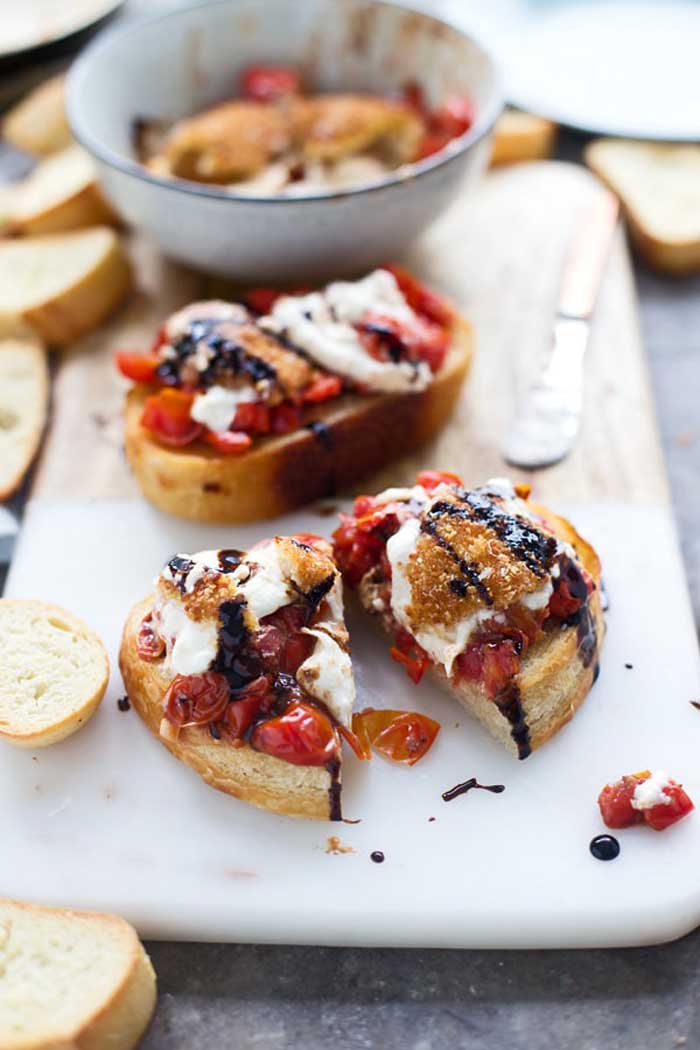 This fried burrata dish may require a trip to the grocery store with its long ingredient list, but the delicious finished product is worth the work. You'll need ciabatta bread, olive oil, canola oil, white wine, garlic powder, AP flour, egg, panko (and plain) bread crumbs, burrata, and parmesan cheese. 
The ciabatta bread gets prepared first, and then you'll use that pan to create your cherry tomato sauce with white wine. The fried burrata is the last addition to the dish, and you'll add it on top when it's time to serve.