Delicious chicken lo mein noodles fresh out the wok. Made with diced chicken breast and a blend of hoisin and soy sauce, this easy take on the Chinese classic is better than any takeout.
Chicken lo mein is a longstanding favorite among fans of Chinese takeout, and it's easy to see why. The classic stir fry dish serves up diced chicken, pan-fried crunchy vegetables, and broth-soaked egg noodles. It's a more satisfying version of chicken chow mein, with more bite and a bit more heft.
But why order in when you can make a superior version at home in a fraction of the time? Like all great stir fry recipes, this chicken lo mein is quick and easy to make from scratch, making it perfect for a quick weeknight dinner.
This homemade version works in more vegetables and less sodium, making it far healthier than any takeout dish and one of our best diced chicken recipes. And just like any DIY take on a restaurant classic, you can adjust the quantities as you wish. If you're a spice fiend like me, you can work in added Chinese la jiao chili paste, or if you want a mountain of added chicken you can fill your boots by dialing up the shredded chicken breast.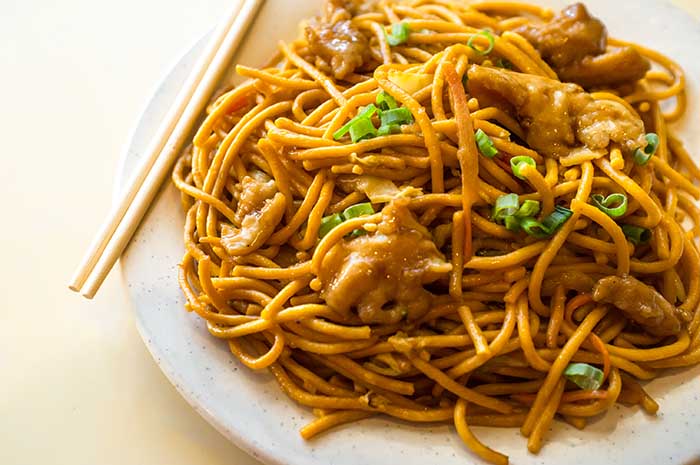 What is Chicken Lo Mein?
Chicken lo mein is a Chinese noodle dish where egg noodles are stir-fried with vegetables and (usually) meat or shrimp. The name comes from the Cantonese word 'lou min' (撈麵), which translates to 'scooped noodles', whereby cooked noodles are scooped up and thrown in with the cooked ingredients.
It's defined by the hearty, savory taste provided by its generous use of vegetables, with a subtle sweet note courtesy of the egg noodles.
What Kind of Sauce is in Lo Mein?
Lo mein's sauce features a blend of sesame oil, soy sauce, hoisin, garlic, and ginger. This might sound rich and heavy, but it's mixed with broth (for this recipe we're using chicken broth) to help dilute it and allow it to blend better with the noodles.
Lo Mein vs. Chow Mein
Unsurprisingly, lo mein is often confused with chow mein despite some marked differences between the two noodle dishes.
For chow mein (from the Mandarin 'chao mian' 炒麵, literally meaning 'fried noodles'), the noodles are partially cooked first before being finished in the wok. However, lo mein noodles are fully cooked before being added to the rest of the fried ingredients.
Another big difference is that lo mein carries more sauce and juice, partly thanks to the broth and noodles being added so late to the dish. Contrastingly, chow mein tends to be drier, owing to the noodles being cooked earlier and allowing excess water content to steam out of the dish. Chao mein also only tends to use soy sauce for liquid, whereas lo mein is cooked in a broth.
Lo Mein vs. Mei Fun
Unlike lo mein and chao mein, the noodles in mei fun are made from rice flour instead of wheat flour. The name 'mei fun' comes from the Chinese 'mǐ fěn' (米粉), which translates to 'rice noodles'. Rice flour noodles tend to be thinner in appearance and can be found in many Cantonese dishes, as well as Thailand's famous pad thai. They tend to have a bouncier texture than the lo mein noodles.
Main Ingredients
Wondering what's in chicken lo mein? These are the main components that give the dish its iconic taste and texture.
Egg Noodles
The best noodles for lo mein are fresh egg noodles. They're chewy and slightly sweet and are perfectly built to absorb the color and flavors of the chicken broth and sauces.
Oyster Sauce
A Chinese cuisine staple, oyster sauce provides the unique umami flavor that elevates this recipe. If you need a quick oyster sauce substitute, try using hoisin or fish sauce. Both ingredients carry the salty-sweet flavors and dark colors that go so well with lo mein.
Side Dish Ideas
Chinese mustard greens: Also known as gai choy or jiè cài, this classic Chinese vegetable dish stir-fries mustard plant in ginger and garlic. The end result is a peppery flavor that complements the spice in your main dish.
Cantonese Wontons: Wonton dumplings are traditionally served in a soup, making them the ideal companion for lo mein's rich noodle broth. While different varieties exist across Mainland China and Hong Kong, I particularly love Cantonese wontons. They contain shrimp and minced pork wrapped in a thin casing, and served with wonton noodles (not to be confused with Hong Kong style pan-fried noodles).
Leftovers
It's easy to go overboard with quantities, especially with noodles. Place any leftovers in an airtight container and store them in the refrigerator. Eat within two days and reheat by adding to a wok at medium heat, stirring until warm through.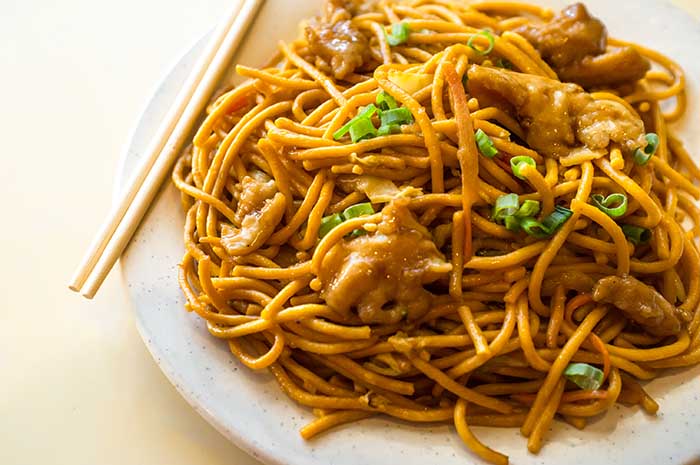 Chicken Lo Mein
Delicious chicken lo mein noodles fresh out the wok. Made with diced chicken breast and a blend of hoisin and soy sauce, this easy take on the Chinese classic is better than any takeout.
Ingredients
1

lb

boneless chicken breast

diced

¼

cup

chicken broth

2

servings

egg noodles

precooked

1

tbsp

sesame oil

1

tbsp

vegetable oil

1

tbsp

oyster sauce

2

tbsp

hoisin sauce

2

tbsp

dark soy sauce

2

tsp

cornstarch

1

cup

shredded cabbage

½

yellow onion

thinly sliced

¼

cup

green onions

chopped

2

cloves

garlic

minced

2

stalks celery

sliced

1

carrot

shredded
Instructions
In a medium-sized bowl, combine sesame oil, kosher salt, and ground black pepper. Add the diced chicken, covering the pieces as best as possible. Set aside

In a fresh bowl, mix the chicken broth, oyster sauce, hoisin, soy sauce, sesame oil, and cornstarch. Whisk until combined. Set aside.

Heat oil in a wok over medium-high heat

Add the diced chicken breast. Fry until cooked through, about 5 minutes. Set aside.

Reduce heat to medium-low. Sautée the onions for 3-5 minutes, until soft and translucent.

Add garlic, carrots, celery, chopped green onion, and cabbage. Cook for a further 2 minutes.

Add pre-cooked noodles and chicken. Toss ingredients until evenly combined.

Pour chicken broth and hoisin sauce mix over noodles. Add slowly while tossing noodles to ensure even coverage.

Serve into bowls and garnish with extra green onion. Enjoy immediately.