Take your shrimp tacos to the next level with these delicious side dish recipes and ideas. From fresh and zesty salsa to crispy cajun fries, here's what to serve with shrimp tacos.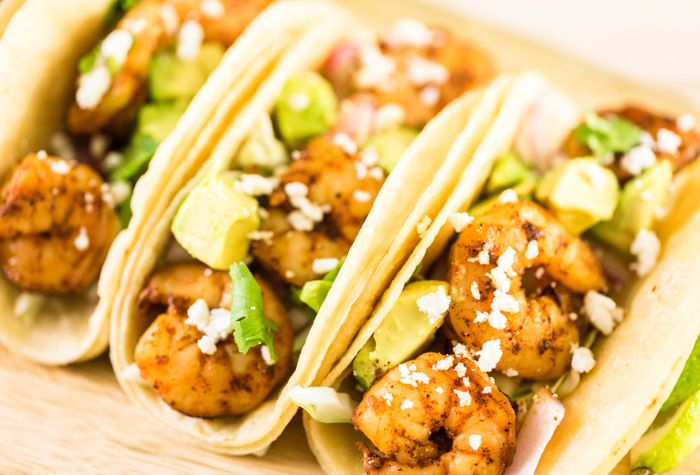 Everybody loves shrimp tacos with succulent grilled shrimp, soft tortillas, and a medley of flavorful toppings. Apart from shrimp being a naturally high-protein source making it perfect for those looking for a healthier weeknight dinner option, shrimp tacos are completely customizable, and the whole family can make their tacos just how they like.
While a couple of shrimp tacos is certainly enough to make a satisfying and nutritious meal, spicing it up with some side dishes can help diversify the flavors on your palate.
Whether you're looking to add a touch of freshness with a variety of salads or bring in some substance with perfectly seasoned carbohydrates, these best shrimp taco sides will complete your dinner platter. Let's get cooking!
Fresh Pineapple Salsa
Sweet, spicy, and incredibly moreish, fresh pineapple salsa is one of those dishes to keep under your belt and pull out in the summer months – or when you really want a crowd-pleaser. When a pineapple is ripe, it has that addicting balance of sweetness and tangy sour notes that keeps you coming back for another taste. Adding it to a salad can enhance its natural flavor profile while bringing in other elements to balance the sour kick, such as bell peppers and diced red onion.
Feel free to scoop the pineapple salsa on top of the tacos for a heavy dose of extra sweetness with each bite, or you can even incorporate it into the shrimp mix before scooping for a perfect blend with all the elements. Apart from tasting divine, this salsa's cheerful colors of yellow, red, and green can make any dining table shine.
Try This Recipe: This pineapple salsa looks beautiful and bright with a creative pineapple bowl presentation and brings in the flavor with cilantro, lime juice, and Roma tomatoes.
Mexican Refried Beans
Also known as frijoles refritos, refried beans are a beloved Mexican staple. In fact, they're often served alongside numerous Mexican dishes found in restaurants and takeaways, like burritos or quesadillas. While there's nothing wrong with purchasing some pre-made refried beans in a can, if you want the signature creamy taste and texture it's best to make it yourself. And once you realize how simple it is to make, you won't be going back to the store-bought version anytime soon!
The combination of tender-cooked beans that are fried in oil and mixed with aromatic ingredients such as onions, garlic, and spices imparts a rich, somewhat earthy taste. Pairing refried beans with shrimp tacos brings depth of flavor while neutralizing the often sharp and zesty taste of the various toppings.
Try This Recipe: This easy refried beans recipe is decadently rich, creamy, and perfectly spiced, and can be whipped up in just 25 minutes.
Pico de Gallo
Vibrant, fresh, and flavorful are the words that come to mind when thinking of pico de gallo. This so-good-you-need-multiple-helpings salsa is relatively easy to make and affordable, with ingredients you'll be able to find in your neighborhood grocery store. Simply dice tomatoes, onions, jalapeños or serrano peppers, and cilantro together, before topping with a generous spritz of lime juice.
The key step to making exceptional pico de gallo is finely chopping the ingredients roughly the same size as each other. The last thing you want is a mouthful of onion or a huge chunk of jalapeño! Keeping each ingredient small enough to mix into each other means that each mouthful will be perfectly balanced and the flavors can meld thoroughly. When eaten alongside a heavier dish like shrimp tacos, pico de gallo can help lighten up the meal and provide a much-needed dose of freshness.
Try This Recipe: This authentic pico de gallo is easily adjusted for your spice and sweetness preferences, and can be left overnight in the fridge for further flavor development.
Mexican Rice
Whether you're making shrimp tacos for a larger family or you're just in a mood for something more filling, adding rice alongside your tacos will add a neutral carbohydrate base while combining spices that are already complimentary to your Mexican-style tacos. Enjoyed for centuries in Mexico, Spain, and other Mediterranean countries, flavored rice is easy to make and even easier to devour.
The aromatics in the rice are activated by sautéing the rice in oil or butter with onions, garlic, and bell peppers before cooking the rice grains in a rich broth, which adds another dimension of richness. Depending on your spice tolerance, you can add additional spices like cumin, paprika, and even chili powder.
Try This Recipe: This Mexican rice is completely umami and deliciously savory, due to the rice being cooked in chicken broth, garlic salt, and cumin.
Coleslaw
Reminiscent of al fresco dining during the warmer months or southern-style backyard barbecues, coleslaw is a classic salad loved by home chefs and families all over the world. The star of the show is thinly sliced cabbage, that brings extra crunch and a satisfying sharp flavor to every bite. However, coleslaw is memorable due to its popular creamy and tangy dressing, typically made with mayonnaise, vinegar, sugar, and a hint of mustard for depth of flavor.
You'll want to coat every inch of the freshly shredded cabbage with this dressing, to impart the right ratio of crispy and creamy. Due to the simplicity and popularity of this salad amongst even the pickiest of eaters, don't be surprised if you get requests to make it time and time again. Coleslaw adds a refreshing element to shrimp tacos, especially if your shrimps are on the spicy side.
Try This Recipe: This homemade coleslaw contains all the recognizable and well-loved flavors in traditional coleslaw, with additional sweetness from the honey.
Mexican Corn Salad
Also known as esquites, Mexican corn salad shouldn't be overlooked if you want a light meal or easy side dish. Unlike other types of corn salads, this refreshing salad starts with grilled or roasted corn kernels. Adding in some chargrilled corn kernels brings in that unmistakable smoky flavor and slightly caramelized texture. When this is combined with diced red onions, fresh cilantro, and crumbled cheese, the variety in taste and texture makes for an enjoyable eating experience.
While corn salad can certainly be eaten on its own (without any dressing), a light yet creamy and herb-filled dressing can be just what you need to tie together the different elements in the salad. Plus, a saucy salad may be the perfect accompaniment to shrimp tacos, especially if you're using crumbed or battered shrimp.
Try This Recipe: Try this Mexican corn salad can be made in just 20 minutes and bursts with flavor, due to the chargrilled corn and zesty dressing.
Sweet Corn Cake
While corn kernels are often utilized in savory dishes during mealtimes, it really shines in desserts – as the sweetness of the other ingredients brings out the natural sweet notes of corn. Sweet corn cake, or pastel de elote, is exactly what the name suggests, a cake made from corn kernels and other recognizable baking ingredients like sweetened condensed milk, eggs, and cinnamon.
Don't worry, you won't actually taste the individual corn kernels in the cake! Instead, the corn is blended thoroughly with milk and eggs to form a smooth blend, which is then incorporated into the rest of the ingredients. The end result is a cake that has a traditional look and texture, but with a subtle smell and taste of corn.
Try This Recipe: This sweet corn cake is the perfect sweet treat to make if you're short on time and only have a few ingredients in your cupboard.
Mexican Stuffed Peppers
Perfect for taking on-the-go or for your next weekly meal prep (they freeze exceptionally well), Mexican stuffed peppers are a dish that the whole family can have fun making and eating. Simply add your favorite combination of savory fillings to a hollowed-out pepper and bake it in the oven. Stuffed peppers are a low-carb side dish option for shrimp tacos that allow you to incorporate even more Mexican-inspired flavors into your meal.
Apart from looking and tasting delicious, using bell peppers as a "shell" to hold the rest of the ingredients in can even save you on additional bowls, plates, and cutlery. Plus, it's fun to just grab the pepper and eat it straight as it is!
Try This Recipe: These Mexican stuffed peppers are low in calories and packed full of delicious ingredients like beef, corn, and cheese.
Gazpacho
While it may seem odd to drink a soup that's chilled and not steaming hot, gazpacho is actually a refreshing mealtime option widely eaten in the warmer months in Spain and Portugal. Made by blending a mix of fresh tomatoes with a variety of different veggies like bell peppers and cucumbers, gazpacho is a great side dish option for shrimp tacos. In particular, serve gazpacho as a soup entree before the main course (your tacos) next time you're hosting a summer dinner party.
Typically served cold and straight from the fridge, this summer soup is anything but boring. The addition of chopped herbs, garlic-infused croutons, and a generous swirl of olive oil before serving, provides a delightful balance of tangy, sweet, and savory flavors that complement each other perfectly.
Try This Recipe: This gazpacho differs from the traditional method of making gazpacho but adds in tang and bite with red wine vinegar and extra garlic.
Cajun Fries
Lean into the decadence by adding Cajun fries as a side to shrimp tacos. Let's face it, fries are one of the most well-loved side dishes for a good reason. Crispy, crunchy, and incredibly moreish, it's hard to stop at just one handful.
And when it comes to taking fries to the next level, Cajun fries bring in a big kick of spice and flavor. Originating from Louisiana, these fries are combined with spicy Cajun seasoning to keep you coming back for more. Traditional fries are deep-fried, giving you that signature oily crunch, but opt for a guilt-free option by air-frying or baking your potatoes instead.
Try This Recipe: These Cajun fries are a healthier option to regular deep-fried fries, but bring just as much flavor with a generous helping of homemade Cajun seasoning.