These vegan birria tacos are easy to make and a delicious, plant-based alternative to the traditional Mexican dish.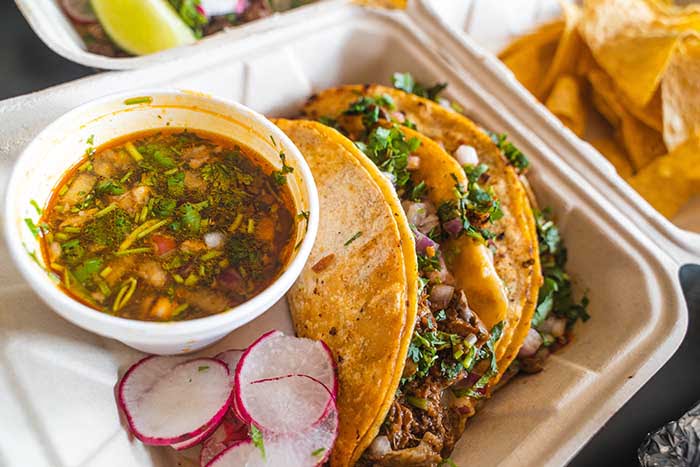 If you've become a vegan or are reducing the number of animal products you consume, it's essential that you still enjoy some of your favorite foods. If you love birria tacos, you're in luck. They are delicious fresh out the skillet or perfect made in bulk as a vegan meal prep recipe for the week ahead.
These jackfruit and mushroom-filled birria tortillas are one of one of our best vegan taco recipes, and it's easy to see why. Let's take a look at how to make an earth and critter-friendly vegan version of this delectable Mexican dish.
What are Birria Tacos?
Also called quesabirria, traditional versions of this meal usually include corn tortillas stuffed with goat meat. They're seasoned with spices and originated in the Mexican state of Jalisco. Today, you can make them with other meats.
Quesabirria is a modern variation on this dish. It uses beef brisket and has cheese melted into the taco. It has a red color due to the meat stewing in the spice blend.
Birria is also served consomme style, like a stew. It incorporates many of the same ingredients and also commonly uses corn tortillas. The meat gets cooked in a rich, savory broth.
How to Make Vegan-Friendly Quesabirria
The main ingredients in quesabirria are cheese and meat, which means that it is decidedly not vegan. Luckily, the world of veganism has come up with many clever alternatives.
To substitute the meat, use oyster mushrooms or jackfruit. Oyster mushrooms have a deep umami flavor that mimics the savoriness of beef. Jackfruit has a meatier consistency but won't taste as rich. Either is delicious.
There are yummy vegan cheese alternatives also. Use vegan cotija or feta. Instead of using meat broth, use vegetable broth. Other than that, you'll need a delicious blend of aromatics and spices.
Ingredients
If you decide to use jackfruit instead of mushrooms, you'll first need to prep it. It can be messy, so plan to do so on an easy-to-clean surface. Quarter the jackfruit and remove the core and seeds. Remove the fruit pods, clean them carefully, and then shred the fruit to resemble pulled pork.
If you go with oyster mushrooms, remove the stems and then slice them thinly or shred them.
You also need to prepare the dried ancho chili peppers. Rehydrate them in warm water for about 30 minutes. Then cut off the stems and remove as many of the seeds as you can.
This recipe features ground cumin for a dash of heat. If you need an alternative ingredient, taco seasoning and ground caraway seeds are both good cumin substitutes.
Finally, two of the other main ingredients include apple cider vinegar and corn tortillas.
Side Dish Ideas
Too often, vegetarians' only choice at Mexican restaurants is beans, but because the main dish doesn't use them, Mexican black beans and rice make a fabulous side. Or, make a side with pinto beans. You can also make a vegan version of Mexican street corn—the sweetness of the corn pairs beautifully with these spicy tacos.
How to Make Vegan Birria Tacos
The first thing that you need to do is prep the chile peppers and jackfruit according to the instructions above. This is the most time-consuming and involved step in preparing this dish. You can also buy canned jackfruit instead of fresh to make it a bit simpler.
Next, heat the oil in a large, flat-bottomed skillet over medium-high heat. Once it is hot (but not smoking), add 1 cup of the onion, two cloves of garlic, and one teaspoon salt. Stir frequently until the onion turns translucent and begins to brown, about 5 minutes.
Take your cooked onion mixture and add it to your blender or food processor along with the tomato sauce or diced tomatoes, maple syrup, apple cider vinegar, smoked paprika, broth, oregano, cumin, cinnamon, and cloves. Blend or process on high until it forms a smooth, even sauce. It should have a moderate thickness; if it's too thick, add a bit more broth.
In the same saute skillet, heat the remaining tablespoon of oil over medium-high heat and add the mushrooms or jackfruit, remaining onions, garlic, and salt. Cook, stirring frequently. Regardless of what "meat" you're using, you should cook long enough for them to begin to crisp on the edges, about 10-15 minutes. This gives it a meatier texture and balances out the smoothness of the sauce. Add 1 cup of the sauce in the last couple of minutes.
Take your corn tortillas and dip them, one by one, into the remaining sauce, allowing the excess to drip off. Then, fill them halfway with the jackfruit or mushroom mixture, fold in half, and add them to the skillet to slightly crisp the tortilla, about 2 or 3 minutes on each side. You can use the same skillet, and you shouldn't need to add more oil.
Serve with the toppings and sides of your choosing, and enjoy!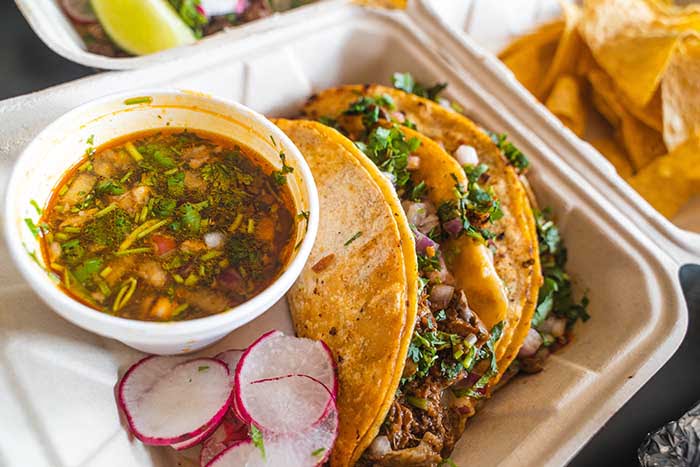 Vegan Birria Tacos [Jackfruit & Mushroom Quesabirria]
These vegan birria tacos are easy to make and a delicious, plant-based alternative to the traditional Mexican dish.
Equipment
food processor

cast iron skillet
Ingredients
Sauce
3

large dried ancho chiles

2

tbsp

vegetable oil

divided

2 ½

cups

yellow onion

chopped

4

cloves

garlic

minced

1

tsp

kosher salt

1

cup

tomato sauce

2

tbsp

maple syrup

1

tbsp

apple cider vinegar

1

tbsp

smoked paprika

2

cups

vegetable broth

1

tbsp

dried oregano

2

tsp

cumin

⅛

tsp

cinnamon

optional
Filling
2 ½

lbs

jackfruit

shredded

2

lbs

oyster mushrooms

thinly sliced
Toppings
cilantro

roughly chopped

vegan cheese

2

limes

quartered

1

yellow onion

chopped
Instructions
Soak the dried ancho chiles in water for 30 minutes. Stem and remove the seeds.

In a large skillet, heat 1 tablespoon of vegetable oil over medium-high heat. Sauté onion and garlic until onions begin to brown, about 5 minutes.

Remove from heat and add to a food processor. Also add ancho chiles, tomato sauce, maple syrup, apple cider vinegar, paprika, vegetable broth, oregano, salt, and cinnamon. Blend until smooth. Set aside.

Heat the remaining oil in the skillet over medium heat. Sauté jackfruit or mushrooms, along with the remaining onions, garlic, until they brown and crisp at the edges. About 10-15 minutes.

Add one cup of the ancho and tomato sauce to the pan and allow it to thicken. Remove from heat and set aside.

Dip each of your corn tortillas in the remaining sauce, allowing the excess to drip off. Fill them with the jackfruit mixture, then fry them in a fresh pan for 2-3 minutes on each side.

Serve with cilantro, lime, and vegan cheese