Ricotta is a sweet, mild cheese that can be made at home with just whole milk, heavy cream, and lemon juice. Discover how to make your own homemade ricotta cheese from scratch.
Making homemade ricotta cheese is a fun and easy process that can be done in just an hour. No preservatives and no additives. Plus, it tastes better than store-bought! All you need is milk and heavy cream for the base of the recipe and salt for seasoning.
It's the perfect ingredient for adding a new twist to classic Italian dishes, like lasagna and ravioli. Besides, culturing your own cheese from scratch is guaranteed to earn you some serious kudos among your fellow home cooks.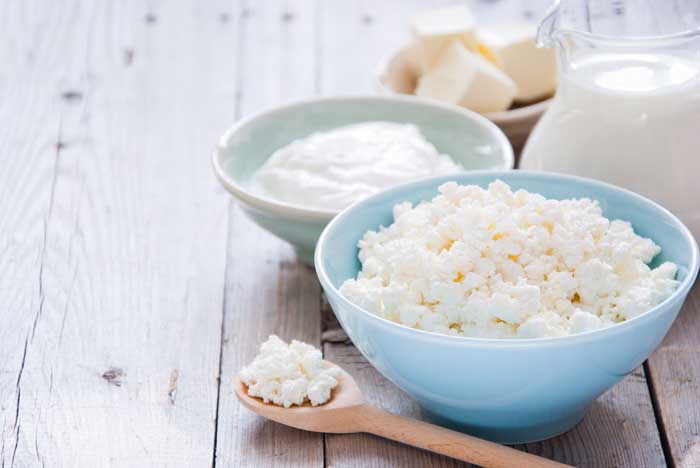 What is Ricotta Cheese?
Ricotta is a strong white color and has a unique sweet taste. Its texture is quite similar to cottage cheese, which is why ricotta makes a good cottage cheese substitute.
Ricotta literally translates to 'refined' or 'recooked' in Italian, referring to the process of recooking the whey from cheese curd.
Ricotta cheese is made from the whey, or the liquid remnants of cheese once the solid curds are separated to make cheese. Ricotta, which means "recooked" in Italian, is heated again with an acid such as lemon juice and vinegar to collect the remaining curds. This yields a fluffy, soft cheese. Usually, ricotta is made out of cow's milk, but you can also find goat, cheese, and even buffalo ricotta.
Ricotta whey is first allowed to become more acidic by additional fermentation, often by resting it for at least 12 hours at room temperature. It's then brought to a near-boil to create a curd, which is then cooled and separated.
If all of this sounds complicated, don't worry. We have an easy shortcut recipe that only uses whole milk, heavy cream, and lemon juice. Best of all, it only takes an hour to make!
Ricotta Cheese vs. Greek Yogurt
Greek yogurt is made from cultured, fermented milk that's been strained of excess whey, leaving a thicker, creamier yogurt behind (by contrast, ricotta is made from whey). Greek yogurt has a more sour, bitter taste than ricotta, which is a bit sweeter. They both have thick, creamy textures, although Greek yogurt is more liquid.
Ricotta vs. Cream Cheese
Both ricotta and cream cheese are thick, spreadable cheeses. Cream cheese is made by heating milk and cream together with lactic acid. Cream cheese contains cream, but ricotta does not, so it has a higher fat content, lower moisture content, and thicker texture. Ricotta is grainier and lighter. Their tastes are very similar, but ricotta tastes slightly fresher due to a lower fat content.
Ricotta vs. Paneer
Paneer is a traditional Indian cheese that is made by heating milk, curdling it with an acid, then pressing the drained solids into a block. Paneer has a firmer texture than ricotta thanks to this pressing step, while ricotta is more spreadable and crumblier. Ricotta also has a sweeter taste, while paneer is savorier.
Main Ingredients
Whole Milk
Using raw milk will yield the best results, but realistically most of us will have to use regular whole milk. Whichever you get, avoid organic milk (or 'ultra-pasteurized milk) at all costs. It's pasteurized to high temperatures, leaving very little of the good bacteria and proteins we need to culture the ricotta curd.
Lemon Juice
You can use any acid here, so distilled white vinegar is also a good alternative.
Quick Tips
Use 2-4 layers of cheesecloth to line your sieve. This will help you retain as much of the ricotta curd as possible.
Do not allow the milk to come to a boil. Use medium heat and aim for a near-boil of around 185°F (85°C). I strongly recommend getting a kitchen thermometer to help you gauge temperature as accurately as possible.
Only stir the milk occasionally as it comes to temperature, and only once after you have added the lemon juice or distilled white vinegar. Over-stirring will dissolve the curd, preventing ricotta from forming.
Storage
You can store leftover ricotta for a little while, as long as you do it properly.
How to Store Ricotta
Like most other leftovers, you should store ricotta in a sealed, airtight container. If you have store-bought ricotta, the plastic container that it came in usually has a resealable lid. If the container is inadequate, you can wrap the leftover ricotta in cling wrap or aluminum foil and store it that way.
How Long Can You Store Ricotta?
If you properly seal ricotta and don't take it out of the fridge, it can stay good for as long as two weeks. As long as the color is still white and the odor hasn't gone off, then the ricotta is safe to eat.
Can You Freeze Ricotta?
You can freeze ricotta. However, when you freeze it, the liquid separates from the solids, which will affect the texture of the ricotta even once it thaws. You should use frozen ricotta in baking or cooking dishes where the texture won't be as noticeable.
Homemade Ricotta Cheese
Ricotta cheese is a mild and sweet Italian cheese, and is surprisingly easy to make at home. Made with little more than whole milk, heavy cream, and some lemon juice, this classic cheese is easy to make from scratch.
Equipment
large sieve

fine-mesh cheesecloth

kitchen thermometer

slotted spoon
Ingredients
2

quarts

whole milk

1

cup

heavy cream

1

tsp

salt

3

tbsp

fresh lemon juice
Instructions
In a large pot over medium heat, add the milk, cream, and salt. Heat slowly and stir occasionally, bringing to a near-boil. Do not let it reach a full boil.

When the milk reaches 185°F, add the lemon juice. Stir once and stop.

Keeping the milk at 185°F, leave over heat for 15 minutes to allow the curds to form

Line a large sieve with fine-mesh cheesecloth, and place over a large bowl. Use a slotted spoon to scoop the curds out of the pot and drain over the lined sieve. Leave to drain for one hour.

Once drained, transfer the ricotta curd to an airtight container. Leave in refrigerator for at least 12 hours. Enjoy within two days.
Notes
Over-stirring will prevent the curds from forming, so ensure that you only stir once when you add the lemon juice.
If the ricotta is too dry after draining, mix in one teaspoon of cream to bring it back to your desired consistency.
Nutrition
Calories:
1105.24
kcal
Carbohydrates:
58.95
g
Protein:
41.48
g
Fat:
80.1
g
Saturated Fat:
48.99
g
Polyunsaturated Fat:
3.15
g
Monounsaturated Fat:
18.83
g
Trans Fat:
1.47
g
Cholesterol:
273.63
mg
Sodium:
1635.62
mg
Potassium:
1875.38
mg
Fiber:
0.07
g
Sugar:
59.8
g
Vitamin C:
9.42
mg
Calcium:
1506.51
mg
Iron:
0.15
mg
FAQ
What Can I Use Instead Of Cheesecloth?
Cheesecloth can be expensive and difficult to find. Coffee filter paper and muslin fabric are both effective backups for cheesecloth.
Why Is My Ricotta Grainy?
Ricotta should be slightly grainy because it is whisked during the preparation process. However, if there are too many grains and they are very hard in texture, then that is a sign that you cooked the milk to a temperature that was too high or that you stirred or whisked the ricotta too much during production.
To salvage grainy ricotta, try whisking the ricotta using a fork or whisk, which helps break down the grains.