Mini apple pie bites made with coconut flour dough and a sweet chopped apple filling. This easy keto-friendly dessert is delicious fresh out the oven or as a make-ahead treat.
These coconut flour apple pie bites are bursting with flavor while taking sugar and grain out of the equation. Navigating the baking world on a keto or gluten-free diet isn't easy, but these mini apple pies do the job perfectly.
Each mini apple pie features a latticed crust made from gluten-free dough that handles and tastes just like traditional flour bakes. Each pie is then filled with a molten apple filling seasoned with cinnamon and nutmeg to finish off a beautifully balanced bake.
Discover how to make this easy keto dessert snack from scratch, along with everything you need to know about baking with coconut flour, and how to make the best pie filling. Let's get into it!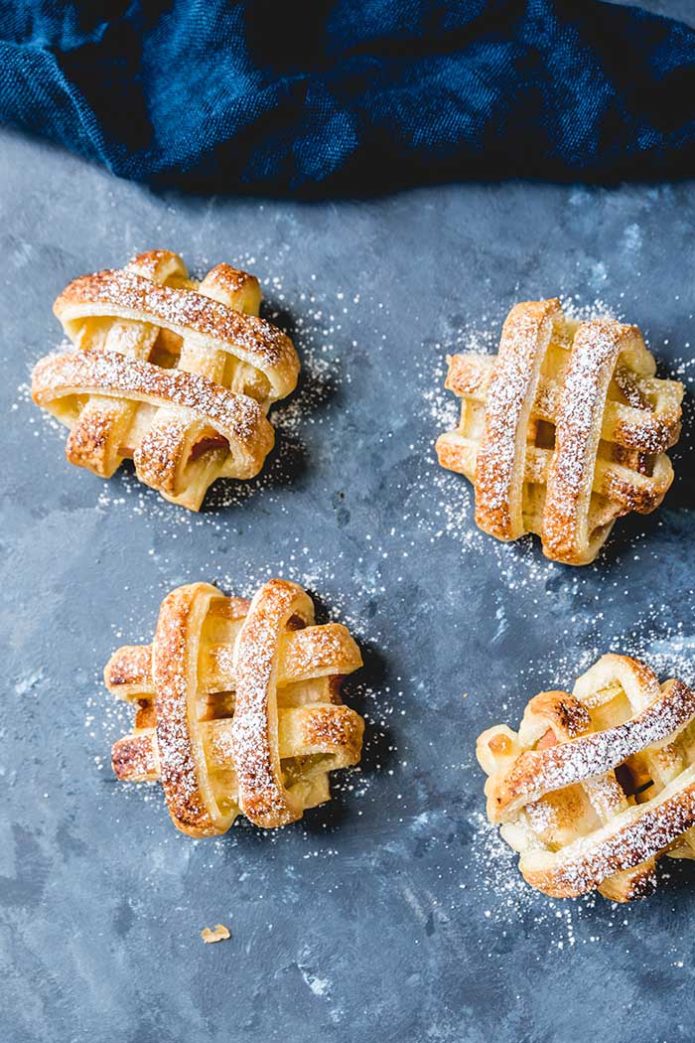 Baking with Coconut Flour
Coconut flour is a grain-free alternative to all-purpose flour, allowing food lovers on gluten-free or keto diets to enjoy a range of baked recipes.
It's naturally high in protein, iron, and – crucially – fiber. This high fiber content means it absorbs liquid much more easily than other types of flour, making it thick and tough to handle. Because of this, I've added an extra egg to the recipe. This should help create more moisture and air for the pastry.
When ready to bake, make sure your coconut flour is fresh and with no lumps. Lumps are often an indicator of moisture, meaning your dough will be difficult to handle.
Eggless & Dairy-Free Substitutes
While these mini pies aren't plant-based or vegan, we can make a couple of quick changes to make them eggless and dairy-free.
To replace the eggs, you will need to make a paste out of ground flaxseed and water. This workaround is perfect for baked recipes that don't need as much rise, and instead need a binding agent.
Make the paste by stirring together 2 tablespoons of ground flaxseed and 6 tablespoons of water. Leave it to sit for a few minutes until thickened. Then incorporate into the dough in place of eggs.
Use melted coconut oil to substitute for the butter. Use the same quantities, but make sure that the coconut oil is not still hot, otherwise it will effectively cook the dough ingredients before they're ready!
What is Erythritol?
Erythritol is an organic sugar alcohol that we can use in baking recipes to substitute sugar. Crucially, it's a dry ingredient, making it the perfect accompaniment to coconut flour. Unlike sugar-free syrups or honey, erythritol will combine with the flour without making it too dense.
For this recipe, we'll be using two types of erythritol. One is brown erythritol for the apple filling in place of brown sugar. The other is plain erythritol, which is white in color and we use to sweeten the pie crust pastry.
Quick Tips
Because coconut flour can yield a dense pie crust, it's important to roll the dough out properly and not leave it too thick. Aim for a thickness of ⅛-inch, rolling it out as evenly and smoothly as possible. If you need a quick rolling pin substitute, a filled wine bottle will do the trick.
Like with any most apple dessert recipes, use cooking or baking apples for these mini pies (for example, Gravenstein or Granny Smith). Baking apples carry much more flavor than the regular eating variety, with a tart taste that lends itself well to sweet desserts.
Coconut Flour Apple Pie Bites
Mini apple pie bites made with coconut flour dough and a sweet chopped apple filling. This easy keto-friendly dessert is delicious fresh out the oven or as a make-ahead treat.
Equipment
12-cup muffin pan

Cookie cutter
Ingredients
Pie Dough
2

cups

coconut flour

4

large eggs

½

cup

butter

4

tsp

erythritol

1

tsp

vanilla extract
Filling
3

cups

apples

chopped

2

tbsp

brown erythritol

1

tsp

ground cinnamon

1

tsp

vanilla extract

¼

tsp

ground nutmeg

¼

cup

heavy cream
Instructions
Preheat oven to 425°F (220°C)

In a small pot or saucepan over medium heat, add the chopped apples, brown erythritol, ground cinnamon, vanilla extract, nutmeg, and heavy cream. Combine well and let simmer for 15 minutes, stirring occasionally.

In a large mixing bowl, beat the eggs well. Add the coconut flour, butter, erythritol, and vanilla extract. Combine with a spoon or stand mixer until dough starts to dry and become crumbly.

Knead the dough for 1-2 minutes, until you can form a dough ball.

Dash additional coconut flour on cooking surface and roll out dough, to about ⅛-inch thick.

Use a cookie cutter to cut out form 12 small pie crusts. Re-roll any leftover dough scraps as needed.

Line the baking tray with cooking spray. Place each pie crust into the baking tray, gently pressing the dough down into the base and sides.

With a tablespoon, scoop the apple filling into each pie casing. One tablespoon should be enough for each pie.

Roll out the remaining dough, again to about ⅛-inch thick. Cut into thin strips. Arrange the strips on top of each pie in a criss-cross pattern (6-8 strips per pie).

Place baking tray in oven. Bake for 20 minutes, until apple filling is bubbling and crust has started to turn golden brown. Remove from oven and leave to cool for 10 minutes.

Carefully remove mini pies from tray and place on wire rack to cool

Dash with extra erythritol (pictured) and enjoy while still warm