Easy stir-fry recipes for quick weeknight dinners. Delicious fried noodles and rice dishes with your choice of chicken, vegetables, shrimp, and more.
After spending hours at work no one wants to go back home and spend hours in the kitchen. Nonetheless, we need to eat to survive. Does this mean we should depend on junk food? Or, is it that we have no other option but to cook an elaborate meal?
Well, neither do you need to eat junk food and nor do you need to spend hours preparing a meal. All you need to do is prepare a quick stir fry dish. What is amazing about stir fry recipes is that they are super easy to prepare and also, you mostly cook on one wok or skillet. So, you will not even have to worry about cleaning too many dishes.
To get you started we are about to share with you the eleven best stir fry recipes. Each is equally delicious and easy to make, so select any, and get started.
Chicken Lo Mein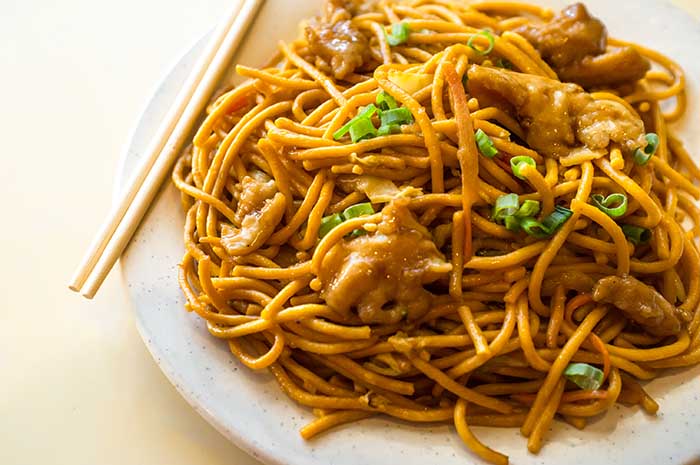 Unlike a lot of 'dry' stir-fry dishes, this chicken lo mein recipe features a broth enriched with sesame oil, oyster sauce, and chicken stock. This gives the dish a striking golden color and uniquely deep flavor that far surpasses any takeout dish. Best of all, it takes under half an hour to make from scratch, making it ideal for busy weeknights when you're tight on time.
Hawaiian Chopped Steak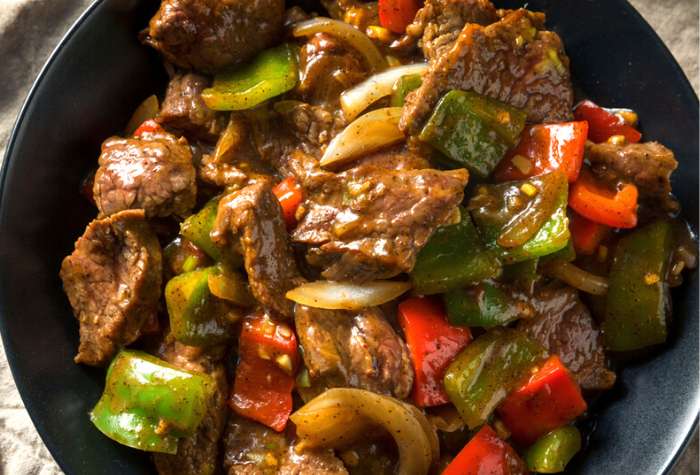 Proof that not all stir-fry recipes need to be takes on Eastern Asian cuisine, this Hawaiian chopped steak matches together sirloin steak strips and chopped vegetables for a sweet-but-savory spin on comfort food.
The steak strips are first marinated in a simple soy sauce and sugar mix before hot fried and added to a homemade steak sauce. The whole thing is combined with chopped onions, red bell peppers, and ginger before served over rice. For a meal that takes only fifteen minutes to rustle up, there's flavor packed into every bite here.
Bell Peppers & Water Chestnuts
What is amazing about this vegetable stir fry recipe is that it is nutritious, delicious, colorful, and easy to make.
You just need some simple ingredients like olive oil, vegetables (carrots, broccoli, yellow and red bell pepper, water chestnuts, baby corn, mushrooms, and sugar snap peas), an easy to prepare sauce combo, and garnishing, and less than 30 minutes of your precious time.
Cashew Chicken
If you love cashews, then this one is for you. The fresh vegetables used in the recipe will give it a nice crunch. And, the glaze on the top of the chicken is just wonderful.
But, what is best is the Asian touch, which when combined with cashew, offers simply incredible results.
Honey Garlic Chicken
This stir fry recipe is full of broccoli, carrots, and chicken coated in a beautiful savory and sweet sauce, which will keep tingling your taste buds for a long time.
Not only is this stir fry delicious, but also healthy, and something that your entire family is sure to love.
Cashew Chicken & Broccoli
If you have not more than 20 minutes to spare, then this weeknight meal is something you will enjoy.
It is flavorful, healthy, and of course yummy. The fresh veggies and chicken, when tossed in the delicious peanut sauce, results in an experience that everyone in your family will completely enjoy.
Tofu & Garlic Sauce
If you do not have chicken or do not like it, you can still cook a drool-worthy stir fry dish using tofu.
The tender-crisp veggies, the crispy tofu, and the flavors added to this dish will leave you wanting for more. And, you will prepare this incredible recipe in less than 30 minutes.
Keto Tofu & Cauliflower Rice
Working from home and feel hungry suddenly? You still need to focus on work but also have to satisfy yourself. At any such instance, this delicious tofu stir fry is something you will absolutely enjoy.
It is full of veggies, fiber, and protein, and is ready in just about 20 minutes.
Firm Tofu & Spinach
Even if you do not know how to cook at all, you still will be making this one to perfection, and all you need to spare is less than 30 minutes.
For this recipe, you just need tofu, and any vegetable that you have or like eating. And, even if you do not love tofu, once you try this, you will fall in love with it.
Teriyaki Cashew Chicken
For every chicken lover out there, this is a must-try stir fry recipe.
With just the addition of a few vegetables like bell pepper, carrot, snow peas, and red onion, and salted cashews, the result will be such that anyone and everyone will enjoy eating on weeknights.
Sriracha, Ginger & Garlic
On those days when you do not want to have meat, this ginger veggie stir fry will serve as a good option.
You can add any vegetable you want to but those that are included in this recipe are zucchini, sweet peppers, carrots, onions, broccoli, mushrooms, cabbage, pea pods, kale, spinach, and asparagus.
What is going to work the magic here is the spicy garlic and ginger-flavored sauce. You are surely not going to forget its taste for a long, long time.
Chicken, Ginger & Oyster Sauce
The perfect sauce, skinless boneless chicken thighs, and the stir fry packs get ready a wonderful stir fry recipe for you in just about 15 minutes.
So, whenever you want to eat something delicious, healthy, and do not have enough time, try this one out. And, you definitely will make it again and again.
30-Minute Cauliflower Rice
Does this recipe require you to use rice? No, you will be using a rice substitute, and that is none other than cauliflower.
Cauliflower has a neutral flavor, incorporates well with many dishes, is rich in fiber, and also nutritious. The sauce that you will be combining it with is flavorful and vibrant. And, to prepare it, you need ingredients that you most likely have at home now like lime juice, maple syrup, hot or chili garlic sauce, and so on.
Also, you can use any veggies that you have including green onion, cabbage, bell pepper, and green beans. Combining all of these, you will be creating a stir fry meal that is satisfying, healthy, and of course, super quick, and easy to make.