Hawaiian chopped steak served over rice for the ultimate easy quick dinner recipe. Boasting chopped sirloin steak marinated in soy sauce and sugar, there's flavor in every bite of this spin on stir fry.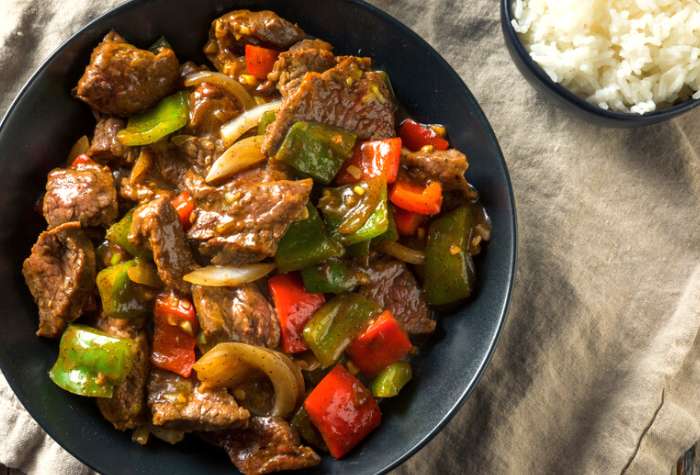 This Hawaiian chopped steak recipe is the perfect fuss-free dinner dish. Made with chopped sirloin steak and a quick soy sauce marinade, this only needs fifteen minutes in the pan before landing on your dinner table.
It contains the perfect blend of sweet, savory, and salt thanks to our sugar-soy sauce marinade, while the sirloin steak provides the chewy beefy flavor we all crave.
From preparing the steak to serving ideas, discover how to make Hawaiian chopped steak today. Let's get cooking!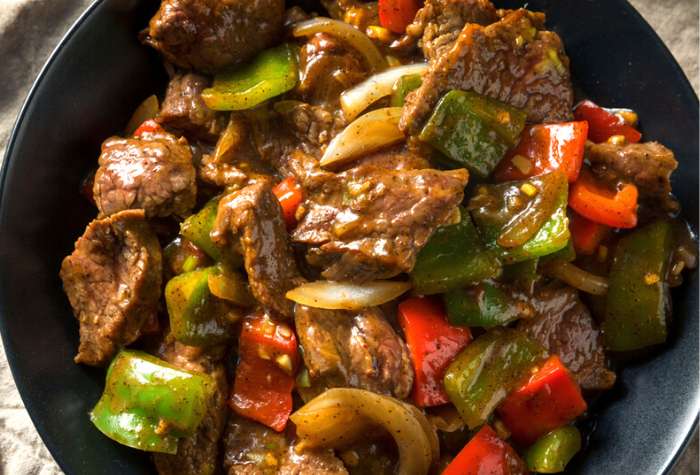 What is Hawaiian Chopped Steak?
Hawaiian chopped steak is a classic comfort food featuring thinly sliced strips of steak cooked in a sweet-and-salty sauce. These flavors are taken to a new level with the added chopped onion, ginger, and garlic, infusing the sirloin steak with a complex medley of rich and tangy flavors.
But the real secret to the dish is the marinade. To truly bring out the succulent flavors, you'll need to soak the steak in a simple marinade of soy sauce and sugar. The acidic soy sauce breaks down the muscular structure of the steak, tenderizing it while the sugar imparts an extra kick of flavor.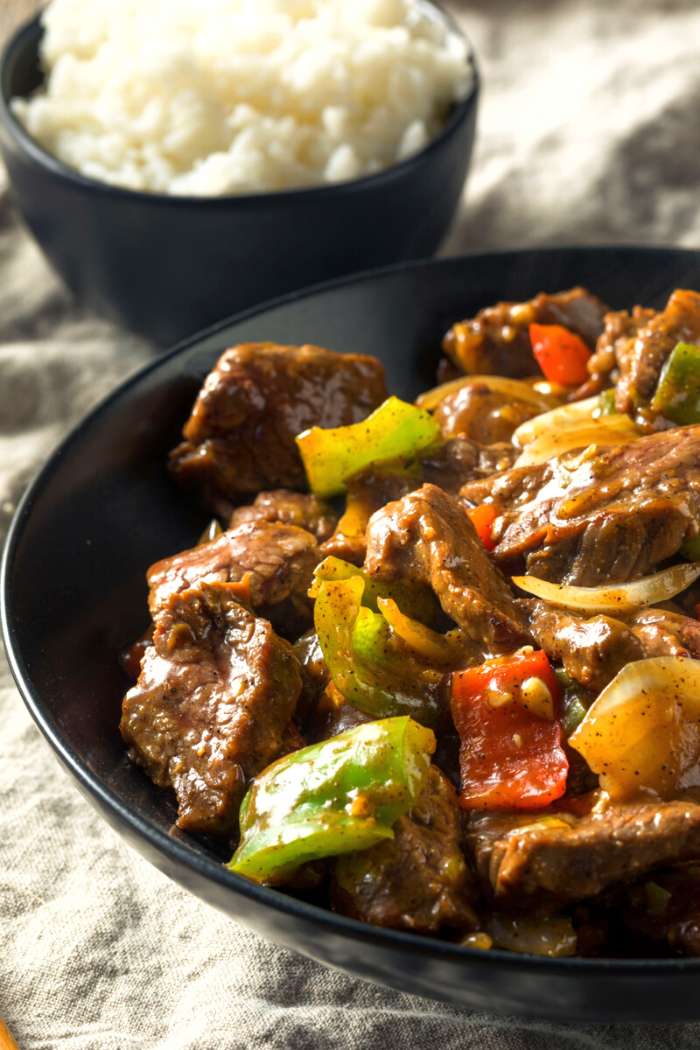 Best Steak Cut for Hawaiian Chopped Steak
The best thing about this recipe is that you don't need a premium steak cut to make it. On the contrary, doing so will be a waste since the steak is going to be sliced and marinated. So, your best bet is a cut with a strong, neutral flavor. In addition, go for a cut that meshes well with marinades.
For this recipe, we've used sirloin steak, but flank steak is just as good. Both cuts are relatively tough, meaning they both need marinating. Also, they feature little marbling so are best suited to hot and fast cooking methods, like the stir-fry method we'll be using for this recipe.
How to Tenderize Steak
One of the age-old questions in the meat game is that of tenderness. How do we make meat reach that absolute perfect level of tenderness? While there are plenty of tricks to micromanage steak and bring out flavorful texture, a marinade is a quick and easy way of tenderizing meat.
When immersing meat in a marinade, its saltiness draws out the liquid inside the meat while the liquid of the marinade is reabsorbed, not only tenderizing the meat's muscle structure but also infusing the inside of the cut with rich flavors. On top of that, a marinade's sweeter flavors impart an extra punch of flavor on the meat's surface and will caramelize when cooked.
This effect is only amplified when you break your steak down into smaller slices, as this recipe does. The smaller pieces maximize the surface area that the marinade reaches and allow the meat to tenderize very quickly.
Serving Ideas
If you're looking for side dishes to accompany your Hawaiian chopped steak, you're in luck: it works with a wide variety of sides.
If you want something filling, serve the steak over a heaping helping of fluffy coconut rice. The steak's tanginess will bring out the rice's subtle sweetness and vice versa. Plus, the rice can sop up all the delicious leftover sauce.
For a garnish, consider chopped spring onions. These little green beauties pair beautifully with the sweet-tangy sauce and add a satisfying crunch.
To add even more crunch, consider a serving of pickled vegetables, such as pickled red cabbage, pickled daikon, or pickled carrots. These enhance the steak's flavors by counterbalancing its warmth and tenderness with a cool, tangy crunch.
Finally, to add a healthy, delicious bite to the dish, add cubed mango or even a spoonful of spiced pineapple preserves. These tropical fruits often accompany savory Hawaiian meat dishes, and their acidic sweetness makes an excellent pair with steak sauce.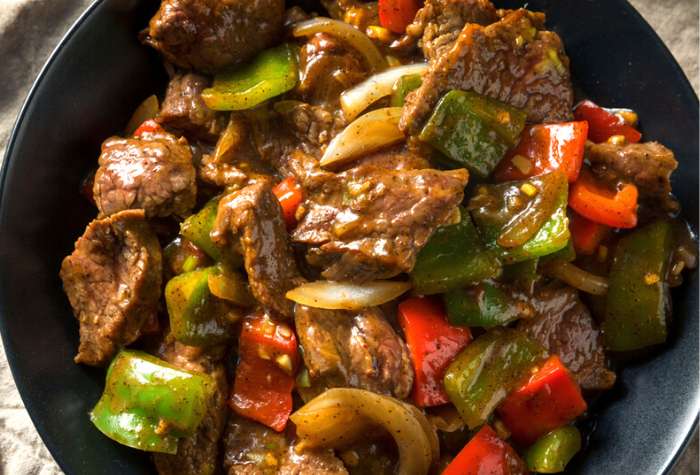 Hawaiian Chopped Steak
Hawaiian chopped steak served over rice for the ultimate easy quick dinner recipe. Boasting chopped sirloin steak marinated in soy sauce and sugar, there's flavor in every bite of this spin on stir fry.
Ingredients
1

lb

sirloin steak

thinly sliced

2

tbsp

vegetable oil

1

inch

fresh ginger

grated

5

cloves

garlic

thinly sliced

1

large

onion

sliced into thin rings

1

red bell pepper

sliced into strips
Marinade
¼

cup

soy sauce

1

tbsp

sugar
Sauce
1

tbsp

cornstarch

2

tbsp

white wine vinegar

1

tbsp

water
Instructions
In a small bowl, combine the soy sauce and sugar

Place the steaks in a small ziplock bag. Pour the soy sauce marinade over the steak and seal the bag. Place in refrigerator and marinate for 1 hour.

While the steak is marinating, make the sauce by combining cornstarch, white wine vinegar, and water in a bowl. Stir until smooth.

Remove steak from the marinade. Keep the marinade for the sauce later.

Heat oil in a skillet over medium-high heat. Add garlic and cook until fragrant, then set aside.

Add steak and cook for 3 minutes, stirring occasionally. Remove from heat and set aside.

Add the sliced onions, bell peppers, and reserved garlic to skillet. Cook for 2 minutes, or until vegetables are soft, then reduce heat to medium-low.

Return steak to skillet and add sauce and leftover marinade. Cook until the sauce thickens, about 2 minutes. Serve over rice.