The best vegan curry dinner ideas, from tofu paneer to chickpea massaman. Simple plant-based versions of Indian and Thai classics for your curry fix.
Looking for something new to add to your dinner party table? Do you want to find something on the healthy side that is packed with flavor? The following recipe list has you covered. This Indian-inspired list of recipes is sure to satisfy any raving fan of Indian cuisine. All of the recipes are comprised of comparable spices and vegetables, which can eliminate leftover ingredients that can otherwise go to waste. If you have extra veggies on hand or looking for more creative ways to use them, these recipes offer a great solution. Go ahead and give yourself permission to eat Indian an entire week!
Chickpea & Onion
This recipe is coconut-free and can be prepared in just 20 minutes! Not only is the recipe easy to prepare, you can modify the spice level by adjusting the amount of cayenne you use in preparation. If you like it spicy, add more cayenne and if you want something more mild, just put in less. If you don't want to go out and buy all the spices, feel free to use Garam Masala as a substitute. With just 115 calories per serving, loaded with protein and potassium, this recipe is sure to delight health-conscious family and friends.
Palak Tofu Paneer
If you are a fan of Indian food and love paneer, this recipe is one to try. The paneer is replaced by firm tofu, which you can buy readymade or you can learn how to make tofu from scratch. It also adds in kala namak to replicate the iconic taste of paneer.
The four generous handfuls of spinach used provides a great dose of iron. This recipe requires a hand blender, which is easy to use and helps blends the ingredients with the spinach. Palak tofu can be prepared in under an hour. Serve with basmati rice and naan bread.
Soy Curls & Shallots
If you like butter chicken, you will love this vegan butter chicken option using soy curls for the protein. While many people may worry about the difference in texture, there is no need for that concern with this recipe. The soy curls provide great texture. Feel free to customize the recipe further by choosing from chickpea milk, coconut milk, or soy in the preparation. This recipe is often served as a main course and is freezer friendly!
Red Lentil & Cumin
The prep and cooking time required is nearly two hours however, some of the prep can be done in advance if you want to save time. This recipe can be tailored to your flavor preference by adjusting the spices you use. Feel free to experiment with spice options if you don't have all the spices on hand. There is also flexibility with the rice options- choose from wild, basmati, or brown rice.
Jackfruit & Quinoa
If you haven't tried jackfruit yet, or want to experiment with it, this recipe is an opportunity to do so. Jackfruit can be found at Indian or Asian stores in a can or brined. If you don't feel brave enough to try jackfruit in this type of recipe, it can be substituted for shredded squash. It just takes an hour for prep and cook time. Quinoa or flatbread can be great meal accompaniments!
Sweet Potato & Coconut Milk
Broccoli is a great pairing with sweet potatoes in this recipe. Among the ingredient list is whole-fat coconut milk which is great for those who like the flavor of coconut. The recipe is chock full of protein, potassium, and fiber. While it can be considered as a main course, feel free to use leftovers for a great to go lunch or a side dish. Serve with a garlic flatbread and enjoy!
Thai Kaffir Lime & Butternut Squash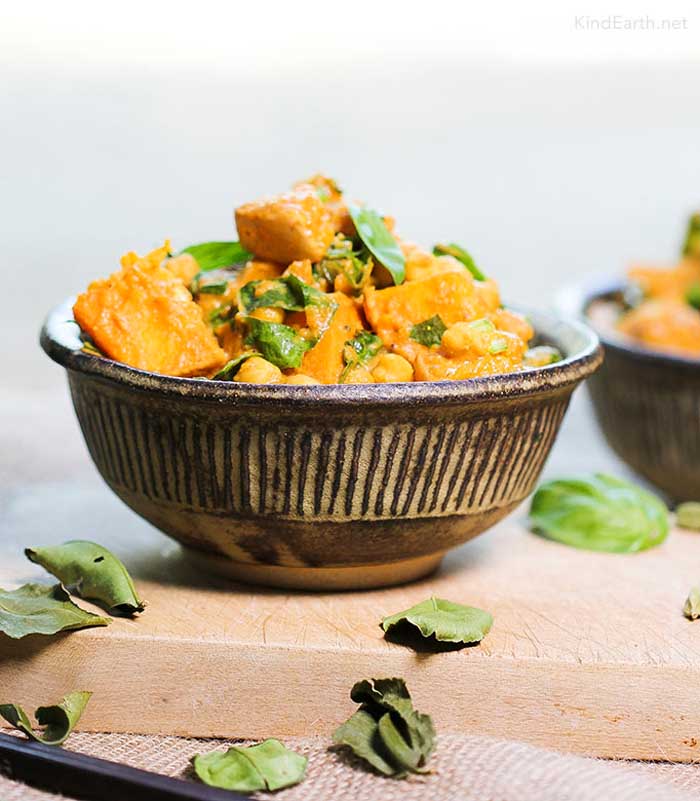 This recipe strongly encourages the use of quality ingredients. Using fresh spices, such as ginger, turmeric, and cardamom can not only add health benefits but load in the flavor. Additionally, this version of Thai coconut curry uses creamed coconut so it is important not to confuse it with coconut cream as that is quite different. The dish is gluten free and vegan so it is perfect to bring as a covered dish to the next vegan gathering you attend!
Sweet Potato, Cauliflower & Red Chillies
Taking a full hour to prepare and cook, this recipe boasts color and flavor. Using plum tomatoes, cauliflower, and sweet potatoes, the dish is healthy and gluten free. Whether it's on your dinner table during winter or summer, it is sure to please for those who are a fan of Indian food and want an excuse to cook. For those family that aren't concerned about gluten, feel free to serve up with Garlic or plain Naan bread.
Butternut Squash & Chickpea Massaman
This recipe uses the combination of chickpeas, peanuts, and kale as accompaniments to the squash. If you don't like kale, you are welcome to substitute for another vegetable like broccoli. Prepared in just forty minutes, this meal is great to add to any lunch or dinner menu. If you are looking for a gluten free option, just use gluten free curry paste. Yum!
Falafel & Coconut Milk
Not only is the meal delicious, it only takes 20 minutes to prepare! If you want to save time, prepare the falafel ahead of time. Tomato puree and coconut milk comprise the base for the sauce. Both the falafel and sauce can freeze well, but freezing the falafel will make it drier. So, be sure to add more sauce to it if you are wanting to enjoy leftovers days later.
Potato, Paprika & Garam Masala
This recipe makes six delicious servings of vegan delight! For richer texture, you can substitute coconut cream for the full fat coconut milk. Vegan potato curry is easy to prepare and mildly spicy. It can be stored up to four days in the fridge and also freezes well. Serve with vegan naan and basmati rice if you desire.