Is there anything more satisfying than a good dish of cheesy, melty, gooey nachos?
Whether it be for a party, tailgate, or just a guilty night in, they're a dish to suit all occasions.
From vegan to meat-filled, and from paleo to gluten-free, we have it all covered. So get stuck in and find your new favorite nacho recipe.
1. Spicy Cauliflower Nachos
This vegetarian and gluten-free take on nachos is ingenious in its use of cauliflower instead of chips. Part of me thinks it shouldn't work, but it does.
It matches hot sauce, paprika and jaleapeños together to give a hell of a kick, while the cheese and avocado provides a beautiful goo-like mouthfeel to each bite.
2. Loaded Carnitas Trash Can Lid Nachos
3. Slow Cooker Jerk Chicken Nachos
4. Big Mac Nachos
5. Foil Pack Nachos
6. Easy Nacho Chicken Casserole
7. Easy Healthy Turkey Cauliflower Nachos
8. Vegan Loaded Nachos
9. Paleo Dairy-free Nacho Cheese Sauce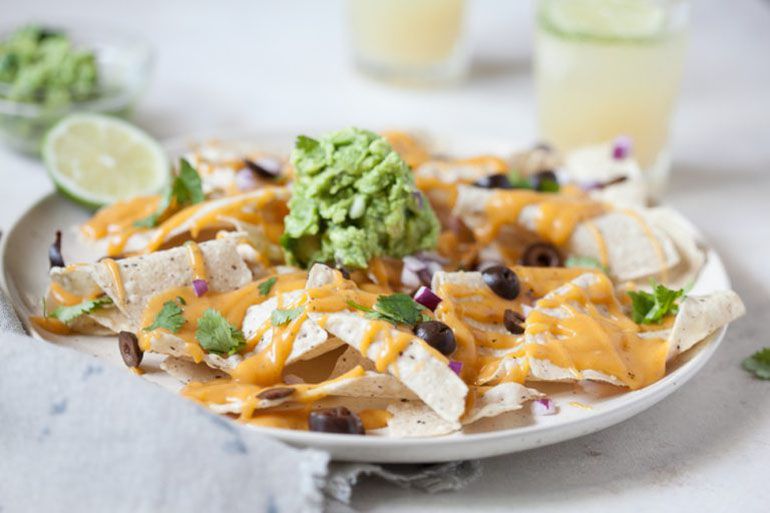 10. Chipotle Cauliflower Nachos with Pineapple Salsa
11. Keto Avocado Nacho Fries Recipe
12. Tater Tot Nachos
13. Epic Cheesy Sheet Pan Steak Nachos
14. Loaded Veggie Nachos
15. Greek Chicken Pita Nachos
16. Chicken Bell Pepper Nachos
17. Steak and Potato Nachos
18. Perfect Irish Nachos
19. Sheet Pan Nachos
20. Chile Chicken Nachos
21. Best BBQ Chicken Nachos
22. BBQ Chicken Nachos
23. 5-Minute Nacho Cheese Sauce
24. Mexican Street Corn Nachos
25. Loaded Chicken Nachos
26. Easy Beef Nachos
27. Mexican Style Beef Sausage Nachos