Check out this list of the best nacho recipes for tailgating, parties, or just plain old simple comfort food. Options for vegetarians and vegans, as well as paleo and keto diets.
Is there anything more satisfying than a good dish of cheesy, melty, gooey nachos?
Whether it be for a party, tailgate, or just a guilty night in, they're a dish to suit all occasions.
From vegan to meat-filled, and from paleo to gluten-free, we have it all covered. So get stuck in and find your new favorite nacho recipe.
1. Spicy Cauliflower Nachos
This vegetarian and gluten-free take on nachos is ingenious in its use of cauliflower instead of chips. Part of me thinks it shouldn't work, but it does.
It matches hot sauce, paprika and jaleapeños together to give a hell of a kick, while the cheese and avocado provides a beautiful goo-like mouthfeel to each bite.
2. Loaded Carnitas Trash Can Lid Nachos
What a vivid combination of textures, flavors and colors! These nachos are just perfect to devour with friends and family on a casual get together. The star of the dish are purple heirloom chips clubbed with with lots of slow cooker carnitas, healthy nacho cheese, some fresh jalapenos and more with a dollop of sour cream on top.
3. Slow Cooker Jerk Chicken Nachos
A baked to perfection treat, this appetizer goes for slow cooked Jerk Chicken that is baked on a base of tortilla chips after shredding it. Adorned with cheese and black beans before baking, the dish has got tomatoes, pineapple, sour cream, red onion, scallion and cilantro for more awesomeness.
4. Big Mac Nachos
Bring the flavours of a delectable Big Mac to a plateful of nachos! This recipe has got some homemade Big Mac Sauce as the star of its making, while combining some tortilla chips with minced beef, lots of cheddar cheese, and onion. The secret to whipping up the sauce hides in some mayonnaise, ketchup, mustard and more!
5. Foil Pack Nachos
An overdose of topping and loads of cheese makes this recipe a perfect summer barbecue decadence. Tortilla chips and fully-cooked meat go hand in hand for this one, combined with tomatoes, black beans, Monterey jack cheese, green onions and sour cream. Once grilled, top it with some hot sauce and serve.
6. Easy Nacho Chicken Casserole
If you don't want to go for loads of preparation, this dish is all you need. Simply mix everything together and work up a delicious nacho chicken casserole adorned with cheese. It has got diced cooked chicken, white rice, tomatoes, cream of chicken soup, corn, green chilies, taco seasoning mix and broken tortilla chips.
7. Easy Healthy Turkey Cauliflower Nachos
Here's your answer to the quest for a super healthy and nutritious nacho meal that takes no more than 15 minutes to get all set. These cheesy cauliflower nachos come with ground turkey taco meat and some yummy caramelized eggs. Some cheddar cheese, tomatoes, avocado, red onion and cilantro make it more rich.
8. Vegan Loaded Nachos
Salty, crunchy, and spicy at the same time – these vegan nachos are topped with mouth-watering sun-dried tomato walnut taco meat, lots of cheese, a lovely addition o pico de gallo, black beans, and some creaminess coming from Guacamole. The special element here is the vegan nacho cheese sauce that's explained in detail in the recipe.
9. Paleo Dairy-free Nacho Cheese Sauce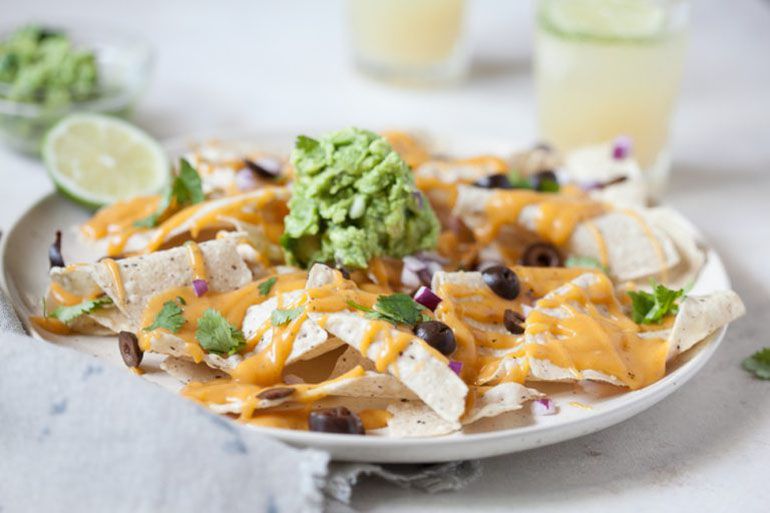 Grabbing some bites of nachos dipping them in a luscious sauce surely feels like heaven. This recipe takes you to the process of making a paleo nacho cheese sauce having sweet potato, diced carrots and chicken bone broth as the mains. It also takes ghee, yeast, sea salt, garlic, peeled, roasted tomatillo salsa and arrowroot powder.
10. Chipotle Cauliflower Nachos with Pineapple Salsa
This plate of vegan nachos speaks so much with its colors. A smoky chipotle cauliflower "cheese" sauce forms a great combination with sweet pineapple salsa, black beans, red onions, cilantro, and tomato. The sweetness and savory factor of the dish complement each other just right.
11. Keto Avocado Nacho Fries Recipe
The unique thing about these nacho fries is that they are worked up with avocado slices, while the sour cream on top adorned with green onions is simply amazing. The other ingredients that go into the making are pork rinds, spices, Mexican blend cheese, tomatoes, green chilies and jalapeno.
12. Tater Tot Nachos
The very first look at this dish makes it oh so irresistible! Worked up with lots and lots of tater tots, these Sloppy Joe Totchos are a crowd-pleaser. The totchos as well as the sloppy joes call for a separate set of ingredients and the end result has got loads of veggies, meat, spices and sauces.
13. Epic Cheesy Sheet Pan Steak Nachos
14. Loaded Veggie Nachos
15. Greek Chicken Pita Nachos
16. Chicken Bell Pepper Nachos
17. Steak and Potato Nachos
18. Perfect Irish Nachos
19. Sheet Pan Nachos
20. Chile Chicken Nachos
21. Best BBQ Chicken Nachos
22. BBQ Chicken Nachos
23. 5-Minute Nacho Cheese Sauce
24. Mexican Street Corn Nachos
25. Loaded Chicken Nachos
26. Easy Beef Nachos
27. Mexican Style Beef Sausage Nachos