The best nacho recipes for tailgating, parties, or just plain old simple comfort food. Options for vegetarians and vegans, as well as paleo and keto diets.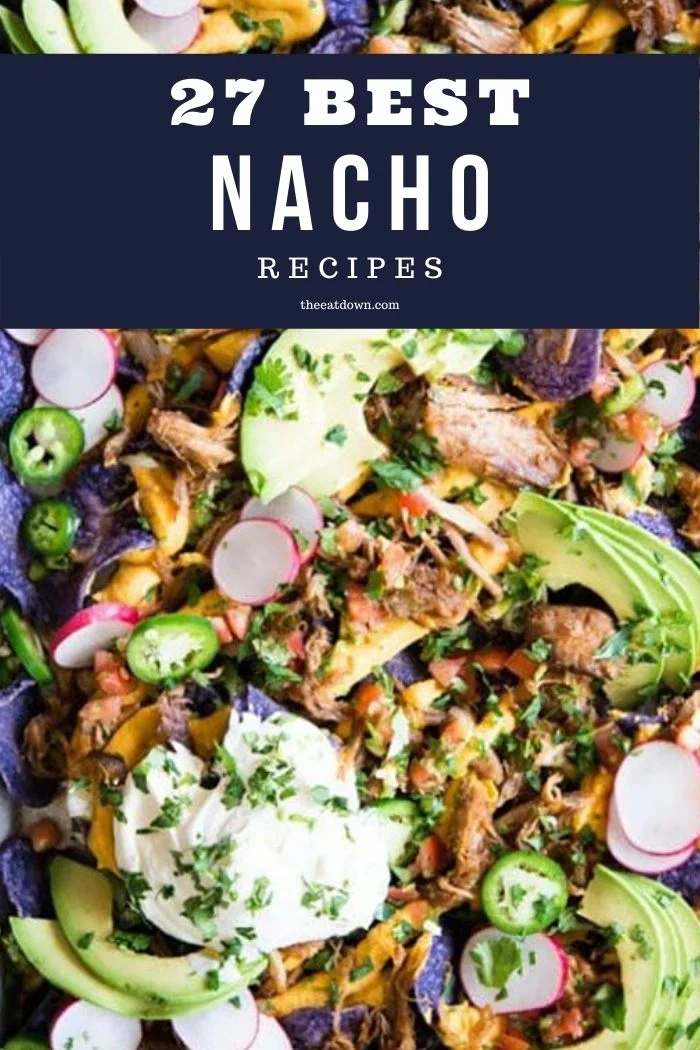 Is there anything more satisfying than a good dish of cheesy, melty, gooey nachos? Whether it be for a party, tailgate, or just a guilty night in, they're a dish to suit all occasions.
From vegan to meat-filled, and from paleo to gluten-free, we have it all covered. So get stuck in and find your new favorite nacho recipe.
Spicy Cauliflower & Hot Sauce Skillet
This vegetarian and gluten-free take on nachos is ingenious in its use of cauliflower instead of chips. Part of me thinks it shouldn't work, but it does.
It matches hot sauce, paprika, and jalapeños together to give a hell of a kick, while the cheese and avocado provide a beautiful goo-like mouthfeel to each bite.
Loaded Carnitas Nachos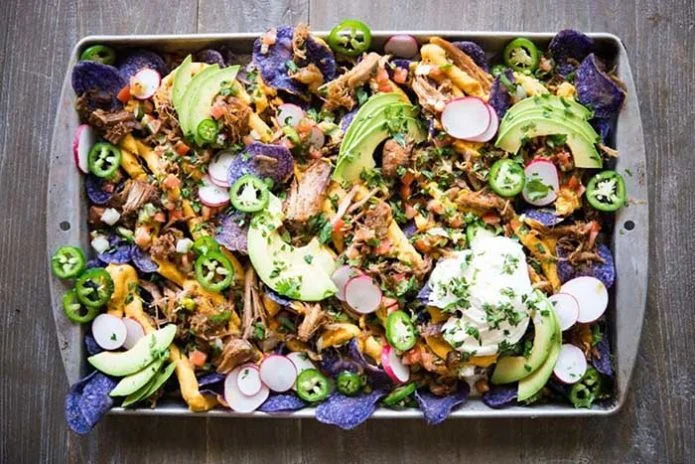 What a vivid combination of textures, flavors, and colors! These nachos are just perfect to devour with friends and family on a casual get-together. The star of the dish is purple heirloom chips clubbed with lots of slow cooker carnitas, healthy nacho cheese, some fresh jalapenos, and more with a dollop of sour cream on top.
Slow Cooker Jerk Chicken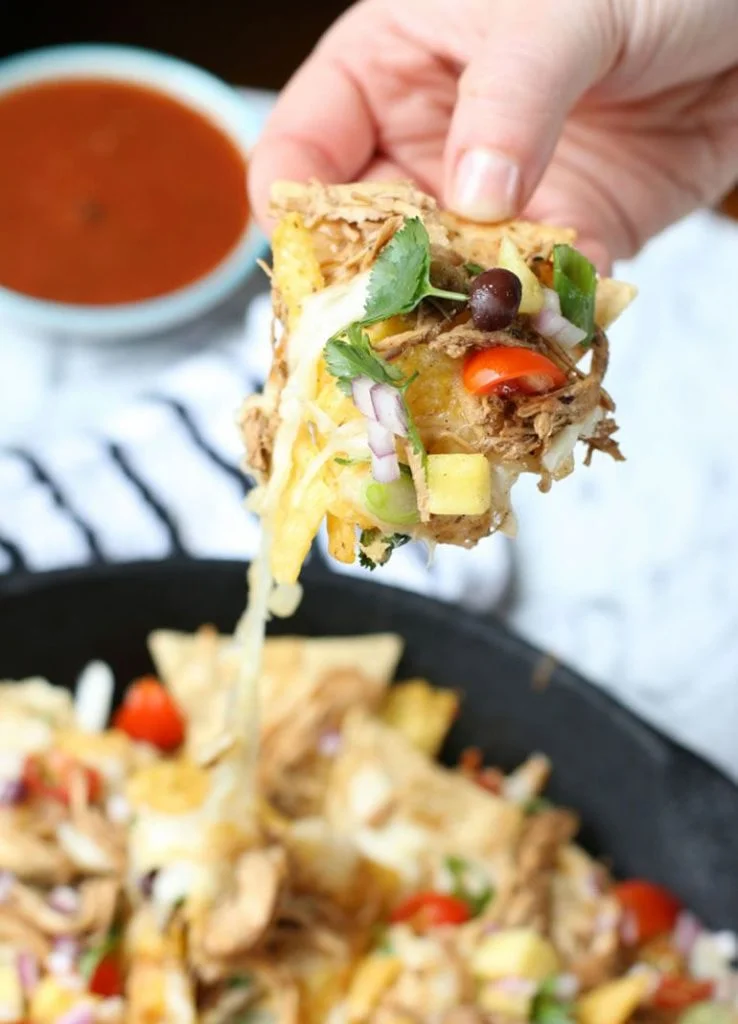 A baked to perfection treat, this appetizer goes for slow-cooked jerk chicken that is baked on a base of tortilla chips after shredding it. Adorned with cheese and black beans before baking, the dish has got tomatoes, pineapple, sour cream, red onion, scallion, and cilantro for more awesomeness.
Big Mac Nachos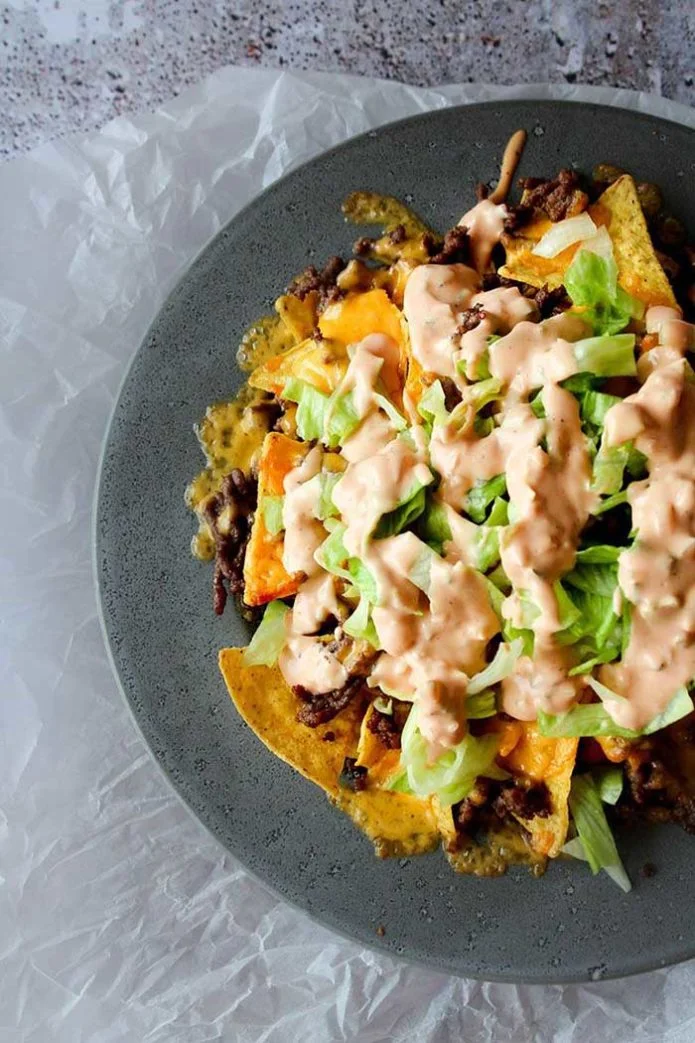 Bring the flavours of a delectable Big Mac to a plateful of nachos! This recipe has got some homemade Big Mac Sauce as the star of its making, while combining some tortilla chips with minced beef, lots of cheddar cheese, and onion. The secret to whipping up the sauce hides in some mayonnaise, ketchup, mustard and more!
Foil Pack Nachos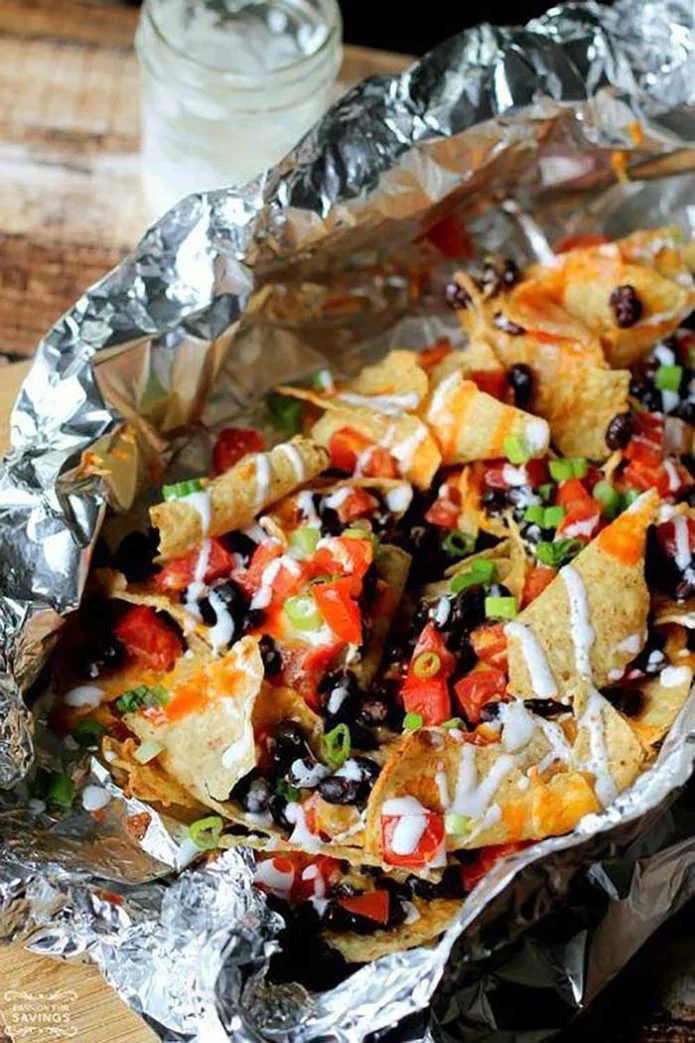 An overdose of topping and loads of cheese makes this recipe a perfect summer barbecue decadence. Tortilla chips and fully-cooked meat go hand in hand for this one, combined with tomatoes, black beans, Monterey jack cheese, chopped green onions and sour cream. Once grilled, top it with some hot sauce and serve.
Chicken Casserole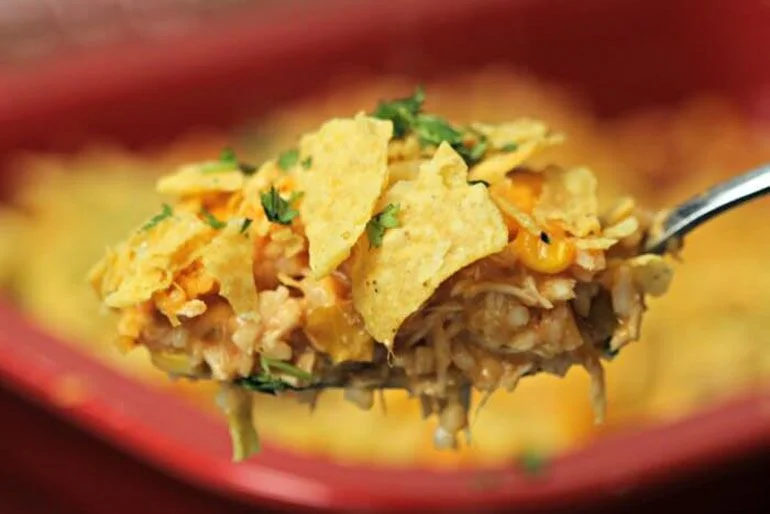 If you don't want to go for loads of preparation, this dish is all you need. Simply mix everything together and work up a delicious nacho chicken casserole adorned with cheese. It has got diced cooked chicken, white rice, tomatoes, cream of chicken soup, corn, green chilies, taco seasoning mix and broken tortilla chips.
Easy Healthy Turkey Cauliflower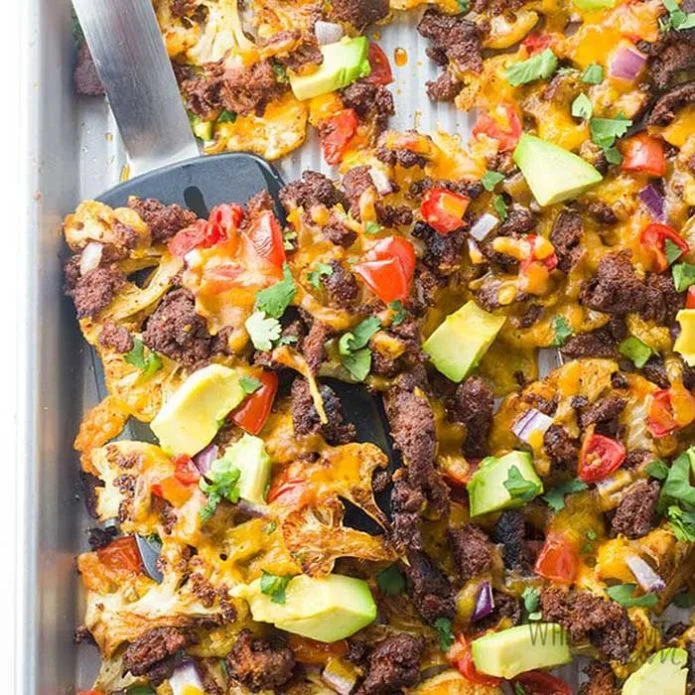 Here's your answer to the quest for a super healthy and nutritious nacho meal that takes no more than 15 minutes to get all set. These cheesy cauliflower nachos come with ground turkey taco meat and some yummy caramelized eggs. Some cheddar cheese, tomatoes, avocado, red onion and cilantro make it more rich.
Vegan Loaded Nachos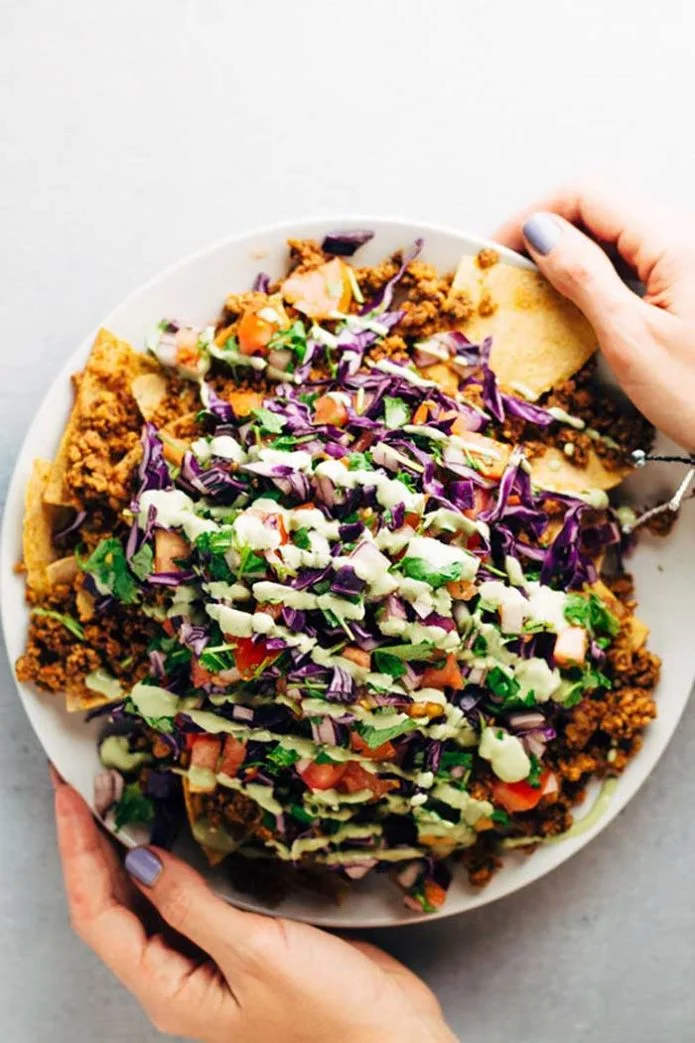 Salty, crunchy, and spicy at the same time – these vegan nachos are topped with mouth-watering sun-dried tomato walnut taco meat, lots of cheese, a lovely addition o pico de gallo, black beans, and some creaminess coming from Guacamole. The special element here is the vegan nacho cheese sauce that's explained in detail in the recipe.
Paleo Dairy-Free Nacho Cheese Sauce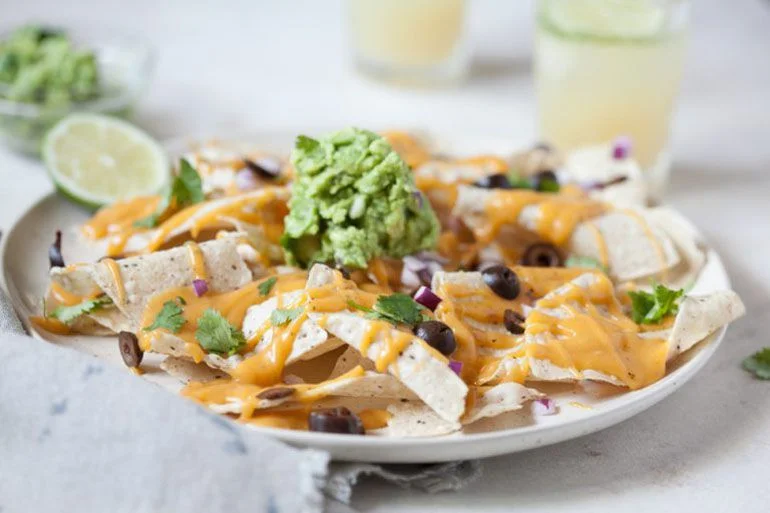 Grabbing some bites of nachos dipping them in a luscious sauce surely feels like heaven. This recipe takes you to the process of making a paleo nacho cheese sauce having sweet potato, diced carrots and chicken bone broth as the mains. It also takes ghee, yeast, sea salt, garlic, peeled, roasted tomatillo salsa and arrowroot powder.
Chipotle Cauliflower Nachos with Pineapple Salsa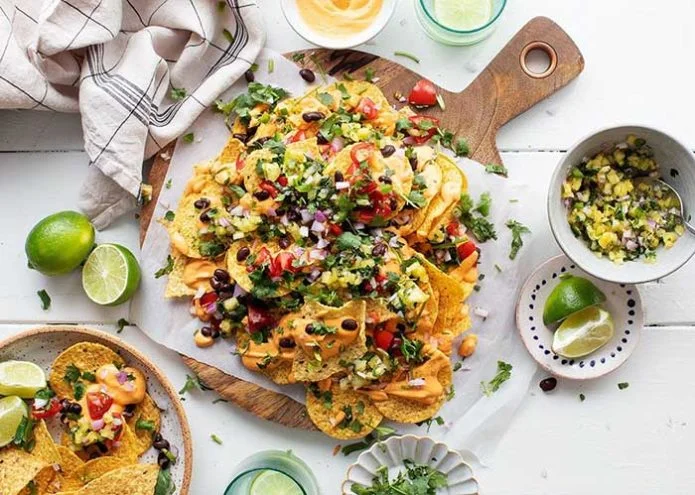 This plate of vegan nachos speaks so much with its colors. A smoky chipotle cauliflower "cheese" sauce forms a great combination with sweet pineapple salsa, black beans, red onions, cilantro, and tomato. The sweetness and savory factor of the dish complement each other just right.
Keto Avocado Nacho Fries Recipe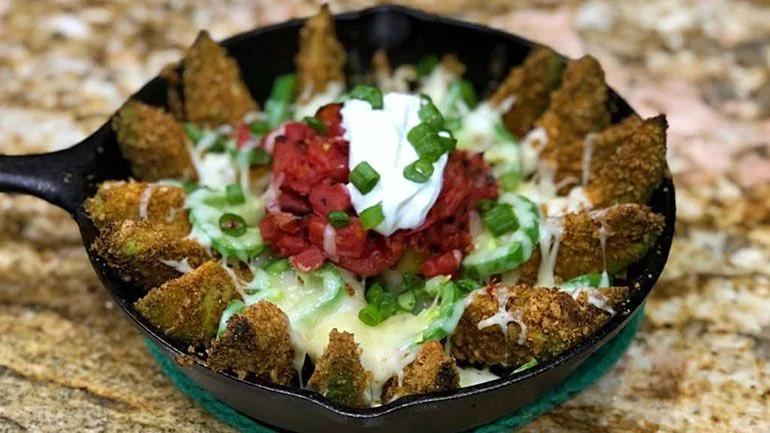 The unique thing about these nacho fries is that they are worked up with avocado slices, while the sour cream on top adorned with green onions is simply amazing. The other ingredients that go into the making are pork rinds, spices, Mexican blend cheese, tomatoes, green chilies and jalapeno.
Sloppy Joe Tater Tot Totchos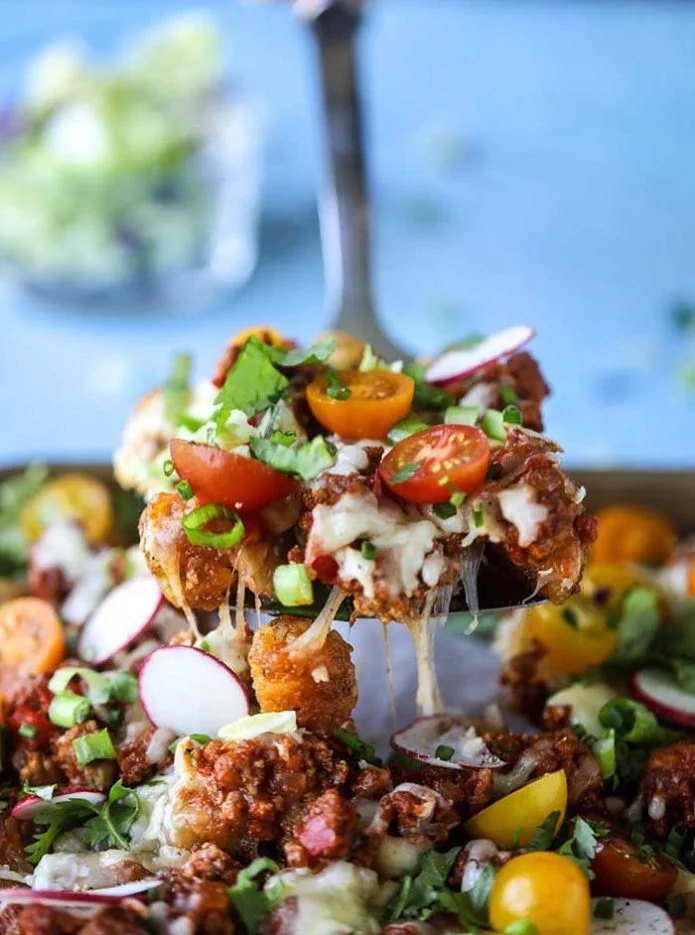 The very first look at this dish makes it oh so irresistible! Worked up with lots and lots of tater tots, these Sloppy Joe Totchos are a crowd-pleaser. The totchos as well as the sloppy joes call for a separate set of ingredients and the end result has got loads of veggies, meat, spices and sauces.
Epic Cheesy Sheet Pan Steak Nachos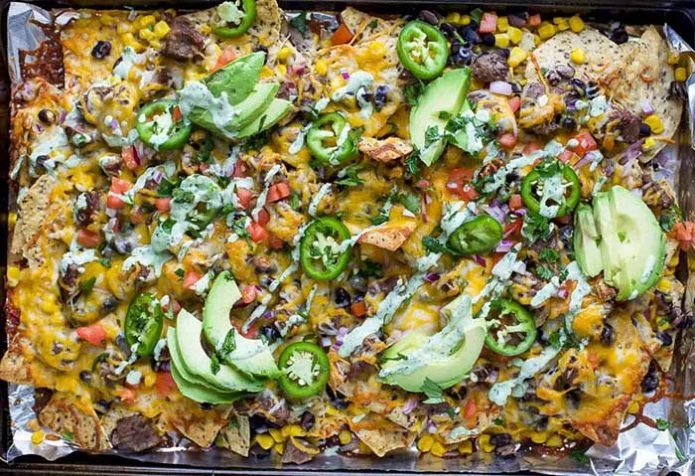 This loaded sheet pan steak nachos recipe is perfect as a game day or Super Bowl snack. They're laden with juicy, sliced steak and melted cheese. There's also a drizzle of creamy cilantro-lime crema for the ultimate Mexican flavor.
You can create all sorts of varieties with these nachos, either by changing the toppings used or by using tortilla chips in place of some whole wheat wraps. Try tortilla chips, steak, black beans, corn, red onions, or steak.
Loaded Veggie Nachos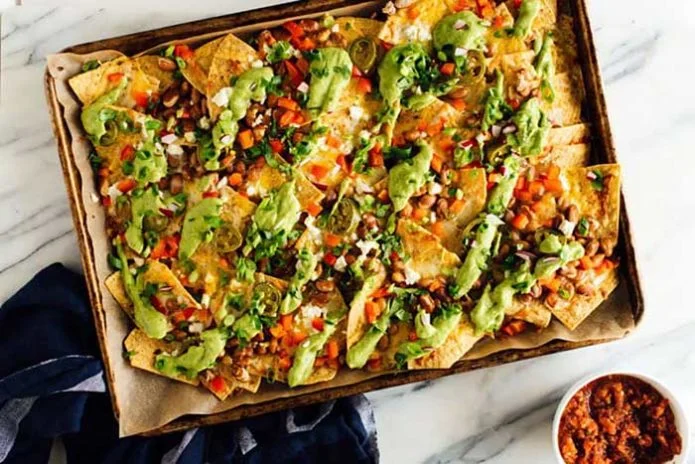 For something (slightly) lighter, try these loaded veggie nachos. The recipe includes fresh vegetables like peppers and onions along with beans, cheese, and guacamole.
It's the perfect dish to serve at your next party because it fits vegetarian diets while also providing protein from the black beans. Plus they're easy to make and everyone will enjoy them. Be sure to serve up with plenty of tortilla chips for scooping up all that goodness!
Greek Chicken Pita Nachos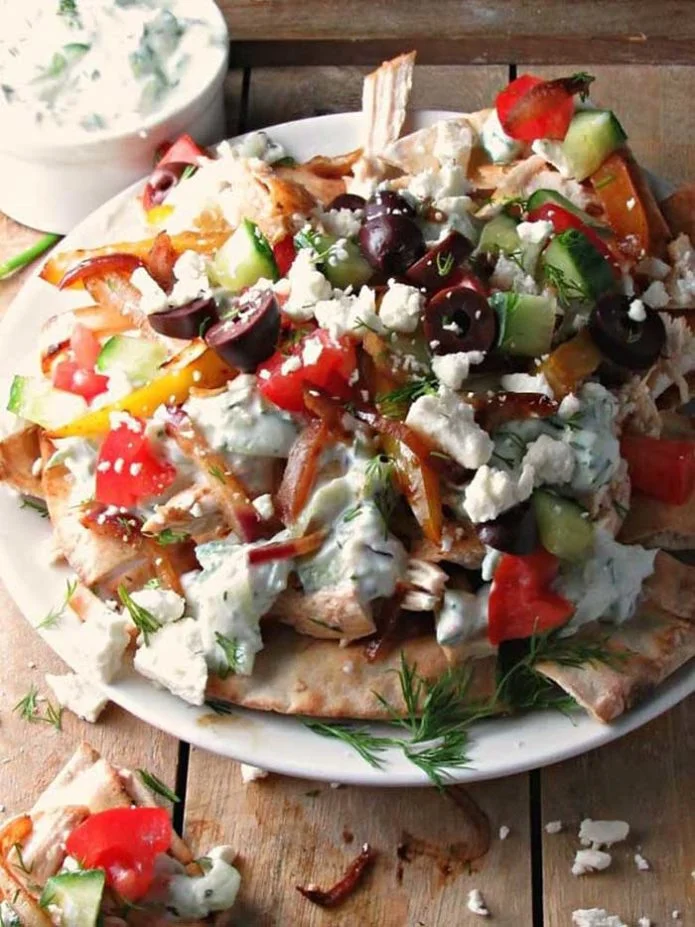 Greek chicken pita nachos are perfect for those who love a little extra protein in their meal. On just one plate, you'll find all of your favorite Greek flavors. Some of the ingredients in this recipe include warm toasted pita bread, seasoned chicken, chopped vegetables, feta, hummus, tzatziki, roasted chickpeas, and Kalamata olives.
Those of us with dietary restrictions can take out the meat or use vegan substitutes to make it healthy too! It's an easy dish that takes under 30 minutes to make and feeds a lot of people.
Greek nachos are a crowd-pleasing appetizer, but with the addition of chicken or other protein, this recipe can easily be turned into a light dinner. With toasted naan chips and homemade hummus, there's plenty of flavor all on one dish.
Chicken Bell Pepper Nachos
This recipe is ideal if you want your comfort food fix, but know you should keep the veggies. Chicken bell pepper nachos are perfect for a light dinner or for entertaining friends. The recipe starts by roasting a chicken in the oven and then chopping it up into bite-sized pieces, which will add great flavor to this dish.
When the chicken is finished, prepare your toppings. Cut green peppers, onion, minced garlic; fresh canned corn, cheese combine some of the vegetables, beans, cheese, and taco seasoning in a bowl to make your nacho mixture. Add extra vegetables on top of this for a more nutritious serving!
Steak and Potatoes
This recipe is perfect if you have leftover steak from last night! Great for game day or anytime you're craving hearty comfort food. These are some great ideas I've tried with my friends over a couple of cold ones at happy hour. We love anything that includes chips, cheese, and a little bit of spice!
You can assemble this dish in no time by making a mixture of refried beans and chopped vegetables, such as tomatoes, olives, onions, bell peppers, and jalapeños. Place nachos on aluminum foil-lined baking sheet pans for easy clean-up. Lastly, place a few slices of cooked steak on the nachos, and broil for a minute to let the cheese melt.
Perfect Irish Nachos
These Irish nachos are perfect for St. Patrick's Day. Potatoes are a great way to share a light lunch or dinner. They're the perfect simple, inexpensive, on-the-the-the-cheap party food. Toppings are numerous, and the process is easy.
Ground Beef Sheet Pan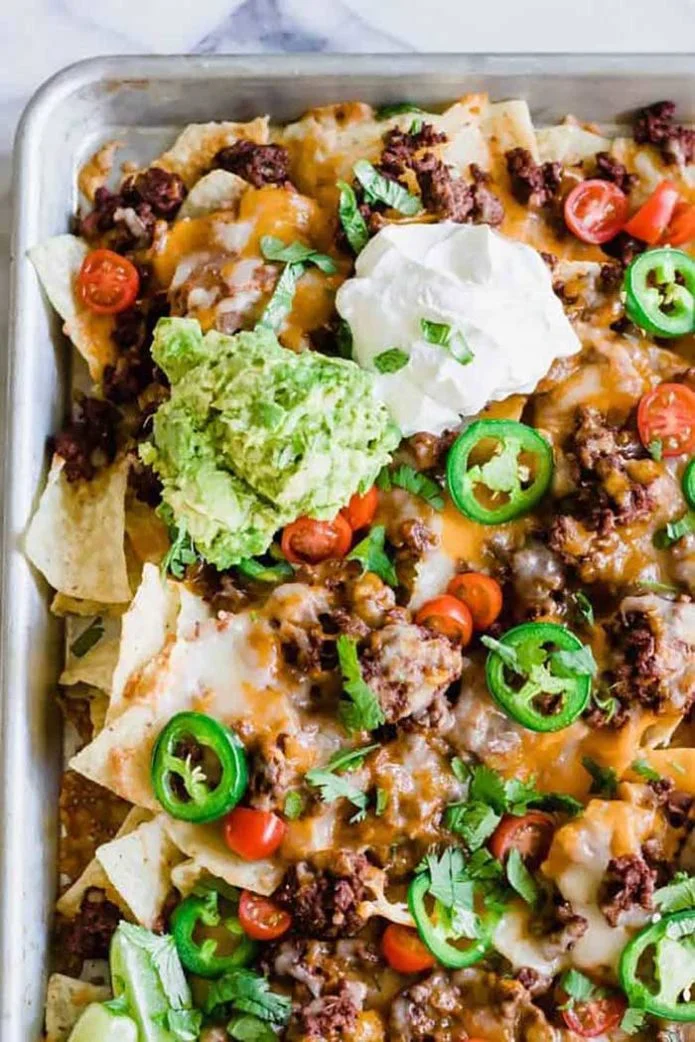 Cheese, ground beef, refried beans, and black olives are layered on this sheet pan nacho recipe to perfection This meal is just right for intimate gatherings or get-togethers. Adaptability and easiness are great features of these pan nachos.
Slightly on a big cookie sheet cover with the refried beans Lay the taco meat out. garnishes: Corn, black beans, and melted cheese are added. When the cheese has melted, cook for 12-15 minutes.
Bake until golden then melted, and top with your favorite toppings. These nacho appetizers are perfect for one-making or party fare. Garnish and remove from the oven. Preheat it and enjoy.
Chile Chicken Nachos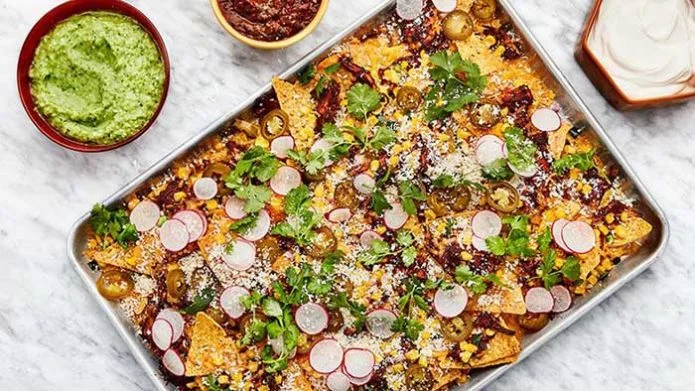 We love these chile chicken nachos because they are a take on the classic Mexican dish and give it a twist. The chips and tortilla strips are baked in spicy chicken chili, topped with cheese, salsa or pico de gallo and cilantro for garnish
By dividing anything between two baking sheets, you can solve problems while still having a party. Each tray will have the perfect ratio of ingredients layered on it. Bake nachos until cheese is melted and edges of chips are starting to tan, rotating pans top to bottom and front to back halfway through. Serve with radishes, cilantro, pickled jalapenos, and other toppings as requested. Nachos can be assembled up to an hour ahead of time and baked.
Best BBQ Chicken Nachos
Perfect for summer-time BBQs. The chicken is cooked to perfection in the slow cooker with a homemade barbecue sauce before being layered on top of tortilla chips, cheese, and pico de gallo for a delicious dish everyone will love.
You want something fast, simple, and cheesy on game day. So give the people what they really want. This take on the party classic comes together in under 30 minutes and is sure to please the crowd.
Mix together your favorite nacho toppings like sour cream, guacamole, salsa, or black beans (or all three!) and layer them over chips. It's the perfect way to enjoy all your favorite game day foods in one dish.
BBQ Chicken Nachos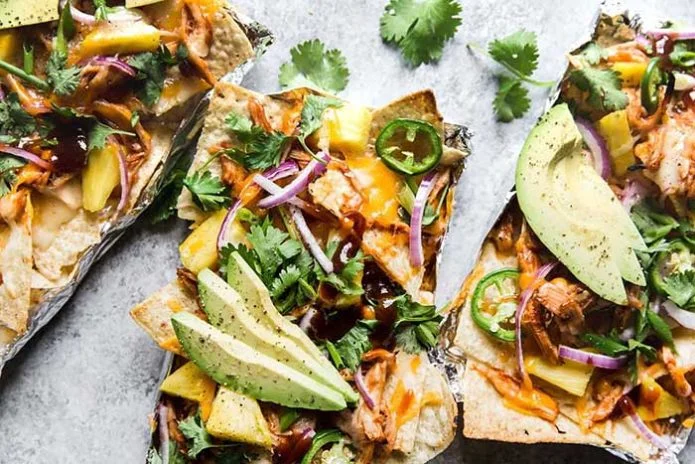 These BBQ chicken nachos are perfect for any occasion! BBQ Chicken Nachos are quick and easy to produce, and they're grilled in foil pack trays directly on the grill. These are stuffed with chips, gooey cheese, chicken, bbq sauce, and whatever toppings you want. This recipe has quickly become one of our favorite things to do as a family, and it's incredibly simple to prepare!
We still make foil packs on the grill or over an open fire when we go camping. Reynolds Wrap aluminum foil trays are stacked on top of each other on a larger cooking sheet. Using a metal spatula or gloves, carefully remove your foil tray from the grill and top with cilantro and avocado. The best part is how easy it is to clean up!
Mix together your favorite nacho toppings and layer them over chips. It's the perfect way to enjoy all your favorite game day foods in one dish! This take on nachos comes together in under 30 minutes and is sure to please the crowd.
5-Minute Nacho Cheese Sauce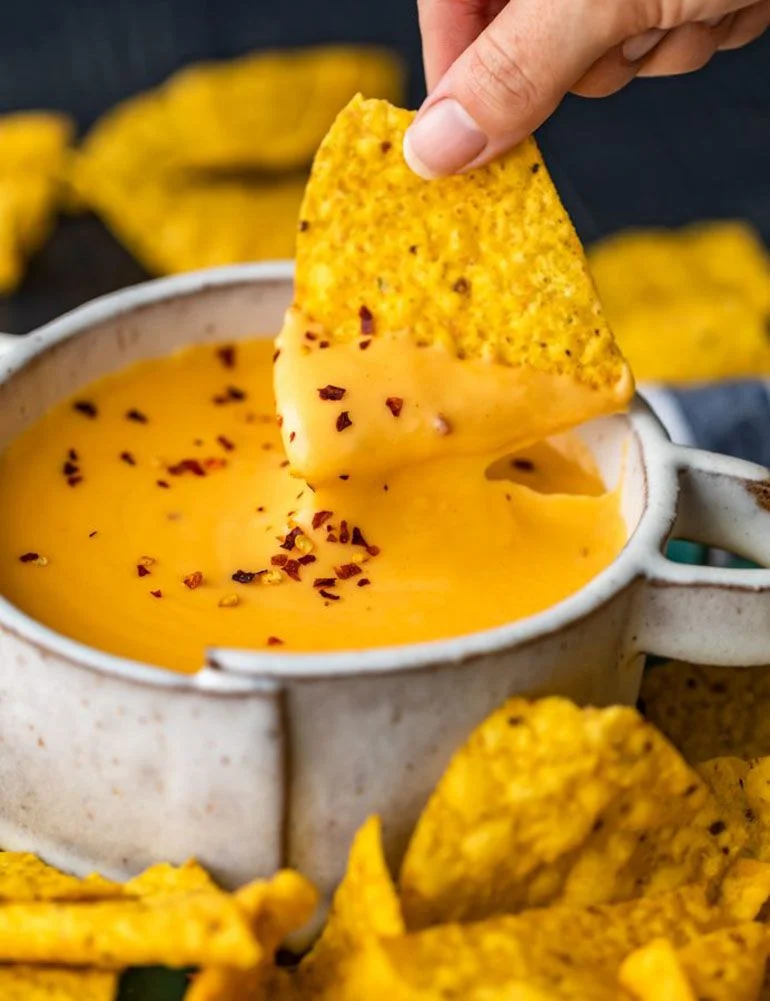 This nacho cheese sauce is a lifesaver, with only 5 minutes of prep time and an insanely cheesy taste. It's great for game day or any gathering, as well as for quick snacking, and is better than any store-bought equivalent. This cheese sauce is versatile. It makes an amazing dip for any appetizer, and it would be great on nachos or as cheese fries.
All you need to do is combine those ingredients in a saucepan and you'll make the most delicious cheese dip. It's made with a blend of sharp cheddar and pepper jack cheeses, as well as a dash of hot sauce. When serving leftovers, reheat them with a splash of evaporated milk.
Mexican Street Corn Nachos
These Mexican street corn nachos are perfect for game day or tailgates. They're loaded with cilantro and Cotija cheese and topped with sour cream and a spicy sauce.
The corn dip has cream cheese in it which makes the nacho sauce stretchy and less likely to be too dry. I prefer my chips browned on top with some queso fresco sprinkled on top.
Loaded Chicken Nachos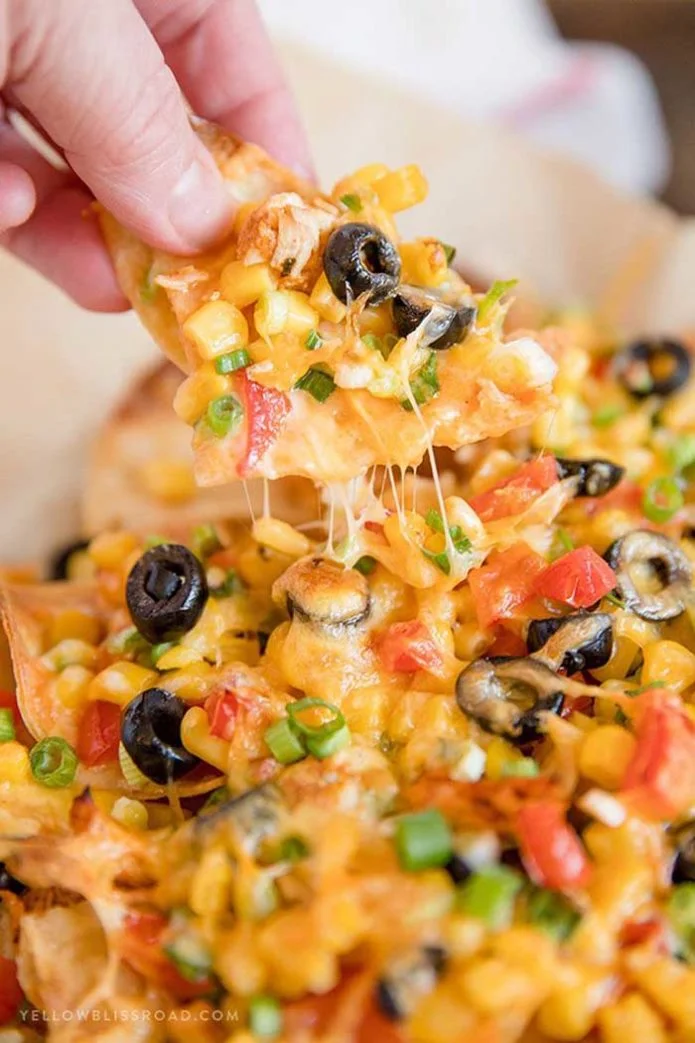 These loaded chicken nachos are perfect for feeding a crowd. They're loaded with shredded chicken, beans, corn, tomatoes, and cheese before being drizzled in sour cream! As you might predict, the result is incredibly cheesy and insanely tasty.
They're also a perfect last-minute meal for using up leftovers. Serve them as a filling game-day appetizer or a quick weeknight meal.
Easy Beef Nachos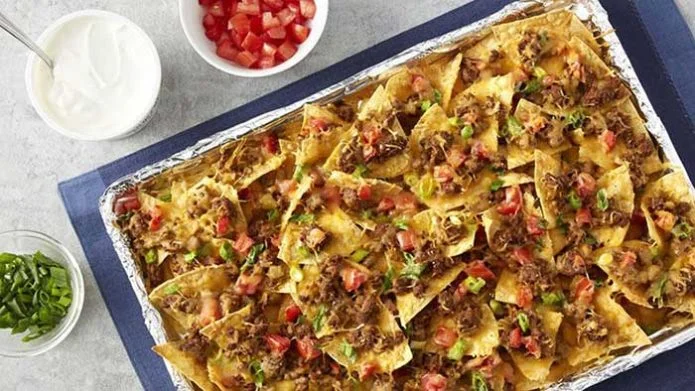 Crispy, cheesy beef nachos with a great crunchy-to-gooey ratio are the perfect snack. Serve them as a filling game-day appetizer or quick weeknight meal. Only make sure you have plenty of guacamole, salsa, and sour cream on hand to use as toppings.
Once the nachos are done, add toppings like olives, sliced avocado, and pickled jalapenos. Add a bowl of sour cream mixed with finely chopped fresh cilantro for the perfect finishing touch.
Mexican Beef Sausage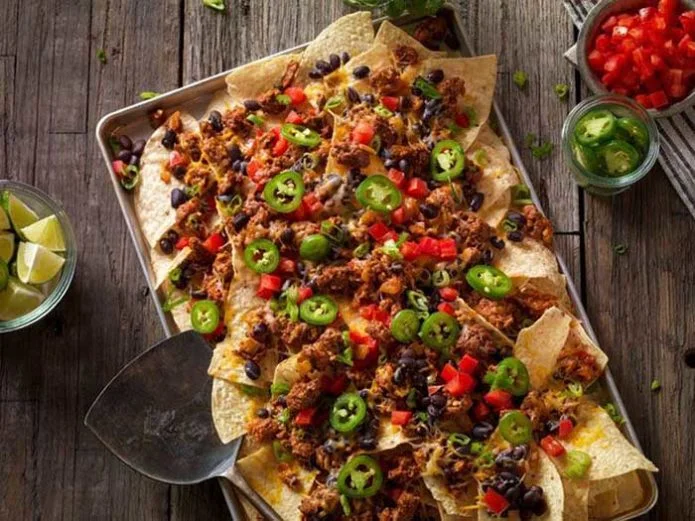 These Mexican-style beef sausage nachos are the ultimate game day or party appetizer. We love them because they are so easy to make and can be paired with any creamed-based dip or salsa.
For an even more flavorful nacho, use fresh diced tomatoes instead of canned to top them off after baking. They don't need any cheese for these ones, but a little sour cream is always nice if you have it on hand!
Classic toppings include lettuce, onion, and sour cream, but you can also add guacamole, salsa, or any other nacho toppings you want. Make a double batch of beef sausage and freeze some for a fast snack at any time.
---
FAQ
Can you reheat nachos?
Yes, you can. The best way to reheat nachos is by warming them in a preheated oven at 225°F (107°C). This is better than using a microwave because it retains the fresh and crispy flavors and textures of the original dish. See our guide on how to reheat nachos to find out more.