Easy chicken and dumpling side dish recipes and ideas, from Texas corn nuggets to fried green tomatoes, and Southern cornbread to skillet green beans. Discover what to serve with chicken and dumplings today.
Chicken and dumplings is a Southern and Midwestern American comfort food classic. While different regions have different takes on the dish, from Pennsylvania Dutch bott boi to Appalachian chicken and slicks, the idea remains the same: Delicious fluffy dumplings cooked in chicken broth.
These easy serving ideas will complete your dinner platter, including simple skillet green beans, Southern cornbread, and fried okra. Find your new favorite side dish recipe today.
Cornbread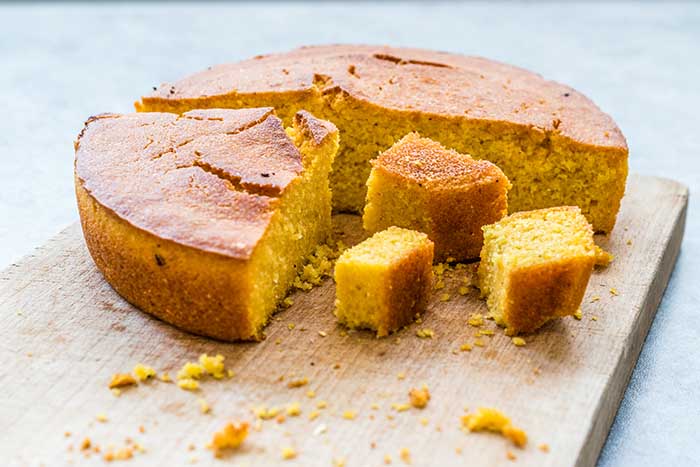 Cornbread is a staple of many traditional American meals, particularly in the South. The buttery, soft bread is perfect for soaking up extra sauce or accompanying chicken. While many recipes call for buttermilk, this recipe yields delicious Southern cornbread without buttermilk.
You will need typical baking ingredients such as flour, milk, and eggs, plus cornmeal. Mix the dry and wet ingredients together, combine, then cook in a well-greased skillet.
Roasted Bacon & Parmesan Brussels Sprouts
A side of vegetables helps round out a meal that is full of indulgent flavors and textures. However, these roasted Brussels sprouts are so packed with flavor that you won't have to remind anyone at the dinner table to eat their vegetables!
To make this recipe, toss the sprouts with crumbled bacon, olive oil, garlic, and salt. Roast in the oven then finish with sprinkles of parmesan cheese.
Simple Skillet Green Beans
If you've gone to the trouble of making dumplings from scratch, you don't want to go to a lot of effort to make the sides, which is why these simple skillet green beans are perfect.
You only need a few ingredients besides the green beans, mostly seasonings. Cook the green beans until they are bright green, and avoid overcooking them.
Fried Cabbage with Bacon
When you're serving up a homestyle, no-frills meal such as chicken and dumplings, you want a side dish that is just as simple and rustic. This fried cabbage recipe feels simple but is packed with flavor.
To make this easy side dish, you only need cabbage, onion, garlic, bacon, and seasonings (Cajun seasoning adds a nice kick). Pre-fry the bacon and onions, then fry the chopped cabbage and finish with herb seasoning.
Green Salad
You can't go wrong with a simple, classic choice for a side, such as a salad. This salad recipe is simple but packed with bright flavors to balance out the richness of chicken and dumplings. You need lettuce, seeds, red onion, and a honey mustard vinaigrette.
You can customize the salad with your choice of vegetables but try this base recipe to get you started.
Texas Corn Nuggets
Try making these Texas corn nuggets for a side dish that is just as indulgent and comforting as the main. You can also whip them up for your next potluck or barbecue, where they will be guaranteed crowd-pleasers.
You will need canned corn, creamed corn, milk, cornmeal, an egg, and seasonings for this recipe. Make and freeze balls of the corn, then cover in batter and fry.
Grape Walnut Salad
Fresh salads always make a great side dish, but sometimes they get repetitive. This grape walnut salad is innovative while not requiring you to go to too much effort.
Besides grapes and walnuts, you will need cream cheese, sour cream, and sugar to make the dressing. Stir all the ingredients together for a sweet side dish packed with healthy fruit.
Southern Fried Green Tomatoes
When making a Southern classic such as chicken and dumplings, why not stick to traditional Southern recipes for the side dish? Fried green tomatoes are an icon of regional cuisine, even inspiring a popular book.
Besides tomatoes, you will need flour, buttermilk, breadcrumbs, and other ingredients to make the batter. Season, dredge and fry the tomatoes.
Mustardy Cabbage & Apple Slaw
There's nothing like a tasty, acidic coleslaw to cut through the rich flavors of chicken broth. This recipe takes slaw in a different direction with the sweet hint of apple.
Besides shredded cabbage, apples, and mustard, you need scallions, apple cider vinegar, and seasonings. Cut the vegetables into shreds and combine with the dressing.
Perfect Mashed Potatoes
If you're looking to serve up the perfect comforting dinner, mashed potatoes make the best side dish. This creamy recipe takes your standard mashed potatoes to the next level. Plus, the mashed potatoes can help soak up some of the gravy from the chicken.
Besides potatoes, you will need salt, pepper, butter, and half-and-half. For extra creaminess, stir in cream cheese before beating.
Southern Fried Okra
If you want to stick to traditional Southern side dishes to pair with your chicken and dumplings, go for a lesser-cooked classic such as Southern fried okra. This crispy vegetable staple is a must-have at many potlucks and church dinners.
Besides okra, you will need cornmeal, flour, eggs, and seasonings for the batter. Cut the okra, dredge in the eggs and flour, then fry.