This Instant Pot teriyaki beef is unlike anything you've had at any restaurant. Made with strips of rich, beefy flank steak and coated in thick teriyaki sauce, this pressure cooker recipe is bursting with flavor.
It's made with rich and thick teriyaki sauce that's poured over the meat. The beefy steak will taste so good ! The meat cooks to tender perfection while the sugar caramelizes into a dark crust on the outside for maximum umami goodness. Serve over rice or noodles for an easy weeknight meal!
We love making Asian style dishes in our Instant Pot because it takes only minutes from start to finish – no need to babysit a pot simmering away on the stove top all day long. This dish also comes together quickly if you happen to have frozen pre-cut pieces of flank steak defrosted and ready go.
It's the perfect teriyaki beef recipe for any occasion: Easy, family-friendly, and bursting with flavor, it's one of our favorite Instant Pot dinner recipes.
Sprinkle on some sesame seeds or fresh cilantro leaves (or parsley if you want a milder cilantro or coriander substitute) to finish it off and you have a beautiful plate that will wow everyone at your table.
What Is Teriyaki Beef?
Teriyaki beef is a dish of thinly sliced beef cooked in a teriyaki marinade. Teriyaki is a traditional Japanese sauce that consists of sweetened, seasoned soy sauce. Teriyaki beef is a common dish at Japanese restaurants and traditional meals, along with other meat and fish prepared in teriyaki sauce.
What Does Teriyaki Taste Like?
Good teriyaki sauce should taste sweet and savory. The sweetness comes from the addition of brown sugar to the sauce, while the salty, umami flavor comes from the soy sauce base. Proper teriyaki sauce should also have a bit of tang thanks to the addition of spices.
Why Use Flank Steak for Teriyaki Beef?
Flank steak is rich in muscle content and full of tough muscle fibers. It carries an intense and rich beef flavor and goes really well with most marinade recipes, which help to make the meat tender and rich.
It's a less expensive cut, but still has great flavor. It contains connective tissue that breaks down as the meat cooks. It creates a nice crust on the outside for maximum umami goodness.
It tends to be wider and thicker than skirt steak, and is definitely on the tough side. This toughness makes it especially important that it's thinly sliced and cut against the grain.
Flank Steak Substitutes
If you can't find flank steak, luckily there are a few cuts of meat that are similar.
The best substitute for flank steak is skirt steak. Like flank, skirt steak is a thin cut with visible grains. It has a similar flavor to flank steak, although it lacks some of its tenderness. Finally, it holds up to the same cooking methods such as grilling or broiling.
Another good substitute for flank steak is prepackaged beef fajitas, which you can find at many grocery stores. Beef fajitas are also thin cuts that cook quickly, just like flank steak. They are lean but have enough fat to be flavorful.
Meat Prep
You don't have to be a professional butcher to know how to prepare beef flank steak.
First, freeze the flank steak for about 30 minutes. This makes it easier to cut if you are cutting it while raw.
After that, you have to figure out which way the meat grain, or the connective fibers, runs. You can usually spot them with your naked eye.
Then, place your knife perpendicular to the grain of the flank steak. Cutting against the grain breaks up these tough fibers and softens the flank steak. Usually, you will be cutting across the width of the steak.
Cut the steak into thin strips and then it is ready for your marinade and for cooking.
FAQ
Can I Substitute Teriyaki Sauce for Soy Sauce?
It can be tempting to avoid the effort of making teriyaki sauce and just use soy sauce. However, soy sauce for teriyaki is not a good substitution as soy sauce is comparatively bland.
Don't use teriyaki sauce in place of soy sauce in a recipe as teriyaki sauce is far sweeter. The only exception is if the recipe calls for soy sauce and a sweetener such as honey, in which case you can replace both with teriyaki sauce.
Does Meat Get More Tender the Longer You Pressure Cook it?
That depends on the cut of meat. Cuts that are tender to begin with will dry out the longer you cook them, while tougher cuts of meat need longer cooking time for the connecting tissue to tenderize. Flank steak tends to tenderize the longer it cooks, but still be careful not to overcook it!
Does Meat Need to Be Covered with Liquid in an Instant Pot?
You need liquid in your Instant Pot to create the steam that builds pressure (otherwise you could even get an error message). However, it does not need to be completely submerged in liquid as most meat releases some liquid as it cooks.
Why Is My Instant Pot Meat Tough?
One of the primary causes of tough Instant Pot meat is getting the timing wrong. Undercooking the meat doesn't give the connective tissues enough time to break down while overcooking makes it too tough. You should also make sure that the meat has enough liquid to cover it.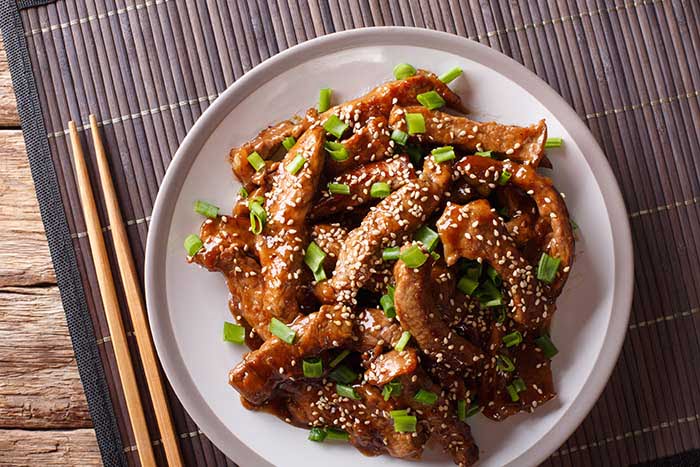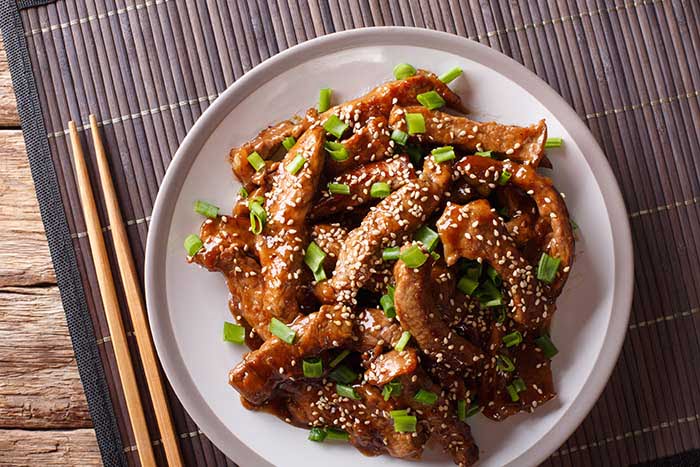 Instant Pot Teriyaki Beef
This Instant Pot teriyaki beef is unlike anything you've had at any restaurant. Made with strips of rich, beefy flank steak and coated in thick teriyaki sauce, this pressure cooker recipe is bursting with flavor.
Ingredients
2

lb

flank steak

2

cups

teriyaki sauce

1

cup

green onion

sliced

2

tbsp

water

1

tbsp

grated fresh ginger

½

tsp

kosher salt

1

tsp

black pepper

1

tbsp

cornstarch
Garnish
¼

cup

sesame seeds

½

cup

green onions

sliced
Instructions
Slice the flank steak against the grain into thin strips

Add the flank steak strips, green onion, teriyaki sauce, water, ginger, salt, and black pepper to pressure cooker. Stir well.

Secure lid and close the pressure-release valve

Set pressure cooker to manual/high pressure, for 5 minutes. After cooking, allow the cooker to sit for 10 minutes before releasing any remaining pressure.

Set cooker to saute/normal. Add the water and cornstarch, and stir in with pot ingredients. Cook until thickened, 2-3 minutes.

Serve over rice or noodles, or simply by itself. Top with sliced green onions and sesame seeds.