The best homemade granola recipes to complete your breakfast meal. Delicious flavor and topping ideas including oat and nut butter, spicy pumpkin, chocolate, raisins, and more.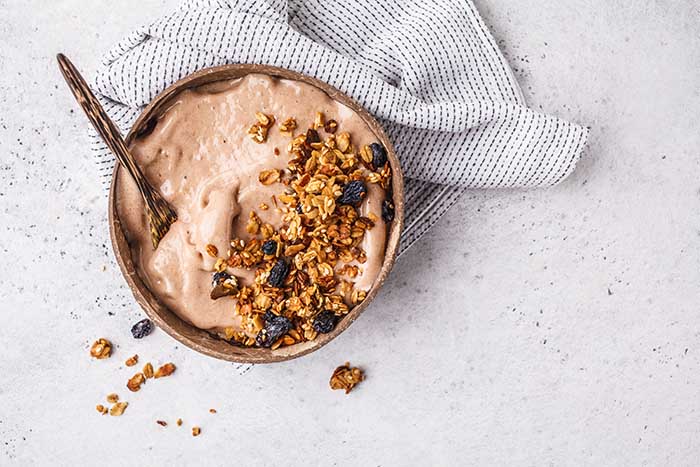 Granola is an excellent addition to your morning oats, mid-afternoon yogurt, or any snack you eat throughout the day. Instead of buying sugary pre-made granola, you can make your own by following these recipes.
Here are the best homemade granola recipes to start your breakfast journey.
Raw Sesame Seeds & Wholegrain Oats
Store-bought granola is often clogged with sugar and calories. This homemade version lowers the calorie count but is still tasty thanks to the all-natural ingredients.
This recipe has only five steps. First, combine the dry ingredients, which are oats, sesame seeds, sunflower seeds, sliced almonds, and coconut flakes. Then, make a syrup with melted butter, honey, and sugar. Pour the syrup over the dry ingredients, bake, and store for use any time!
Almond, Cashew & Raisins
Cherry and almond are a classic flavor combination in desserts, and this recipe brings that traditional sweet mix to granola. Granola is endlessly customizable so you can switch out cherries and almonds for your favorite nuts and dried fruit.
Besides cherries and almonds, you will need rolled oats, coconut flakes, sugar, and salt. Mix the dry ingredients together, then combine with syrup and a whipped egg white. Bake until toasted, then break into chunks.
Almond, Cinnamon & Honey
The best granola recipe is the one that comes together easily without requiring you to spend hours working over the stove (after all, you could always just buy it if it's such a struggle).
This recipe requires only a few ingredients: rolled oats, sliced almonds, brown sugar, salt, cinnamon, melted butter, honey, vanilla, and egg whites. Combine the dry ingredients, then drizzle the syrup and beaten egg whites over the mixture and bake.
Pecans, Oats & Greek Yogurt
Granola is the perfect way to add a little texture to a snack or meal. This recipe forms granola that breaks up into large chunks, which adds an interesting texture to any morning yogurt.
This granola recipe gets its texture from the high ratio of nuts to other ingredients. Besides almonds, pecans, and walnuts, other ingredients include rolled oats, sunflower seeds, and wheat germ. The preparation method is similar to most granola recipes.
Oatmeal Raisin Cookie Clusters
Muesli is a Swiss breakfast made of cold rolled oats that is similar in texture and taste to granola. This granola recipe combines the two into one healthy, textured food.
The base of the recipe is oats, to which you can add your choice of nuts, spices, and chopped fruit. Make a syrup out of your choice of fat and sweetener, combine, and bake.
Peanut Butter & Banana
Peanut Butter lovers, listen up! After a base of oats and the nuts of your choice, creamy or crunchy peanut butter is used in the binding along with the honey and coconut oil. Shredded coconut, vanilla extract and cinnamon balance it all out. And if you love chocolate chips with your peanut butte, mix them in after baking the granola.
Peanut butter is delicious and a healthy way to start the day off with some sweetness. This granola recipe relies on peanut butter to form the basis of the syrup that binds everything together, which adds a sweet nuttiness to the whole thing.
Besides peanut butter, you will need peanuts, oats, and melted coconut oil. You can add unsweetened chocolate chips for extra flavor.
Nut-Free Oats & Coconut
Granola is delicious, but most granola recipes contain nuts, which makes them dangerous for people with allergies. This recipe is nut-free, making it allergen-friendly.
Instead of nuts, the dry ingredients are oats and wheat germ. Add a sweet syrup made of honey, as well as chopped fruit and shredded coconut to build the flavors of the granola, then bake in a baking sheet until it turns golden.
Cranberry, Orange & Cranberries
If you're looking to add more fruit to your diet, then granola is one way to increase your daily servings. This recipe calls for a whole cup of dried cranberries and gets an extra kick of fruit flavor thanks to the addition of orange zest.
The other ingredients include sugar, oats, raw pecans, melted coconut oil, and maple syrup. Combine the dry ingredients, pour over with syrup, and stir in the dried cranberries after the granola is baked.
Chocolate Chip & Coconut Flakes
One of the benefits of homemade granola is that you can control all of the ingredients and make it as healthy or indulgent as you like. So, if you want to start your morning with a serving of chocolate granola from this recipe, nobody can stop you!
Besides the standard granola ingredients, the recipe calls for cocoa powder and chocolate chips. Add the chocolate chips toward the end of the baking process so they soften but don't melt completely.
Protein Powder & Pumpkin Seeds
If you are looking to add more protein to your diet, particularly if you started a new workout routine, then this recipe should be your go-to granola recipe. The protein comes from protein powder as well as plenty of nuts, seeds, and whole-grain oats.
The method is easy. Just combine the dry ingredients, stir a syrup through the mixture, and bake.
Maple Syrup, Coconut & Oats
The best granola recipe should be easy to remember so you don't have to reach for your recipe file every time you want something new for breakfast. This simple recipe helps you learn the base for granola, which you can then customize with mix-ins.
The base ingredients are oats, nuts, oil, maple syrup, and spices. You can customize the dry ingredients by adding seeds and coconut chips.
Dried Cherry & Coconut
Cherry and coconut are another flavor combination made in heaven. The other ingredients in this recipe, such as pistachios and plenty of cardamom, make for a unique flavor combination that isn't found in store-bought versions.
You can start making this recipe the night before by stirring together the ingredients and baking them. Then, the granola will be cool in the morning.
Pumpkin Maple Pecan
If you want a seasonal treat in the mornings, then this pumpkin maple pecan granola is perfect for the fall. Raw pecans, pumpkin pie spice, and a generous serving of maple syrup pump up the flavors. Combine the dry ingredients, pour over with the syrup, and bake.
Flaxseed & Chia Seeds
This granola recipe relies on flaxseed and chia seeds to add a little extra crunch to the granola, and it is perfect for people who don't like dried fruit. Other ingredients include rolled oats, coconut flakes, and nuts. Pour over the dry ingredients with maple syrup to combine.