The best homemade granola recipes from around the web. Including oat and nut recipes with butter, chocolate, raisins, and more.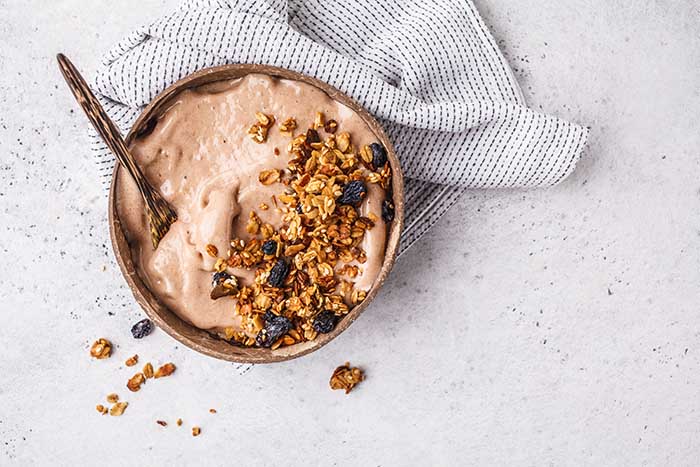 Granola is delicious, healthy, and can be served in many ways. Eat it alone as a snack, add it to a bowl of yogurt or ice cream, or pour it in a bowl and add your favorite milk. Granola bowls can be modified to suit your sweet tooth and particular taste! Adventurous bakers can even modify any of these recipes to make granola bars.
Sure, you can pick up your favorite granola at the market, but why not try making your own? Choose the ingredients you want and eliminate ingredients and additives you don't want. When you taste your homemade granola, you may never buy it at the market again! Plus, homemade granola makes a great gift! Grab some mason jars or food safe gift bags and impress your family and friends!
Here are eleven of the best homemade granola recipes to start your earthy crunchy journey.
Raw Sesame Seeds and Wholegrain Oats
Seed lovers will appreciate not one, but two seed varieties in this recipe: Sunflower and Sesame seeds. Add some almonds, oats and coconut before mixing with the honey and butter syrup mixture which is lower in sugar and calories than most recipes. The author even includes various alteration ideas.
Almond, Cashew and Raisins
If you love a cherry/almond combo and maple syrup, this recipe may be for you. Oats and coconut are also included. The maple syrup is mixed with oil to form the binding; the author uses olive oil but any oil variety can be used. Whipped egg whites are used to achieve more of a cluster texture, rather than a loose appearance. Vegans may eliminate the egg whites without sacrificing flavor.
Almond, Cinnamon and Honey
A great base recipe, this is called 'Easy' for a reason. Oats and almonds are the main ingredients with cinnamon and vanilla providing the bright flavor. Butter and honey hold it all together and whipped egg whites provide the texture. Simple, yes, but the author provides many suggestions for changing up the base, sweetener, syrup and spices.
Pecans, Oats and Greek Yogurt
This recipe does not limit itself to just oats and one type of nut. In addition to the almonds it includes walnuts and pecans. Sunflower and sesame seeds, toasted wheat germ, coconut and a dried fruit of your choice round out the main ingredients giving this granola complex flavors without being a complex recipe. It was inspired by granola served at a Sonoma California Inn.
Oatmeal Raisin Cookie Clusters
That's right, build your own granola. This recipe provides you with the framework and suggests a variety of optional ingredients so you can make it your own. Start with the oats, then choose your favorite nuts, dried fruits and spices. For the sweetener, choose from honey, maple syrup or agave. For the fat, choose butter or oil. If you like your granola clumpy, add whipped egg whites. The author provides her favorite combinations for those who may not want to go totally BYO.
Peanut Butter and Banana
Peanut Butter lovers, listen up! After a base of oats and the nuts of your choice, creamy or crunchy peanut butter is used in the binding along with the honey and coconut oil. Shredded coconut, vanilla extract and cinnamon balance it all out. And if you love chocolate chips with your peanut butte, mix them in after baking the granola.
Nut-Free Oats and Coconut
You can still have your granola, even if you can't eat nuts. Nuts are not required and this recipe proves it. It does include coconut flakes and oils which can be changed out with other ingredients for those with tree nut allergies. Wheat germ and dried cranberries provide a unique flavor twist. Cinnamon and vanilla give it more depth. Nuts may be added for those who like this recipe and have no nut allergies.
Cranberry, Orange and Cranberries
The first ingredient is the zest of one large orange; that's a lot of fresh orange flavor! Rubbing the zest with sugar brings out the boldness of the orange, infusing the flavor in the granola. Also included are dried cranberries, oats, pecans and cinnamon. For the syrup, choose from maple syrup or honey along with coconut or olive oil.
Chocolate Chip and Coconut Flakes
Chocolate lovers: the title says it all. This recipe calls for two kinds of chocolate: cocoa powder and chocolate chips. The base is made from oats, almonds and coconut flakes with the addition of turbinado sugar which brings a natural molasses-like flavor. It's all finished off with sea salt to compliment the chocolate.
Protein Powder and Pumpkin Seeds
The addition of protein powder adds a unique and healthy twist to this recipe. The sugar content is also lower than most granola recipes. The base of oats and walnuts is enhanced with pumpkin seeds and flax seed meal. Add cinnamon and a syrup of honey or maple syrup along with olive or coconut oil and that's it.
Maple Syrup, Coconut and Oats
This recipe is a good home base for those who may want to experiment with ingredients. In addition to oats it calls for your choice of dried fruit and a mixture of nuts, suggesting walnuts, pecans and almonds. Add sunflower seeds and coconut chips along with maple syrup, oil and vanilla. Suggested alterations are included.