Easy homemade air fryer bagel bites made in under ten minutes. Topped with mozzarella cheese, pepperoni slices, and tomato sauce. Discover how to make bagel bites from scratch today.
Bagel bites are a delicious, nostalgic treat. Whether you're making these for your kids or just want a little bit of that childhood goodness back, making bagel bites in the air fryer is a quick and straightforward way to get an even better result with slightly more sophisticated ingredients than the store-bought version.
Discover the benefits of this cooking method and everything you need to know to perfect homemade air fryer bagel bites.
What are Bagel Bites?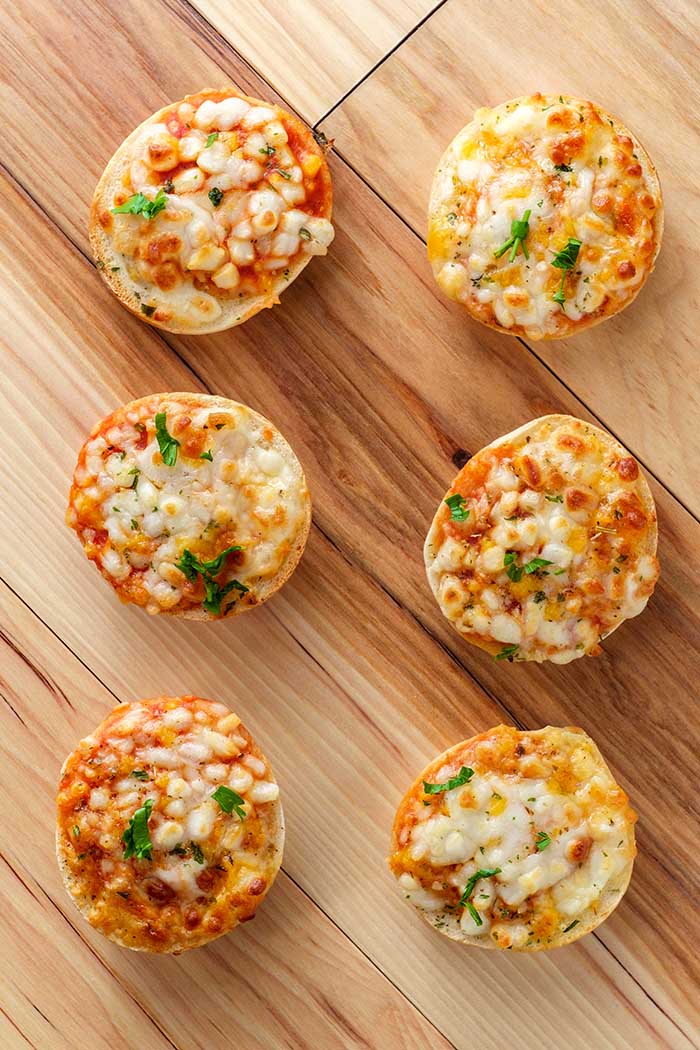 These air fryer bagel bites are a copycat recreation of the popular freezer snack, made with just a few ingredients cooked in the air fryer for quick and even cooking. The end result is just as good: crispy mini bagels covered in gooey tomato sauce and melted mozzarella cheese.
Bagel bites are traditionally cooked in the oven, but if you have an air fryer on hand, you'll find that this method takes half the time and creates a perfectly bubbly crust that you're looking for.
Bagel bites can taste like your favorite pizza order – just on the smaller side! Load up your air fryer bagel bites with tomato sauce, a bit of mozzarella cheese, pepperoni, peppers, onion, or whatever topping your heart desires. After a few minutes, you'll have a tasty, cheesy, and savory snack.
What Variations on Bagel Bites Are There?
Bagel bite variations are absolutely endless. While most store-bought bagel bites were pizza-themed, you could even make non-pizza variations! Some ideas include a taco bagel bite with ground beef, shredded cheddar, and guac or a Caprese bagel bite with fresh tomato, mozzarella, and basil.
Simply pick one sauce, one cheese, and one protein or topping to create endless tasty concoctions to make a new combination.
Advantages of Using an Air Fryer
Cooking bagel bites in an air fryer is a better idea than cooking them traditionally with an oven. Why?
Saves Time – Air fryers cook food in a fraction of the time it takes to cook in an oven. With an oven, preheating alone can take 15-20 minutes. On the other hand, the entire cook time can start and finish in just a few minutes with an air fryer.
Full Air Flow – Utilizing convection, air fryers circulate the air all around the food for a more even cook.
Extra Crispiness – Air fryers don't use a ton of oil, resulting in a perfectly crispy outer bagel bite shell.
Healthier – Since they use much less oil, air fryers are also a much healthier alternative than slathering your bagel bites in butter and putting them in the oven.
Soft and Fluffy Inside – The convection helps crisp up the outside while heating the inside to stay warm and fluffy, just how you want it.
Ingredients
When gathering ingredients to make bagel bites in an air fryer, you should consider which ones work best with this cooking method.
As mentioned earlier, try to choose at least one sauce, one cheese, and one topping. This combination seems to work well together, as the cheese melts onto the bagel and helps secure the topping in place while the sauce prevents it from drying out.
You should also consider the best type of oil to use. While, in most cases, we would be debating whether to use olive, canola, avocado, etc., in this case, we're talking about pouring vs. spraying oil. Spray oil works best for the air fryer as it allows you to coat the entire fry basket without making the food itself greasy.
Other ingredients you'll want to have on hand for classic (pizza-style) bagel bites include:
Mini bagels
Tomato or marinara sauce
Shredded mozzarella cheese
kosher salt & fresh black pepper (to taste)
pepperoni sausage, finely chopped into mini cubes
Serving & Side Dish Ideas
Before you make your air fryer bagel bites, come up with a side dish to pair it with to turn your snack into a complete meal.
Some tantalizing options include:
Caesar Salad – Turn your snack time into a mini Italian dinner by pairing your mini pizzas with a caesar side salad. Simply mix romaine, shaved parmesan, caesar dressing, croutons, and a bit of fresh-cracked black pepper and serve on the side.
Bell Peppers – Loving the bagel theme? Then keep it going with this light and satisfying snack inspired by everything bagels. First, slice baby bell peppers in half. Take a teaspoon of whipped cream cheese and spread it on each bell pepper half. Then, sprinkle a bit of everything bagel seasoning on top of the cream cheese for crunch and that classic bagel flavor.
Homemade Buffalo Hummus & Veggies – Keep it light and whole with just a few ingredients you already have around the house. Blend a can of chickpeas with a few dashes of hot sauce and one glug of ranch dressing until smooth. Top with an extra buffalo drizzle and dip celery and carrots into it for a healthy crunch.
Other simple ideas include a bag of potato chips, marinated cucumber salad, or fresh fruit with peanut butter.
Air Fryer Bagel Bites
Easy homemade air fryer bagel bites made in under ten minutes. Topped with mozzarella cheese, pepperoni slices, and tomato sauce. Discover how to make bagel bites from scratch today.
Ingredients
8

mini bagels

halved

½

cup

tomato sauce

1

cup

mozzarella cheese

shredded

3

oz

pepperoni

finely chopped

kosher salt

to taste

ground black pepper

to taste

8

fresh basil leaves

roughly chopped
Instructions
Warm up air fryer to 350°F (180°C). Spray basket with cooking spray.

Spread tomato sauce onto mini bagel halves

Top each bagel half with shredded mozzarella cheese and chopped pepperoni

Place bagel halves in air fryer backet, ensuring they don't touch or pile up (you may need to split the bagels into batches)

Cook for 5 minutes, until bagel bites are toasted and mozzarella is melted

Remove from air fryer. Sprinkle with salt and black pepper, and garnish with chopped fresh basil.

Serve and enjoy immediately