Make these breakfast egg muffins for an easy, low-carb grab-and-go breakfast for busy mornings. Filled with chopped spinach, bacon, and shredded cheese.
Breakfast egg muffins are perfect for busy mornings or as part of a make-ahead lunch for the working week. Filled with fluffy egg, shredded bacon, and cheese, there's plenty of protein packed into each of these mini-meal cups.
The best thing about these egg muffins is that you can add in whatever ingredients you like. From chopped broccoli to wilted spinach, or swap out the bacon for fried tofu pieces. See our guide to the best egg muffin recipes for some filling inspiration.
This easy recipe is essentially just pouring your egg mixture into a muffin tin and bake. After that, you can enjoy them immediately or refrigerate for later. Discover how to make breakfast egg muffins from scratch with this easy recipe.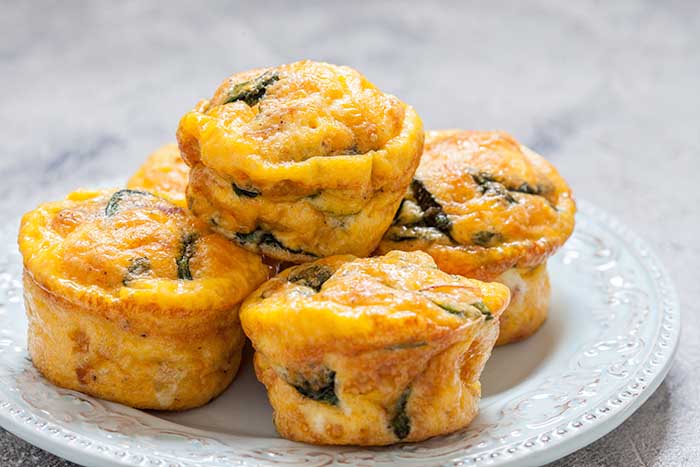 Quick Tips
For the best results, here are a few tips to follow when making your egg muffins.
To stop egg muffins from deflating, cook them for longer at a lower temperature. You should also leave them in the muffin tin to cool before trying to remove them.
The best way to stop egg muffins from sticking is to thoroughly grease the muffin tins with cooking spray or butter. For even more assurance against sticking, use a non-stick muffin tin or line the wells with muffin cups or parchment paper.
Egg muffins usually become spongy when reheated because the heating and cooling cycle affects the texture of the eggs. Another culprit could be overbeating the eggs as excess air bubbles cause a spongy texture, so try beating them less.
Usually, egg muffins get too soggy if you cook them at too high a temperature, so try cooking for longer at a lower temperature. Sometimes, egg muffins get soggy from the filling, so make sure that any veggies you are using are drained of moisture and oil.
Storage
Breakfast egg muffins are a great make-ahead breakfast as long as you store them properly.
You can store egg muffins in the refrigerator in any type of covered container. An airtight Tupperware or other reusable container works the best. However, in a pinch you can just cover a serving plate in foil and cling wrap and store like that in the refrigerator for up to five days.
There are a few different ways that you can reheat breakfast egg muffins. The easiest way is to put them in the microwave uncovered until they are hot. If you don't have a microwave, you can reheat them in the oven, although that will take much longer.
You can freeze breakfast egg muffins for up to two months, making this the perfect make-ahead breakfast for when you're in a hurry. When freezing egg muffins, you have to put them in a freezer bag or other completely air-tight container, otherwise they could go bad in the freezer.
Once you freeze egg muffins, you can reheat them in the microwave without thawing them.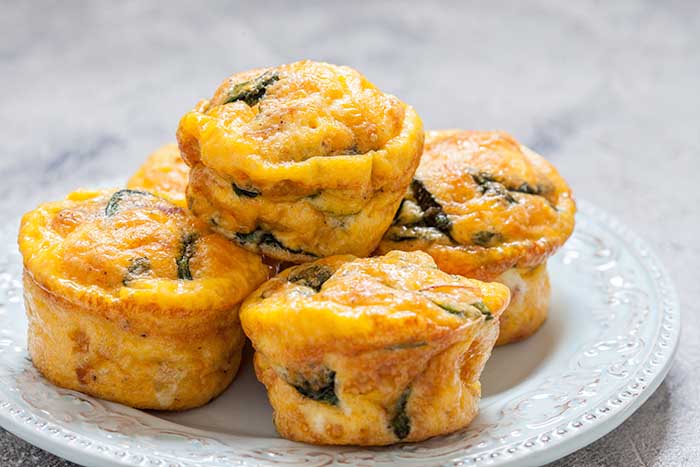 Breakfast Egg Muffins
Make these breakfast egg muffins for an easy, low-carb grab-and-go breakfast for busy mornings. Filled with chopped spinach, bacon, and shredded cheese.
Ingredients
12

eggs

½

cup

wilted spinach

⅓

cup

cooked bacon

chopped

½

cup

cheddar cheese

shredded

fresh parsley

chopped

kosher salt

black pepper
Instructions
Preheat oven to 375°F (190°C). Coat a muffin tin with cooking spray or line with parchment paper.

In a large bowl, whisk the eggs until combined

Stir in wilted spinach, cooked bacon, shredded cheese, kosher salt, and black pepper. Combine well.

Pour egg mixture into muffin tray wells. Distribute evenly, about ¾ full.

Bake for 15-18 minutes, or until eggs are golden yellow and set

Top with chopped parsley and serve immediately
Notes
If you are making these ahead, s

tore in an airtight container in the refrigerator for up to four days. Reheat in the oven or enjoy cold.